daily fantasy sports articles
Fantasy Tennis: 2019 French Open Day 1 Tips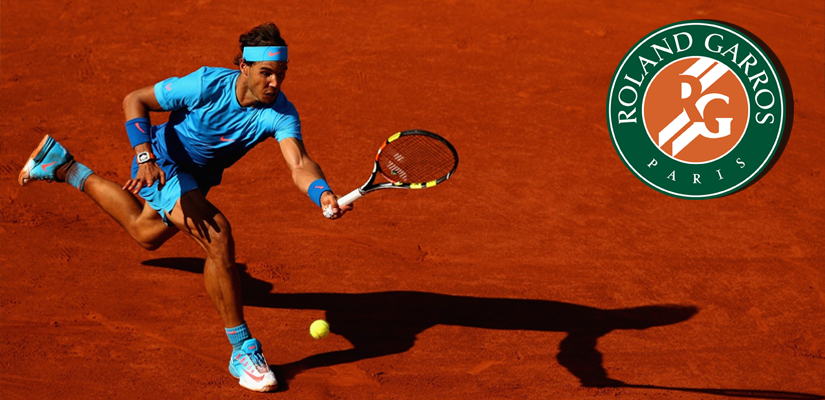 Welcome to the Day 1 Daily Fantasy preview for Roland Garros and the 2019 French Open. There are a couple of fantastic tournaments on offer at DraftKings for Day 1, and I thought it would be good to discuss a couple of the players that have the potential to score high for their salary.
The main contest on DraftKings offers a $40,000 prize pool guarantee for just a $10 entry with at least $10,000 guaranteed for first place. That's some excellent value for tennis fans, so here's a sample team lineup that could be quite effective for Day 1.
Player 1: David Goffin ($10,200)
Whilst Goffin hasn't been in the best for the start 2019, there is the potential for quite a one sided victory if things do click for him today. Berankis isn't particularly suited to the clay, and Goffin should be able to grind him into submission in the conditions in Paris. Goffin is a little cheaper than some of the bigger names at the top of the salary pile, and he may just put in a performance worthy of his salary.
Player 2: Leonardo Mayer ($7,600)
From an odds perspective, the money has certainly come for Mayer since the initial salaries for Day 1 were set on DraftKings. The fact that he is scheduled to play last on court also suits him, as a bit of the sting will have been taken out of the court as the sun begins to set. Great value selection.
Player 3: Laura Siegemund ($8,800)
Again on potential, has the ability to end in a one sided victory if she comes out firing on all cylinders. Zhuk was solid in qualifying, however Siegemund is a couple of notches above the competition Zhuk faced in qualifying. If Zhuk falls behind early, this could become one way traffic quite quickly, which could lead to a handy score. High risk, high reward proposition at the price.
Player 4: Sara Sorribes Tormo ($6,900)
Another who could shock on form and at a lower salary. Sorribes Tormo plays last on court, where the conditions are likely to be a little heavier, which will play into her hands against Van Uytvanck. Double faults are a concern, however she more than makes up for it with her return game. Van Uytvanck can be quite erratic at times, and Sorribes Tormo's game may grind her into submission. Van Uytvanck's best form recently comes through Lugano, which looks weak compared to over form lines.
Player 5: Hugo Dellien ($9,600)
I am not sure how the Asian Challenger Clay form is going to translate here, and I feel as though Dellien's consistency is going to be far too good for Gunneswaran in the conditions. Dellien should be able to neutralise the serve of Gunneswaran quite well, and this has the potential to become one sided as the match develops, which will lead to a nice scoring output. Again a touch below the top salaries for the day, but on potential could score high here if he clicks from the outset.
Player 6: Aliaksandra Sasnovich ($6,800)
The lowest salary of the six players suggested, however more than capable on her day, and if she does perform, it really opens up some extra salary on other selections. Hercog is favoured largely due to her Lugano title, however as mentioned above I feel that form line is quite weak based on which players were involved and their output since that tournament. Sasnovich will force Hercog to be at her best, and she feeds well off the pace that will be supplied by Hercog. A bit of a risk, but if it pays off, it really opens up your salary for other players towards to top of the list.
If you have any questions about specific players, let us know on Twitter. These are a couple of high risk high reward selections, however if you wanted they also do all fit under the salary with $100 to spare.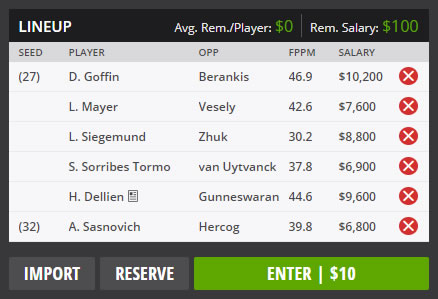 If you're interested in more tennis from Ace, he runs a tennis betting subscription service which is one of the best tennis tips services available anywhere in the world. Click here to to join and get $10 off your first month!