daily fantasy sports articles
Fantasy Tennis: 2019 French Open Day 4 Tips
Welcome to the Day 4 preview from the 2019 French Open. Once again, there are some huge contests to sink your teeth into at DraftKings, headlined by their $70,000 Special ($150 buy-in), which offers a huge $15,000 guaranteed to the winner. They also have a $30,000 contest ($15 buy-in), which awards $5,000 to the winner.
Four of the six selections won their matches for solid scores yesterday (well done to Hon who won at the lowest salary), however Travaglia was unlucky not to win and Cibulkova couldn't convert a break point if her life depended on it.
A smaller tournament today, however there are a couple of selections at a nice salary that may be worth a play.
Similar to yesterday, there are a couple of players at the top of the pile who should win very comfortably, with a couple of live underdogs at low salaries rounding out the list.
Player One – Rafael Nadal ($11,200)
Self explanatory – should be one sided and should produce a very big score.
Player Two – Roger Federer ($10,900)
See above re Rafa – I do not think Otte has anything to pose a threat to Federer. His serve is big, however once Federer neutralises that, it should effectively be game over here. Another big score on the cards here I would imagine.
Player Three – David Goffin ($10,000)
It looks as though Goffin has found his form again, as we saw with his dominant round 1 performance. Goffin is an incredibly difficult match-up for Kecmanovic, as he will run all day, limit his errors and ultimately cause Kecmanovic to win the match off his own racquet. Based on his recent form on clay, and his performance in round 1, this should be a straightforward win for Goffin overall.
Player Four – Shelby Rogers ($5,300)
One of the live underdogs today – if everything clicks for Rogers, as we saw the other day against Sharma, then Rogers will have control of a lot of points today against Suarez Navarro. The Spaniard was lucky to get over the line against Yastremska, however was probably lucky that Yastremska was tired from her final in Strasbourg and faded away dramatically in set 3. High risk high reward here, as I give Rogers a decent chance at an upset.
Player Five – Grigor Dimitrov ($5,900)
Too good to be at this price from a salary perspective. Not sure Cilic is firing on all cylinders, and Dimitrov may benefit from the slightly heavier conditions today. Cilic has not looked at top form this season on clay since his return from injury, and you could make a case that the best of 5 set format may suit Grigor here. Necessary as a result of taking Federer and Nadal to lock in big scores.
Player Six – Christian Garin ($6,400)
His form well and truly trumps the recent form of Wawrinka, who has struggled at times in his longer 3 set matches on clay this year. I think there is enough in the recent form of Garin throughout the clay season to be a significant chance of an upset today. Only main concern is Garin becoming a touch overawed at Grand Slam level compared to a former Roland Garros champion, however another one who is definitely a chance of an upset today.
Going with a lot of big name players in this slate, which we expect to be the way to go on Day 4. Here's our team for DraftKings $70,000 Special.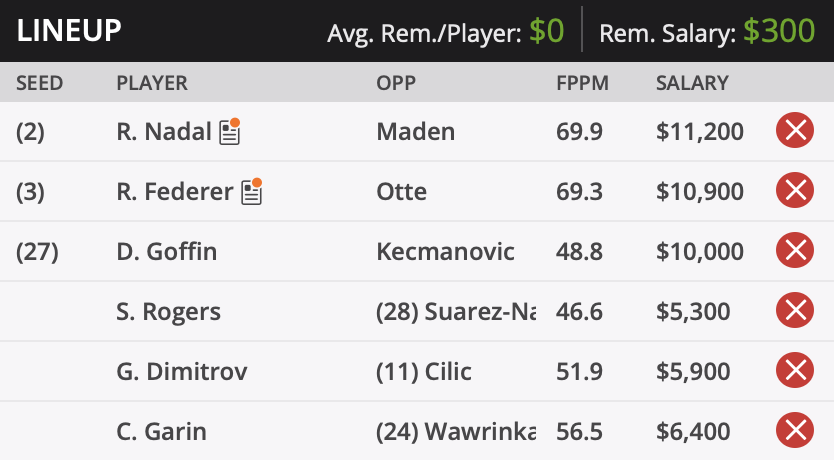 If you're interested in more tennis from Ace, he runs a tennis betting subscription service which is one of the best tennis tips services available anywhere in the world. Click here to to join and get $10 off your first month!