daily fantasy sports articles
Fantasy Tennis: 2019 Wimbledon Day 2 Tips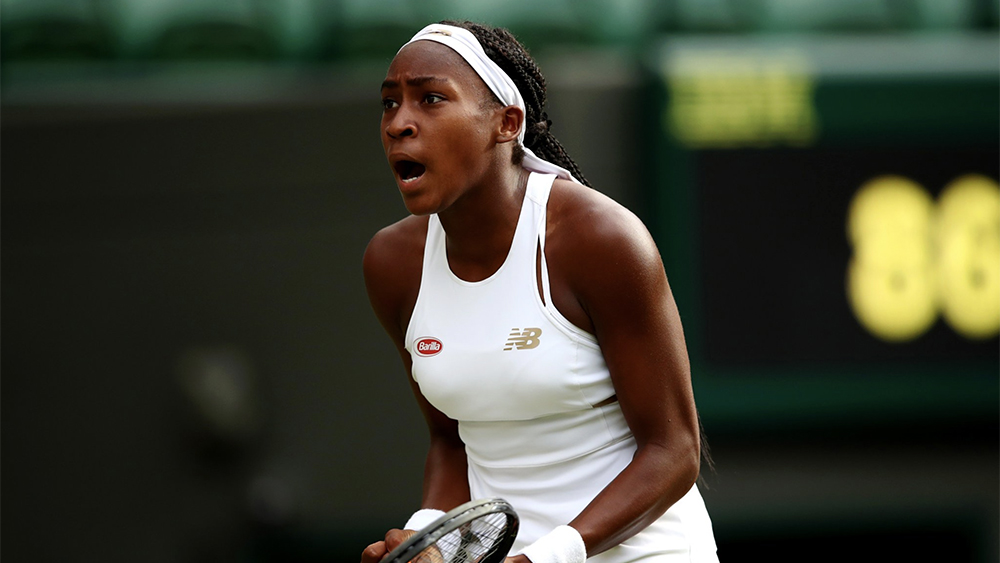 Day 2 of the Wimbledon Championships is here, and it's time to have another go at fielding a team for the DraftKings $100,000 contest!
Here is a list of players that in my opinion form a solid team for Day 2.
Player One: Ash Barty ($10,900)
With the other top priced players in Federer and Nadal playing either big servers (Harris) or solid enough grass court players (Sugita), I feel there is more potential in Barty's ability to generate an incredibly one-sided result today. Zheng has notoriously struggled on grass, and there is nothing in her recent form that leans me towards thinking this match will be anything but one-sided. A fantastic player to base around today.
Player Two: Joao Sousa ($8,900)
Whilst Jubb has put together some pretty impressive results over the last month or so, I feel as though the best of 5 format here really lends itself to Sousa. Joao has some decent grass court form around some pretty solid players overall, and if he can get on top of Jubb, he could really run away with this one for a high score. A bit of a risky selection but could pay off.
Player Three: Garbine Muguruza ($8,700)
One from left field is Muguruza, who is well and truly flying under the radar at the moment. Looks to be moving well, and I do get the feeling she is a touch underrated here. Should have too much for Haddad Maia on grass, and again is one who can generate a high score if everything clicks. Very much a confidence player and looks great value for her salary today.
Player Four: Denis Novak ($7,100)
If you want to take a player such as Barty/Federer/Nadal, then there is a need to find an upset or two in the field. Novak could be a good one to look at today. He's played some really impressive tennis on the grass over the last month and is proven over the best of 5 format. He could really give things a shake today against Fucsovics, who is known to play well on the grass however has struggled a touch this year.
Player Five: Katie Swan ($7,500)
Another who looks a solid price today. Whilst her loss to Zhang last week initially didn't look fantastic, Zhang has since gone on to defeat Garcia yesterday. Swan looked to be in control last week, and it was more a case of Zhang hitting her spots when needed. Swan should have the control here against Siegemund, who doesn't play a lot of grass tennis and is a player I would question in terms of movement on the surface. For a player who generally relies on movement so much, I worry for the German today against Swan. As a result, Swan seems a nice addition to the team.
Player Six: Yasutaka Uchiyama ($6,500)
Again, a necessary salary if taking one of the bigger names today. Uchiyama looked incredibly solid in qualifying, defeating Draper, Donskoy and Kubler. There isn't a lot in the past form of Sandgren on grass that leads me to think he is worth supporting here as a favourite at a high salary, so it may be worth taking a chance on Uchiyama to maintain his qualifying form and progress to the next round.
Other options:
High Salary - Serena Williams or John Millman
Medium Salary - Noah Rubin or Yafan Wang
Low Salary - Radu Albot or Sorana Cirstea
Those six players in our suggested team all fit under the salary cap, however if you have any questions about particular players, please don't hesitate to get in touch via Twitter.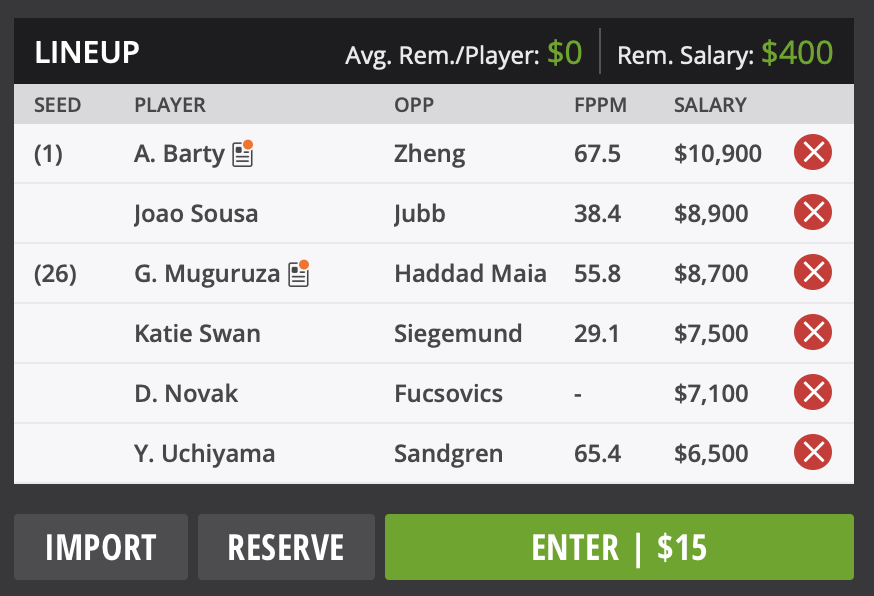 If you're interested in more tennis from Ace, he runs a tennis betting subscription service which is one of the best tennis tips services available anywhere in the world. Click here to to join and get $10 off your first month!