daily fantasy sports articles
FIBA 2019 Basketball World Cup - Day 2 Fantasy Tips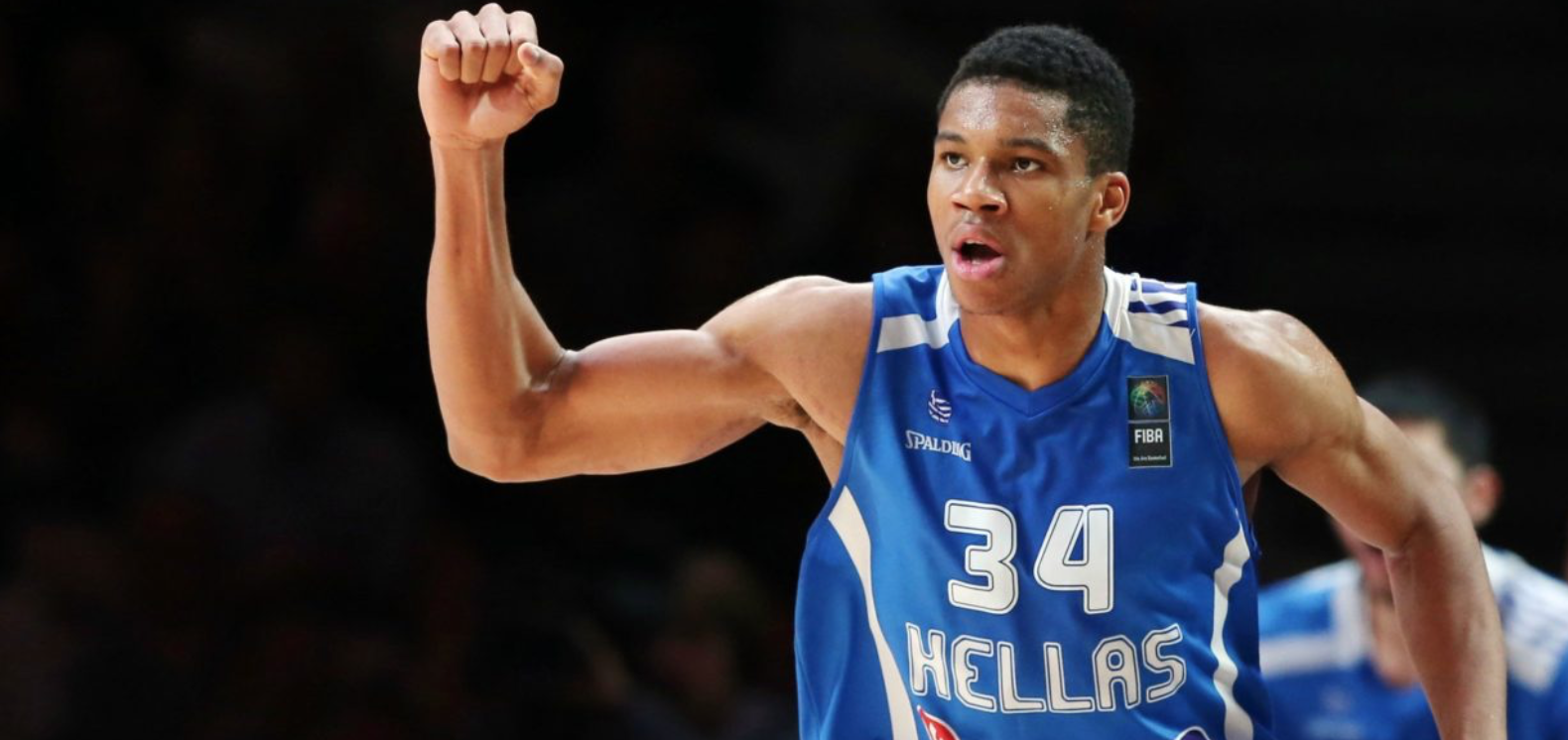 For those of us getting NBA withdrawals as we are now deep into the off season the FIBA World Cup could not come at a better time. Fortunately for us daily fantasy heads DraftKings are also putting on DFS tournaments for the occasion. The second day of the World Cup kicks off in China this Sunday, with tip off in the first DFS contests at 9:30pm Australian Eastern Standard Time (or 8:30am, USA EST).
The major competitions on offer include:
FIBA WC $10K Pull Up Jumper ($2K to 1st) at DraftKings

FIBA WC $500 Ankle Breaker (Single Entry) at DraftKings

FIBA WC $400 Sharpshooter (5 Max Entry) at DraftKings
​Slate Preview




Day 2 brings a four-game slate and feature our first match with a line under 10 points between France and Germany. Team USA are on this slate and their match features the highest game total by over 26 points at 178.5. This makes for an attractive game to target, however with USA almost 30 point favourites, they are going to take up the majority of that total and as will be the conundrum for all slates featuring USA, you can expect minutes to be widely spread in blowouts. Through the lead up games no player was generally playing over 25 minutes, and this is likely to continue in these type of matchups through the group stage. As a result, unless it is a value play the general stance will be to fade Team USA players as that same salary can be better used on other teams where the lead players will log major minutes and significnat usage rates.
Personally I will be looking to the France vs Germany (line of 8.5 points) and Greece vs Montenegro (line of 12.5 points) matchups as they offer much more safety for daily fantasy in terms of where we can expect the minutes to come from.
Value Play
Miles Turner ($4,800) has effectively got the starting centre position on lock based upon the play in the lead up games. Turner started at centre in the last three games and posted double doubles in two of these (10p, 15r against Canada, and 15p, 15r against Australia). He provides Team USA with the inside/outside presence on offense, while being the best defensive anchor. It hasn't hurt that both Mason Plumblee and Brook Lopez have been awful through the lead up games. Turner is certainly priced like a player who isn't expected to play major minutes or be heavily involved in the offense, but with a floor of around 10 points 10 rebounds in a game with a 178.5 point total he is my lock and load value play on this slate.
Mid Priced
Tomas Satoransky ($6,600) is the point guard for the Czech Republic and will be their main playmaker and essentially do everything player. He is fresh off his best season in the NBA assuming starting point guard duties for the Washington Wizards after John Wall missed the majority of the year with an injury. He put up 11 points, 6 assists and just under 5 rebounds across the last 3+ months of the season. This should be his best international series yet and he was outstanding in the two qualifier games where he played in averaging 19 points, 8.5 rebounds and 6 assists in 34 minutes. In the 2017 FIBA Eurobasket he played 31 minutes a game and posted 12 points, 5.6 rebounds and 6.6 assists per game.
Premium Play
Dennis Schroder ($7,200) is right on the borderline of mid priced / premium play so I will cover the top end priced players below. But in short Scrhoder is my first picked player on this slate. He is in the perfect position for international basketball where he will be playing 30+ minutes per game, and holding the majority of the teams usage rate. He averaged over 20 points per game over the 5 lead up matches he participated in, while also being the teams leading playmaker.
Premium Breakdown
This slate brings some of the heaviest hitters in the tournament with 3 players priced at over $9k in Giannis Antetokounmpo ($10,500), Kemba Walker ($9,200) and Nikola Vucevic ($9,000). Followed up by fellow NBA stars in Rudy Gobert ($8,200) and Jonas Valanciunas ($7,500).
As mentioned above I am mainly looking to fade Team USA, especially in the games expected to blow out as a result of the heavy rotations and low minutes expected. Kemba Walker should lead the team in scoring, but I don't expect anyone to see over 25 minutes in this first game. Seeing him pay off that salary seems virtually impossible and thus a clear fade.
Nikola Vucevic on the surface should be the top premium play of the slate. He has torched the NBA all season with a barrage of inside moves as the go to player for the Orlando Magic, and as the only NBA player on Montenegro you would expect more of the same in the FIBA tournament. But things have never quite gone that smoothly for Vucevic at the international level. There has been "disagreements" between himself and the coach on his role with the team and is primarily used as a pick and pop big man rather than on the low block. His numbers in the 2017 Eurobasket were just 14.5 points and 8 rebounds per game, and there was no sign of improvement in the lead in games to the tournament. Unless there is evidence of a significant role change early in the tournament he will be a fade for me throughout.
Giannis Antetokounmpo, despite the highest price ticket, looks to be the safest of the premium stars on this slate. He is the best player in the entire tournament, and possibly the world, and similar to his role on his NBA team, he will be required to setup the entire offense for the Greece national team as they surround him with perimeter shooters. His clips of the exhibition games have resembled varsity vs junior varsity. Through the lead up games he has consistently logged 30+ minutes and been the sides leading scorer.
Dragon suggested team at DraftKings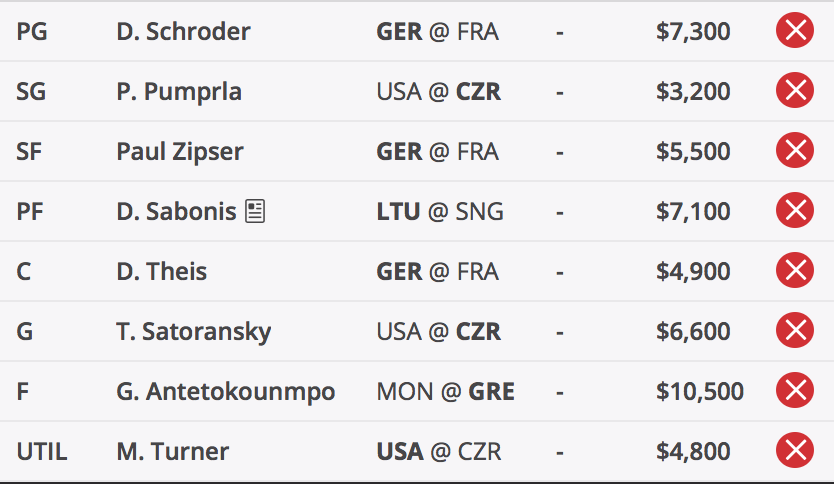 Always remember to gamble responsibly. When the fun stops, stop. If gambling is having a negative impact on your life, seek support at Gambling Help Online. 18+ only.