daily fantasy sports articles
First Preliminary Final: Tigers vs Magpies AFL DFS Lineup Tips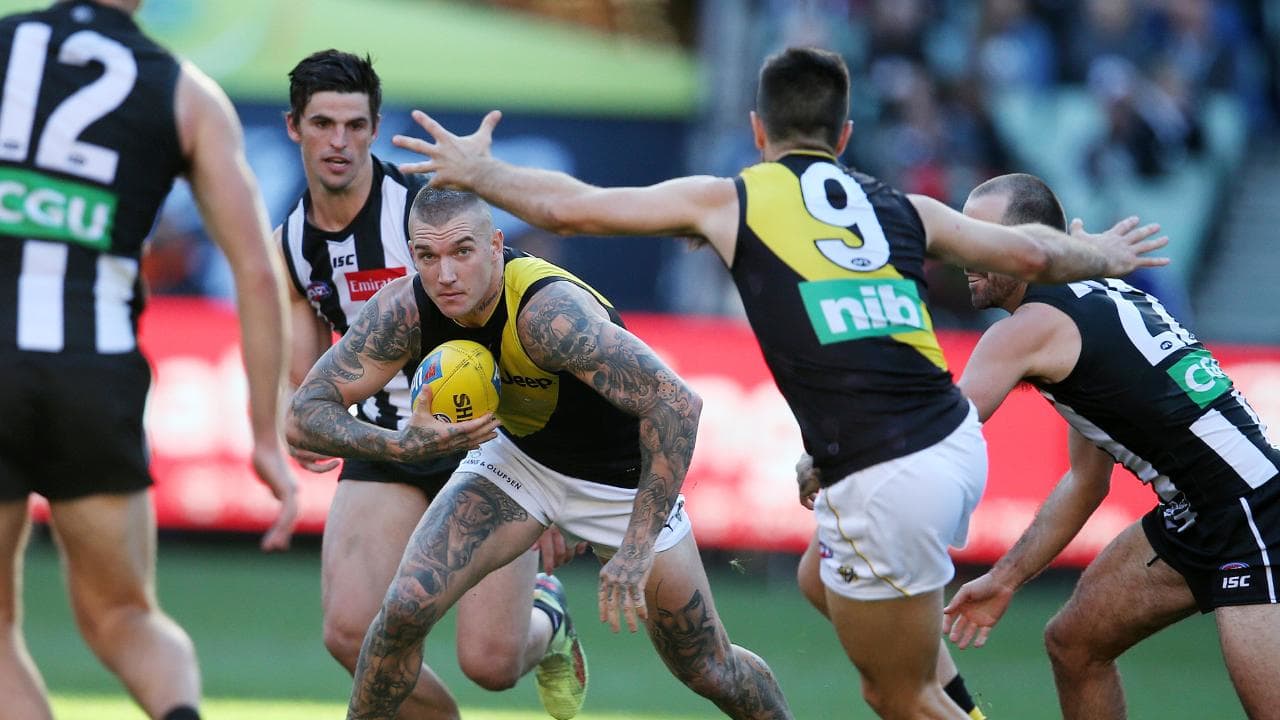 The First Preliminary Final of the 2018 AFL finals series kicks off on Friday night with a Richmond vs Collingwood blockbuster! There's close to 100,000 fans expected to attend and with a spot in the Grand Final on offer, stakes couldn't be any higher!
DFS sites across the country have given us with some great AFL DFS contests to indulge in on Friday night. Draftstars have a huge $40,000 contest on, Moneyball have a $7,000 tournament, while PlayON have their own $1,000 contest, as well as some qualifiers for their $5,000 Grand Final contest.
Check out all the best plays for the match below, courtesy of Fantasy Boss!
Previous Meetings
Past scores between Richmond and Collingwood suggest that regardless of the result, the game style of Collingwood significantly outscores that of Richmond. In both matches this year, which were relatively convincing wins to the Tigers, the Pies outscored them 1629 to 1476 (round 6) and 1751 to 1438 (round 19). This means you should be confident knowing that your Collingwood players have a high floor, even if the Tigers were to dominate the game.
Ruck Battle
The ruck battle is highlighted by Brodie Grundy's two scores already this year on Nankervis of 115 and 147. From the table below, you can see that in the round 6 matchup when he 'only' scored 115, he accounted for just 75% of Collingwood's hit outs suggesting a loss of ruck time to Mason Cox. This was not the case later in the year with his 96% of team hit outs resulting in a monster score of 147.
With close to no time spent in the forward half during this final series and a full game against the #1 DFR FB ruck matchup, Grundy has the highest ceiling and floor in this contest.
When looking at Nankervis, his scores of 131 and 94 this year vs Grundy make him incredibly tempting. His 131, however, came from an outstanding performance that required 114 points around the ground (ATG) to achieve, which is unlikely to happen again.

Dustin Martin
First of all I just want to mention that I am not concerned at all about his supposed corked knee. Dustin Martin has saved his best football for the back half of the year. He has lifted to another level and is now at the point where taggers have no longer been able to contain him to those scores in the 80's.
His Last 5 game log reads impressively: 114, 85, 118, 115 and 110.
This is good news as this was exactly what happened last time they met in round 19, where Levi Greenwood kept him to an underwhelming 80.
In addition to this, with no Treloar, Sier or De Goey playing in that matchup, Buckley may now even choose to go head to head (as he had done in the past).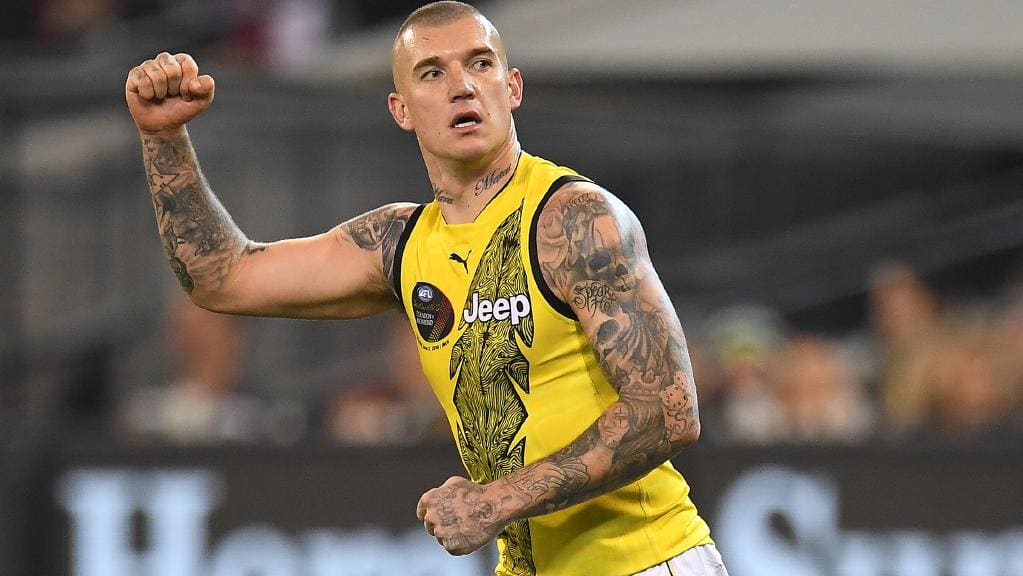 Captain Cotchin
Another Richmond midfielder that I really like from a value perspective is Trent Cotchin. He lifted significantly two weeks ago for the Tigers first final playing like a man possessed; willing his way to an 85. In the last 5 weeks he has had 3 weeks off, which is also exactly what his body has needed. At $10,560 I can see him hitting 8-10x value.
Backs vs Richmond
On the flip side of this, Richmond are also favorable to backs as the number 4 DFR FB ranked side to come up against. In round 6, it was Jeremy Howe who ran free for 131, but was not given the opportunity to repeat that effort with an injury early into the round 19 clash. At $11,360 and an underwhelming run of form leading into this match, Howe could provide a high scoring option for your lineup at low to moderate ownership.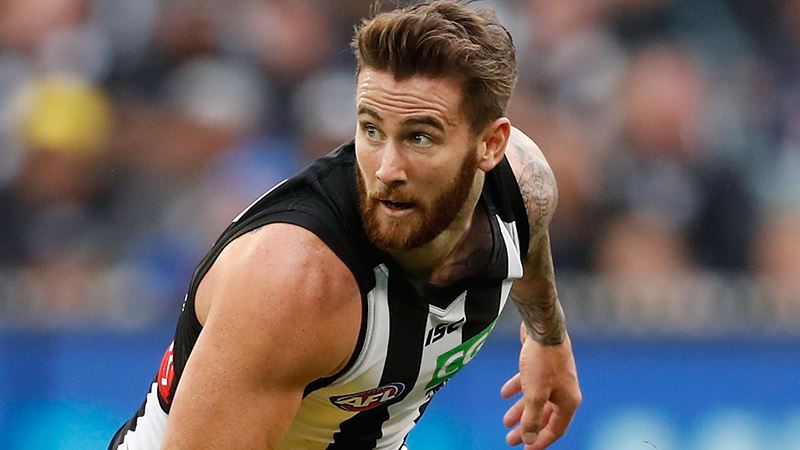 Backs vs Collingwood
For the majority of the season, Jayden Short has been the Tigers most fantasy relevant back option. In round 19, however, when these two sides last met, Short bombed through two 55+ metre goals from handball receives that caught the attention of the Collingwood coaches box. After quarter time Short wasn't tagged but was watched closely, limiting his output for the remainder of the game.
It's fair to say that going into the game Buckley will have remembered this. As a result I see Bachar Houli cashing in on this already favorable matchup. At $11,370 a 90+ score is on the cards resulting in a high scoring value play.
Midfield Match-Up
The past matchups between these two sides reveal some really nice scores across the board to Collingwood midfielders:
Adam Treloar 147
Steele Sidebottom 81, 120
Scott Pendlebury 125, 125
Taylor Adams 98
The one I really want to mention is Tom Phillips, who has had an average 2nd half to the year following an unbelievable start. In his two matches vs the Tigers he has scores of 128 and 116. When pairing this to with his last two finals matches (100 and 107) at $13,030 I really like his potential in this one.
Season form vs Last 5 form
Looking at the last 5 Points Against Matchups for the home and away season, there is a clear trend that shows midfielders beginning to score heavily on the Tigers. This is due to the strategy that maintaining possession and denying the Tigers the ball is the way to beat them. Expect Collingwood who are already an excellent side at holding onto the footy to play a style conducive to this.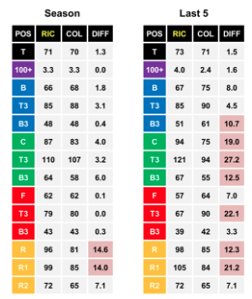 Richmond vs Collingwood Cheat Sheet
The cheat sheet below gives you everything you need to know to help you build your DFS line-ups for Richmond vs Collingwood on Friday night.
The "Value" figure is especially important for DFS players as it provides an estimate of a player's worth to your team by comparing their projected score with their price. Ultimately, if you can fit more good value picks into your team, you're giving yourself the best chance of success.
*Cheat Sheet will be updated when the official team line-ups are announced.


All of the stats and information used in this article has been provided by the team at Fantasy Boss - one of the pioneers for DFS data in Australia. Remember that all projections are merely based off the statistical data provided and we can not guarantee player scores or success in your DFS contests, but we think this information should give you a good head start! Good luck!