daily fantasy sports articles
First Qualifiers win their tickets to the Kayo $200,000 AFL Live Final at Draftstars

The first few batches of players have landed their tickets to the big one – the Kayo $200,000 Live AFL Final on Draftstars – after the qualifiers were well supported over the last two weekends. Already the excitement is building for the final in August, and already there are some big names earning their spot in the final!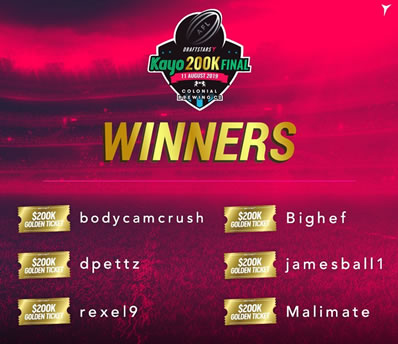 The first weekend of qualifiers would see the likes of bodycamcrush, dpetta, Malimate, jamesball1, top ten ranked DFR player rexel9 and the host of the weekly DFS Down Under show, our very own Tristan "Bighef" Heffernan win their way to the big one.
Mate Beram aka "Malimate" is an Accountant from Melbourne who has been playing DFS on Draftstars for around 3 years. Malimate has always been a big fan of Supercoach and AFL, but his main success and strengths are in the round ball game. Multiple wins on Draftstars on the "Football" tab along with a smattering of AFL and American Sports, Malimate is no stranger to the live final as he was the 6th place finisher in the BBL Biggest Bash earlier this year. We asked Malimate how he snagged his ticket during the Round 8 Sunday slate:
"I had 2 entries into the $50 comp. Thought this was the most efficient way to get a ticket and proved myself right. Key players were Duncan, Kelly, Lobb & Henderson....I watched the first half of the Cats game, Duncan exploded early but wasn't as low owned as I was expecting for a 70 entry slate (24%). Ricky Henderson was the key, 3% owned which made my jaw drop. Probably one of the better players for fantasy because he can get you a bit of everything and his role lately has seen him have a decent floor. Also watched a few of their games this season and noticed he seems to always be in a lot of space, teams don't pay him enough attention."
When you nail the top four players in the slate, you are bound to be at the pointy end of the leaderboard. A check of the leaderboard after the Cats game showed that Malimate had a significant lead on the projections. Malimate's key player was Jy Simpkin. As he went on to explain:
"I've been following Simpkin since before he got drafted, I knew it was my day when he started attending centre bounces which I honestly can't remember him ever attending. Was the only person in the comp to own him and his 77 @ $9,070 might not seem outstanding, but it allowed me to structure the rest of my lineup with the players I wanted."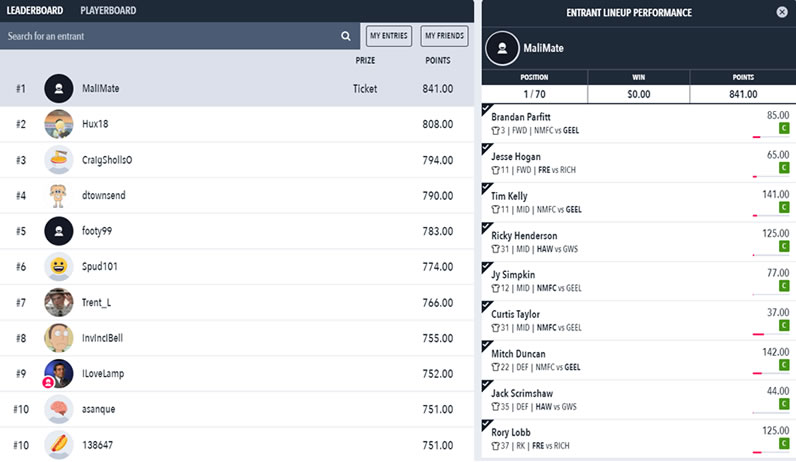 Malimate is now on the hunt for a 2nd ticket to join rexel9 who became the first player to win two tickets to the final. With a maximum of two entries per person allowed, rexel9 will now have to sit the rest of the season on the sidelines, waiting for a chance to redeem his tickets in the final. rexel9 is a veteran of the Australian DFS industry with winnings exceeding $600,000 in prize money across a broad range of sites and sports over a number of years. We spoke to rexel9 to find out how he achieved his dual qualifier victories:
"I'd had a pretty lean start to the season, and was having plenty of doubts before I landed a win in the Sunday contest the week before. That was great timing as it gave me the confidence and some funds to tackle the Draftstars Live Final qualifiers, and the following Saturday I won my first ticket. I had Oliver, Grundy and Rocky and they were the three biggest scorers on the slate. I had a bit of a sweat at the end as ChrisEddy nudged ahead so I needed a couple of Port players to get a cheap handball or two late in the game and thankfully they did enough.
The following Friday I jumped into the $50 Qualifier for the Eagles vs Demons game, and had a more comfortable win in that one as I had two combinations at the top of the leaderboard so I had most bases covered late. The winning lineup had Yeo, Sheed, Shuey and Gawn who all went off, and McGovern had some cheap late touches to also ton up so that was probably the key pick.
I'm looking forward to the live final once again. The Biggest Bash Final was a great day, and Draftstars put on a great show. But I was never in the hunt that day so hopefully I can give it a nudge this time around!"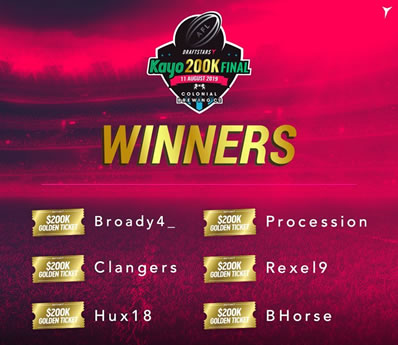 Others to win tickets in the most recent weekend of action include Hux18, BHorse, Clangers and top ten DFR ranked players Broady4_ and procession.
It's been a big season for procession who was dominating AFL contests on Draftstars even in the pre-season before the real stuff had even started! We caught up with procession for a chat following his win on Saturday.
"I've been playing AFL DFS since Draftstars launched, but took a bit of a break from playing AFL DFS properly last year because it was a big year personally, starting a new business and getting married. However, as soon as I saw the Big Bash Live Final, I knew an AFL version was inevitable so was refreshed and ready to get cracking into a big 2019.
The AFL Live Final qualifier win coincided with easily my worst DFS weekend results wise so far this season, so it ended up being a nice consolation. I actually didn't get a chance to sweat the qualifier properly as I was watching a movie with my far better half during most of the evening games. It finished with around 10 minutes left in the Roos game and that's when I noticed Jack Ziebell was playing like the days of old. Thankyou Jack! I was leading and most of the other players in contention around me had Ziebell aswell, so I opted to watch the last 5 minutes of the Bombers vs Freo game hoping Nat Fyfe could score me a few points to solidify the win. Frustratingly Ross Lyon had Fyfe at full forward so it was looking like a +12 or nothing. Regardless, he barely got near it, Freo lost and I managed to hold onto the ticket."
Of course procession hasn't just been dominating the AFL contests on Draftstars this season, with a couple of nice results in some recent Golf contests as well.
"While I have been loving AFL DFS this season, seeing Golf added to Draftstars has been great and something I am enjoying quite a bit! It's a nice relaxing four day sweat compared to the sometimes stressful fast-paced nature of AFL. Lots of it happens while we are sleeping in Australia too, so it's fun to wake up and see how many of your players are tracking to make the cut or making a run at a Top 10 finish."
Our roaming reporters will be on the lookout for Malimate, rexel9, procession and all of our other qualifiers at the Colonial Brewing Company on August 11th for the $200,000 Live AFL Final present by Kayo Sports and Draftstars.
Want to join these guys and play for a share of $200,000? There are $50 and $2 qualifiers running daily during the AFL season with one ticket guaranteed in each qualifier. In addition, Draftstars have announced they will be running a $75,000 Guaranteed Contest for the Friday Night match between Sydney and Collingwood. There's no better time to jump on board! Make sure you also check out our free Resources on the Daily Fantasy Rankings website which provide you with all the tools, data and stats to help you construct a winning lineup.
Have you qualified for the AFL Kayo $200,000 live final and want to share your story with the world here on Daily Fantasy Rankings? Contact us or shoot us a message on Twitter and we will get in touch to share your story with the Australian DFS community!