daily fantasy sports articles
Five Moneyball Tips for the $100,000 Contest This Saturday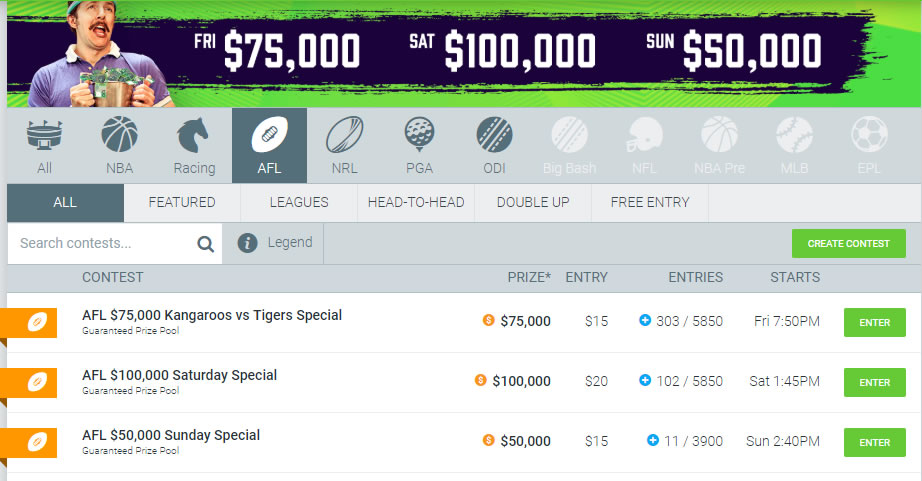 How big can we go? The Australian DFS industry is taking off and it's Moneyball who have set a firecracker underneath us all with some massive AFL contests that are elevating prize pools to dizzying new heights each and every week.
These are exciting times and well done to the entire Australian DFS community for getting behind these contests and hitting these guarantees last week. But now, the challenge is on again. Can we go even higher?!?
Moneyball have done it again for Round 11 of action this weekend as they kick-start things with a $75,000 Guaranteed contest on Friday night for the Kangaroos against Richmond. That is then to be followed by an enormous $100,000 Guaranteed contest for the five-game slate on Saturday. Then to round out the weekend, there's another $50,000 Guaranteed up for grabs on Sunday! This is arguably the biggest weekend in the history of daily fantasy sports in Australia. Quite simply, there has never been a better time to join Moneyball, make a deposit and have a crack at these contests!

To help you get acquainted with Moneyball, we've come up with five quick strategy tips to help you on your way to winning some of the big cash on offer!
Here's five tips to help you improve your AFL fantasy game on Moneyball.
1. Stacking in multi-game slates
One thing that Moneyball does differently to Draftstars is that there are no limitations on the number of players you can select into your lineup from any single team or game. Over on Draftstars, on multi-game slates, you're restricted to a maximum of 5 players from any one team, and a maximum of 8 players from any single game. On Moneyball, things are a little bit different.
On Moneyball you can do what's known as "stacking" and that is select most or all of your players from one team. The advantages of this were best seen two weeks ago when GWS smashed Carlton by close to 100 points. When one team gets a lot of the ball, and/or wins by a great margin, they are likely to show significant fantasy scoring across multiple positions. Think about the ball being fed from the backline, all the way down the ground to the forwards who then kick the goal. The players link up and that means your fantasy lineup is scoring extremely well together. Stacking can often be a great way to pick up a big win on Moneyball.
2. Slower player price movements
Moneyball typically take a little longer to move the prices of players. This is great when a rookie bursts onto the scene as you can often get them cheap for several weeks before their price moves up to their true value. Take advantage of this by watching out for rookies or other players who are scoring well and still offer value compared to their salary. Our AFL Resources section will highlight the players based on their projections and value.
3. Emphasis on position
Positions of players are super important on Moneyball as, unlike Draftstars, there are no players in multiple positions on Moneyball. That means often, especially in single-game slates, you can be left struggling to find some value in certain positions. Sometimes you are left picking between just a handful of players in some positions. If that's the case, you'll have to be more conscious of paying down in certain positions and paying up in others. It might be worth paying down for a cheaper midfielder and paying up for a quality defender on Moneyball, rather than be left with a dud.
4. Mid-range strategy
One strategy that many players on Moneyball are adopting is to stick with lineups full of mid-tier players, rather than taking the premiums and being forced to select some budget players to fit into the salary cap. Obviously it depends on the slate of games and players on offer, but you can use our AFL Cheat Sheets and sort the data by value to find which players are best priced. Perhaps you'll find a good range of mid-tier players offering value and you can adopt this approach.
5. You don't need to enter the maximum number of lineups to win
While this is certainly a great opportunity to increase your volume given the extra value in AFL prize pools at Moneyball at the moment, you don't necessarily need to max out on entries in order to win. Over the last few weeks, we've seen guys with just one or two entries do very well in these contests. Some players prefer to focus on entering a more manageable number of entries where they can stick closely to their optimal lineup. Check out this video from our friends at RotoGrinders where they discuss this very topic:
For more great tips to help you win the cash on Moneyball, make sure you check out the weekly DFS Down Under Show with Smatho and Hef. Last week they provided some great insights into Moneyball strategies that could help take your game to the next level!