daily fantasy sports articles
Freelance fires, Eaglebet soars on Day 2 of The Championships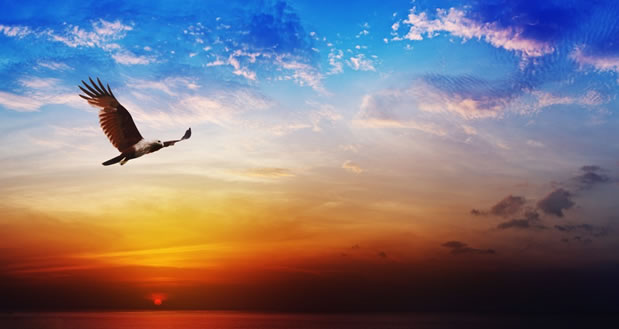 The Championships came to a close at Royal Randwick on Saturday with a big couple of weeks for punters highlighted by the dominant 17th straight win for Winx. Over at TopBetta there were some performances that may have even rivalled that of the super mare, with tens of thousands of dollars in prize money awarded on Day 2 of The Championships.
The feature event of the day was the culmination of the The Championships $20,000 Guaranteed tournament. In the end, the guarantee was met, and exceeded, as the 148 entrants combined for plenty of rebuys to boost the eventual prize pool to $24,500. The top 18 players would share in the money, but the top prize of $6,125 would only go to one player and that would be tournament regular Freelance.
Freelance's strategy of going wide and searching for winners at big odds took a while to bare its fruits after seven unsuccessful swings early in the day. Undeterred, Freelance kept reaching for rebuys and on swing number eight, he eventually connected with Grand Chancellor at Morphettville saluting at $18 in what was the second-last race of the tournament.
From there, Freelance had some ammunition for the last race of the day and again, swung hard and wide to find Taillevent at $15.70 to turn his $25,000 start bank into $542,150 in just two races. Incredibly, that was just enough to pocket the top prize just ahead of Dave021075 and eaglebet.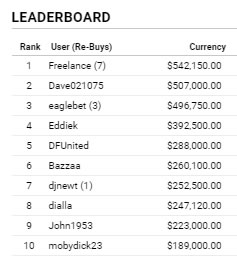 Despite not getting the top prize in the main event, it wasn't a bad day at all for eaglebet as he took down an even greater financial prize in the One Gorilla Thrilla. An $1,100 buy-in event for the high rollers of TopBetta, eaglebet came into the day sitting in second position behind TheDonkey. The two sat quietly throughout the day as the opposition slowly dropped away, before eaglebet assumed the advantage on the second-last race. eaglebet spread his bets on Race 10 at Toowoomba and a $5,000 wager on Taillevent was enough for him to hold onto the top spot and take down the top prize of $9,000. Both TheDonkey and slycooper would also collect a nice return as the top three finished in the cash.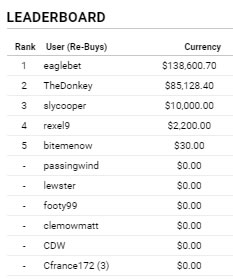 Both Freelance and eaglebet also picked up valuable rankings points from these two big events to climb our DFR Rankings leaderboard. eaglebet is now sitting at #9 on the TopBetta All-Time rankings, while Freelance is up to #11.
Next week will see the feature event run on Easter Saturday for the All-Aged Stakes. Get in the game with TopBetta and you could be our next tournament champion!