daily fantasy sports articles
"Harambe" To Show Clean Pair Of Heels At Draftstars Biggest Bash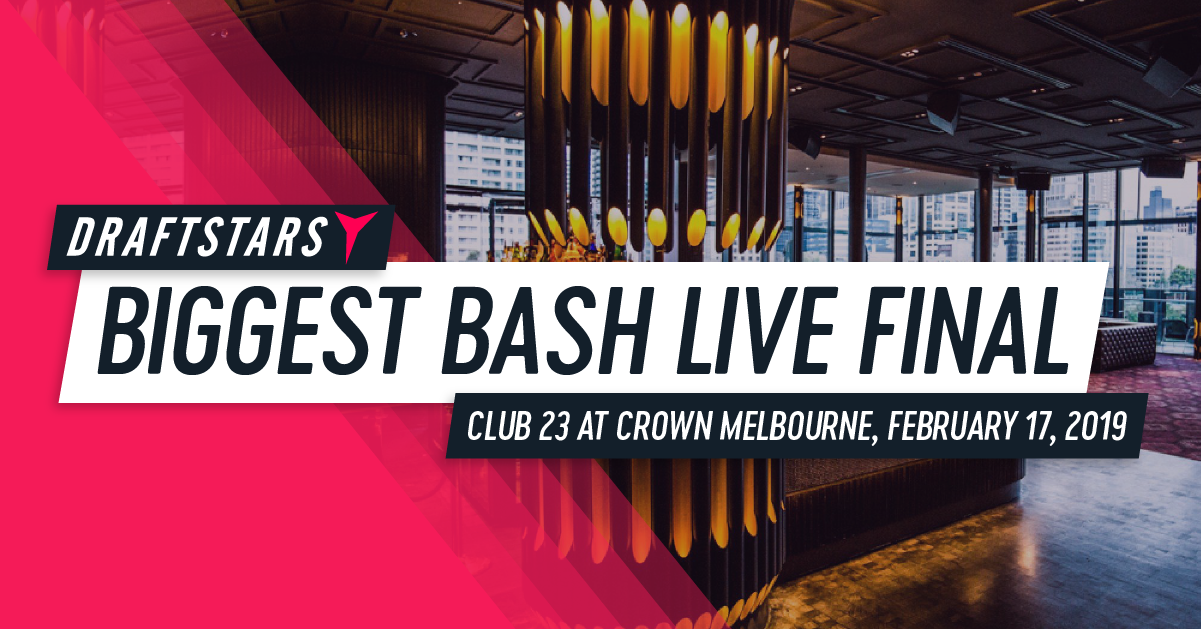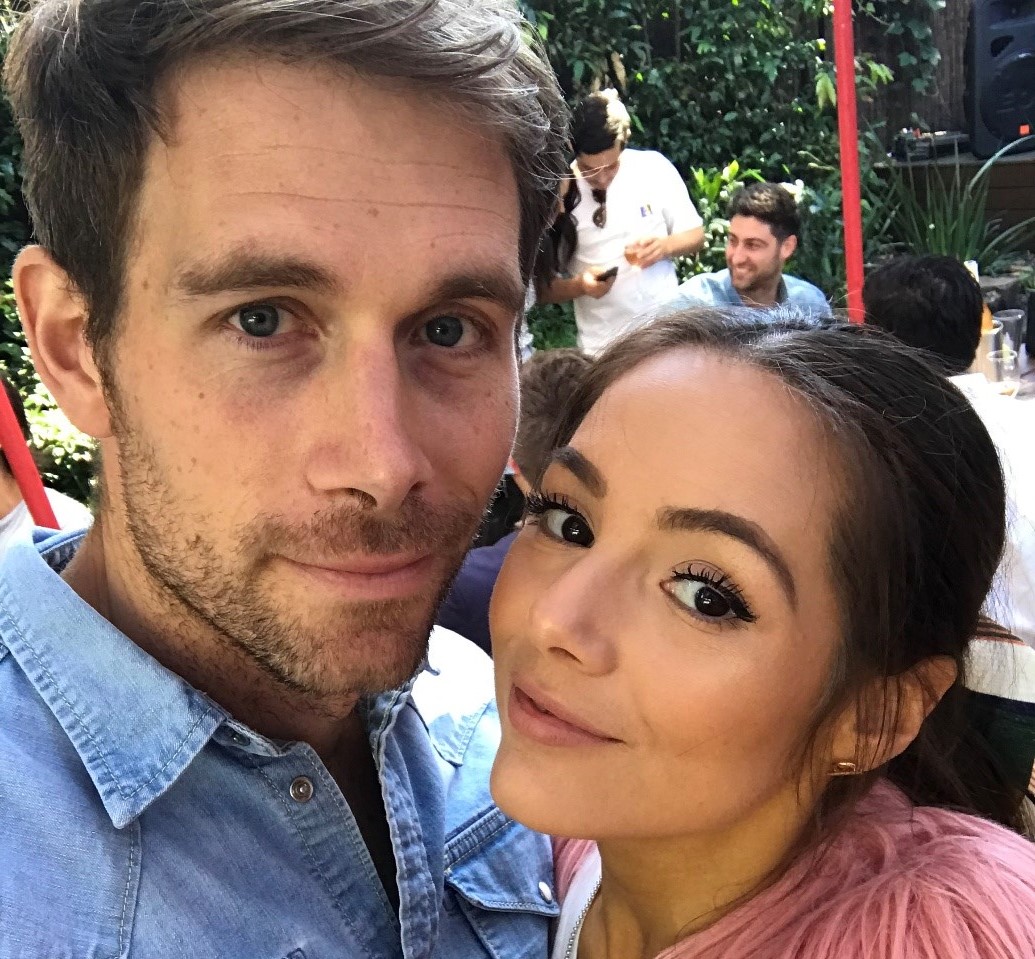 The latest qualifier in the Draftstars Biggest Bash may not have had a glittering cricket career but there is no doubt he will have one of the best athletic backgrounds at the live final. Simon Fitzpatrick aka "Harambe" is a former track star who excelled running over 800m but also had enough sprint in his legs to win the Burnie Gift in 2015, defeating 2018 Stawell Gift winner Jacob Despard by 0.01 of a second after starting off 9.5m! However, last week it was his knowledge of daily fantasy cricket that had him back in the headlines as he took home a golden ticket in a nerve-wracking playoff!
Simon is a Digital Change Manager from Melbourne who has been playing DFS since the start of the NBA season 2016/17. A 25 year Houston Rockets fan - his first basketball card was of Scott Brooks - Simon had played Supercoach for a number of years prior but was encouraged to start playing daily fantasy contests by his friend Clinton and hasn't looked back. The fact you can spend $15 on a lineup and get 6 hours of action for your money has always been a major drawcard for Simon – "much better value for money than doing your dough on the punt in one minute!"
Simon enjoys playing a range of sports and prefers to play one or two lineups but when the opportunities to win a Biggest Bash golden ticket were starting to dry up he decided to up the ante and play the maximum 10 lineups per match. Just a few nights later it paid off as he put together the perfect lineup for the Renegades v Thunder match to score a massive 648.75 points! Simon noted "Christian and Harvey scored 50 points in the field which gave my score a big boost … but the only problem was someone else also had the perfect lineup!"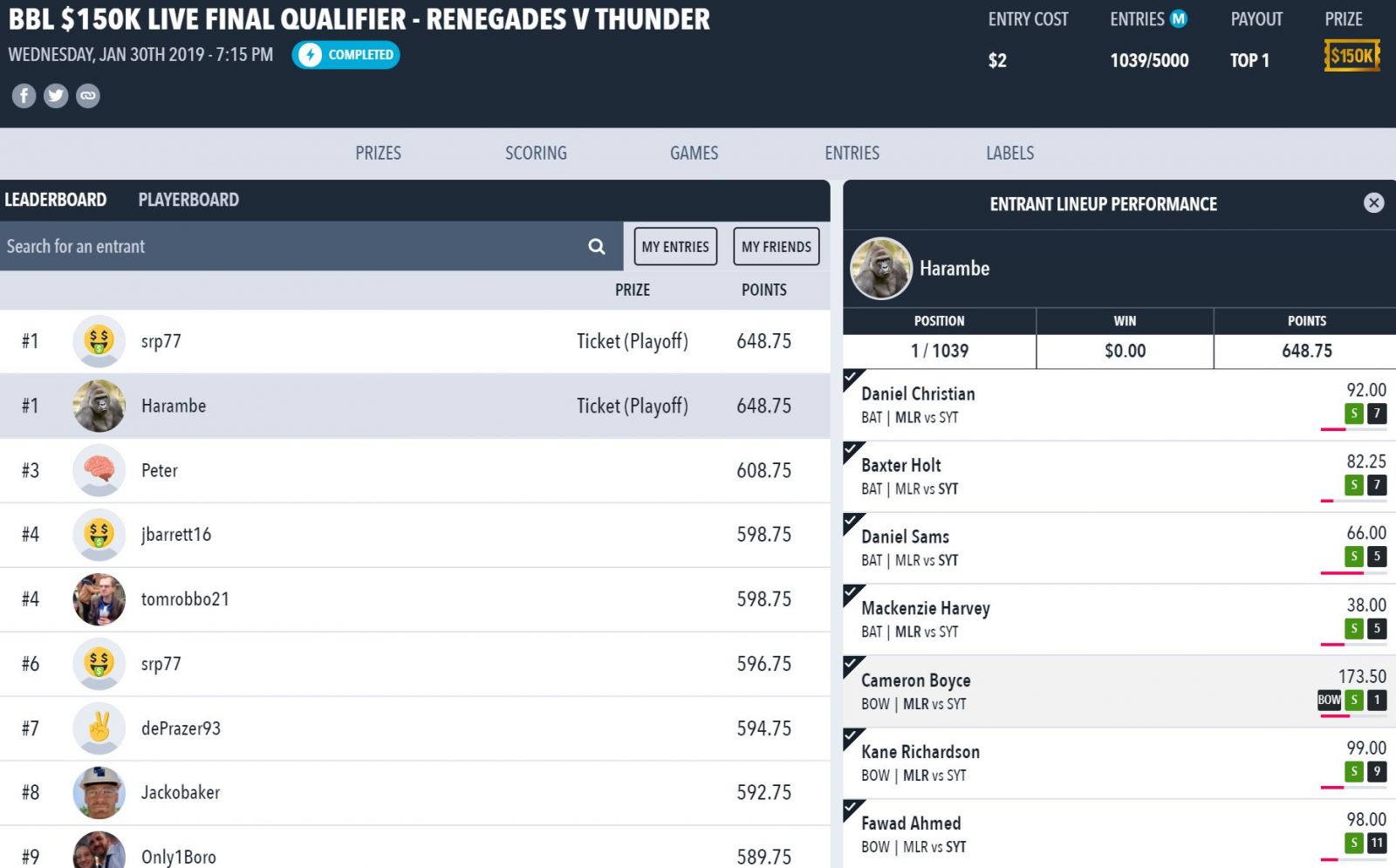 A two man playoff meant Simon had a 50/50 chance of claiming a live final ticket and he found the whole experience particularly nerve wracking.
"First is great, but second is just a pat on the back. So I was pretty nervous."
When the lineups were locked, they had just two players different – Simon had the combo of Jake Weatherald and Jofra Archer, while his opponent had Ben Laughlin and Jake Lehmann. Fortunately for Simon, his players "worked together" much better than the two Strikers team mates.
"I thought I was in trouble getting towards the end of the Hurricanes innings … Laughlin took 3 wickets but I got a slice of luck when Lehmann dropped one off Laughlin's bowling and injured his finger in the process! The last ball of the innings was a disaster however when Archer was dismissed by Laughlin so I was going to need plenty of runs from Weatherald to make up the points."
Fortunately, the Strikers batting innings would have been extremely good viewing for Simon. Weatherald destroyed the Hurricanes' bowling attack with 82 off 42 balls … helped considerably by Simon's other unique player Jofra Archer who uncharacteristically dropped a skier off his bat. Even when Weatherald was finally dismissed it was at the hands of Archer, providing an extra 20 points, and Simon's lead was far too big for Lehmann to chase down.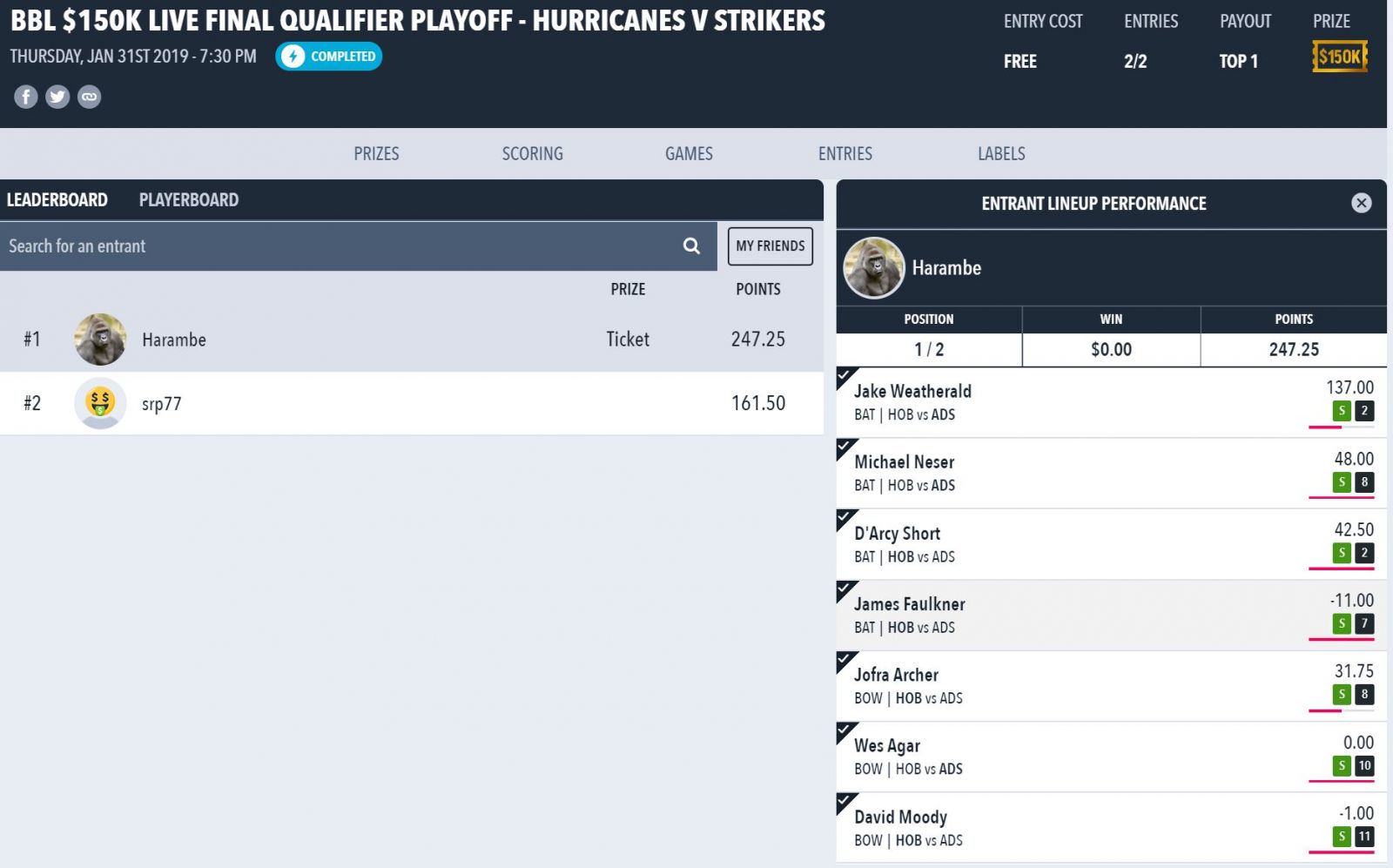 Simon was sweating the playoff at home with his fiancé, who took quite a bit of convincing to believe they had booked themselves a night at Crown:
"I didn't want to celebrate to early so I was counting it down until it was a mathematical impossibility for Lehmann to hit every ball for 6 and beat me. Once I was home I was pretty relieved but my fiancé Jacqueline wouldn't believe it until I had the email from Draftstars to show her .. even then she still wasn't convinced until I got my email confirming my room and now she is pretty happy."
So we can assume Jacqueline will be the +1 coming along to the live final?
"Jackie is going to get the full Crown experience but it's actually going to be my old man coming to the final … he plays on Draftstars a bit as "Desperados". I'm actually starting a new job on the Monday so it's going to be a bit weird waking up at Crown the next morning and walking across to start after what is hopefully a night of celebrating!"
Congratulations to you Simon and good luck in Melbourne for the Draftstars Biggest Bash final from everyone here at Daily Fantasy Rankings!
Want to join Simon at Club 23, playing for a share of $150,000? Check out our full run down of the "Biggest Bash" contest and start playing the $2 qualifying tournaments running on every home and away match of the BBL08 season on Draftstars!
Have you qualified for the "Biggest Bash" Live Final and want to share your story with the world here on Daily Fantasy Rankings? Contact us or shoot us a message on Twitter and we will get in touch to share your story with the Australian DFS community!

Always remember to gamble responsibly. When the fun stops, stop. If gambling is having a negative impact on your life, seek support at Gambling Help Online. 18+ only.