daily fantasy sports articles
How do I make a deposit?

If you need to know how to make a deposit on an Australian DFS site, simply follow this guide and you'll soon have it figured out.
Not all Daily Fantasy Sports competitions require an entry fee, or buy-in, however for the bigger competitions offering sizeable prize pools, a buy-in will be required and any winnings you have will be paid into your account at each specific site.
First of all, you have to create an account at the specific site you wish to play at. Once you have done this, you will then be able to make a deposit which will then allow you to participate in the bigger contests.
At PlayON, one you have logged in, you will see a green 'Deposit' button in the top right corner of the page, with you balance besides it. Click on the button, select the amount you wish to deposit, the currency and method of payment. If you chose the method of Credit Card, click on the 'Payment details' button where you can enter in your card details (Mastercard or VISA) and billing address, then click on the 'Make Deposit' button. The alternative options are via Neteller or Skrill. If you use these methods you will then have to enter in your details on the next page before making your deposit.
A similar system is in place at Draftstars however the payment options are via Credit Card (Matsercard or VISA) or PayPal. Simply add in the amount to deposit, card/PayPal details and the click on the 'deposit funds' button.
At MoneyBall you will see a green + button at the top right corner of the page. Click on that and you will be taken to the deposit page. It defaults to credit card deposits, where you just enter in your card details and amount to deposit, before clicking on the Deposit funds button. The alternate payment option is via the POLI Internet Banking system. Click on the 'Is your bank supported?' link first to see if you can use this service. If so, fill in your details and amount to deposit and away you go!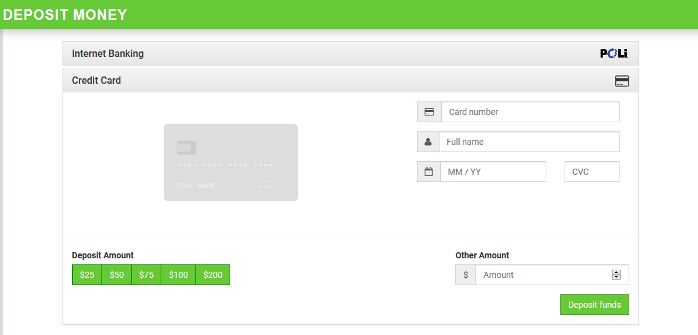 The SportChamps site has a slightly different layout. Once logged in, you have to navigate to the bottom left of the screen to find the Deposit button. They only have one immediate deposit method, via credit card. Simply add in your details, deposit amount and your account password. Alternatively, they have supplied their bank details if you wish to transfer funds direct from your bank account. These funds though will be processed on the following business day, so it's best to keep that in mind.
At TopBetta they have several deposit methods: Credit Card, BPay, direct deposit from your bank or via the POLI Internet Banking system.
DraftKings offers Credit/Debit card or PayPal deposits only for Australian players. After logging in, you can make a deposit simply by clicking on the Deposit button at the top right corner of the page and adding in your payment method, details and amount.
All of these DFS sites have good customer service facilities for you to get in touch with them if you ever have any account issues, to further assist you on how to make a deposit. Throw a few dollars into your account and jump into a DFS contest today!
The next step is to enter a contest. If you need help on how to enter DFS contests, check out our quick guide right here.
We have a full range of 'how to' guides to help you get set up and playing the various daily fantasy sports contests out there. Simply click here to see them all!