daily fantasy sports articles
How Does DraftKings NFL Scoring Work?
American Daily Fantasy juggernaut DraftKings could soon be coming to Australia, and bringing with it their million-dollar prize pools and monster competitions. In preparation for the potential move, we'll be running you through some of the differences between DraftKings and the Australian DFS sites such as Moneyball and Draftstars.
DraftKings specialises in American sports, and maybe their biggest drawcard of all is of course, the NFL. They host massive tournaments with prize-pools worth upwards of $4 Million every week and at the end of each season, they hold a huge live event for the best of the best!
So with that much money on the line, it's crucial to know how the rules and scoring systems at DraftKings work and how they differ slightly to that of Moneyball and Draftstars, here's a run down.
Rules:

In salary cap contests, participants will create a lineup by selecting players listed in the Player Pool.Contest results will be determined by the total points accumulated by each individual lineup entry (scoring rules summarized below).
Lineups will consist of 9 players and must include players from at least 2 different NFL games. The 9 Roster positions are as follows.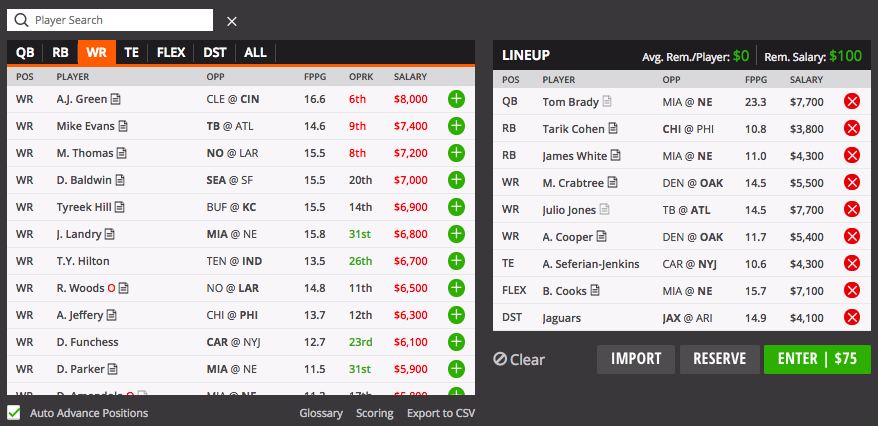 Scoring:
The scoring system at DraftKings is similar to that of the Australian sites but offers more bonus points for statistical achievements such as a 100+ yard receiving or rushing game or a 300+ yard passing game.
They also differentiate the points allowed for defence and special teams into actual points allowed by that area of the game, not the team as a whole eg. Points Allowed (PA) only includes points surrendered while DST is on the field - doesn't include points given up by team's offense (i.e. points off offensive turnovers).