daily fantasy sports articles
How to Play AFL Daily Fantasy at Draftstars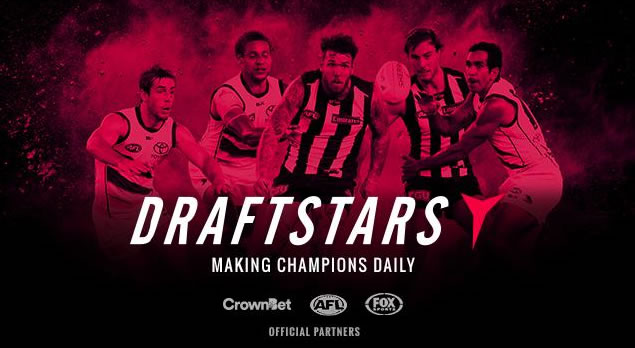 The 2017 AFL Season is now underway and with it comes a brand-new year of opportunity to compete in daily fantasy sports in Australia across a range of great DFS platforms. One of the most popular popular sites to play AFL daily fantasy is Draftstars. With some huge prize pools up for grabs, Draftstars give customers the chance to compete other players to create the best fantasy line up in a fun and friendly environment.
If you've never played DFS before or never played an AFL competition at Draftstars, we'll run you through a quick guide on how to play AFL Daily Fantasy on Draftstars. Everything from setting up an account and entering the tournament to selecting a winning side!
When you visit the Draftstars website, you'll notice in the top right corner of the screen the 'Log In' or 'Sign Up' options. Obviosuly, if you don't have an account, you'll have to click the sign-up option. Creating an account is as easy as entering your details, then you are free to deposit money into your account and start playing.
If you are new Daily Fantasy Sports, Draftstars run regular free-to-enter tournaments where you can win small cash prizes or tickets into larger events. We would definitely recommend these events for your first few tries. To enter an event, simply head to the Lobby. From there you can refine your search by sport, entry fee, start time or a range of other different criteria.
Once you decide on a tournament, simply click on the title and you'll be taken to a separate page with all the info regarding the tournament including scoring systems, current entrants and payouts. If you like the look of it, click play and you're away!
The scoring system for all AFL competitions in Draftstars is the same and goes as follows.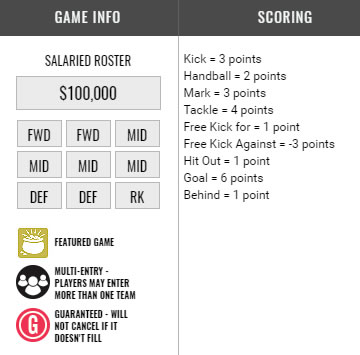 Once you've successfully entered the contest, it's time to select your team. Don't worry, you won't see any funds come out of your account until you've finalised your team and you can back out of the tournament at any point up until that time, so it's okay to click enter if you just want to peruse the players a bit first.
Selecting teams is simple. You'll need to select 9 players in total - 5 midfielders, 2 forwards, 2 defenders and a ruckman. You can either split the selectable players up into their positions or view all of the players and sort them by price or average score.
When you're ready, simply hit the submit line-up box and you will be entered in the tournament! It when then show up under your 'My Contests' page, where you can make changes all the way up until the kick off in the first game, in case there are late withdrawals. Once the competition starts you can also view your live scores and track your progress through the My Contests tab.
Good luck!