daily fantasy sports articles
How to play Daily Fantasy Cricket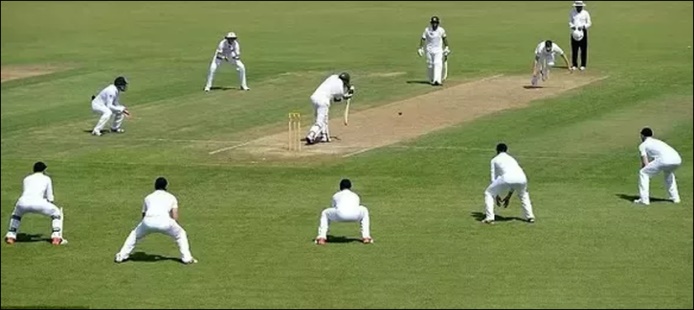 Cricket is the premier summer sport in Australia and in England primarily, however in countries like India, it is the national sport, where the Indian Premier League (IPL) is the leading T20 cricket competition in the world. Today, cricket comes in different formats, so here we will explain how cricket daily fantasy works.
Cricket is typically played in three formats:
* Test cricket – played over a maximum of 5 days, with both sides allowed to bat twice to try and outscore their opponent.
* One Day International (ODI) – Played in 1 day, where both sides bat once and have 50 overs to score as many runs as possible.
* Twenty20 (T20) – Similar to ODI but shorter. Same concept, but it is played over 20 overs aside instead of 50.
DFS sites targeted at the Australian audience such as PlayON, Draftstars and Moneyball, feature contests across all three forms of the game, with slight rule variances between the three formats.
Across all three variations of cricket mentioned, scoring for particular achievements remains the same at PlayON. The following scoring is for Test cricket, where values, except for Maiden Over, are used in the other two forms of the game.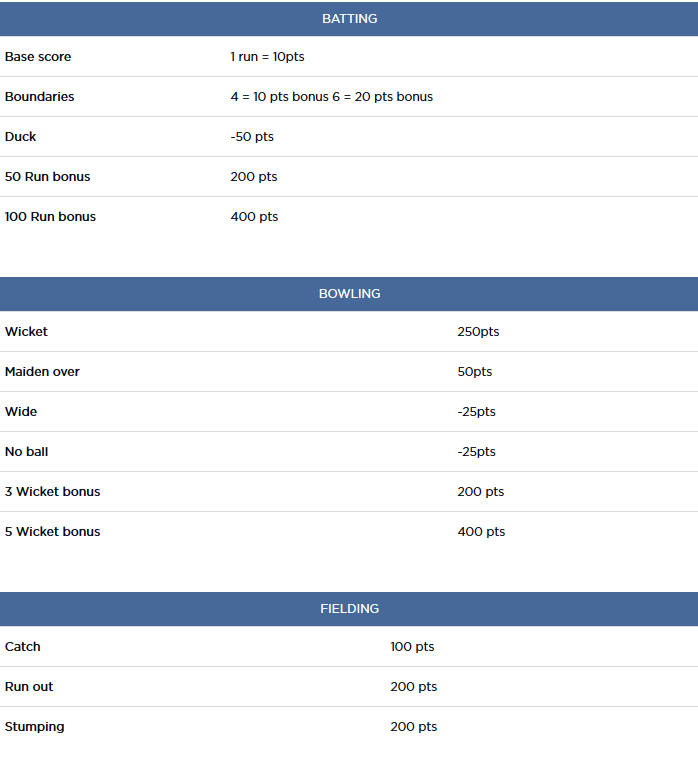 In ODI and T20 contests, extra points are awarded or deducted for strike rate, maiden overs, and dot balls (a delivery that the batting side fails to score any runs from).
You have to pick a squad of 7 players in Fantasy cricket, made up of 2 bowlers, 2 batsmen, 2 all-rounders and 1 wicket keeper.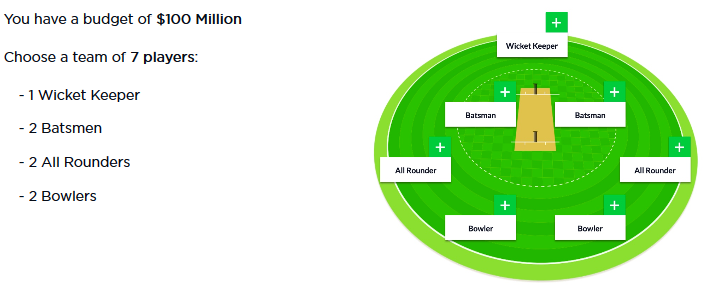 In ODI, a maiden over is worth 200 points and a dot ball 10, and in T20 a maiden is 300 points (more than a wicket) and a dot ball is worth 25 points.
Being able to select a wicket keeper who can bat well is a key to a good score, as well as finding all-rounders who will get to bowl plenty of overs and don't bat too far down the order.
So now that you know how cricket daily fantasy works, you can start playing straight away!
Be sure to create an account with us at Daily Fantasy Rankings so that you can easily stay on top of all your competitions and winnings across all the DFS sites. Furthermore, we will bring you all the news on upcoming tournaments in the DFS network, while also providing tips to help you pick your fantasy cricket teams.