daily fantasy sports articles
How to Play Daily Fantasy NFL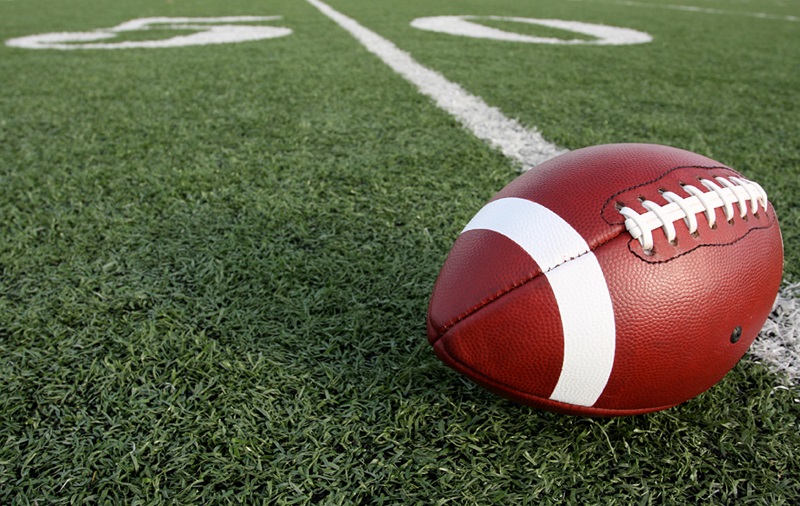 Arguably the most widely played Daily Fantasy Sport around the world is NFL, based on the National Football League in the United States. Given its overwhelming support, it also provides some amazing prize pools that regularly make DFS players instant millionaires! Fantasy NFL is also possibly the most intricate of all fantasy sports games.
Coming out of a interupted 2020 season due to the pandemic. The NFL has increased the season to 18 weeks providing more opportunities to play Daily Fantasy. Check out the NFL vid to quickly get you up to speed for the storylines this season!.
Are you new to NFL DFS? In Australia, Daily Fantasy site Draftstars provide many contests for Fantasy NFL, but the big money is at DraftKings.
If you are trying your hand at Daily Fantasy NFL contests for the first time, here is a simple guide to get you started.

How to Play NFL DFS in Australia​
Firstly, like all fantasy team sports, you are assigned a budget (commonly referred to as a salary cap), for which you have to purchase players, based on their assigned values, to fill the specific positions required.
DraftKings
At DraftKings, you have a salary cap of $50,000 which you cannot exceed. You also have to select 9 players made up of 1 Quarterback (QB), 2 Running Backs (RB), 3 Wide Receivers (WR), 1 Tight End (TE), 1 Defense and Special Teams (DST) player and 1 Flex. Your flex player is essentially a free pick at any player that is either a Running Back, Wide Receiver or Tight End.
For

Draftkings the scoring system is as follows: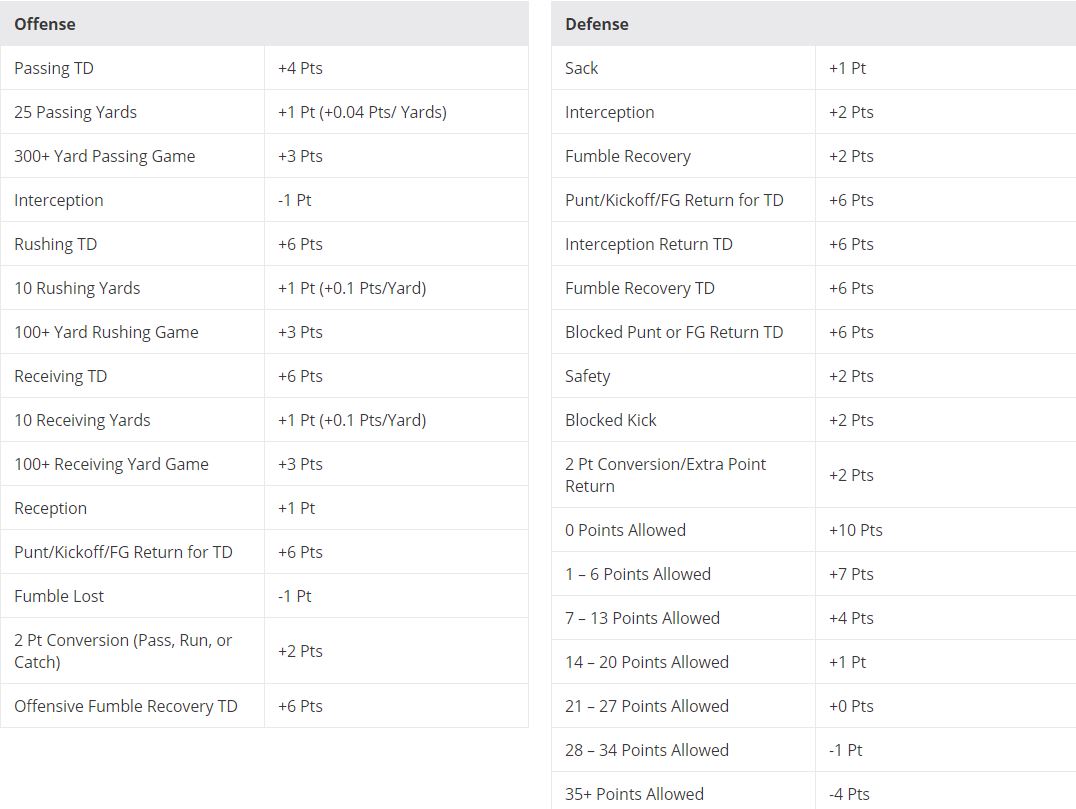 Draftstars
At Draftstars, you have a salary cap of $100,000 which you cannot exceed. This season in 2021, Draftstars have changed the positions and scoring system. Pretty much it is a carbon copy of DraftKings. You will need to select 9 players made up of 1 Quarterback (QB), 2 Running Backs (RB), 3 Wide Receivers (WR), 1 Tight End (TE), 1 Defense and Special teams (DST) and 1 Flex position. Again this is a pick of Running Back, Wide Receiver or Tight End.
For

Draftstars the scoring system is as follows: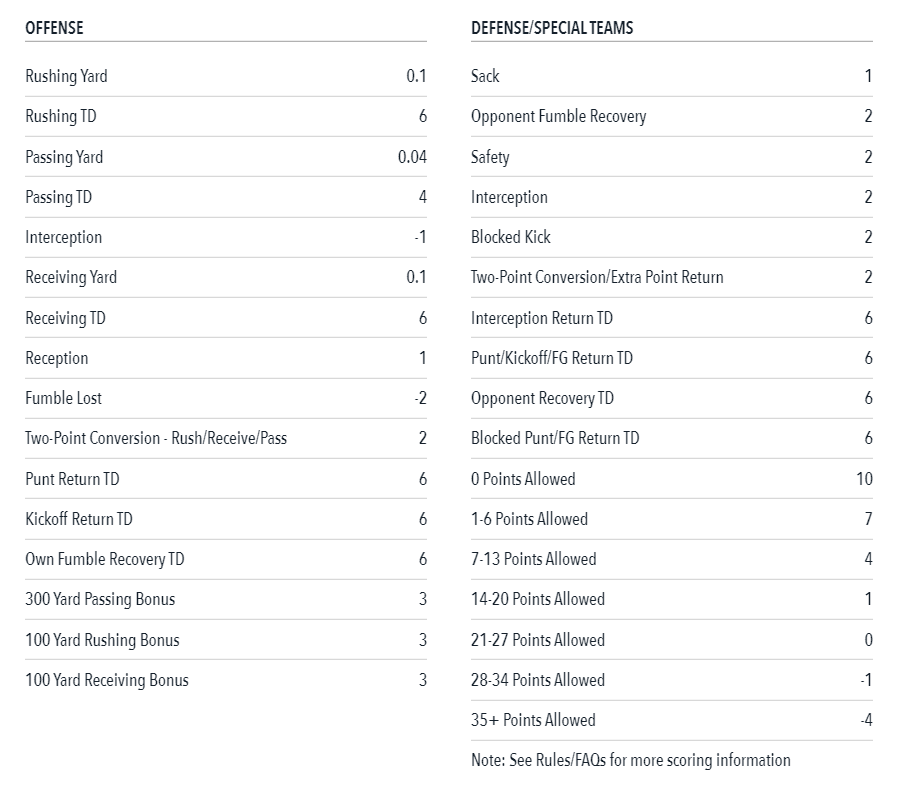 Drafstars have incorporated the bonuses of Passing/Rushing/Receiving into the scoring system, which again goes to copy the system of DraftKings. This will make scoring more easy to follow and more importantly easier to project if you a projections site elsewhere.
.
NFL DFS Strategy
Ideally the objective of NFL DFS is to score as many points as you can from players that have attacking upside. You need to pick Quarterbacks that throw for many yards and for multiple touchdowns. Running Backs in NFL are safer scoring targets but again need touchdown upside. Whilst Wide Receivers are mostly inexpensive, these players have the potential to score big on huge plays. Tight Ends can be the difference between cashing and sinking. Look for Tight Ends that have history of targets (throws from the Quarterback whether they are caught or not) and have Red Zone (within 20 yards of the Endzone) upside of scoring Touchdowns.
You will read in our slate previews throughout the season about 'stacking' and finding 'value' from players salaries. Stacking is combining players from the same team as scoring can be correlated to fantasy plays. If you your QB throws to a WR and he scores a TD, then both players receive fantasy points. If your RB is running for big yards it means it is keeping the opposition from the field, thus your DST is keeping points against to a minimum.
There's a lot more skill involved in Daily Fantasy NFL, as the vastly more intricate scoring system proves. However, while it's more involved, it still uses most of the same strategies as other Daily Fantasy Sports contests. Knowing how to play Daily Fantasy NFL is a much more complicated matter than other sports, so be sure to study it thoroughly.
Being America's favourite sport and a popular fantasy game, there are plenty of sites across the world that provide content on team news, injuries and information on NFL DFS. There are plenty of tip sheets available to help guide you with your team selections, including here at Daily Fantasy Rankings. Make sure you check out our recent articles before you select your teams, so as to get some great tips and guides to assist you in your team selections.

Always remember to gamble responsibly. When the fun stops, stop. If gambling is having a negative impact on your life, seek support at Gambling Help Online. 18+ only.