daily fantasy sports articles
"JDJuan" To Look For The Positives At Draftstars Biggest Bash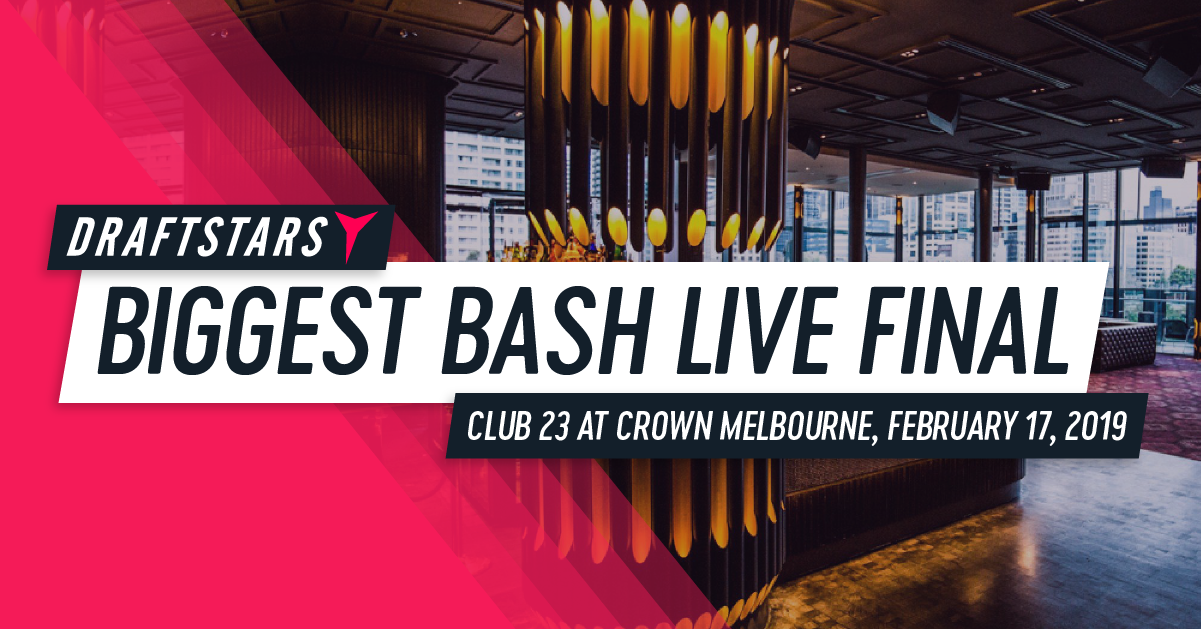 Our next qualifier to the Draftstars Biggest Bash may have bad memories of picking up a cricket bat back in the day, but this didn't stop Joshua David beating a strong field to book his qualifying ticket to Melbourne! Josh aka "JDJuan" has been a DFS fan since 2016 and still is a big player of season long AFL fantasy and AFL Supercoach. Josh is from Western Melbourne who plays most sports available in industry but finds AFL, NFL and NBA the most exciting.
Josh was drawn into DFS by the "excitement you have building a team and trying to predict game flows and patterns is always a lot of fun". A great mindset to have and when attempting to qualify for the Biggest Bash, Josh did admit to "breaking open the piggy bank trying to match the same feat in which I won a Big Bash Comp about 2 years ago on Moneyball. Geez it's been a long time between drinks!!"
Josh decided to pin back the shoulders after the usual 1-2 line-ups per contest were not getting the job done, so he ramped up to the maximum 10 line-ups per contest. It is one of these 10 line-ups that Josh hit the jackpot with in the recent SCG matchup between the Heat and the Sixers.
Once the TV commentators got all the Gabba light tower failure jokes out of the way, the Sixers posted a competitive total of 177, lead by a great knock from James Vince (75 off 46 balls). In what was a sensational performance, Josh Lalor grabbed all the death wickets and ended up with a Michelle Pfeiffer (5 for 26). It was all too much for the Heat to handle and the Sixers bowlers feasted on wickets and cheap economy.
A shout out must go to fellow DFR columnist Tristan Heffernan who in his preview for this match recommended Lalor and Vince as sharp plays. Do yourself a favour and make sure you read his previews!
We asked Josh about how his lineups fared and the sweat that he had to endure:
"I was at home with a pizza watching the first innings and messaging my mate Clinton throughout the game as we have done on every big bash game. (It) started off well with Lalor bowling absolute gems and Vince was using up all his life lines just to stay alive. Then when Jordan Silk got to the crease at low ownership the partnership he along with Vince had helped set me right up the top of the table.
In the second innings it started off great with Max Bryant gone for a duck (Bryant was in the winning line-up) and at that point I just gave up. Later in the innings I realised I was still a chance as wickets started to fall around me. Leading into the second last over I had a team in the top 5 and another sitting 10th and sitting less than 30 points from first. The first ball of the over saw Sean Abbott smash the stumps and get his 3rd wicket of the game and with the 3-wicket haul bonus it got my lineup over the line!"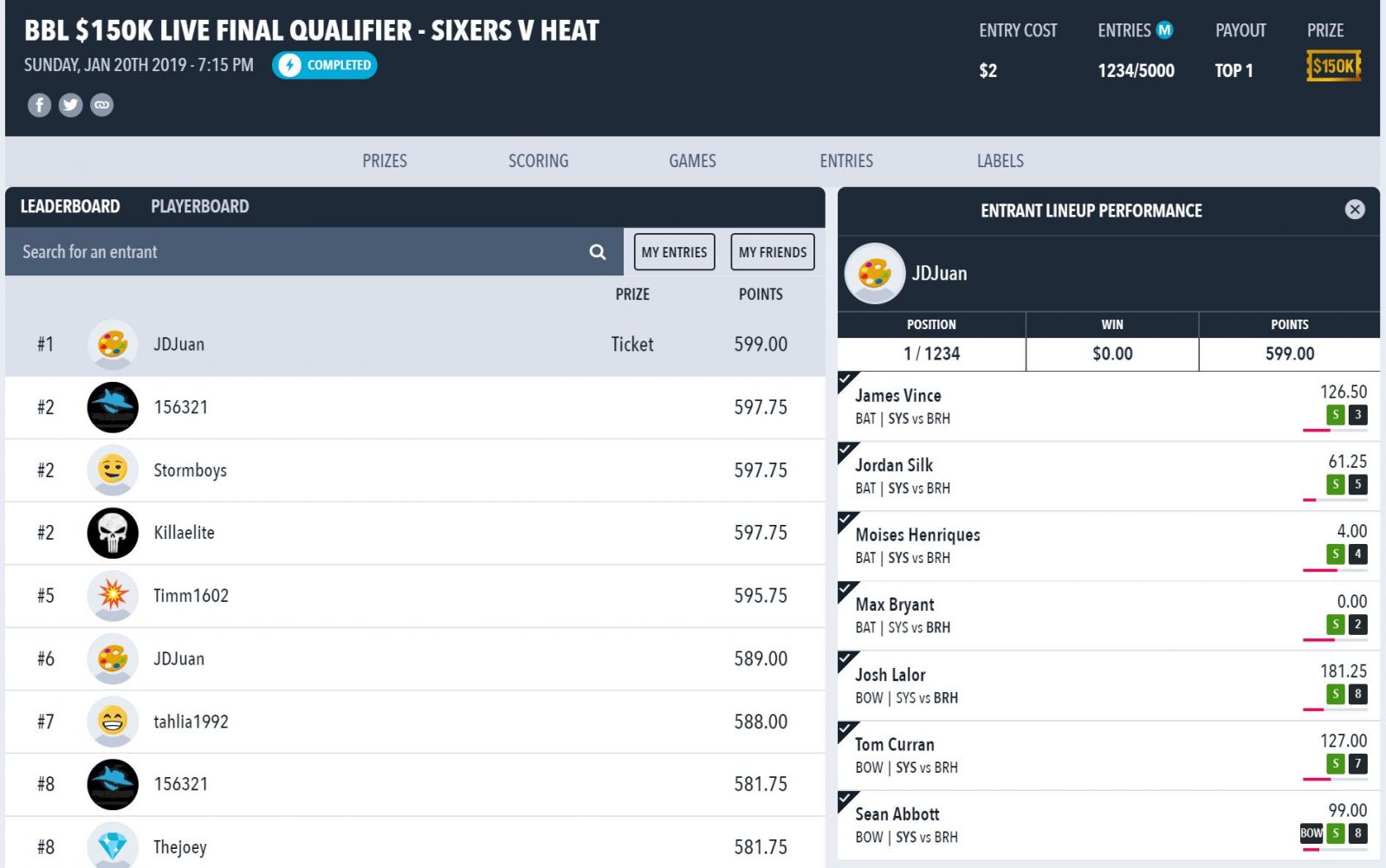 Josh's winning lineup was excellent in game theory where death bowlers were rostered with the batting partnership of Vince and Silk scoring the highest. What is fantastic here is that Moises Henriques (4FP) and Max Bryant (0FP) were failures yet he still got the win!
I asked Josh about his fondest cricketing memories and I was saddened to receive this response:
"I was playing indoor with a bunch of mates and Clinton and I came in and ended up on about negative 12 as a pair, on that day I made a promise to myself to never pick up another willow again!"
Josh will be bringing his mate Clinton along to watch the professional cricketers go about their stuff in the BBL final on the 17th of February.
Congratulations to you Josh and good luck in Melbourne for the Draftstars Biggest Bash final from everyone here at Daily Fantasy Rankings!
Want to join Josh at Club 23, playing for a share of $150,000? Check out our full run down of the "Biggest Bash" contest and start playing the $2 qualifying tournaments running on every home and away match of the BBL08 season on Draftstars!
Have you qualified for the "Biggest Bash" Live Final and want to share your story with the world here on Daily Fantasy Rankings? Contact us or shoot us a message on Twitter and we will get in touch to share your story with the Australian DFS community!

Always remember to gamble responsibly. When the fun stops, stop. If gambling is having a negative impact on your life, seek support at Gambling Help Online. 18+ only.