daily fantasy sports articles
Learn How To Play DFS Golf On Draftstars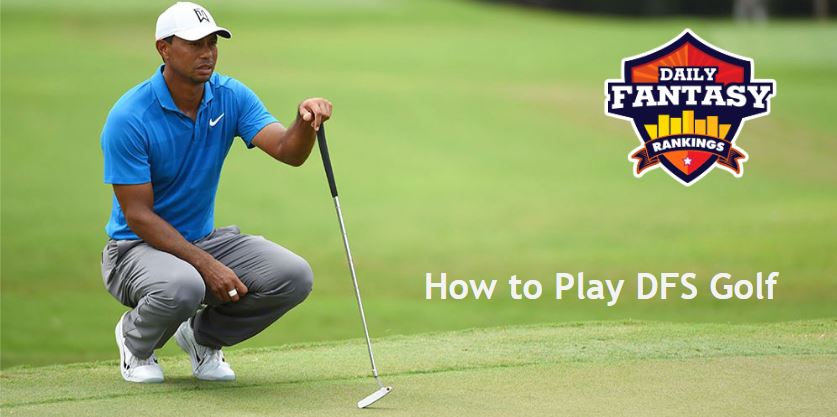 With the announcement that DFS Golf is coming to Draftstars, I thought it would be a great opportunity to provide the readers a "beginners" guide to DFS golf.
For us Australian residents, DFS golf is currently available on Moneyball, PlayOn and the largest DFS site based in US in DraftKings. Having the opportunity to compete on Australia's biggest DFS site on Draftstars, it is certainly an exciting opportunity and will be looking forward taking on the Australian community in contests. Unlike real life golf, the aim of fantasy golf is to select a team of golfers who will score the most points. DFS sites will offer you a tournament long contest, which will last the whole four days of the tournament, while DraftKings will also offer single round contests also known as Showdowns.
Different sites will have different team sizes and slightly different scoring systems; however, most will adhere to the same basic principle:
Players score or lose points per hole for eagles, birdies, bogeys etc.
Players score points for their tournament placing
Players can earn bonuses for birdie streaks or things like a bogey free round
For Draftstars, the scoring system is the same as DraftKings which from a "research" perspective is great as a lot of DFS content is available either here on the DFR site and around the globe.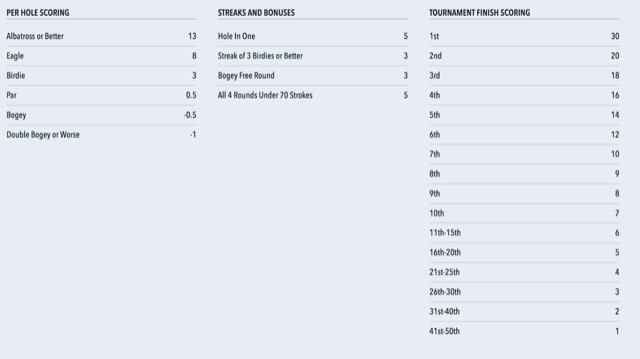 Whilst we receive points for tournament finishing position, the "per hole" and "streak" bonuses are what makes DFS golf a great competition to sweat.
For example, let's take Golfer Smatho playing against Golfer Hef.
Smatho – Scores a round of 4 under par with 5 birdies (with 3 in a row) and eagle but scores 11 pars and a double bogey – that would equal 31.5 points
Hef – Scores a round of 4 under par with 5 birdies but has 12 pars and one bogey – that would equal 20.5
Whilst both golfers score scored 4 under par, Smatho was able to accrue more points by scoring more birdies and putting together birdie streaks. So, we want to target golfers who make more birdies than those who just make pars and avoid bogeys.
Like other DFS competitions, you will receive a salary cap and you will need to select 6 golfers under the salary cap to submit an entry. In the tournament long contest, the first and foremost thing you need to look for is players who you think will make the cut. When golf tournaments begin, we have a large field of over 150+ golfers for the opening two rounds then that will be cut to 70 (+ ties) for the remaining two rounds (the weekend). Whilst we can roster a golfer who could win the tournament, if the rest of the line-up are not playing the weekend then your chances of cashing have diminished.
So with a large field of golfers to choose from, we cannot simply choose all the studs and win big, the salary cap means we need to be creative in our line-ups. So when building line-ups there a couple of key factors that need to be considered:
Current form is obviously one of the main factors in selecting your team. The easiest way to see who has been in form recently is to just check out the bookies odds, they generally have a great idea of who the big chances are. Would you rather play Jason Kokrak who has not missed a cut all season and finished T2 at Valspar last tournament or Jordan Spieth who has missed 3 cuts and best finished has been T35?
More key factors are the course and conditions. While they might not always win, time and time again in the PGA we have seen local players or course members make deep top ten runs on their home course. Doing your research on what players play the particular course the most could be the difference. Think Jordan Spieth in Texas, Jon Rahm in Arizona etc.
There is also the conditions and the style of course, long drivers and high green in regulation players who have above average iron play are more likely to play well on windy links courses while players with above average short games and putting will play better on parkland courses.
And finally, embrace the variance of DFS golf. There are no guarantees that golfers make the cut. Whilst the highly rank golfers have a better chance to make the weekend and succeed, pivoting from the pack by "fading" the chalk plays in GPP can be advantageous to your line-ups. DFS golf is a hard grind, whilst the better golfers will win long term, it can be frustrating when from week to week when they don't perform!

Daily Fantasy Rankings look forward to continuing to bring you fantasy golf content each and every week and are excited to ramp up our offering this week for the Masters. Look out for my upcoming DFR podcast with Australian DFS player jayk123 as we go through the field and help with your lineups. A big preview will be available on the site with the mighty DFR Dragon doing his best to find a winner before the Masters begin on Thursday evening.
Keep an eye out for this content and hopefully see you all on the leaderboards!
Always remember to gamble responsibly. When the fun stops, stop. If gambling is having a negative impact on your life, seek support at Gambling Help Online. 18+ only.