daily fantasy sports articles
LoL European Masters DFS Tips: May 9th 2020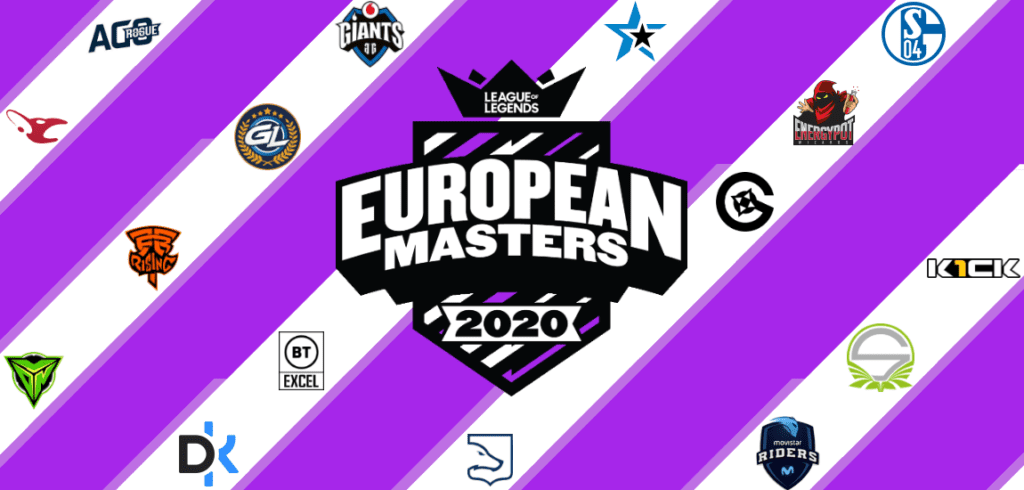 Welcome to Saturday's League of Legends Daily Fantasy preview for DraftKings for the Semifinals of the European Masters!
Today's feature contest is the LOL $100K Shock Blast ($25,000 to 1st) on DraftKings and a $8,000 Elder Dragon for $4 entry.
We have reached the final 4 teams in the competition and to have two Polish teams make the semi's is an extraordinary achievement considering the strength of teams across Europe. K1CK and AGO Rouge have legitimate chances to make Sunday's final but French outfit LDLC and Spanish team MRS are strong competitors.
The Semifinals are the best of 3 games so teams do get a second chance if they suffer defeat in game 1.

Here are today's bookies odds with action getting underway at 0200 AEST (Thursday morning) and the current odds from Beteasy as of 1100 AEST.

Kill Spreads
AGO v LDLC - Over/Under Kills 24.5 Spread -0.5 towards AGO
MRS v K1CK - Over/Under Kills 24.5 Spread -1.5 towards MRS
Tournament Statistics from EU Masters (per game)
Note DraftKings have not updated fantasy scores for Week 3 of play for all teams (Quarter Finals). Today I have added a KDA column in its place.
For a 2 game slate and the markets having each team practically at a coin flip, the key to success is to build team stacks from today's winners. If you were to trust the current slight favourites in AGO and MRS then you can build chalky 4-3 stacks with a MID in the Captain spot. So today, just about any combination is achievable outside a double ADC team.
TOP
First of all Bando $5,600 has managed to rein in his death count with only 3 deaths against BTXL but that still hasn't improved KDA of 1.86. Beansu $6,200 did achieve KA+10 bonuses against FNC.R with 10 assists in Map 2 and Map 3. However only 1 Kill each game has limited his ceiling potential. iBo $6,000 and Szygenda $6,600 both average over 3.6 Kills per game but Szygenda has the edge with a KDA of 6.71. If you can afford to have Szygenda in your teams then you may have some lower ownership than iBo who will be the chalk of the slate.
JNG
Elyoya $7,000 leads the Jungle lane with a KDA of 5.79 with the lowest death rate out of the 4 players. But this lane is very comparable to each other. Zanzarah $6,600 had a whopping 17 assists (out of 20 kills) in Game 2 against mouz and will look to contribute, however his low Kill rate of 1.78 will put a few off. Shlatan $6,400 will be the popular pick with the highest assists per game at 8.60. TynX at $6,200 will be in many teams being the small favourite and the cheapest on the slate. 4.2 Kills per game is a bonus as well!
MID
Another tough lane to breakdown with all 4 players playing pretty well for their teams. Xico $7,400 and Czekolad $7,600 both have a KPAR of 67% compared to Matislaw $7,200 and Vetheo $6,800 who are only 55%. But Matislaw's KDA of 7.2 is very hard to ignore. I would look to use Matislaw and Xico is Captain spots as their salaries will open up all positions elsewhere.
ADC
With the close nature of the matches today then you can rely on previous Kill totals and KDA for selection here. JaVaaa $7,600 leads the lane with a KPG of 5.36 and also leads the KPAR at 72%. JaVaaa takes on Puki Style $7,400 who has had a great tournament leading his team to the semis. If you think K1CK can progress then Puki Style is a must in your teams. A tip of the cap must go to Hades $7,000 who has only died 3 times in the whole tournament for a ridic KDA of 29.33. This must be respected as he is simply not losing fantasy points in his matches. Woolite at $7,800 is 4th (well last) on my targets today.
SUP
Rhuckz $5,800 KDA of 5.68 but Mystiques $5,600 KDA of 5.11 is closely behind. These are the two targets if cash is available and if you were going with the slight favourites. Really not much between these 4 so make a stand on who you think is going to win from each team.
Always remember to gamble responsibly. When the fun stops, stop. If gambling is having a negative impact on your life, seek support at Gambling Help Online. 18+ only.