daily fantasy sports articles
LoL Mid-Season Cup 2020 DFS Day 1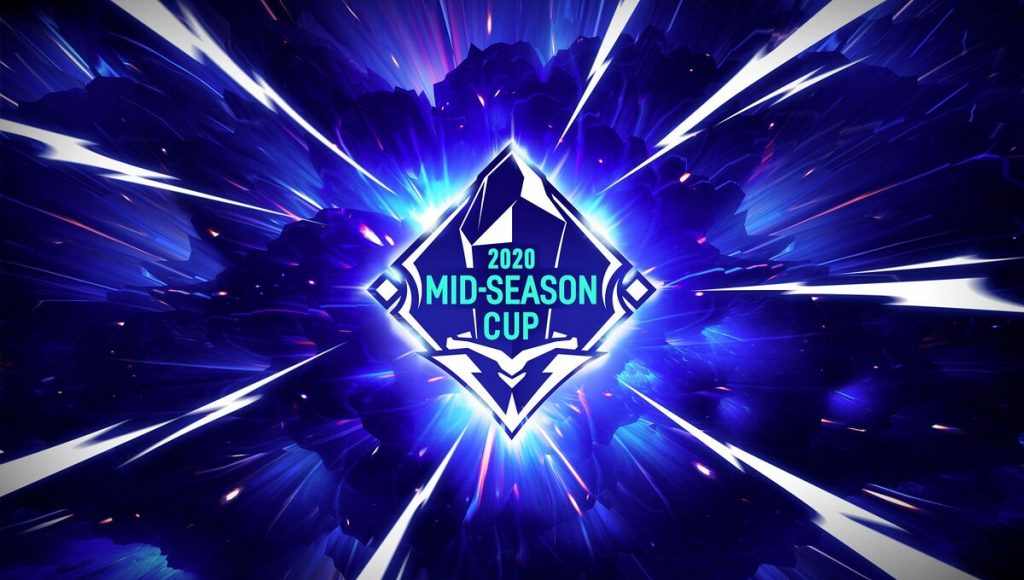 Welcome back to League of Legends action! With the MSI 2020 cancelled due to the pandemic, the LPL and LCK top teams have put together an invitational Mid Season Cup! DraftKings have come to the party providing fantasy contests for the opening fixtures in pool play.
Thursday's feature contest is the LOL $150K Mid-Season Special ($50,000 to 1st) on DraftKings and a $15,000 Elder Dragon for $4 entry.

Day 1 of the MSC sees LCK's Spring Split Champions T1 and 4th place Damwon Gaming join the LPL's Spring split runner's up Top Esports along with 3rd place FunPlus Phoenix. These teams will play a round robin 1 off match to decide the top 2 of the pool to advance to the semi-finals. These teams play each over the course of Day 1.
DraftKings have posted contests for the opening matches so let's break down the two matches on the slate.

Here are Thursday's bookies odds with action getting underway at 1700 AEST with the current odds from Beteasy as of Wednesday 1100 AEST.

Kill Totals
T1 v FPX has an early Kill total Over/Under at 22.5 and a Kill spread of 3.5
Damwon v Top Esports has an early Kill total Over/Under at 24.5 and a Kill spread of 5.5

Our favourite LoL man on the ground @kenzi131 has been busy posting off season moves from the LCK and LPL teams and should update on the starting lineups for each team, especially the LPL.
Fantasy Plays
TES are the biggest favourite on the small slate and their prices on DraftKings reflect this. All 5 positions are the most expensive with fan favourites ADC JackeyLove and MID Knight leading this outfit. LCK champions T1 are another strong favourite and have been priced just underneath TES on DraftKings. MID Faker and ADC Teddy were instrumental in the playoffs and would be looking to continue their form against FPX. FPX also have a world class duo in MID Doinb and ADC Lwx looking to test themselves against Korea's best team. Damwon Gaming could make a case of a win but they are the outsiders of the 8 teams in this tournament. Not sure how they pinch a win against LPL competition but will give it a red hot go and will be very low owned in cash and GPPs.
With both matches best of 1 and kill spreads/totals quite similar the chalk builds will be 4-3, 3-3-1 weighted to T1 and TES. But do not discount FPX against T1.
TOP - 369 $6,600 was the clear Top Laner in the LPL playoffs averaging 2.31 Kills per game along with the lowest death total of 1.92. There is uncertainty with the starter for FPX with GimGoon $5,800 and Khan $6,000 sharing the Top lane. Khan played in the third-place match and came out with a 5 Kill average along with 6 assists per game in the 3-0 win over IG. Khan will be great value if he gets the start (UPDATE - Khan gets the start). Don't sleep on Canna $6,200 though with an KDA of 5.31 (3.57 KPG / 6.29 APG) and could surprise.
JNG - Cuzz $6,600 could not be killed in the LCK playoffs with a ridic KDA of 16.75 (2.5 Kills / 7 assists per game) and will have a fun time going up against Tian $6,400 who averaged 2 Kills / 8 assists per game. Surprising that Karsa $6,800 only produced a KDA of 2.58 in the LPL playoffs with a low assist rate of 5.15. Canyon $6,000 you can safely ignore with a KDA of 1.74 in the recent LCK playoffs. Cuzz or Tian for me here.
MID - There are some quality Mid-Laner's here with Knight $7,600, Doinb $7,200 and Faker $7,400 exceptional players. Doinb's KDA of 5.58 is overshadowed by Knight (6.29) and Faker (9.29). Faker has a lower kill count compared to his LPL counterparts, only average 1 death per game in the LCK playoffs. I do have a slight lean to the safe play in Knight, having either Faker or Doinb is no issue here. Tough sell picking Showmaker $6,800 when his playoff KDA was only 2.59
ADC - I mentioned this earlier but this ADC category is stacked. Fan favourite JackeyLove is the most expensive player at $7,800 but his playoff statistics are slightly shaded by Lwx $7,400. Lwx had an average of a full kill more than JackeyLove through the LPL finals but Lwx will have a tough matchup with T1's Teddy $7,600. Teddy had a KDA of 8.38 in the LCK playoffs but it will be interesting against Lwx. All three are worthy selections. If you can stack two here then go right ahead.

SUP - As always you will need to correlate your ADC selection with your SUP player. You will need to monitor if either yuanjia $5,400 or QiuQiu $5,600 gets the start for TES. Bonus if yuanjia gets the start. Effort $5,400 and Crisp $5,200 are priced around the same price. Don't be surprised if teams back in BeryL at $4,800 to squeeze in salary relief. It is a best of 1 game after all.
Suggested Lineup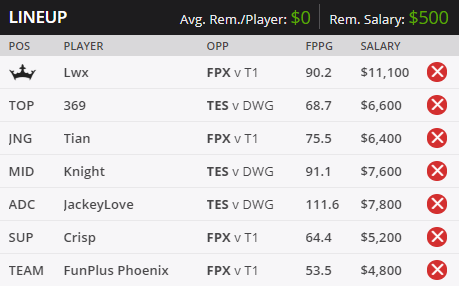 Always remember to gamble responsibly. When the fun stops, stop. If gambling is having a negative impact on your life, seek support at Gambling Help Online. 18+ only.