daily fantasy sports articles
More winners join the Draftstars Kayo $200,000 Live Final

Week 3 of the Kayo $200,000 Live AFL Final brought to you by Draftstars was well supported after the excitement of the increases in GPP prize pools over the weekend. Already the excitement is building for the final on August 11, with plenty of big players in the DFS Australian community earning their spot in the final!
With six tickets up for grabs last weekend, the likes of clifford and BVB21 booked their seat, while DFR's very own BigHef claimed his second ticket in a rather dramatic qualifier thanks to a late score adjustment! They were joined by DFR members Mattylee, whaddo1234 and current 5th ranked DFR member Chriseddy999.
Mattylee from Melbourne is no stranger to the leaderboards on Draftstars, after we saw him win a ticket into the BBL Live Final earlier this year. You can catch up with our interview with Mattylee for his BBL win here. I caught up with Mattylee once again to find out how he's feeling after winning his way into another live final!
Mattylee was at the MCG for the Dreamtime game itself watching a rain affected match. But that did not stop him putting in his sides for the match!
"I'm a Bombers man and was at the MCG for the game. I didn't have much time to get my teams in, but I don't need much study for the AFL, and I know my Bombers inside out, so I only put in two different lineups into the main and both the qualifiers."
"One of the lineups was gone early and never in contention but the other started great. I remember I was leading the main and both qualifiers for most of the first half. The team was looking ok as some of my quieter players were the studs that could come home strong. Belly (Bellchambers) and Merrett definitely did that for me, but it was the Tigers players in Houli and Baker that really got the job done. The last quarter bomberblitz helped get me back in contention in all three contests after falling away in the third quarter. In the end, the first qualifier looked home and my attention was to the main contest and the $2 qualifier. That's where the sweats were. By the end of the night I was 4th in the main and I'd won both qualifiers (the $2 was a tie with one other), but unfortunately after scaling, BigHef got me by one point from having a chance at both tickets on the night!"

For whaddo1234, an Engineer from Ballarat who now calls Melbourne home, he will be making his first appearance in a Draftstars live final after a Sunday Slate win which nearly didn't happen. I caught up with whaddo1234 to talk me through his big Sunday!
"Funnily enough I originally planned on mass-entering the Sunday slate, but a big Saturday night and late Sunday wake up meant I decided to focus on making a few teams instead. I ended up entering 2 teams in the $50 and 15 in the $2 qualifier. My key players ended up being Oskar Baker and (I know, how??) Levi Casboult."
"I knew everyone would be playing Bewley, who was also 5k, so no one would be playing Baker. However, as a Dees fan, I watched Baker last week and he had a shocker - got caught holding the ball about four times, and was just slow. I thought he'd be better for the run, and if he cut down those frees against, he could surely push a 50. I lucked out, and he smashed value!"
"Playing Casboult and having to root for him was gross, but playing these min-priced players let me fit in Kelly, Whitfield, Marshall, Harmes and Fyfe - all high floor, high ceiling players who I thought would give me a shot!"
I asked after being dusty Sunday morning, how the rest of the day panned out?
"I had a slow Sunday so watched most of the games by myself, and then when it started getting close, I got stuck into the group chat with a few of my mates who love fantasy, and we all sort of cheered the team home. I didn't feel safe at any stage in the last game because a team with Dayne Zorko was chasing me down and he went bananas in the 3rd quarter, but once Walters marked that ball in the last 30 secs I knew I was home."
So when asked about who will be his "plus 1" at the live final, whaddo1234 obviously thought the competition can continue by stating:
"I've got a few mates who heard "free drinks" and "footy" and are dying for an invite, so I guess I might have to set up a private Draftstars comp for them to sort it out - winner gets the plus one, or something like that. I'm happy to hear some more creative suggestions if anyone has any?"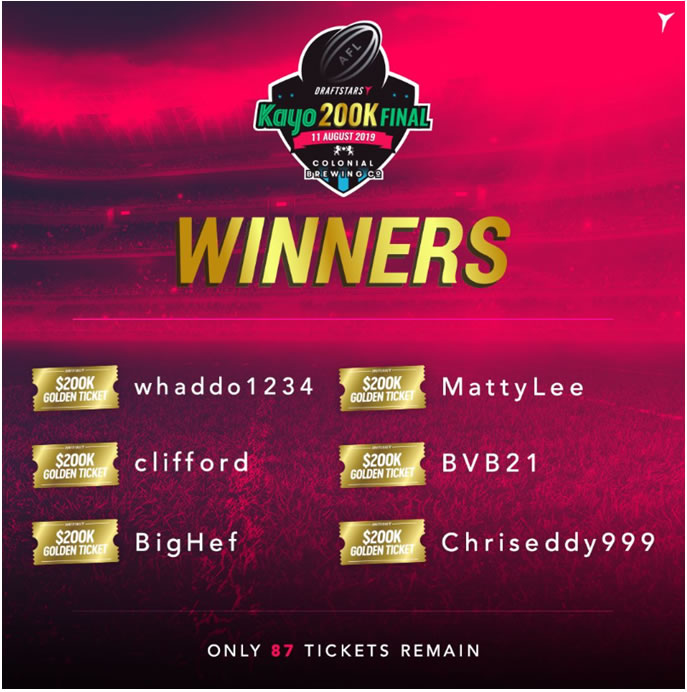 Our roaming reporters will be on the lookout for whaddo1234, Mattylee and all of our other qualifiers at the Colonial Brewing Company on August 11th for the $200,000 Live AFL Final present by Kayo Sports and Draftstars.
Want to join these guys and play for a share of $200,000? There are $50 and $2 qualifiers running daily during the AFL season with one ticket guaranteed in each qualifier. In addition, Draftstars have announced some massive contests this weekend with $100,000 Guaranteed for the Friday Night match between North Melbourne and Richmond. There's no better time to jump on board! Make sure you also check out our free Resources on the Daily Fantasy Rankings website which provide you with all the tools, data and stats to help you construct a winning lineup on Draftstars.
*** CLICK HERE TO JOIN DRAFTSTARS TODAY ***
Have you qualified for the AFL Kayo $200,000 live final and want to share your story with the world here on Daily Fantasy Rankings? Contact us or shoot us a message on Twitter and we will get in touch to share your story with the Australian DFS community!