daily fantasy sports articles
NBA 2019-20 Daily Fantasy Preview Friday 31st July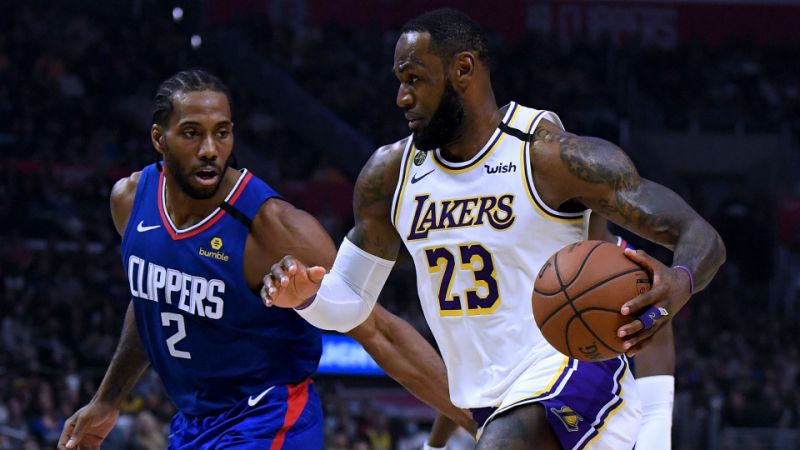 After a four month Covid-19 enforced pause, the NBA season returns with an eight game seeding 'tournament' before the playoffs begin. The new schedule is less friendly for us Down Under DFS players, but this two game slate offers a sleep friendly tip off.8.30am AEST
To celebrate the return to the court, DraftKings and Draftstars are back with huge fantasy contests highlighted by the following:
NBA $15K Friday [$1,132 TO 1ST] $15 Entry on

Draftstars

NBA $3M RETURN MILLIONAIRE [$1M TO 1ST!] $4 Entry on

DraftKings

NBA $100K SPIN MOVE [$20K TO 1ST] $44 Entry 20 Entry Max on

DraftKings

GAME BREAKDOWN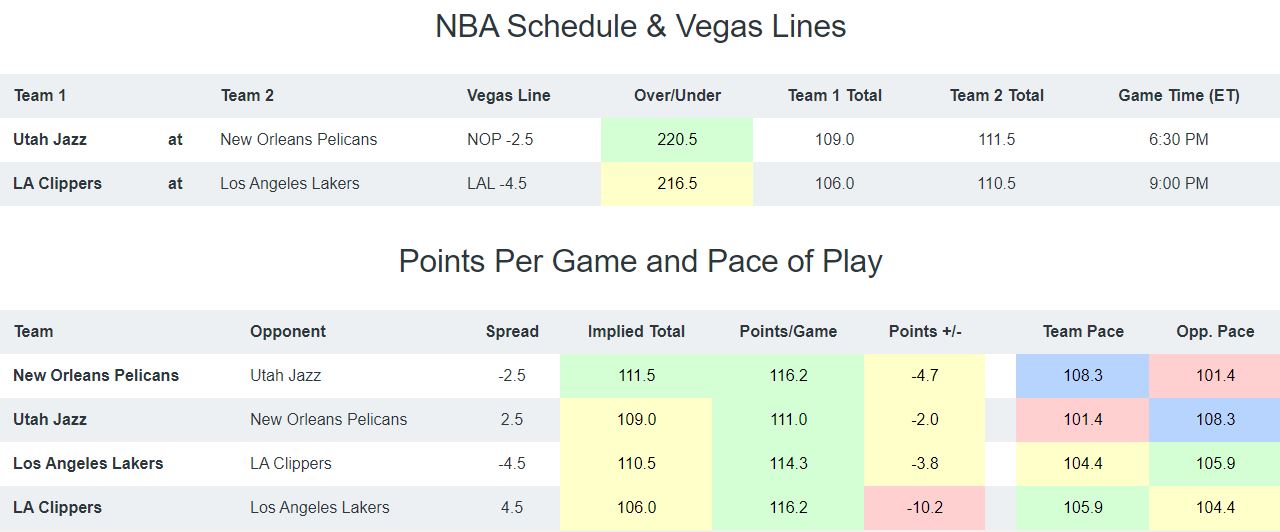 The Jazz will travel to the Pelicans Orlando based 'home court' in what looks to be the ideal DFS scenario for Utah players. The Pelicans play at the second fastest pace this season, and topped the list in the five games before the season came to a halt. New Orleans are top 10 for fantasy points conceded, and as we'll see further on the Jazz have some great value picks.
Something to keep in mind for the restart is this is not a new season. Some of the teams in Orlando simply want to make it through these eight games with a healthy roster. We will likely see some teams resting players or players getting reduced minutes. This slate offers a prime candidate with the Lakers 5.5 games clear in the West. It may not impact this slate, but is worth keeping in mind over the next couple of weeks.
Injury News
Bojan Bogdanovic is out for the season, leaving a 25.6% usage rate hole to be filled. Jordan Clarkson is one candidate to pick up some of the scoring load, with the rest of the usage likely covered by committee between Mike Conley, Joe Ingles and Royce O'Neal.
The Clippers will be without Lou Williams after he had a craving for some chicken wings and Montreszl Harrell is away for personal reasons. To add to this the Clippers have Zubac recently coming back from Corona virus and potentially being underdone. Joakim Noah joined the roster only eight months off a torn achilles. Working out who out of Zubac, Noah, Patterson, Green and Morris see the most front courts minutes could be the key to winning the slate.
VALUE PLAYS
As always, pay attention to injury news, particularly with the Clippers situation, as more value options could present themselves.
Jordan Clarkson (DS $9,180, DK $4,200) With Bojan Bogdanovic (20.2 PPG) sidelined, the trigger happy Clarkson will become a vital part of the Jazz' lineup. I expect Clarkson to see closer to 30 minutes of action per night as Utah simply don't have a lot of scoring options. With an increased role and a great matchup, he'll be hard to ignore on this slate. A possible low owned alternative is Emmanuel Mudiay
Alex Caruso (DS $5,890, DK $3,700) The fans All-Star will pick up some of Rajon Rondo's minutes as the back point guard. Caruso reached an 18% usage rate in games without Rondo this season, which should be enough for him to hit value at near minimum price on Draftstars. If you want to spice things up, Quinn Cook gets an extra 9 minutes with Rondo out of the way and has a couple of 17 point outings to his name this season.
MID PRICE PLAYS
Paul George (DS $13,320, DK $7,200) PG will be popular and with good reason. With Harrell and Williams off the floor George has a usage rate of 33.2%. The Lakers are one of the toughest match-ups in the league, but with the Clippers lacking backup scoring they will need their two superstars to carry them. George dropped a 40FP game against the Lakers just before the break, which is more than enough at this price on a two game slate.
Mike Conley (DS $10,620, DK $6,200) The reasoning here is similar to Jordan Clarkson. In the one game Bodanovic missed this season Conley saw a 4% usage bump. Combine that with a fantasy friendly match up and Conley's 40FP upside is in play.
PREMIUM PLAY
Anthony Davis (DS $16,560, DK$10,000) It's always a tough choice between LeBron James and AD. On this slate LeBron will be guarded by Kawhi Leonard and Paul George, while AD faces an undersized and underdone Clippers front court. This is the cheapest price Davis has been on Draftstars all season, he is simply too cheap for a player with five 70+FP performances this season.
*Keep on an eye on AD's status, as he's currently on the injury report
SNEAKY PLAY
Joakim Noah (DS $5,000, DK$3,100) Before we go anywhere, Noah could barely play and this suggestion turns into a disaster. BUT, with Harrell out and Zubac coming in off limited practice, Noah may be required to match up with the big front court the Lakers possess. Noah has been seeing about 15 minutes a game in the scrimmages and put up several 30+FP games for the Grizzlies last season. If the minutes are there he's a proven fantasy scorer at minimum price.
Always remember to gamble responsibly. When the fun stops, stop. If gambling is having a negative impact on your life, seek support at Gambling Help Online. 18+ only.