daily fantasy sports articles
NBA 2019-20 Daily Fantasy Preview Thursday 6th August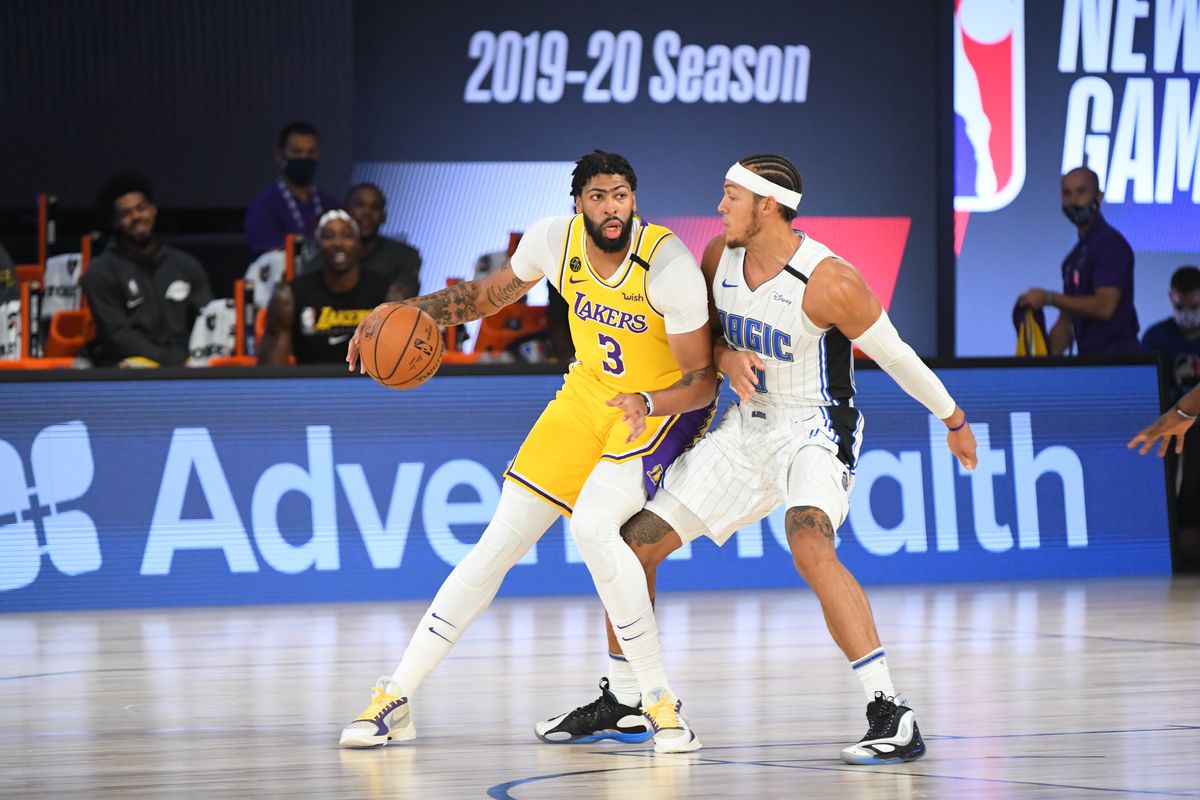 The festival of sport continues, we're already a week into the NBA's bubble and if you're in locked down Melbourne it's hard to believe we survived without sport on almost all day. The target at Draftstars is up to $26,137.90, and the daily drop has seen the score required fall to 375. Unfortunately for us the players haven't been doing their part and we're yet to see a real sweat.
Also available from DraftKings and Draftstars are the following contests:
NBA $15K Thursday - $15 Entry on Draftstars
NBA $300,000 Fadeaway (2 Games) $15 USD Entry on DraftKings
NBA $600,000 Wednesday Shootaround [$150K TO 1ST] $20 Entry USD on DraftKings
​

There's no obvious targets on this slate with none of the teams in action rating favourably for fantasy points against. The biggest pace up spot appears to be Boston who meet a Nets team minus their stars. Brooklyn have picked their pace up in the bubble to a level that would see them sit second for the season, however, that's only a three game sample so maybe I'm drawing a longbow here. What I'm saying is it's hard to find an angle so the focus will be on who represents value and the potential upside to take down a GPP and hopefully reach the elusive 375 target.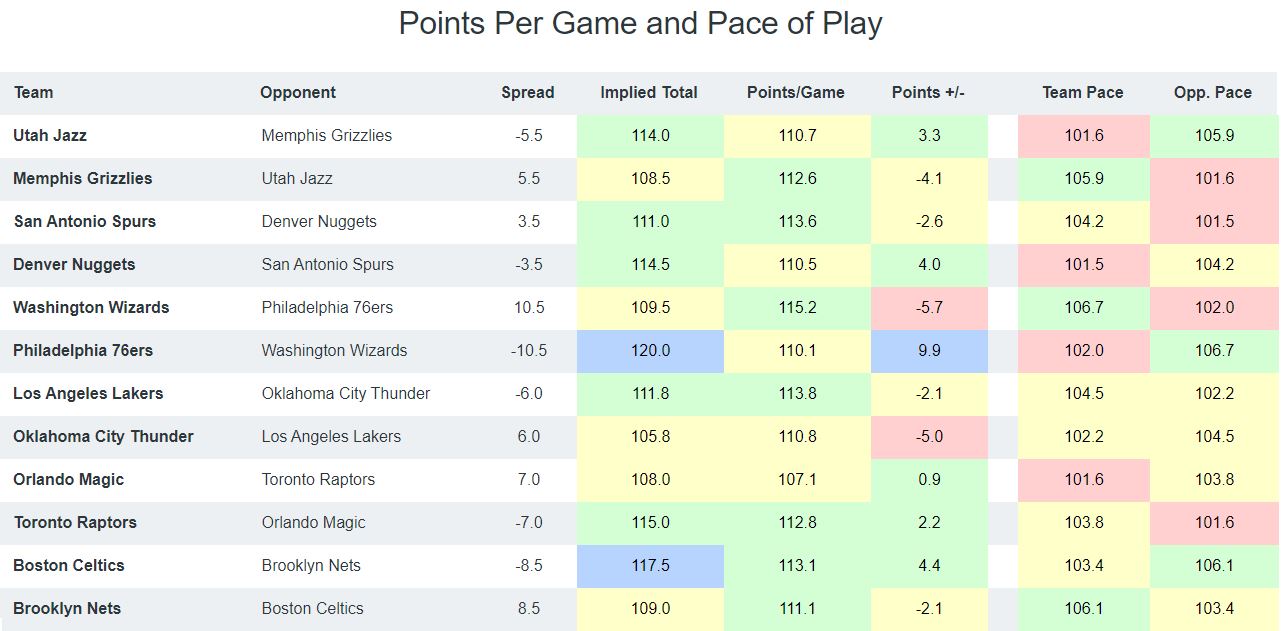 INJURY NEWS
Boston are on the second night of a back to back, Kemba Walker will be rested which will see Marcus Smart slot into the starting line-up and be a popular feature. Don't be put off by Marcus' latest performance, he was in foul trouble all night. Jaylen Brown (+1.9%) and Jayson Tatum (+1.5%) both see usage bumps when Kemba misses, the pair present options you'll want to target in the friendliest matchup on the slate.
Brooklyn will see Jarrett Allen, Caris LeVert and Joe Harris return to the starting five after sitting out yesterday against the Bucks. This is the opposite of injury news, but when looking at recent form and minutes played keep in mind the opportunity some players received in the last game won't be there with the Nets three best players in the bubble returning.
The Lakers are in the first night of a back to back, they don't have anything to play for see keep an eye on team news, I expect we'll see some players rested it's just a matter of which day they decide to pull the trigger.
VALUE PLAYS
Tyler Johnson ($5,270, DK $6,100) has been given the reigns as starting point guard for Brooklyn. Over the last two games he's received minutes in the high 20s and shot a combined 4 of 20, including a 0 for 7 game. At basically the min in a starting gig he'll be hard to ignore. He must have done something right to earn that $19 million per year contract a few years ago, so I'm confident his shooting slump will end soon.
OG Anunoby (DS $8,640, DK $5,500) A starter getting minutes in the mid to high 30s, while clearly the 5th option in the starting lineup, he has GPP winning upside. OG produced two scores over 50FP in the final month of the pre-covid season and has sprinkled in plenty of games in the 30 and 40s. The upside is too good to pass up.
Enes Kanter (DS $7,380, DK$3,700) This pick is a lot more speculative. There's limited options at center if you don't want to pay up for Nikola Vucevic. Throw in the combination of the Celtics being on a back to back and being the heaviest favourites on the slate… there's a chance Kanter gets more run here and he's a proven fantasy scorer when he gets the chance. The Nets are one of the best match ups for opposing Cs, so Kanter should reach value even if he stays at his usual 15-20 minute allotment.
I would put Kyle Kuzma here, but as an anti-Lakers guy I can't risk being burned twice, however he is still good value at $8,240.
MID PRICE PLAYS
In addition to Marcus Smart, Jaylen Brown and Jayson Tatum mentioned earlier.
Jarrett Allen (DS $10,910, DK $5,400) The center position has been given back to Allen in the absence of DeAndre Jordan. The Celtics don't boast the most imposing center rotation in Theis and Kanter, which should see Allen push towards one of his ceiling games. His fantasy output has been inconsistent against the Celtics this season but pulling down double figure rebounds in all three meetings is a positive start, the extra minutes should see value hit more times than not.
Chris Paul (DS $14,040, DK $7,900) Point guard is the one position the Lakers have not been a bad fantasy matchup for. In the last two games Kyle Lowry (63.50) and Mike Conley (38.50) have had favourable returns. This play is more about the Lakers trend than Paul himself, his play has been solid and a couple of good fantasy returns against the Raptors shows he can deliver when faced with one of the top defences in the league.
PREMIUM PLAY
Anthony Davis ($17,820, DK $10,300) Again this feels too cheap for a player of Davis' abilities. In back to back meetings with the Thunder earlier in the season Davis dropped 59.75FP and 62.25FP. His running mate LeBron appears to just be doing what he needs to to get through the games until the playoffs begin, with the discount Davis is the obvious choice.

Always remember to gamble responsibly. When the fun stops, stop. If gambling is having a negative impact on your life, seek support at Gambling Help Online. 18+ only.