daily fantasy sports articles
NBA Daily Fantasy Strategy: Are Scoring Beasts Worth the Cost?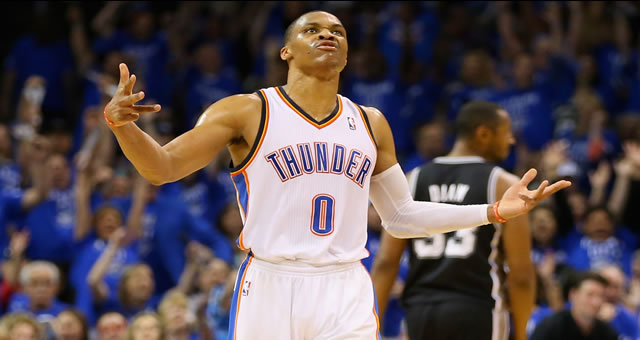 In the Draftstars NBA Daily Fantasy system, players can range anywhere from a bargain-basement $5,000 to over $20,000 for the superstars of the competition. What's going to make you a winner in Daily Fantasy NBA is whether you can tell if you're going to get more value drafting a mega star at $20k along with a cheap $5k player, or if you'll get better value from two mid-ranged players priced $10-12k. It begs the question, are the mega scoring superstars really worth the outlay? The simple answer is…it depends. On a day-to-day basis there are a number of other factors to consider including matchups, injuries and minutes.
How much you should be aiming to get out of each player?
When taking into account the price of each player and whether or not you want to add him to your lineup, you want to first assess what the minimum requirements are for a player of his worth. Using Russell Westbrook as an example, his price is usually set at around $21k. Anything over $15k we would rate as tier one players, and those players should have the ability to score 40-60 points for your team on any given night. If you think that due to the aforementioned factors that this player can't produce at least 40 points for you, then he is not worth the money. As the highest priced player in the game at $21k, Westbrook is the benchmark and should be getting you 60 points minimum every time you select him in your lineup.
Tier two players are players range from $8-15k. These guys should be getting you anywhere from 20-40 points on any given night. Where tier one players are likely to consistently get you scores above 40, these mid-priced players have the ability to ruin your day with scores under 20. Picking mid-range players correctly is where matchups are king.
Bottom tier players are those priced under $8k. These guys will fill the last few spots on your roster. They likely average under 20 points per game, but if you can distinguish which ones will get you that score of above 20 points on the day, it will be the difference between winning and losing. A lot of the time you and your opponent will end up choosing similar players from tier one and two, so usually it comes down to your role players and who can pick the right ones.
Points from different positions
What positions should you typically be spending most of your money on? It's a question that gets asked regularly, and there are a few different routes people take. The one that is probably most popular is avoiding the top tier point guard and spending money elsewhere.
On Draftstars, you have to select two of each position, except the Centre, where only one is picked. The PG position is by far the deepest position in the league, with an array of guys during the regular season who will consistently get you 40 points or more for anywhere from $10-12k providing you pick the right matchups. Players like Jeff Teague, Goran Dragic, Victor Oladipo, Eric Bledose and Kemba Walker are all in the $12k range, and all on their given night are capable of massive scores. Spending tier one type money in the PG position is sometimes just not worth it.
Although Draftstars makes things a little easier with dual positioning, allowing you to take guys like Kawhi Leonard, Kyrie Irving and Steph Curry at the SG position, it is still by far the slimmest position in basketball. If you're not willing to grab at least one top tier player here, then you're left with not much in the mid-range prices. Gordon Hayward, Devin Booker and JJ Reddick are some 2-Guard options, but you probably want to look at taking a tier one player here.
Once again, both of the forward positions are loaded with talent, and its made even easier that most elite small forwards are also listed at the power forward position on Draftstars, namely Kevin Durant, LeBron James and Paul George. However, like the point guard position, there's plenty of value in the lower to mid-range players. You can get Nic Batum, Thaddeus Young, Andrew Wiggins and Rudy Gay all for under $12k at the SF position.
The Centre position is the most important in Draftstars NBA. It's the slot with the most limited dual position capability, and it's the slot with the most limited talent and production. If you're not grabbing a Centre for over $14k, you're grabbing a liability. All Centres under that price range, have a chance for a stinker on any given night. Consistency is key at this position and it comes in the form of guys like Anthony Davis, Karl-Anthony Towns, Demarcus Cousins or Hassan Whiteside.
Upside
You have to have a few tier one players in your team. If you don't, your scoring output on most nights just won't be there. Having a few of these tier one players means you have to select at least two lower priced players. These guys will score points based solely on circumstance. Are there injuries above them in the rotation? Is there an off court incident that will boost their minutes i.e. a trade? The upside is what you are looking for in these players.
When you put it all together, hopefully you'll be able to find a strong mix of players with high scoring potential to give yourself the best chance at success!