daily fantasy sports articles
NBA Daily Fantasy: Value Picks for Thursday, 14th December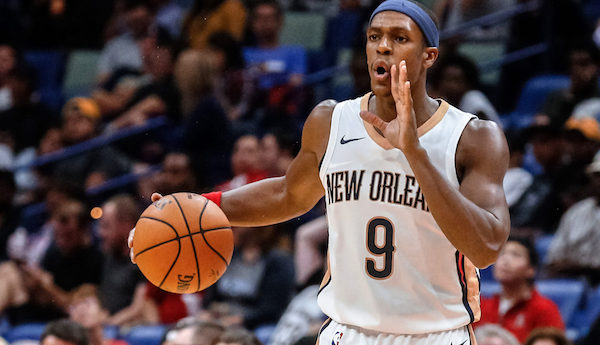 Another Thursday is upon us and there's a huge 9-game slate of NBA action to look forward to. Popular daily Fantasy sites Moneyball and Draftstars have delivered again, offering $25,000 in prizes for their major tournaments. So join us here, where we'll take a look at the bargain picks of the day to help give your team the edge and an increased chance of taking home some cash!
Moneyball Thursday Tournament = $25,000 guaranteed
Draftstars Thursday Tournament = $25,000 guaranteed
Draftstars 400 Point Target = $60,000!
See our fantasy tips for Thursday, the 14th of December below.
PG – Rajon Rondo (NOP)
In a day with few cheap options at the Point Guard position, Rondo is a clear standout. He has now regained full fitness and is playing 35+ minutes each night. He naturally racks up fantasy points and is averaging a huge 40.5 over his past 3 games. At just $5,600 in Moneyball and $12,550 in Draftstars, Rondo is a must-have.
SG – E'Twaun Moore (NOP)
The Shooting Guard position for Thursday is similar to the PG position in that there aren't many cheap options. However, E'Twaun Moore presents a decent case for us to pick him. He has played 34+ minutes in his past 7 games and is averaging 29.3 across his past 3, including a huge 41.1-point game in his latest outing. If you're looking to go cheap at the 2-guard spot then E'Twaun Moore ($4,600 Moneyball, $9,050 Draftstars) is your man.
SF – Jonathon Simmons (ORL)
In our opinion, Jonathon Simmons is the best Small Forward available at a cheap price for Thursday's slate. He has consolidated himself in the Magic line-up and has played 33+ minutes in his past 8 games. On top of that he has been given the green light on offense and is now one of their primary scorers, highlighted by his 29 points in his last game. He is priced at $6,100 in Moneyball and $11,400 in Draftstars and is a safe option for your team.
PF – Nikola Mirotic (CHI)
Nikola Mirotic's return from injury has correlated with a Chicago Bulls 3-game win streak. He hasn't missed a beat since returning and is now close to full fitness, which was evident in the 32 minutes of game time in his latest outing. He is valued at $4,500 in Moneyball and $11,150 in Draftstars and should score well above his price tag.
C – Steven Adams (OKC)
Rounding out our value team at the Centre position is the big Kiwi. Adams is an extremely consistent fantasy scorer and is still undervalued at $6,500 in Moneyball and $11,700 in Draftstars. He is guaranteed to play big minutes against the Pacers in an attempt to slow down Myles Turner. There aren't many value options at the 5-spot, so we believe Adams is your best bet.
_ _ _