daily fantasy sports articles
NBA Daily Fantasy: Value Picks for Thursday, 16th November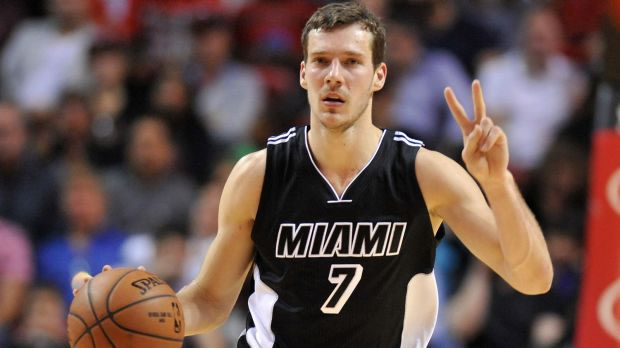 The huge Thursday slate of NBA action is upon us, which means it's time for another instalment of our expert Daily Fantasy NBA tips. Popular fantasy sites Moneyball and Draftstars are again offering a massive $30,000 in prizes for us to feast on. So as usual, we'll provide you with the bargain picks of the day to give your team the edge and an increased chance of taking home some cash!
Moneyball Thursday Tournament = $30,000 guaranteed
Draftstars Thursday Tournament = $30,000 guaranteed
See our Daily Fantasy NBA lineup picks for Thursday, November 16th below.
PG – Goran Dragic (Miami)
Miami Heat's star point guard will be coming up against the Washington Wizards in an important Eastern Conference duel. Dragic gives you 20 points without breaking a sweat, but is under-priced at just $6,600 in Moneyball and $13,000 in Draftstars due to his low assist numbers. However, with Whiteside back in the side and in good form, getting easy assists (which are fantasy gold) will come a lot more frequently and will make Dragic a good point of difference for your team.
SG – Donovan Mitchell (Utah)
The Utah Jazz rookie shooting guard has been in scorching hot form of late and is still under-priced at $5,800 in Moneyball and $10,250 in Draftstars. He has benefited from a spike in his minutes and will be sure to play 30+ against the Knicks as he is coming off the best game of his short career where he notched up 24 points, 4 rebounds, 4 assists and 4 steals. He could definitely be a unique pick that catapults your side into the prizes.
SF – Robert Covington (Philadelphia)
Robert Covington has been the 76ers surprise packet of the season and is one of the hottest 3-point shooters in the business, hitting 5+ threes in 5 games this season. Priced at just $6,300 in Moneyball and $12,100 in Draftstars, Covington consistently racks up rebounds and steals to go along with his deadeye shooting and consistently posts fantasy scores well above his salary bracket. He's also coming up against the Lakers, who definitely aren't renowned for their defence.
PF – Bobby Portis (Chicago)
At just $5,000 in Moneyball and $9,100 in Draftstars, Bobby Portis falls into the 'must have' basket for your fantasy side. He has now played 3 games after coming back from suspension and has tallied 17+ points and 6+ rebounds in all 3. The Bulls are coming up against an OKC Thunder outfit that lacks a defensive identity, which should see the Bulls notching a big score and Portis having another big game.
C – Marcin Gortat (Washington)
If you're looking for value at the Centre position, then look no further than Wizards big-man Marcin Gortat. The Wizards are coming up against the Heat who boast one of the most dominant Centre's in the league in Hassan Whiteside, which will force Coach Brooks to give Gortat extended minutes in order to contain him. Gortat has great touch around the rim and is a proven rebounder and should see his numbers inflated naturally by being on the court longer. At just $4,900 in Moneyball and $9,000 in Draftstars, Gortat provides great value for money.