daily fantasy sports articles
NBA Daily Fantasy: Value Picks for Thursday, 1st February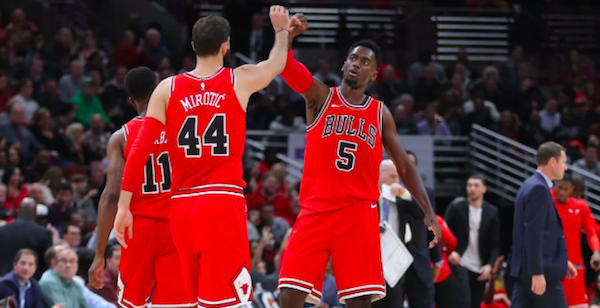 As usual there's a huge 8-game slate of NBA action on this Thursday for us to look forward to, which means there are hundreds of players to choose from for your daily fantasy teams! We're here to help you with picking some of the lesser-known cheaper players to give your team the edge and a chance to take home some cash. Moneyball and Draftstars are again offering massive cash prizes for their major tournaments, so be sure not to miss out!
Moneyball Thursday Tournament = $15,000 guaranteed
Draftstars Thursday Tournament = $15,000 guaranteed
See our fantasy tips for Thursday, the 1st of February below.
PG – Dennis Smith Jr (DAL)
Starting off our team at the Point Guard spot is Mavericks rookie Dennis Smith Jr. The Mavericks season is well and truly over and it's now time for them to focus on improving their young stars of the future. Smith has been the focus of the offense in their past couple of games and is starting to score well for our fantasy teams. You can get him in for just $6,400 in Moneyball and $11,950 in Draftstars.
SG – Zach Lavine (CHI)
Zach Lavine is a little bit of a forgotten star after sitting out most of the year due to injury. However, he now has over 5 games under his belt and has started playing 25+ minutes. Further, the Bulls have had 2 days break and we believe this will be his coming out game where he plays his full rotation and posts a big score. He's bargain price at $5,400 in Moneyball and $10,300 in Draftstars.
SF – TJ Warren (PHX)
At the 3-spot in our team is TJ Warren from the Suns. Warren is quietly putting together a great year, averaging nearly 20 points per contest. He's been getting a lot of touches on offense lately and could post a huge score against the Mavs, especially if Booker isn't fit to play. We think he could potentially be a great POD for you at $6,600 in Moneyball and $11,850 in Draftstars.
PF – Bobby Portis (CHI)
Bobby Portis has had an inconsistent year and has caused headaches for us fantasy managers at times. However, he does have the ability to score big and we believe Thursday will be one those games. Markannen is sidelined with injury which frees up a lot of minutes for Portis to play at the Power Forward spot. He's just $4,900 in Moneyball and $10,350 in Draftstars and could be the difference for your team.
C – Jahlil Okafor (BKN)
We've decided to go risky with our final pick at the Centre position, selecting Jahlil Okafor. Once a top 3 pick, Okafor has fallen out of favour with coaches and hasn't seen much court time this year. However, it seems like the Nets are willing to give him a chance to see what he can do, as he's clocked up 25+ minutes in their past two games. If given the playing time, Okafor is a natural scorer and could be a great option if you're looking to go really cheap at the Centre spot. He's valued at just $3,800 in Moneyball and $5,000 in Draftstars.
_ _ _