daily fantasy sports articles
NBA Daily Fantasy: Value Picks for Thursday, 7th December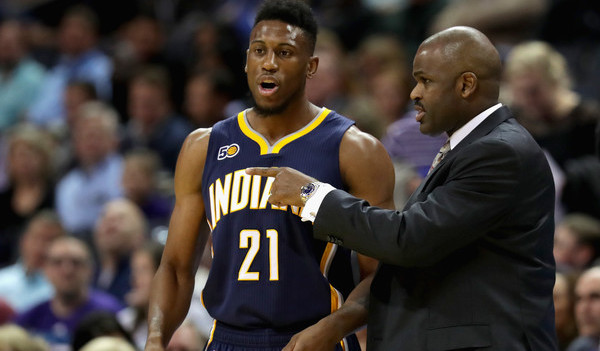 The first Thursday of December has arrived and we've been blessed with a huge 10-game slate of NBA action! Popular daily Fantasy sites Moneyball and Draftstars have delivered again, offering $25,000 in prizes for their major tournaments. So join us here, where we'll take a look at the bargain picks of the day to help give your team the edge and an increased chance of taking home some cash!
Moneyball Thursday Tournament = $25,000 guaranteed
Draftstars Thursday Tournament = $25,000 guaranteed
See our fantasy tips for Thursday, the 7th of December below.
PG – Frank Ntilikina (NYK)
The Knicks have been struck by injuries in the past few weeks. They will be without Hardaway Jr and Porzingis again on Thursday, which will naturally give scoring opportunities to usual role players. Ntilikina is basement price at $3,500 in Moneyball and $6,000 in Draftstars and has great scoring potential. Further, the Grizzlies will be without their star guard Mike Conley, which will make it a lot easier for the Knicks guards to rack up fantasy points!
SG – E'Twaun Moore (NOP)
This man is our biggest must have of the day. He has earned himself significant playing time on the back of some good performances and is still dirt cheap at $4,000 in Moneyball and $9,150 in Draftstars. He is guaranteed to play 30+ minutes and jack up a lot of three-point attempts, which could easily result in a high fantasy score against the weak perimeter defence of the Nuggets.
SF – DeAndre Bembry (ATL)
DeAndre Bembry has managed to string together some decent performances to make himself relevant to our fantasy teams. He has now played 20+ minutes in each of his last four games, including a season high 28 minutes in his last outing. There's plenty of opportunities for Bembry to pick up fantasy points in a struggling Hawks outfit and at $3,700 in Moneyball and $6,600 in Draftstars, Bembry is a solid pick.
PF – Thaddeus Young (IND)
The Pacers are rolling at the moment and Thad Young has been a big reason why. Along with Oladipo and Turner, Young has pieced together a tidy season and regularly plays 30+ minutes. Against the inexperienced Bulls front-court we expect Young to have a nice performance and score well above his price tag ($5,700 Moneyball, $11,050 Draftstars).
C – Enes Kanter (NYK)
Cheap options at the Centre position are scarce in Thursday's fantasy competitions, so we've opted to go with a mid-pricer in Enes Kanter ($6,600 Moneyball, $12,550 Draftstars). With Porzingis expected to sit out again the Knicks will require Kanter's scoring ability in the paint. He should play 30+ minutes against the Grizzlies and record a double-double at the least, which will return a solid fantasy score.
_ _ _