daily fantasy sports articles
NFL 2020-21 Daily Fantasy Tips: Week 11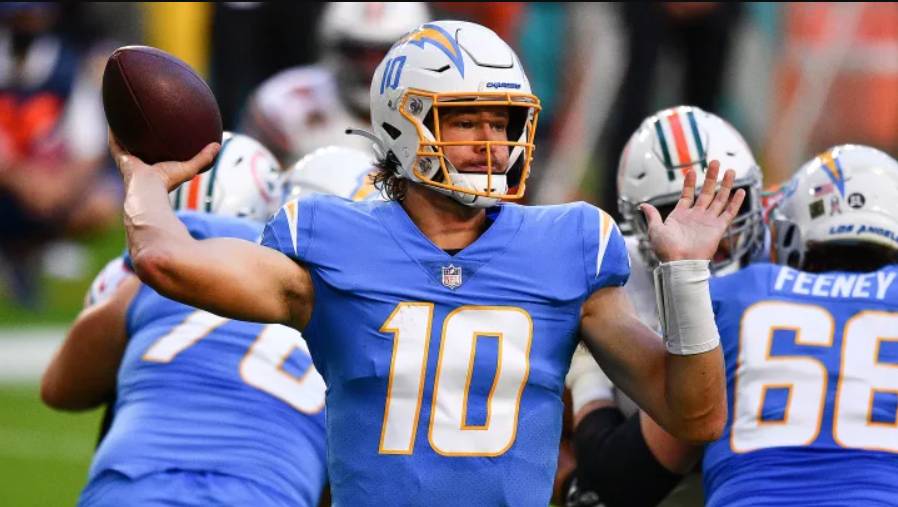 We are back for Week 11 of the NFL season where we are seeing teams starting to make thier playoff run or already looking towards next season. It is a slate without the big gun Quarterbacks in Wilson, Murray, Mahomes and Brady (yes he is becoming a daily fantasy favourite) so we need to start playing guys we don't normally want to roster.
Daily Fantasy Sites Draftstars and DraftKings are back with a variety of contests to suit every style and budget on Monday morning. Starting with Draftstars, the main contest is a $25,000 for a $15 entry. A High Roller ($150 Entry), micro ($0.50 entry) and a mini contest is also available for an entry of $2.
On DraftKings, there are various types of Classic contests in the lobby highlighted by the $3,500,000 Fantasy Football Millionaire where 1st prize is $1,000,000! Entry into this contest is $20 USD per entry. There are plenty of contests on DraftKings including, single, 3 entry max and 20 entry max contests.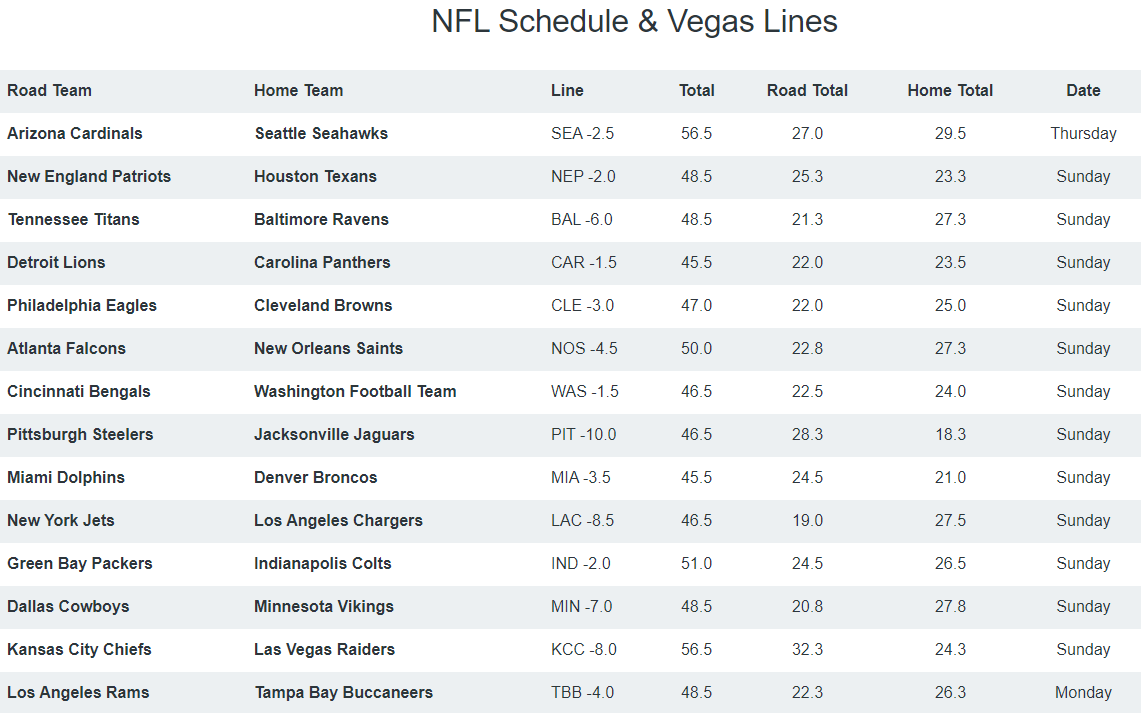 Injuries
OUT: Drew Brees * Joe Mixon * Christain McCaffrey * D'Andre Swift * Kenny Golladay * Danny Amendola * Gordon Minshew * Sam Darnold * Zach Ertz * Laviska Shenault * Tyler Ervin * Adam Humphries * Sammy Watkins
QUESTIONABLE: Teddy Bridgewater * Irv Smith * Noah Fant * N'Keal Harry * Allen Lazard * Jack Doyle
PROBABLE: Matt Stafford * Drew Lock * Damien Harris
IN: Davante Adams * Matt Breida * Calvin Ridley
QB:
Cam Newton: Cam is a fantasy stud, largely because most of the Patriots redzone game revolves around him running the ball in himself. That makes it kind of tricky to stack him with any receivers, but a soft as butter matchup with Houston is one of the best opportunities we'll get to try it. The nice price secures the play for me.
Justin Herbert: This is a play that I just love touting week after week. Like Cam, Herbert can run the ball in himself, but his arm is also incredible. The Jets are a very comfortable matchup, and I expect Herbert to pick them apart. The high price does create some doubts, but below I have some cheaper stacking options that make the play affordable.
Alex Smith: Now for a play that I do not like putting out there. Smith is old, he has one completely rebuilt leg, and his team is pretty bad. On the flip side he's cheap and playing the lowly Bengals, and I don't hate his chances of getting the 20+ points that would make him a viable play. Tread carefully if going down this route.
RB:
Mike Davis: When CMC was injured earlier in the season, Davis took over 100% of the role and dominated with 3 straight 20+ scores. Detroit is a mid-range matchup for RBs, but at a cheap price the matchup isn't the main concern. He's too cheap for his expected role I'm all in.
Dalvin Cook: Probably the form player of the NFL in the last month, Cook gets a decent matchup in which to continue his hot run. He's very expensive , but if you can find the spare salary it's a safe place to spend. Alvin Kamara is a similarly strong play, it's only the extra $1K of salary that has me leaning towards Cook.
Melvin Gordon: Melvin has really dropped off in recent times, but he's still got plenty of ceiling at a bargain price. There is plenty that can go wrong with this play, if the Dolphins get an early lead and their improved DST prevents the Broncos making big plays. My hope is that the Broncos can hang with them at home, and Melvin can attack the Dolphins main weakness which is run defence.
Giovanni Bernard: A value play that might be easier to stomach, as long as Joe Mixon remains out, which looks likely at this stage. Bernard has a couple of big 20+ scores in recent games, and although Washington is a decent run-stopping team I'm happy to play Bernard hoping for 12-15 points.
WR:
Terry McLaurin: I'm somewhat tempted to play McLaurin in nearly every lineup, but he's a no-brainer in any lineup taking the Alex Smith punt. Cincinnati is a top 3 matchup for WRs, and Mclaurin is a stud, surely this one can't go too far wrong.
Adam Thielen: With Dalvin Cook a little hard to fit in, this is another great way to get some exposure to a Vikings offense going against the garbage Cowboys DST. Thielen has been a bit up and down this season, but at his best he is one of the best receivers in the NFL. He looked good last week, so I'm looking to invest again at a discount. Rookie teammate Justin Jefferson is at the same price and has been a stud so far, so I don't mind playing him either.
Mike Williams: I usually like to pair Keenan Allen with my Herbert stacks, but he's too expensive for my taste today. Williams is the definition of boom and bust, so I'm betting on the easy matchup and nice price and hoping for the best.
Jarvis Landry: It's been a bad season for Landry. I hoped for an improvement once OBJ went down injured, but so far both of the Browns games have been affected by bad weather. That shouldn't be the case this week, and the Eagles DST is nothing to be afraid of. It's a bit of a weak play compared to some of the above, and it's worth considering dropping down to teammate Rashard Higgins who has increased opportunity for the same reasons as Landry.
TE:
Eric Ebron: Ebron hasn't had a really massive game as a Steeler yet, but he has been getting plenty of redzone looks and chipped in with 3 double digit scores in his last 4. The Jaguars have been the easiest matchup for TEs, I like the chances of him catching a touchdown or two.
Hunter Henry: Along with touting Herbert, I'm addicted to touting Henry. It never quite works, but it will eventually. Why not against the lowly Jets? For transparency I think players like Goedert, Hooper & Thomas all have nice matchups and make for nice plays in stacks or solo.
DEF:
Pittsburgh Steelers: The best D in the league against one of the worst offences, and not even the most expensive play on the slate? Seems like an easy call. The Chargers and the Broncos both have some appeal if you want to do something different.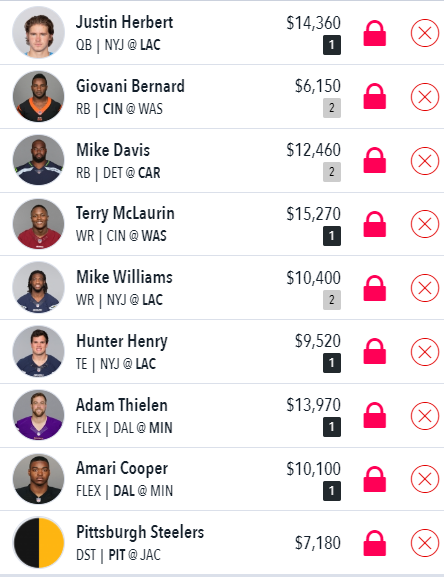 Always remember to gamble responsibly. When the fun stops, stop. If gambling is having a negative impact on your life, seek support at Gambling Help Online. 18+ only.