daily fantasy sports articles
NFL 2020-21 Daily Fantasy Tips: Week 16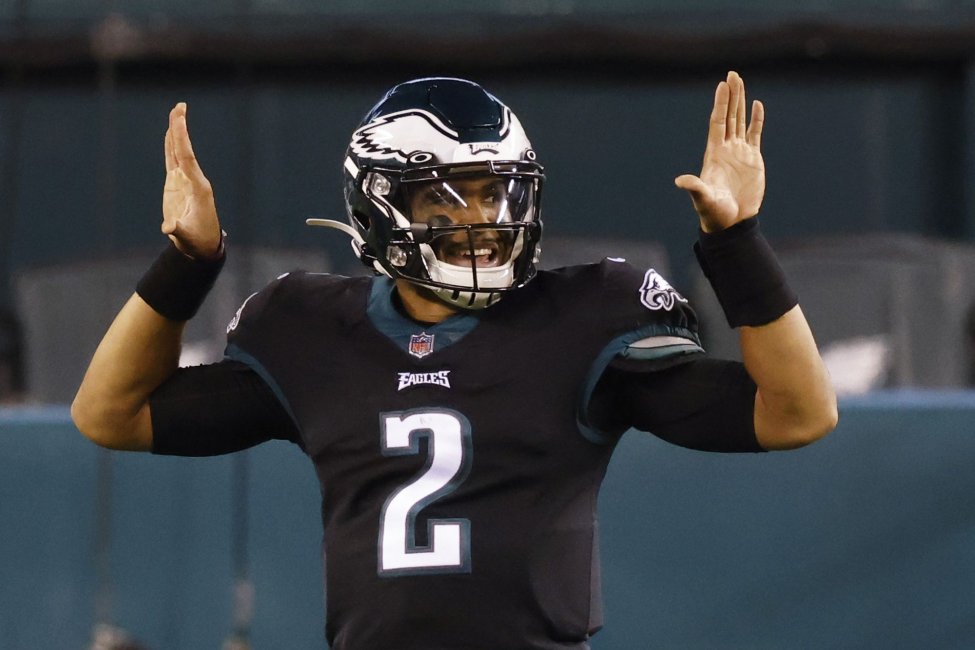 Merry Christmas! We have plenty of NFL action coming this weekend, headlined by the $20,000 Draftstars main slate for Monday morning. There are 10 games on the slate, and a little over $2000 top prize to battle it out for. Last week the late news with Ezekiel Elliot being out threw a spanner in the works, making Tony Pollard a great play and ruining all my nice Brees/Fournette lineups. This week there is a lot less easy value on the slate (at this stage), so the decisions on who to play are a lot tighter. I've picked out some of my favourites.
Draftstars continues to come to the party with another $20,000 contest for Week 16. A High Roller ($150 Entry), Micro ($0.50 entry) and a Mini contest is also available for an entry of $2.
On DraftKings, there are various types of Classic contests in the lobby highlighted by the $3,000,000 Fantasy Football Millionaire where 1st prize is $1,000,000! Entry into this contest is $20 USD per entry. There are plenty of contests on DraftKings including, single, 3 entry max and 20 entry max contests.
Also have you seen the snake drafts on DraftKings? You can now join a snake draft for single slates and compete in Sunday contests! Check it out!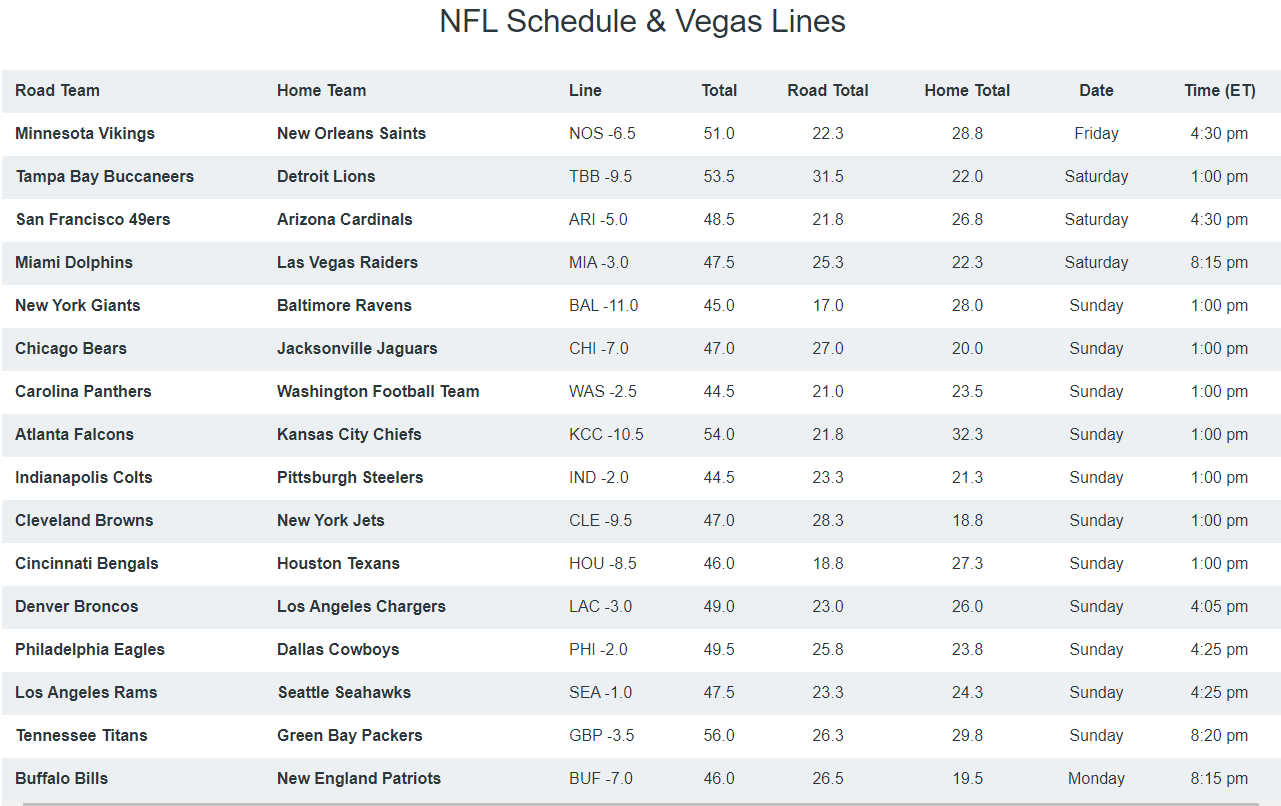 Injuries
OUT
* Julio Jones
* Cam Akers
* Clyde Edwards-Helaire
* Phillip Lindsay
* Hunter Henry
* Duke Johnson
* Tyler Boyd
* Golden Tate
* Keenan Allen
* Jarvis Landry / Donovan Peoples-Jones / Rashard Higgins / KhaDarel Hodge (all on COVID Reserve)
DOUBTFUL
* Christian McCaffrey
* Terry McLaurin
QUESTIONABLE
* Ezekiel Elliott (Update: Will Play)
* Antonio Gibson
* James Robinson
* Allen Robinson
* Cordarrelle Patterson
* Royce Freeman
PROBABLE
* Tyreek Hill
* Alex Smith
* Daniel Jones (Good to Go)
IN
* Brandon Allen
* James Conner
* C.J Prosise
* DeSean Jackson

QB:
Deshaun Watson: I've gone for 3 talented young QBs in good matchups, because I think the top tier of Mahomes/Jackson is a little too pricey and not guaranteed to explode this week. Watson gets the Bengals, who had a great win last week but are still garbage. I expect the Bengals to be able to keep up somewhat in this game with Houstons terrible defence, so Watson should have plenty of reason to keep attacking throughout.
Baker Mayfield: Last week I wanted to attack the Jets through the air instead of on the ground. It didn't work out so well with the Jets humiliating the Rams, but I'll try again this week. Mayfield has been playing well, and has a good value group of receivers to throw it to, making for a very reasonably priced stack for such big favourites. Of course Nick Chubb or Kareem Hunt could steal all the TDs and therefore points, but that's the risk we take in fantasy.
SUNDAY UPDATE: Probably walk away from this play due to the Browns WR core being placed on COVID reserve. Nick Chubb and Kareem Hunt are now looking to be great plays!
Jalen Hurts: I really missed the boast on Hurts massive performance last week, and now I want to chase those points. Like Justin Herbert earlier in the season, Hurts has quickly become a top fantasy option, and the Cowboys are a defence that he should have no trouble getting the better of. Ertz/Goedert and Raegor are all cheap Eagles that you can stack him with, seeing as the Cowboys secondary is awful. Daniel Jones gets a special mention as someone that I doubt works out, but is definitely too cheap if he ends up anywhere near 100% fitness.
RB:
David Montgomery: I wouldn't have expected to ever write this at the start of the season, but David Montgomery is one of the hottest fantasy players in the NFL right now. 4 straight weeks of 25+ points, and a massive 32 carries in last week's victory against the Vikings. It is tempting to start fading with the inevitable downturn coming soon, but a soft as butter matchup against the Jaguars seems like a bad time to do that. The Bears have obviously started to trust him as a key part of their offense, and as a whole are playing reasonably well right now.
David Johnson: Another player I didn't expect to write up, but I feel a lot less confident in this one. Last week was his first game over 20 points in 2020, and he'll need 25 to reach value. He gets the nice matchup with the Bengals, and crucially he caught 11 passes from Watson last week, which means they can be stacked together. If Duke Johnson returns to steal some volume, I'll likely pivot to the likes of Chubb/Hunt, and I'd definitely rather play Tony Pollard if Ezekiel Elliot is out again this week.
Mike Davis: This looks like our only pricing error gift this week, after last week was full of them. Davis drops to minimum price based on the expectation that Christian McCaffery would return. CMC is looking unlikely to play this week (or this season), so Davis should be the workhorse RB for the Panthers again. The matchup with Washington is pretty tough, but Davis can get a lot of passing game work if the team is chasing so I can't pass up this little Christmas gift from Draftstars.
WR:
Jarvis Landry/Rashard Higgins: Both these guys have been consistently good for the Browns over the last month, benefitting from the absence of OBJ. They can both get double digit targets and have plenty of TD equity. The cherry on top is that I think they are both a little too cheap for a fairly easy matchup with the Jets, so I'll be playing plenty of both.
UPDATE - Out due to COVID reserve
CeeDee Lamb/Amari Cooper: I've already mentioned the Eagles stack featuring Hurts/Raegor/Goedert/Ertz, and I think either of these Cowboys make for a nice bring back play. The Eagles defence is not particularly good, and Andy Dalton has been doing a good job of keeping the Cowboys offense moving in recent weeks. Both are priced very fairly, so flip a coin and stick one or the other on the end of your Eagles lineup.
Brandon Cooks/Chad Hansen: If you read between the lines, my confidence in the David Johnson pick is not high. That means I want to consider some other stacking partners for Deshaun Watson, and here we have the two receivers that are spending the most time on the field with him lately. Cooks is the clear WR1 in Houston without Will Fuller, and has been churning out consistent double digit fantasy points weeks without going anywhere near his ceiling since back in weeks 5 & 6. Hansen has come from nowhere to have 3 straight double digit weeks. Either is a good stacking partner for Watson, and there's no reason you can't play both and hope they gobble up multiple touchdowns.
Sterling Shepherd/Darius Slayton: If you're interested in my Daniel Jones mention above, these are the two guys I'd consider pairing him with. I've been trying to play Slayton all season with no success since his monster 28 points in week 1. You probably only need to pair one of them with Jones and look for multiple TDs, but again it's a risky play with Jones not even guaranteed to suit up.
TE:
Mark Andrews: As usual, TE is a big mess this week. Travis Kelce has been priced up to a level where I have little interest, and I could literally mount a moderate argument for every single TE from Andrews down to the minimum price. I'm choosing Andrews for this spot because I'm keen to bet on the Ravens improvement late in the season, and Andrews is one of the safest ways to do that without blowing big salary on Lamar Jackson. But again, play anyone you like at TE, it's an absolute wasteland.
Zach Ertz: I'll just touch on Ertz because of the Hurts connection. Ertz has had a terrible season after being one of the premier TEs for many years. That's mostly due to injury, but since returning in week 13 he's struggled for chemistry with Hurts. It appears that Dallas Goedert has gone past him as the team's primary TE. Having said that, he did see 7 targets last week including two long catches, so perhaps the tide is turning and we'll see a vintage Ertz performance this week at half the salary we were seeing him at last season? Worth a try in my opinion.
DEF:
Ravens/Browns: The two most expensive options will probably be the most popular, because they have very soft matchups in the Giants and the Jets. NY football is very bad right now, and I expect one or both of these teams to make the most of it. If I had to take a shot at a cheaper, lower owned DST, it would probably be the LA Rams against a struggling Russel Wilson. Going against Russ is uncomfortable, but the Rams should be motivated after their shocking loss last week, and they're a good defence.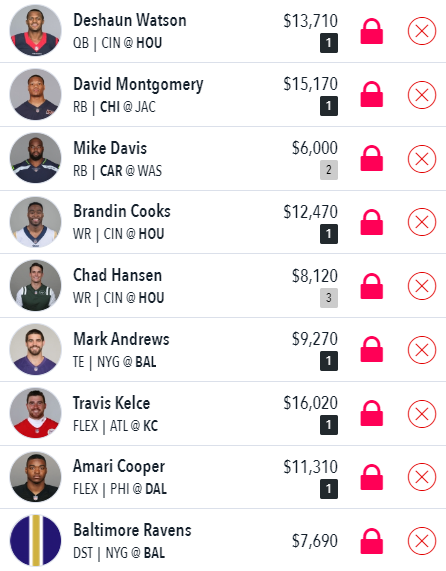 Always remember to gamble responsibly. When the fun stops, stop. If gambling is having a negative impact on your life, seek support at Gambling Help Online. 18+ only.