daily fantasy sports articles
NFL 2020-21 Daily Fantasy Tips: Week 2
By: Luke Mathyssen & Tom Kelly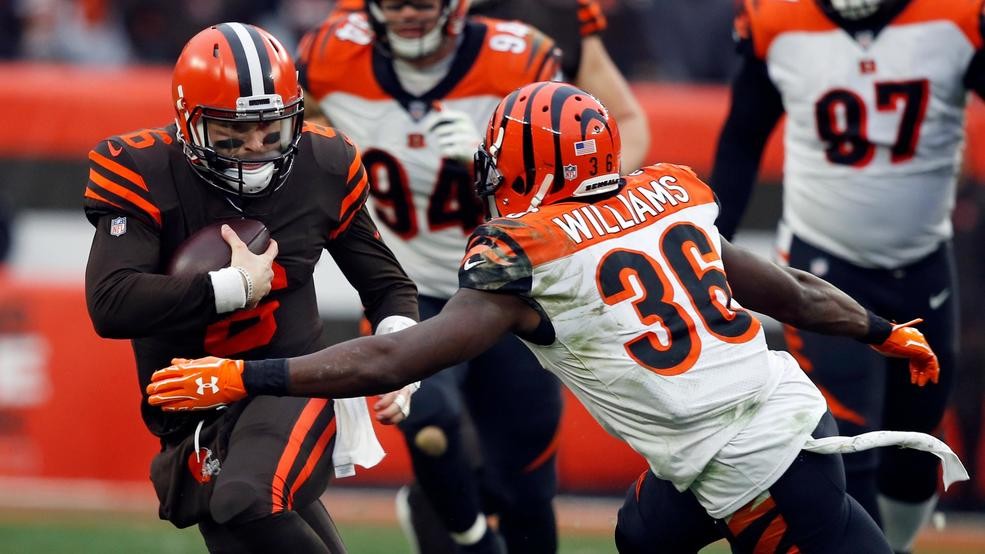 Welcome back to DFR's weekly previews for the NFL for the 2020 season! Each week myself and Tom will be providing written previews for slates in the NFL providing our fantasy plays and strategy to tackle the big world of Daily Fantasy NFL. Each week we will provide the one mega article so make sure you keep referring to this weekly article as each week progresses.
Right, week 2! We've seen a glimpse on who has come out hot and who is already banged up after one week. Commencing on Friday morning in Australia, we have the AFC North matchup between the Cincinnati Bengals and the Cleveland Browns. Two teams that suffered losses in Week 1 and will be looking to avoid going 0-2 to start the season.
Daily Fantasy Sites Draftstars and DraftKings are back with a variety of contests to suit every style and budget on Friday. Starting with Draftstars, the Single "Flex" contest is available with the main contest is a $10,000 for a $15 entry. A mini contest is also available for an entry of $2.
On DraftKings, there are various types of Showdown contests in the lobby highlighted by the $1,500,000 Thursday Night Special where 1st prize is $300,000! Entry into this contest is $10 USD per entry. There are plenty of contests on DraftKings including, single, 3 entry max and 20 entry max contests.
Thursday Night Football
Cincinnati Bengals @ Cleveland Browns (1020 AEST Friday)
Total - 44.0
Spread - CLE 6.0
Injuries
David Njoku has a knee injury and is OUT
Jarvis Landry did not practice with a hip injury and is Questionable
#Browns WR Jarvis Landry, who's listed as questionable with a hip injury, is expected to play tonight against the #Bengals, per source. He sat out Tuesday's practice and was limited Wednesday as a precaution.

— Tom Pelissero (@TomPelissero) September 17, 2020
The Browns were one of the more disappointing sides last week against a Ravens outfit that took care of business in Week 1. QB Baker Mayfield threw a pick on the opening drive and struggled throughout after his 1st quarter TD pass to David Njoku. However, the Browns get a great matchup with the Bengals who are rebuilding under rookie QB Joe Burrow.
The Bengals nearly pulled off the win against the Chargers but let a 13-7 lead slip in the 4th quarter. QB Joe Burrow passing stats weren't great but a rushing TD along with 46 rush yards on 8 attempts make him very fantasy relevant.
A glance on Draftstars shows there is a core of ten players over $12,000 then it falls away. It is obvious that entries will consist of 4-5 of these core players and a cheap player or two to round out. Let's see who we can rely on.
Champ - Baker Mayfield (Browns)
Not sure this was a misprice on Draftstars or simply they 'know something', but I rather have shares in Mayfield than Burrows at home. Sure, Mayfield is insecure with the football, whether it is through the air or on the ground but he needs to turn it around in this primetime matchup. If Mayfield was the most expensive player then I would have been happy to fade, but that discount means he needs to be considered.
Cheapie - Giovani Bernard (Bengals)
Playing as the 3rd down back out of the Bengals backfield, Bernard caught 4 balls for 21 yards along with 7 yards on the rush in week 1. You must be thinking well that's peanuts, well you only need Bernard to accumulate 6-10 fantasy points as you just about afford the core in the rest of your lineup. If you wish to pivot this play, KhaDarel Hodge for the Browns played 55% of snaps in week 1 (1 reception for 12 yards) and is worth a flier at the min salary.
Chance - A.J Green (Bengals)
Green was one of Burrow's most used targets in the opener, going 5 receptions for 51 yards. Cleveland couldn't slow down Marquise Brown in Week 1, so don't expect Green to be too intimidated by any coverage that's thrown at him. As long as Burrow can stay upright, Green could be a threat, especially with the Bengals finding themselves behind in this game.
Chump - Odell Beckham Jnr (Browns)
While he did lead the Browns in targets last week, OBJ only produced 3 receptions for 22 yards in week 1. Penalties and mistakes capped his upside and with the Browns favourites this week, the opportunity to make amends might be lacking here. However, if you are playing Mayfield, then it may be unwise to leave OBJ out if these two get going offensively.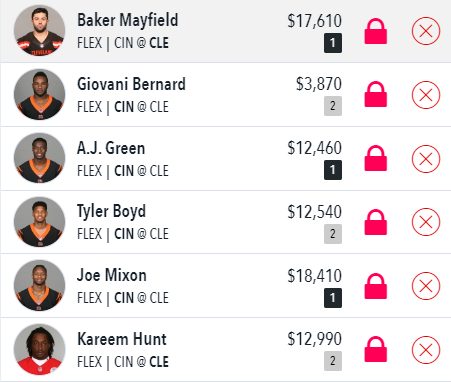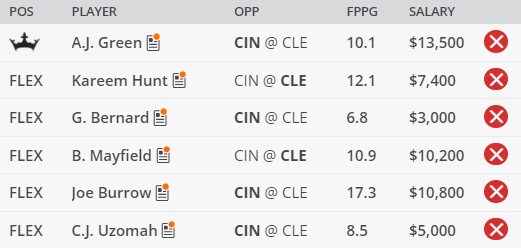 Monday Main Slate
Sunday Week 1 was a bit of a farce, with data issues across the NFL world leading to DFS contests locking early and GamePass issues ruining our RedZone enjoyment. I'm writing that one off and starting fresh. Draftstars have cleaned up their pricing a little so that we don't have any more chalky Mitch Trubisky situations. The contest is up to a nice $25,000 this week, so there is plenty of incentive to have a good dig through and find the winning plays.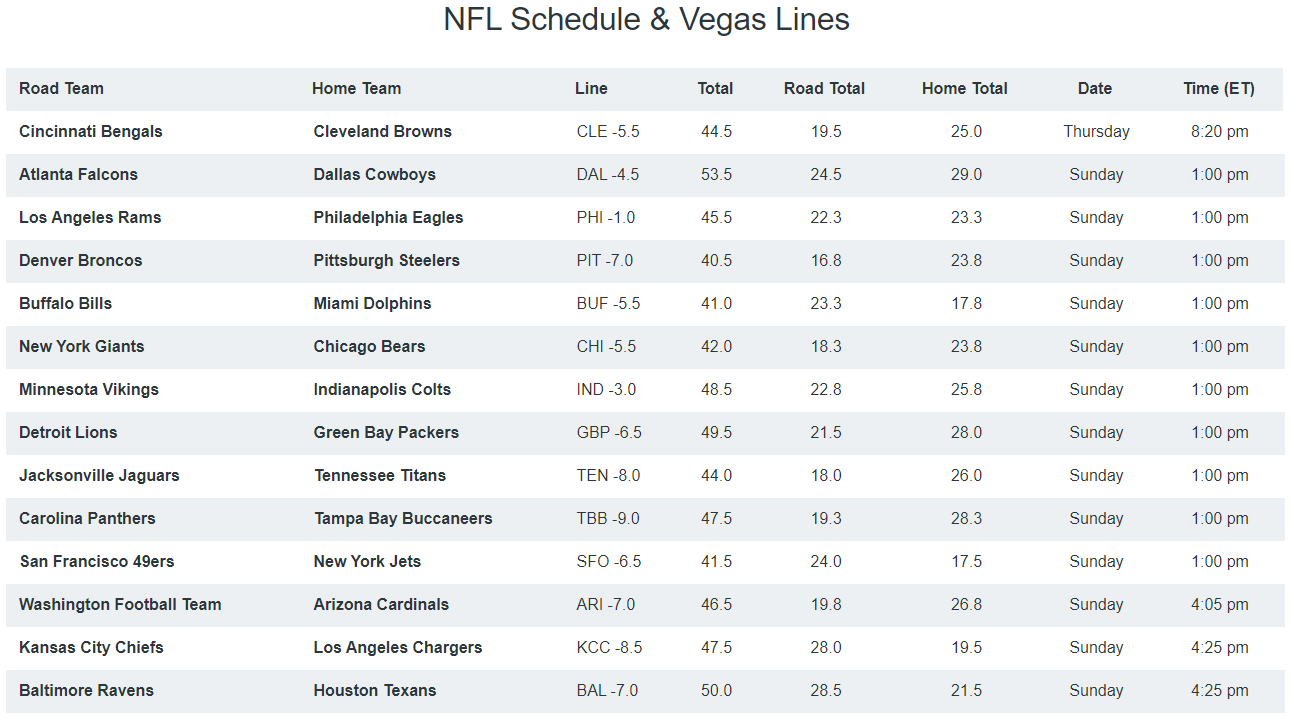 Players out Sunday include Dee Ford, George Kittle, Jamison Crowder, Chris Godwin, Phillip Lindsay, David DeCastro, Stefan Wisniewski, Kenny Golladay, Desmond Trufant, Kenny Clark, AJ Brown, Jack Doyle, Tremaine Edmunds, Matt Milano, Kawann Short, Charvarius Ward, Alshon Jeffery.

— Adam Schefter (@AdamSchefter) September 20, 2020
Quarterback:
Mitch Trubisky: This is not a drill. He might be double the price this week but going against a flimsy Giants defence is still a good situation for this Bears passing game. What about the fact that he's a bad quarterback? Well, that isn't ideal, but he's shown multiple times that he has slate winning upside on his day and should be low owned.
Aaron Rodgers: This living legend was the best play at the position last week, as the Packers/Vikings game turned into a track meet. The Lions can provide a similar game environment with Matt Stafford able to sling the ball around the field and keep the pressure on the Packers to score. I'm very happy to stay with Rodgers this week.
Matt Ryan: Last week the chalky Falcons/Seahwaks game paid dividends with plenty of big scores on both teams. The Falcons are again in this week's chalky game, with both Cowboys and Falcons featuring potent offences and average defences. The Cowboys are favourites which means Matt Ryan should be throwing the football early and often in this game trying to keep up.
Running Back:
Derrick Henry: I don't see a lot of value at this position that I love, so I'm looking straight to the top where we know what to expect. Henry dominated last season, particularly towards the end. He was solid last week, but most importantly got 100% of the running work and even a little bit of a nibble in the passing game. His ceiling is huge against the lowly Jaguars who should be the softest running back matchup in the entire league.
Zack Moss: I guess this counts as a value play. The rookie Bills back is in a pretty even timeshare with Devin Singletary, but as the bigger body he gets more of the work close to the goal line. That means that in a game against the lowly Dolphins, he has a significant amount of touchdown upside. The slight concern is that QB Josh Allen loves to run the ball into the end zone himself, so prepare for that frustration.
Christian McCaffery: At the very top we have the always reliable CMC. Well...except for the two games last year when the Bucs managed to completely stop him in his tracks. Assuming that that will repeat this year is a dangerous game, but proceed with caution against this underrated Bucs Defense who might put a big target on his back once again.
Wide Receiver:
Allen Robinson/Anthony Miller: I told you to play these guys last week, and I was only half right. As I said above, I like the chances of the Chicago passing game being effective in this game, and I doubt that Allen Robinson can be kept quiet two weeks in a row.
Davante Adams/Allen Lazard: Adams was the highest scoring player in week one, and he's still priced very reasonably for such a prolific player in a fairly soft matchup. Lazard also showed that he has a nice role to play in this Packers offense, so I'm happy to pair them both with Rodgers and watch the points roll in again.
Julio Jones/Calvin Ridley/Amari Cooper/Michael Gallup: The chalky game of the week, because it has two good quarterbacks, and all of these excellent receivers (and CeeDee Lamb!). As with last week's chalky Falcons game, I think you need to use AT LEAST three pass catchers if you want to get ahead of the pack, if not four. There is yet another option from this game down below.
Tight End:
Mark Andrews: He's playing on one of the best teams in the NFL, with an awesome QB that loves throwing him the ball, and against a bad Texans defence. And he's still not the most expensive player at the position. Don't over think it, play plenty of Mark Andrews.
Jonnu Smith: With the Titans comfortable favourites against the Jaguars, someone other than Derrick Henry is going to have to contribute some touchdowns. A.J Brown and Corey Davis have both been dealing with injuries during the week, so I'm expecting a big game from their talented TE.
Hayden Hurst: Another talented TE, but this time one that let a lot of DFS players down last week with an underwhelming performance at big ownership. The concern is that Russel Gage unexpectedly got double digit targets, many of which were expected to go to Hurst. Instead of giving up on him on him now, I'm going to hang in there while he integrates into this offense and establishes more of a role. Hopefully that begins this week.
DEF: Last week I liked Washington, but didn't commit to it as much as I should have because defensive scoring is so random. This week I can't find anything I like nearly as much, so I recommend choosing whichever of Washington, Baltimore, Pittsburgh or Buffalo fits in with the rest of your lineup.
Final Word: Some of these plays are just guys who did well last week, are in a good position again, and will likely be popular. Some of them I'm banking on a better situation or just better luck this week at hopefully lower ownership. I twill be important to get mix of both types of players into your lineups to avoid falling into the trap of chasing last weeks points. Good Luck!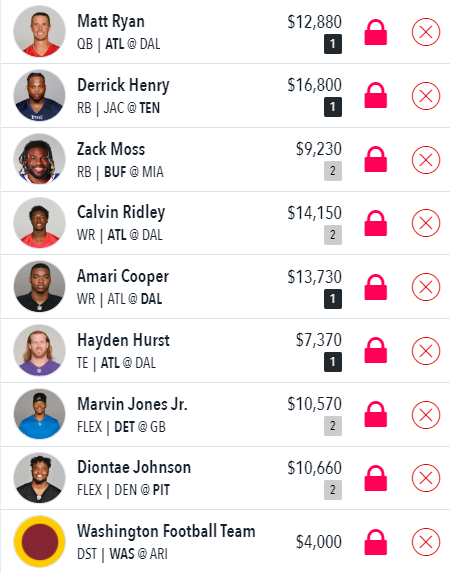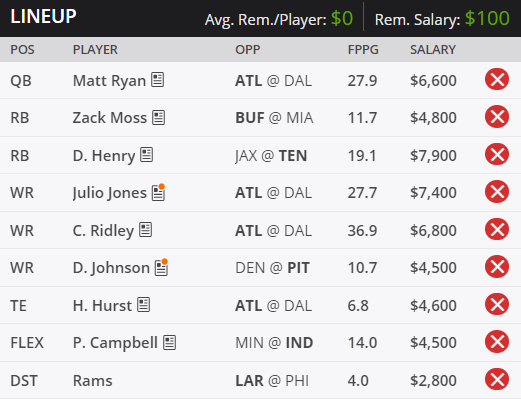 Tuesday Morning
We are back in the traditional Monday Night (US Time) single game slate on the NFL schedule with an historic night in Las Vegas. The Raiders host the Saints in an anticipated match on "the strip" where both teams come in with 1-0 records.
Draftstars have posted a $10,000 featured contest for this game.
DraftKings as always has a variety of contests headlined by the $1.75M Monday Night Showdown with $500,000 USD 1st prize!
Game time: Tuesday 21/9 @ 10:15 AM AEST
Game line: New Orleans -5.5
Over/Under: 49.5
The big injury news from the Saints is the loss of gun WR Michael Thomas, who suffered an ankle sprain in week 1 and is OUT for this match. While rookie WR for the Raiders Henry Ruggs is a Game Time Decision with limited practice throughout the week.
The Raiders were impressive on the road at Carolina in Week 1 on the back of Josh Jacobs 3 TD effort. 139 total yards along with 6 receptions gave him an impressive haul of 35 Fantasy points. The way Draftstars have priced Alvin Kamara up at $21K compared to Jacobs ($17.6K) will see a boatload of ownership come the Raiders Running Back way.
For the Saints, Emmanuel Sanders becomes the WR1 role for Drew Brees and the Saints offense. Sanders tied Thomas in targets week 1 (five), catching three passes for 15 yards and a touchdown. Only priced at $13,610 on Draftstars he looks like a nice play compared to his salary of $8,800 on DraftKings.
Champ - Jared Cook (Saints)
Perfect spot for the Tight End for the Saints with Thomas going down. Cook was the second-most targeted player in Week 1, with 7 targets catching 5 of those for 90 yards and a touchdown. Jared Cook has established himself as the most reliable receiver and with Emmaunel Sanders not the most elite option, Cook should see an uptick in his usage.
Chance - Tre'Quan Smith (Saints)
As I have already put Sanders in the "fade' group, Smith is a chance to improve on his paltry 1.4 fantasy score in week 1. Smith played 65% of the snaps last week and this should go up barring injury. Watch a lot of entrants skip Smith on form alone and he could be the contrarian piece you need on both sites.
Cheapie - Taysom Hill (Saints)
Who doesn't love what Hill does when he is on the field! Is he going to pass it? Is he going to run it? Or does breakout downfield for a massive reception? Hill scored 7 TD's last season and I am pretty confident that the Saints will want to use him more often in prime time. At under $3K on both Draftstars and DraftKings, Hill could be the cheapie you need.
Chump - Jalen Richard (Raiders)
One reception for 15 yards was all that Richard logged in week 1 as the Raiders preferred to give the ball to Jacobs over and over again. While this could be a game script that sees the Raiders playing more come from behind play, Richard's lack of snaps on the field needs to dramatically improve for Richard to become relevant.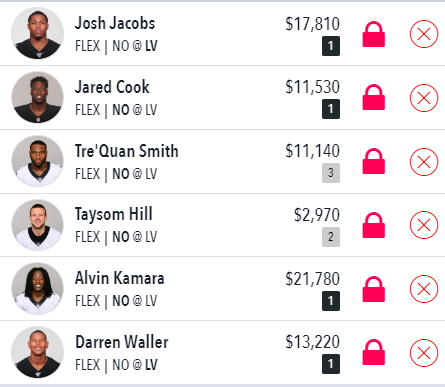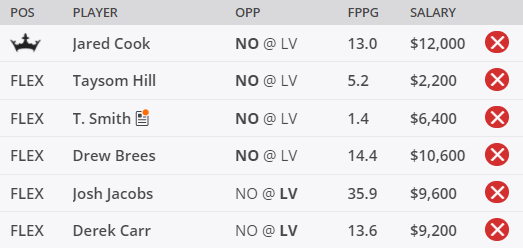 Always remember to gamble responsibly. When the fun stops, stop. If gambling is having a negative impact on your life, seek support at Gambling Help Online. 18+ only.