daily fantasy sports articles
NFL 2020-21 Daily Fantasy Tips: Week 5
By: Luke Mathyssen & Tom Kelly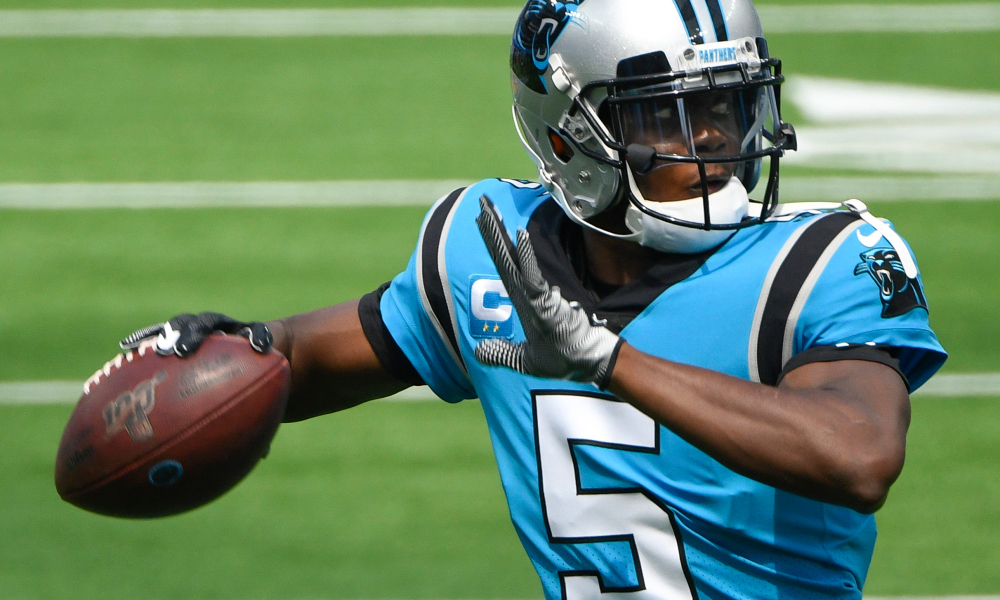 Welcome back to DFR's weekly previews for the NFL for the 2020 season! As mentioned last week the pandemic is starting to make a mess of schedules and the certainty of fixtures going ahead. It must be a tough gig playing season long fantasy but that does not matter for DFS! Each week myself and Tom will be providing written previews for slates in the NFL providing our fantasy plays and strategy to tackle the big world of Daily Fantasy NFL. Each week we will provide the one mega article so make sure you keep referring to this weekly article as each week progresses.
We start Week 5 of the NFL on Thursday Night US time, with 'Prime Time' Tom Brady leading his 3-1 Tampa Bay Buccaneers to Soldier Field to take on the 3-1 Chicago Bears. It is some sought of reunion from Superbowl LII when the Nick Foles led Eagles defeating the Tom Brady led Patriots for their first ever franchise win. Now both are on different teams and these two take the start in a fixture that should provide some entertainment.
Daily Fantasy Sites Draftstars and DraftKings are back with a variety of contests to suit every style and budget on Friday. Starting with Draftstars, the Single "Flex" contest is available with the main contest is a $10,000 for a $15 entry. A mini contest is also available for an entry of $2.
On DraftKings, there are various types of Showdown contests in the lobby highlighted by the $1,600,000 Thursday Night Special where 1st prize is $400,000! Entry into this contest is $10 USD per entry. There are plenty of contests on DraftKings including, single, 3 entry max and 20 entry max contests.
Thursday Night Football
Tampa Bay Buccaneers @ Chicago Bears (1120 AEDT Friday)
Total - 44.0
Spread - NYJ - 3.5
Injuries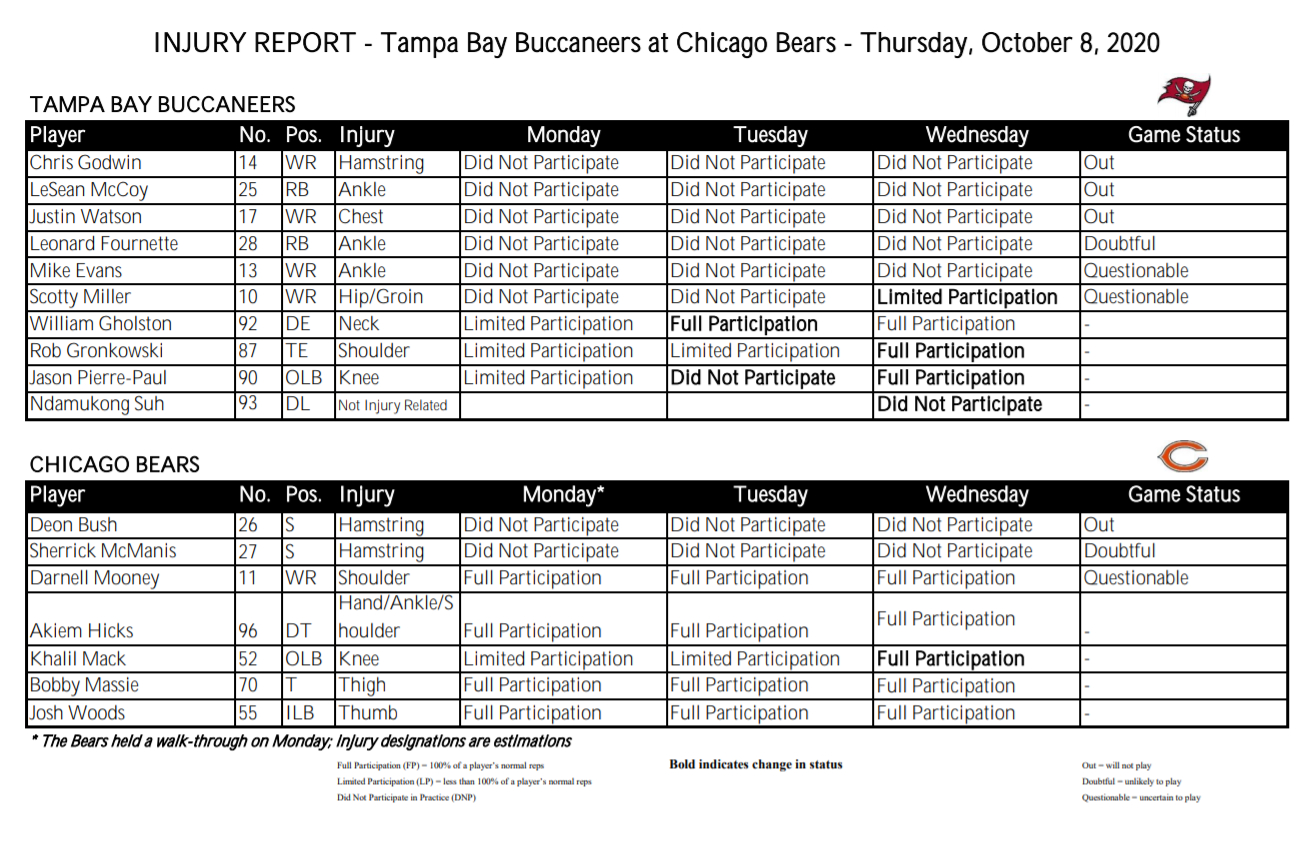 Some real fantasy relevant injuries for this match with Chris Godwin, LeSean McCoy and Justin Watson all out for the Bucs. Leonard Fournette is Doubtful and receiver Scotty Miller will be a game-time decision. Darnell Mooney is questionable with a shoulder injury.
The early lines for this matchup were much as 5.5 to 6 point favourites for the Bucs but with injuries in both the wide outs and backfield this has shrunk that number down to 3.5. Even the total has come down from 45 to 44.
Nick Foles got the keys to the Bears offense in Week 4 and didn't have much fun against the Colts. Only 269 yards of total offense and a poor run attack with only 28 yards on the ground from 16 carries. This week the Bears face a Bucs team that is top 10 in sacks, points allowed, yards allowed (4th in the league) and an offense that is number 8 in the league.
On the flip side, outside of the Colts mauling last week, the Bears are still putting up great defensive numbers especially on yards per game (5th) and total points allowed (7th in the league). Don't be surprised that his match has a lack of scoring early as both defences can assert the narrative of the game.
Champ - Ronald Jones (Tampa Bay)
With a banged up wide receiver group, this could be the week that Tampa Bay relies heavily on Jones. Jones rushed for 20 times in Week 4 yielding 111 yards. But the number we can get confidence from is that Jones was targeted 9 times for 6 receptions. Sure only 17 receiving yards but if Jones can get that volume of targets then this could be a big game. Fantastic price on Draftstars, especially if Leonard Fournette is ruled out.
Chance - Allen Robinson (Chicago)
While Robinson only scored real late for the Bears last week, QB Nick Foles will continue to feed Robinson especially if the Bears fall behind early. 7 receptions for 101 yards last week. However his price on both sites make him a very expensive "chance" piece that requires TD's to achieve value. However having Foles instead of Trubisky under center certainly helps his upside.
Cheapie - Darnell Mooney (Chicago)
Mooney has been getting No. 2 receiver snaps for the Bears behind Allen Robinson, and he's Chicago's main deep threat. Mooney's nine targets for 5 receptions and 52 yards is the best of the cheap lot and if Robinson is shut down, Foles targets need to go somewhere else.
Chump - Rob Gronkowski (Tampa Bay)
We all love the Gronk back in New England and was a bit of a laugh on the television coverage but we haven't seen any upside this season. Only 1 reception for a season long 29 yards in Week 4 and no TD's on the season so far. Fellow TE Cameron Brate swooped on a redzone opportunity last week. This is a bit of time-share at the TE position and while the opportunity is there with injuries, I will be going under the field here.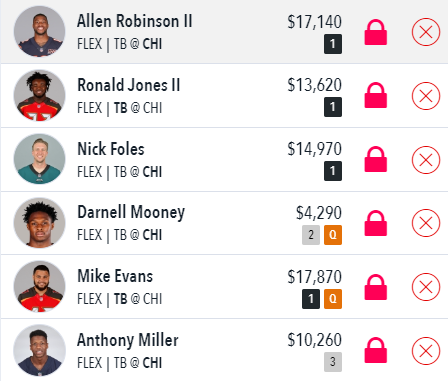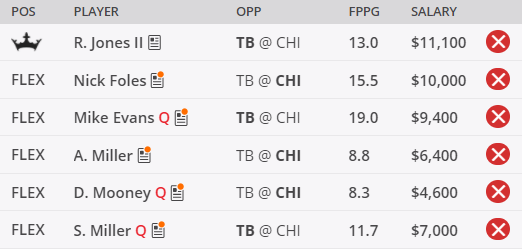 Monday Slate
With games being shifted around, it looks like we have a 10 game slate on which to compete for the $25,000 pool at Draftstars. About half of the games hold little fantasy appeal, but that leaves plenty of good options on the board. Lets take a look at a few of my favourites.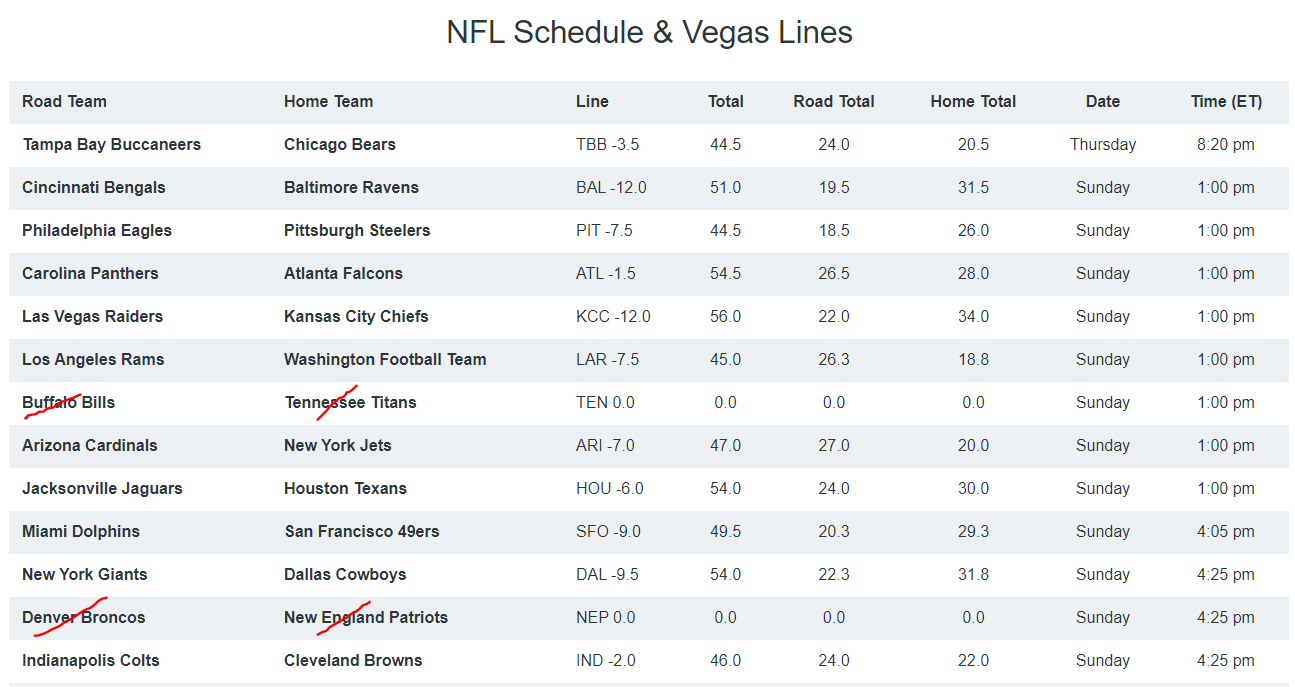 QB:
Dak Prescott: The Cowboys might be 1-3, but they've scored plenty of points and have one of the better offences in the NFL. Leading the way has been Prescott, with 3 consecutive 450+ passing yards along with plenty of production running the ball for himself. The Giants aren't exactly a daunting matchup, so leaning on the Cowboys should be a popular play.
Matt Ryan/Teddy Bridgewater: Another popular match to target could be this Falcons v Panthers game. The Falcons are slight favourites at home in a high total match. Both teams have decent offences and bad defences, and have given us multiple high scoring game stacks already this season. The only issue is some injury concerns for the Falcons (primarily Julio Jones and his dodgy hamstring), so I like the idea of focusing on a Panthers stack.
RB:
Clyde Edwards-Helaire: Here we have the best offense in the NFL against a pretty bad Raiders D. Chances are the chiefs get an early lead and hold it throughout. The Raiders have given up some big stat lines to the likes of Burkhead, Michel, Kamara and CMC this season, so we know we can attack them with RBs. Now that he's got his receiving game going, I think we can look for CEH to have his first 30 point outing in a matchup like this one.
Ezekiel Elliot: Running back isn't the place to save salary today. Zeke hasn't exactly set the world alight this season, and yet he's averaging 22 points/game. If the Cowboys defence can handle the Giants better than anyone of their recent opponents, the stage is set for Zeke to get plenty of work and multiple touchdowns.
WR:
Robby Anderson/DJ Moore: If you're with me in playing a Panthers stack, then I think these are the two players to target. Anderson has gotten off to a very productive start to his Panthers career, and while Moore has been quiet so far I think this is the game that they can both contribute plenty together against a weak Falcons secondary.
Greg Ward: This is almost purely a salary play. With most of his receiving teammates injured, Ward is one of the last men standing for Carson Wentz to throw the ball to. Yes it's a brutal matchup against the Steelers, and yes Ward is pretty average at football. But, he's minimum price and scored 20 points 2 weeks ago, so you can do a lot worse than plug him in.
TE:
Zach Ertz: Like Ward, this is more of a salary play than anything else. Ertz is at least extremely talented, but the Steelers may have the luxury of focusing half their defence on limiting his influence. He's definitely too cheap, but I'm only using him if I need the salary, otherwise I prefer the next guy.
Darren Waller: The Raiders love to put the ball in the hands of the Wallerus. He's blossomed into a stud before our very eyes, and against the might Chiefs is a pretty good situation to play Waller. The Raiders should be forced to throw the ball plenty, and the defence isn't scary enough to completely nullify his opportunities.
DEF:
LA Rams: The Cowboys will be a popular choice against the error prone Daniel Jones, but with so many Cowboys in my lineups already I want to look elsewhere. The Rams are quietly cruising through the season, and now get a matchup against the QB uncertain Washington Football Team. With Dwayne Haskins likely benched for Kyle Allen, I see an opportunity for the Rams to attack a soft spot and make life even harder in Washington.
Final Word: There are a few others stacks out there that hold my interest, so don't hold back on doing something different if it looks good to you (I totally missed the Mixon explosion last week for example). Good Luck!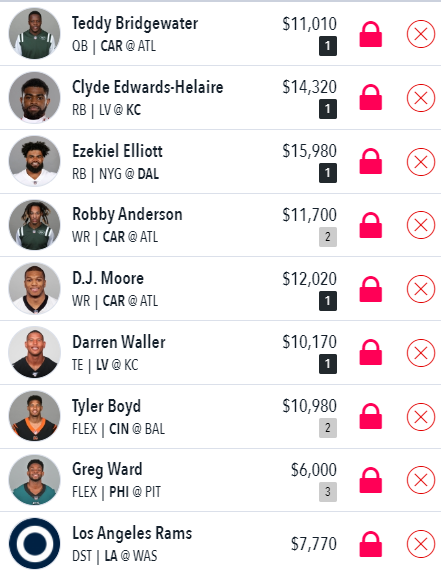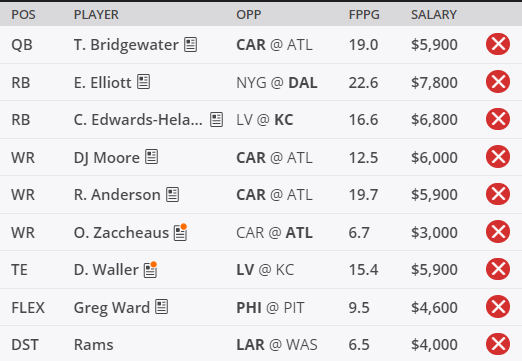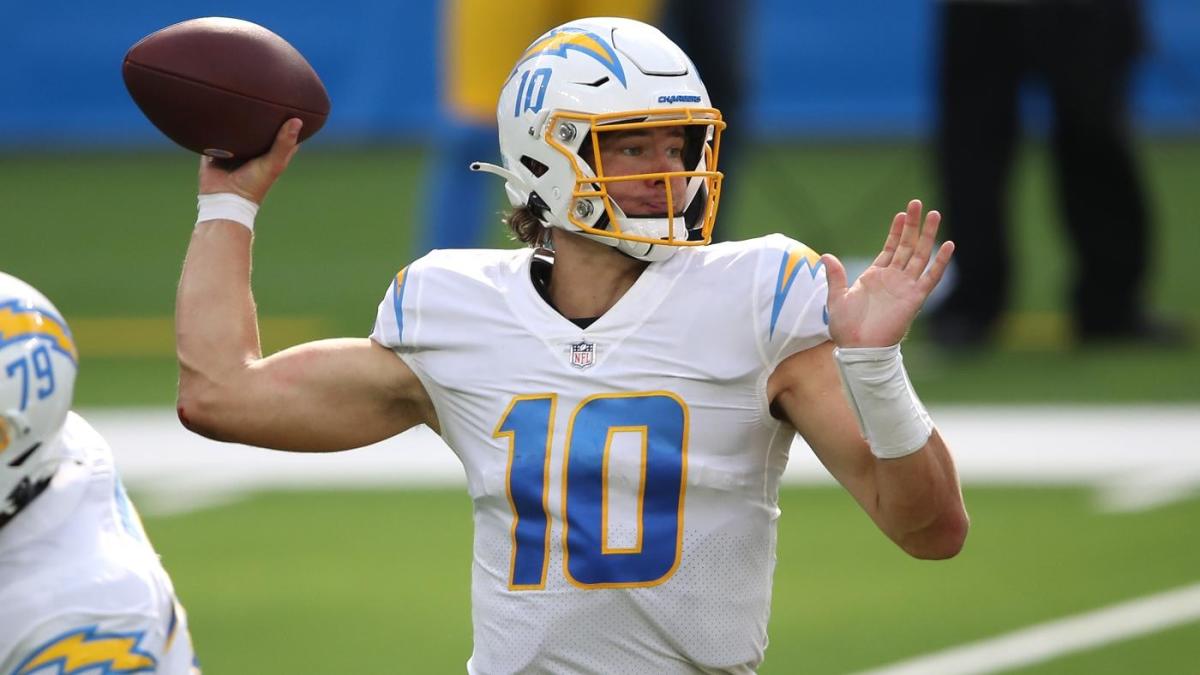 An interesting match on Tuesday morning (AEDT) with the Chargers (1-3) heading to the Superdome to take on the Saints (2-2). It looked like the Saints will be back to full strength but news from the Saints camp on Sunday might unsettled them going into this matchup against LA.
Draftstars have posted a $10,000 featured contest for this game.
DraftKings as always has a variety of contests headlined by the $1.75M Monday Night Showdown with $500,000USD 1st prize!
Game time: Tuesday 13/10 @ 11:15 AM AEDT
Game line: Saints: -7.0
Over/Under: 50.0
Injuries
Michael Thomas - was over his ankle injury but was given a one match suspension due to fighting a teammate at Saints practice.
Jared Cook - Questionable (Groin) but should be good to go
Austin Ekeler - Placed on injured reserve
Mike Williams - Questionable (Hamstring) but should be good to go
This game has points written all over it despite the main weapons from either side not appearing in this matchup (Austin Ekeler/Michael Thomas). The Saints will be looking to deploy their main weapons which is the combination of Alvin Kamara and Latavius Murray. The Saints have averaged a league leading 43.1 Fantasy Points per game from the RB position whilst the Chargers have only given up 21.7 in the position, good enough to be 22nd in the league.
If you want to find an avenue against the Saints this season, they are terrible containing fantasy points to the Tight End (24.2FPPG 2nd most in the league). If the Saints do get out to a good lead, QB Justin Herbert could be eyeing off Hunter Henry who was averaging just under 7 targets through 4 games.
Champ - Keenan Allen (Chargers)
Outside of Hunter Henry, QB Justin Herbet only throws the ball to one receiver in particular and that is Allen. Allen is leading in target share (36.8% on the season and 48% last week!) and averages 12 targets per game. The Saints secondary are around league average but I can't see how Allen doesn't receive 10+ targets here. Great option in the Captain spot on DraftKings.
Chance - Jared Cook (Saints)
First of all, you will need to check if Cook is active after sitting out last week with a groin injury. You will find most clicking on Hunter Henry's name rather than Cook's at similar price, so that ensures leverage on the field. The Chargers do leak fantasy scoring to the TE position and with Michael Thomas not playing, Cook should enjoy a share of Thomas' usual targets.
Cheapie - Marquez Callaway (Saints)
Real cheap but very punt like this one. Callaway featured as the WR3 in Week 4 playing 23% of snaps. Callaway only received 1 target for 1 reception for 16 yards but with Michael Thomas out, Brees may look to mix it up outside of his main receivers in Tre'Quan Smith and Emmanuel Sanders. Could score zero, however could mean you can jam in Alvin Kamara quite easily.
Chump - Justin Kelley (Chargers)
With Austin Ekeler on injured reserve we may get a bit of a 60/40 split between the Chargers Running Backs in Kelley and Justin Jackson. Kelley's price on Draftstars is a tad excessive along with Jackson available at a cheaper salary. I will be under on this situation where I prefer the Chargers passing game than the ground game against the Saints.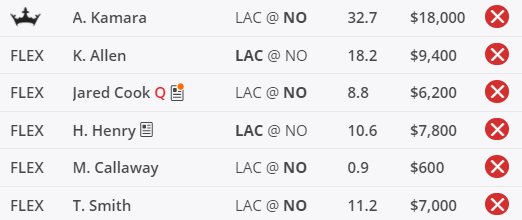 Always remember to gamble responsibly. When the fun stops, stop. If gambling is having a negative impact on your life, seek support at Gambling Help Online. 18+ only.