daily fantasy sports articles
NFL 2020-21 Daily Fantasy Tips: Week 7
By: Luke Mathyssen & Tom Kelly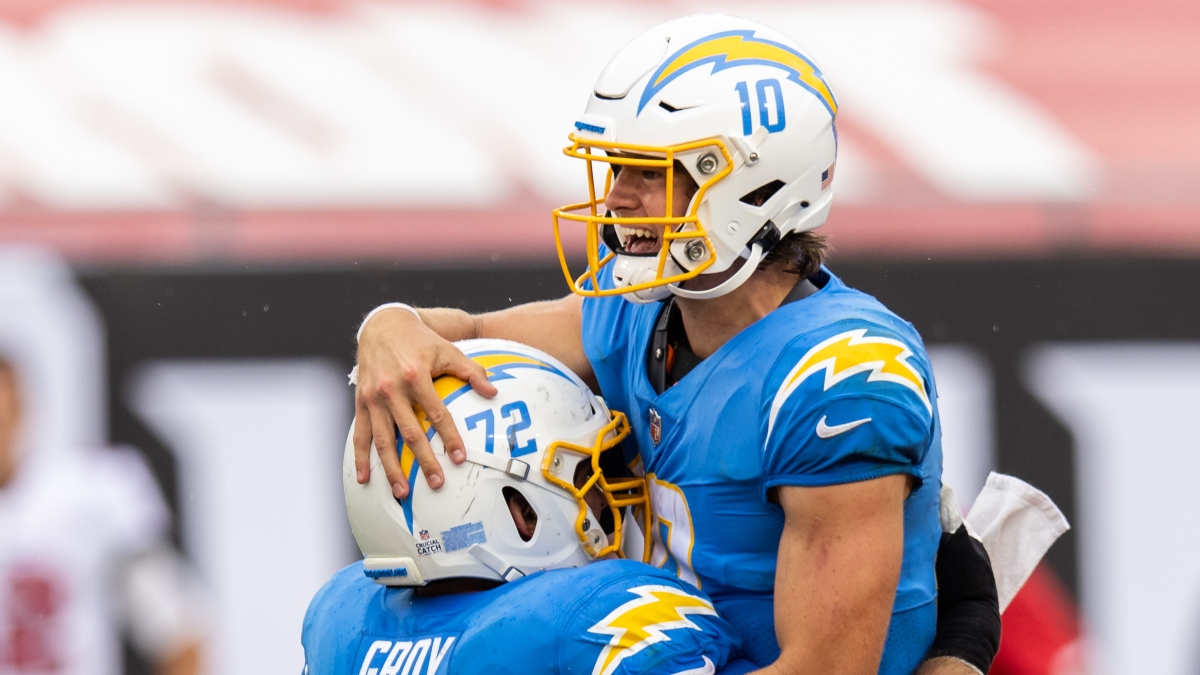 Welcome back to DFR's weekly previews for the NFL for the 2020 season! Let's move onto Week 7 where teams are already looking to salvage their seasons while others are now jostling for playoff position. Each week myself and Tom will be providing written previews for slates in the NFL providing our fantasy plays and strategy to tackle the big world of Daily Fantasy NFL. Each week we will provide the one mega article so make sure you keep referring to this weekly article as each week progresses.
We start Week 7 of the NFL on Thursday Night US time with the "worst division in football" NFC East matchup between the 1-5 New York Giants and the 1-4-1 Philadelphia Eagles. For the Eagles, injuries keep piling up on offense while their defense has disappointed for long stretches. The Giants have their share of banged-up players, too, with an offense that's tied for last in the NFL without Pro Bowl running back Saquon Barkley. And they'll have to overcome history after dropping seven straight to the Eagles.
Daily Fantasy Sites Draftstars and DraftKings are back with a variety of contests to suit every style and budget on Friday. Starting with Draftstars, the Single "Flex" contest is available with the main contest is a $10,000 for a $15 entry. A mini contest is also available for an entry of $2.
On DraftKings, there are various types of Showdown contests in the lobby highlighted by the $1,600,000 Thursday Night Special where 1st prize is $400,000! Entry into this contest is $10 USD per entry. There are plenty of contests on DraftKings including, single, 3 entry max and 20 entry max contests.

Thursday Night Football
New York Giants @ Philadelphia Eagles (1120 AEDT Friday)
Total - 44.5
Spread - PHI -4.5
Injuries
Zach Ertz (Ankle) - OUT
Miles Sanders (Knee) - OUT
Desean Jackson (Hamstring) - Good to go
Alshon Jeffrey (Calf/Foot) - OUT
Darius Slayton (Foot) - Good to go
Sterling Shepard (Toe) - Good to go



So the Eagles are banged up without RB1 Miles Sanders (OUT), WR2 Alshon Jeffrey (OUT) and TE1 Zach Ertz (OUT). That is pretty much the core of your attack. For the Giants WR! Darius Slayton has been limited in the past two weeks in practice but does not appear in the final injury report.
Fantasy Plays
Champ - Carson Wentz (Eagles)
The injuries on the Eagles have decimated the receiver core but Wentz has still managed to find solstice in Travis Fulgham who has received a pile of work. Wentz is the only Eagle with a stable floor and will be projected to lead the slate in fantasy scoring. What has perked my interest and given me more reassurance is Wentz is running the ball more often. An average of 6 rush attempts in his past 4 games at 40 yards per game. Wentz has also run 3 TD's in that time frame. With Jackson back in the lineup, Wentz will look to attack more often.
Chance - Evan Engram (Giants)
The Eagles have allowed the fourth-most fantasy points this season. With Engram being possibly New York's most-talented offensive player at this point, we'll rely on those bad numbers against TEs to give him a chance to go well at low ownership. His box-scores are not pretty but you will get leverage on the field if he pops.
Cheapie - Hakeem Butler (Eagles)
Most likely to score little to no points, but the opportunity for a Tight End to step up for the Eagles is begging to be filled. Both Ertz and Goddert are done and while fellow TE Jason Groom scored a TD last week, Butler should be given some snap share here. At the minimum on both sites, it allows more stud plays on DraftKings. Note Butler is actually a Wide Receiver that has been turned into a TE such as the dire situation at the Eagles. Deeeep dart throw here… If you want to go a more safer cheaper route, then the Eagles have activated fellow TE Jason Croom who caught a short redzone TD last week at the same salary.
Chump - Travis Fulgham (Eagles)
Fulgham has been a revelation for the Eagles in the absence of his teammates in the past 3 weeks. A TD in each of his three games and an average of 21.5FP in those three matches. Just don't like him at that pretty high salary on Draftstars. With Desean Jackson back in the lineup he should lose target share and will be TD reliant to pay off that salary.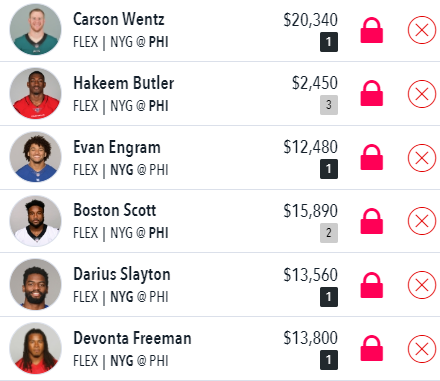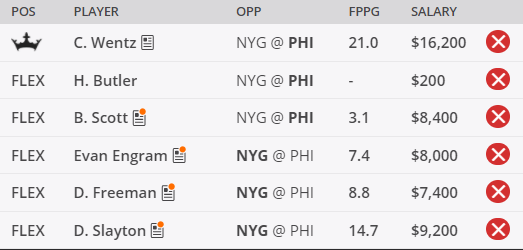 Monday Slate
A massive $30,000 prize pool! Regardless of how you fare with the AFL and NRL grand finals, here is an opportunity to make it a very profitable weekend. Let's get straight into my value plays, where I recommend stacking either the Chargers or the Bucs.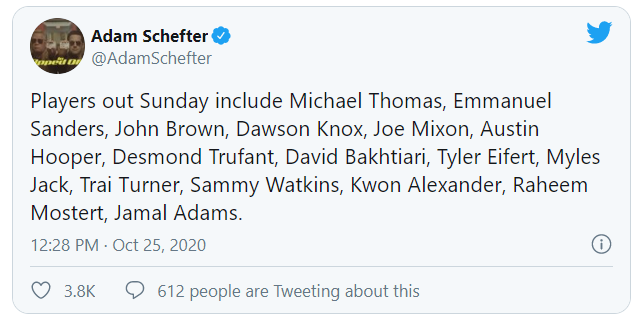 QB:
Justin Herbert: Herbert has been impressive in his 4 games so far, and his fantasy scoring has been good to match, with 23+ points in 3 of 4 outings. The Jaguars are one of the softer matchups in the NFL, so I see no reason for his scoring to slow down. With Austin Ekeler out the Chargers need a little extra from their passing game, which is just the icing on the cake. The price tag is still generous enough to make this a nice value play.
Tom Brady: At the other end of the spectrum we have old man Brady. His fantasy scoring has not been great, but he can still score in the right spots. The Raiders are not a great defence in any spot, so it's hard to say if the Bucs will be finding success in the run game, pass game, or a bit of both. In other words, this is a game script dependant play, we'll need the Raiders to keep up. This could go terribly wrong, but I still like it.
RB:
Alvin Kamara: The most expensive player on the slate turns out to be a good option, who knew. He needs to score 30+ points to be worthwhile, but he will not get a better chance against a terrible run D and without his teams two main receivers in Michael Thomas and Manny Sanders. All the work should come his way, so swallow the price tag and look for value elsewhere.
Melvin Gordon: A lot of things make sense with this play. He's too cheap, his last outing was a big 25 points, and the Chiefs are not very good at stopping the run. Any problems? Of course. He's just been missing from suspension and may not have the trust of his team, and Denver could get behind early and abandon the running game. The likes of James White, De'Andre Swift and even Latavius Murray are all viable alternatives who would save a little extra salary.
WR:
Chris Godwin/Mike Evans: Even if you don't love the Brady play, both of his top receivers are in a great spot. There aren't many easier matchups for WRs, and they're both a little too cheap having not gotten anywhere near their ceilings this season. I doubt they'll both dominate together, so pick one or the other and look further down this article for another Bucs play.
Keenan Allen: My first suggestion to pair with Herbert. Keenan is a stud, and he shouldn't have too much trouble getting open. Mike Williams is also a viable play, but I trust Allen a lot more.
Trequan Smith: Here is the value play we need to afford his teammate Kamara. Thomas and Sanders being out means that Smith should be 3rd in line for work behind Kamara and Jared Cook. It's not a sure thing, but he should see in excess of 5 targets and be a chance to get close to his 20 point outing from week 4.
TE:
Hunter Henry: Henry has been very consistent this season without reaching any great heights. It won't be long until he puts it all together, so pairing him with my favourite QB play in Herbert seems perfect.
Rob Gronkowski: After a slow start to his return season, Gronk has started to get going with 6+ targets in 3 of his last 4 games. Last week he made good on that work with his first TD, and now he gets a good chance to do the same again. Yeah he's old, yeah he's not quiet his former self, but he's still an all-time great and I'm going to take the discount on that history.
DEF:
Buffalo Bills: The most expensive D on the slate, but against the horrid Jets I'm going to go ahead and pay the price. The Jets have very few offensive weapons left that can help them keep up, and Buffalo shouldn't have trouble getting pressure on the QB.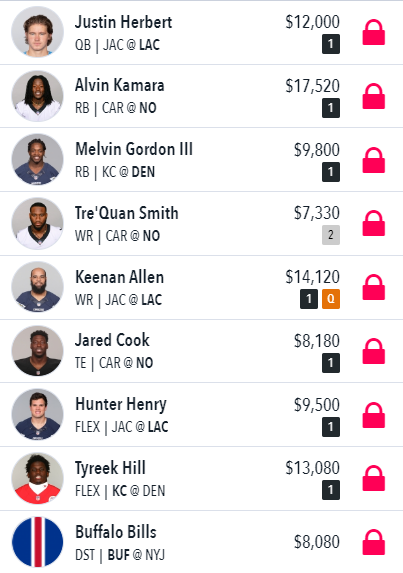 Always remember to gamble responsibly. When the fun stops, stop. If gambling is having a negative impact on your life, seek support at Gambling Help Online. 18+ only.