daily fantasy sports articles
NFL 2021-22 Daily Fantasy Tips: Buccaneers v Cowboys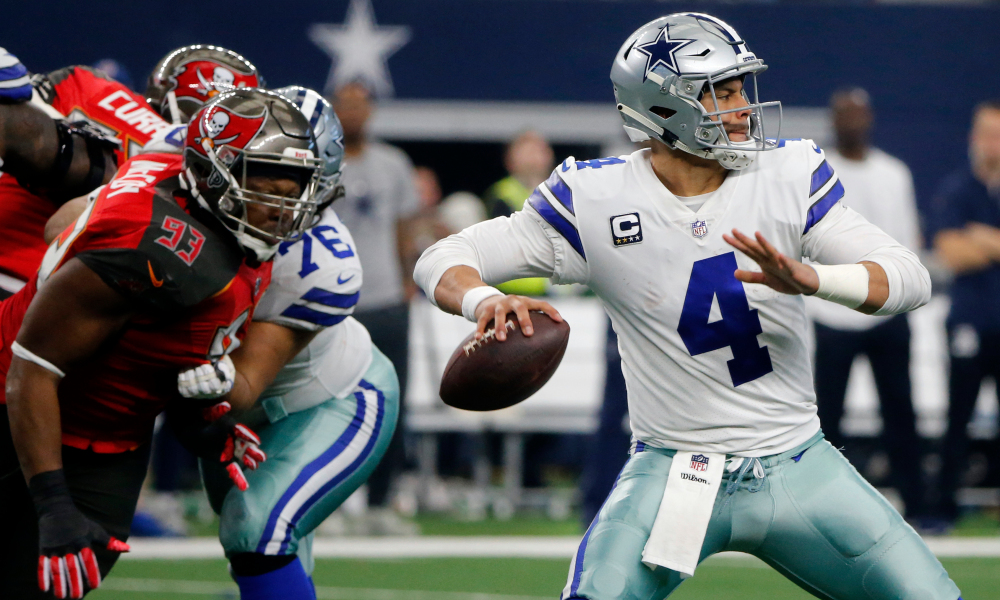 Welcome to DFR's weekly previews for the NFL 2021 season! Each week myself and Tom will be providing written previews for slates in the NFL providing our fantasy plays and strategy to tackle the big world of Daily Fantasy NFL. We are also looking forward to bringing the Draftstars NFL Show on Sunday's as we dive further into the world of NFL Daily Fantasy.
The news season for the NFL gets underway on Friday Morning in Australia with a very interesting match-up between the World Champions in the Tampa Bay Buccaneers hosting the Dallas Cowboys. The Bucs are looking to go back-to-back and proudly backing in their starters with both offence and defence boasting the same starting 11 from 2020. For the Cowboys however it has been a pre-season to reset after losing their starting QB in Dak Prescott to a serious ankle injury in 2020. The Cowboys went to the Draft and picked up any elite defensive players that they could and hired Defensive Coordinator Dan Quinn. The Cowboys will want to shake off the league's 5th most points against last season but ultimately they start with the World Champions.
With the return of the NFL, Daily Fantasy Sites Draftstars and DraftKings are back with a variety of contests to suit every style and budget. Starting with Draftstars, the Single "Flex" contest is available with the main contest being $15,000 for a $15 entry. A mini contest is also available for an entry of $2.
Note there are some changes to the scoring system on Draftstars. Check them out in our season preview article here
On DraftKings, there are various types of Showdown contests in the lobby highlighted by the $4,000,000 Kickoff Thursday Millionaire where 1st prize is $1,000,000! Entry into this contest is $10 per entry. There are plenty of contests on DraftKings including, single, 3 entry max and 20 entry max contests. Alright, let's get stuck into Week 1!

Thursday Night Football
Dallas Cowboys @ Tampa Bay Buccaneers (1020 AEST Friday)
Total - 52.0
Spread - TB 8.0
Injuries
Both teams are good to go but the Cowboys will be missing Right Guard Zack Martin who is out due to COVID.
Some questionable tags are currently on Antonio Brown and Chris Godwin after being limited in practices.
Draftstars Strategy
For those who are new to the Draftstars format, you simply pick 6 positions/players within your salary cap from the available pool. No need to worry about multipliers or position restrictions, you are simply extracting the most amount of scoring and value out of your lineups. You could run both DST's or both QB's or run 6 WR's, it is up to you. But like the classic format, you want to be correlating your lineups with the upside of fantasy points that goes with scores.
For the salaries in this match and it is also a theme on DraftKings, there is simply a lot of firepower on the Bucs side that can chew up all of your salary. The Bucs have three elite Wide Receivers and now a three-way committee of running backs. You can also throw in a time-share at Tight End as well! So expect the field to gravitate to both QB's in this match as a safe floor, potential high ceiling plays and likely to see lineups with both QB's. From there the field will sprinkle in touchdown dependent players as this match has a high Vegas total of 52.
DraftKings Strategy
Showdown lineups consist of six players, five FLEX and one CPT, or Captain. The CPT is what brings a spin on DFS strategy, and also helps increase the amount of unique lineups. The CPT position delivers 1.5x the fantasy points as a normal FLEX position, but the price tag for the player is also increased 1.5x. With this match destined for a high-scoring shootout but heavily favoured towards the Bucs, look to roster either QB's or WR's in the CPT spot.
Fantasy Plays
Love It - Tom Brady (DS $17,860 / DK $11,200)
Ah yes the GOAT. The 44-yo coming off a 4,000 yard 40TD season will have all the confidence in the world when he leads his world champion team first up. Currently on a streak of 11 games where Brady has thrown multiple TD's, it is going to be simply a scary fade on Draftstars and a very chakly flex play on DraftKings. Dallas are looking to be a better defensive team after conceding an average 30+ points per game. But with Godwin/Evans/Brown at Brady's disposal and thrown in Gronk/Howard and all I can see is fantasy points piling up for Brady.
Love It - Antonio Brown (DS $11,360 / DK $5,600)
The projection/optomisers are going to like Brown after his recent form in the back end of the 2020 season. Up against a seriously inefficient secondary that leaked 27 touchdown catches to Wide Receivers, look to pair Brown (who is obviously cheaper) with Chris Godwin and Mike Evans in QB-WR-WR stacks. If this becomes a potential shootout then Brown has a path to smash value.
Love It - CeeDee Lamb (DS $14,050 / DK $8,200)
There has been a lot of hype regarding the prospects of CeeDee Lamb with Dak Prescott back at QB. Both himself and Amari Cooper were flying in the first 5 games of the season before Dak went down with his ankle. Unfortunately it is a tough matchup against the Bucs stingy cornerbacks but with Lamb in the slot this could be the pick of the Cowboy's WR trio. The salary is both attractive on Draftstars and DraftKings and I don't mind the elevated ownership for Lamb.
Hate It - The Bucs Running Back Committee (Leonard Fournette / Ronald Jones / Giovani Bernard)
The committee is back to give you the nightmares when your selection watches another Running Back run in the red zone touchdown. Not sure there is a version of "Playoff Lenny" in the first game of the season but he is one I will probably fade the most. Giovani Bernard is the 3rd-Down back and will receive targets in certain situations. I prefer not to have any of these and grit my teeth that Brady throws to his WR's instead.
Hate It - Ezekiel Elliott (DS $15,430 / DK $9,600)
Not quite sold on Elliott in this game environment with a high powered opposition destined to score points and Elliott is coming up against a vicious Bucs defensive line. Add a high salary on DraftKings and you could easily pass on Zeke… Yet something is alluring that the combination of Prescott and Elliott is back and you may get Zeke at a low ownership.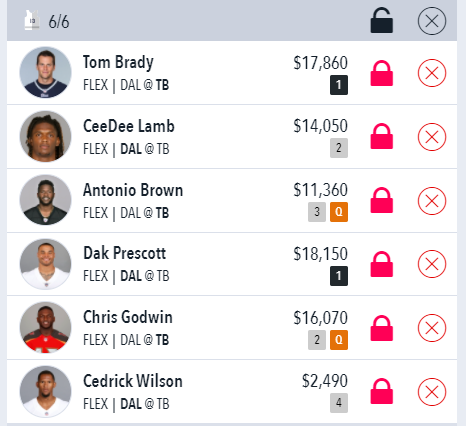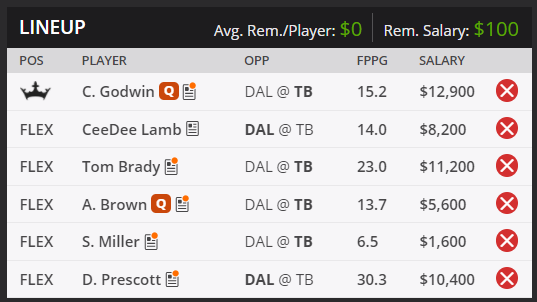 Always remember to gamble responsibly. When the fun stops, stop. If gambling is having a negative impact on your life, seek support at Gambling Help Online. 18+ only.

Always remember to gamble responsibly. When the fun stops, stop. If gambling is having a negative impact on your life, seek support at Gambling Help Online. 18+ only.