daily fantasy sports articles
NFL 2021-22 Daily Fantasy Tips: Falcons v Patriots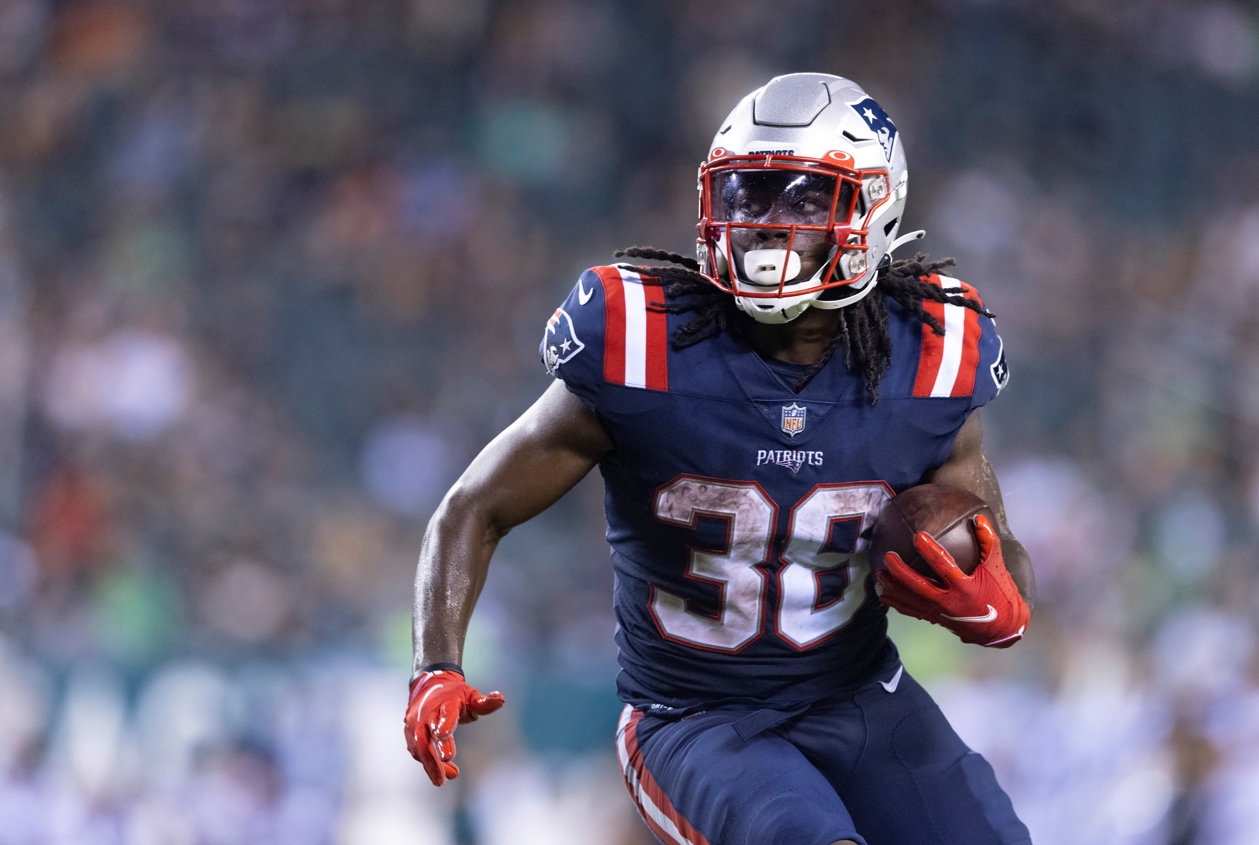 Week 11 of the NFL starts on Thursday Night in the States with the Atlanta Falcons (4-5) hosting the New England Patriots (6-4). The Falcons are coming off a drubbing from the Cowboys whilst the Patriots gave the Browns a touch up in Week 10. The Falcons are still in wildcard playoff contention so a win at home will get them back in it. However the inconsistency of the Falcons is going to mess with our daily fantasy teams. Which team turns up?
Draftstars are back with an increase to an $8,000 contest in the 6-man 'Flex' contest. Always nice to see a boost in prize pools!

Thursday Night Football
New England Patriots @ Atlanta Falcons
Total - 47.0
Spread - 6.5 (NE)
Injuries
New England - RB Brandon Bolden is Questionable with a hip injury. RB Damien Harris has cleared concussion protocol and will play. TE Jonnu Smith is Questionable with a shoulder injury after missing Week 10. WR N'Keal Harry is Questionable with a knee injury.
Falcons - RB Cordarrelle Patterson is OUT with an ankle injury after sitting out the 2nd half in Week 10. TE Hayden Hurst is OUT with an ankle injury. WR Calvin Ridley remains OUT due to Personal reasons.
DVOA (Defense-Adjusted Value Over Average)
Patriots - Overall DVOA 5th
5th against the Pass (Allowed 220 yards per game via the Pass - 8th lowest in the league)
13th against the Run (Allowed 108 yards per game via the Run - 16th Highest in the league)
Falcons - Overall DVOA 31st
30th against the Pass (Allowed 246 yards per game via the Pass - 16th Highest in the league)
22nd against the Run (Allowed 122 yards per game via the Run - 12th highest in the league)
Fantasy Overview
I fear that the Falcons are going to get suffocated by the hands of Bill Belichick. His Patriots defence can shut down a particular player in the offense and I reckon it is Kyle Pitts' turn this week. The Pats are rolling right now on the ground and if required, Mac Jones can certainly get it going through the air. I fear a real struggle for the Falcons and if Cordarrelle Patterson doesn't get up from his ankle injury, this could mean Pats stacks for this game.
Love It - Hunter Henry ($11,850)
Hunter took his opportunity in Week 10 without Jonnu Smith and popped for 2 TD's and 4 catches against the Browns. Even if Smith recovers from his shoulder injury, Henry has become the lead Tight End with 42 targets throughout the season to be 4th highest on the team. 7 TD's since week 4. The price is nice and the matchup is even better.
Love It - Rhamondre Stevenson ($6,490)
Would love Stevenson even more if Harris was still out, but that does not matter to me with Stevenson likely to be involved in 3rd-down or pass-catching plays. Absolutely balled last week for 30.4 Fantasy Points on the back of 2 TD's and 100 yards rushing. The price is great, especially if Patterson is ruled out (who is priced under Stevenson). Playing both Pats RB's is on my radar considering the matchup the Pats are facing.
Love It - Corrdarrelle Patterson ($6,220) *Only if he plays
Patterson is mispriced on Draftstars as I believe they are under the assumption he does not play. Reports are that his ankle sprain is a "high" one, which is code for Syndesmosis but you just never know. Need to monitor team news at 90 minutes before kick-off here and if he does play then this is an easy selection. Patterson is OUT for this game.
50/50 Call - Matt Ryan ($19,640)
After getting some confidence in the win against the Saints in Week 9, that all evaporated in an instant against the Cowboys in Week 10. 2 Interceptions and a paltry 117 passing yards yielded 2 fantasy points. For weeks now Draftstars have teased us with low salaries in the main slate for Ryan, but at $19,640 in the single game format is a bridge too far. However, if the Pats force Ryan through the air, then there is merit to rostering Ryan due to the fact he has gone over 300 yards on 4 occasions.
Hate It - Kyle Pitts ($14,770)
As I mentioned, the Pats go after a particular player in the opposition offence and shut it down. This week that target is Pitts, who pretty much was the only player of substance for the Falcons last week. On the surface without Hayden Hurst, Pitts should be in line for plenty of work and he leads the team in targets and receptions. But I am making a stand here and backing in the Pats D to make a rough night for Pitts.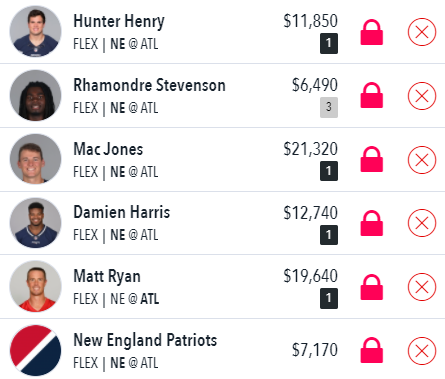 Always remember to gamble responsibly. When the fun stops, stop. If gambling is having a negative impact on your life, seek support at Gambling Help Online. 18+ only.