daily fantasy sports articles
NFL 2021-22 Daily Fantasy Tips: Wildcard Sunday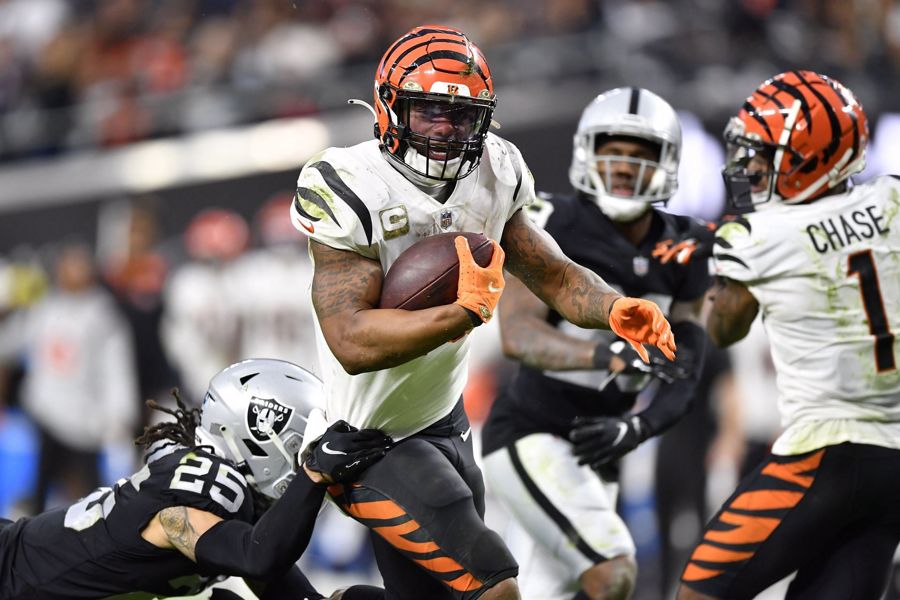 The postseason has arrived! Whilst that sadly means no more Redzone on our TVs every Monday morning, it does means some of the most high stakes, watchable NFL action. Draftstars has given us a $10,000 slate with $970 to first place, which kicks off at 8:30am on Sunday. There are just two games, featuring the Bengals hosting the Raiders and the Bills hosting the Patriots. The home teams are both significant favourites, but in reality anyone can win in these games. Both games look like they will be played in freezing conditions. Let's have a look at some plays.

QB:
Josh Allen: You could say that Joe Burrow is the most in-form NFL QB both in fantasy and real life right now, but it's hard to swallow his price being so close to Allen. Allen is the best fantasy QB over the last couple of seasons, although a look at his last 10 games shows us he's only gone near his 40+ ceiling twice. One advantage he has on this slate is that if the weather gets bad, he's better with his legs than any of the other QBs. Derek Carr has been doing very little on the stat sheet since Jon Gruden left, and Mac Jones is only likely to be asked to throw the ball a lot if the Patriots fall well behind.
RB:
Joe Mixon: Mixon has had a slightly underwhelming end to the regular season as he managed an injury and played second fiddle to the electric passing game. Still, with 5 scores of 25+ in his last 10, there is no better back on this slate. None of the other players are likely to have anywhere near his ceiling, especially given his match-up might be the best match-up of the lot. Josh Jacobs has been good lately, but has literally only scored 25 once (last week, and it require overtime).
Devin Singletary: With a nice 5 week run of career-best output, Singletary has built on his effort in each of those weeks, culminating in consecutive 25 point efforts the last two weeks. It's clear that he has taken control of this backfield, and that the team is trusting him on the ground rather than in his traditional pass-catching role. It's unlikely the team moves back towards Zack Moss or Matt Breida given they've been given virtually no work for the last month.
WR:
Stefon Diggs: The easiest pairing with Allen is Diggs, although he's only put up one score this season that would smash this price tag (30+). Still, on a small slate his combination of volume and big play ability is enough to pay up and look for value elsewhere.
Tee Higgins: One key question on this slate is…Higgins or Chase? We'll want some exposure to the Bengals passing game given how prolific it has been in recent games, and of course we can use them both if pairing with Joe Burrow. Higgins is one year further into his NFL journey, and had managed a little more consistency than Chase this season. Their scoring profiles are actually quite similar, with Chase possessing a little higher ceiling. In the end, the main separating factor is that Higgins is 2K cheaper, and with pricing pretty tight on this slate we are likely to need those savings. Tyler Boyd is also in play as the other part of the Bengals receiving trio.
DeSean Jackson: I wanted to name a minimum priced receiver, because it looks like that will be crucial to affording the best plays on this slate. There are other options (Agholor, Edwards), but Jackson strikes me as the option that only needs to catch one or two balls to end up as strong value. His deep threat ability combined with his experience gives me a little more confidence in him than the others mentioned. If we don't need these type of savings, the likes of Davis & Beasley have appeal as secondary stack partners with Allen.
TE:
Dawson Knox: With Darren Waller back, there will be some temptation to try and squeeze him in, but I highly doubt he's at 100% and don't expect anywhere near a ceiling score from him gain this season. Instead I'm liking Knox, who has fallen away a little from his mid-season peak but still sees a few targets per game and has the ability to make big plays either deep down the field or in the end zone. Given TE is a tough position to pick, it's nice to be able to stack him with my preferred QB also.
DST:
Cincinnati Bengals: Sometimes on these small slates, DST is about playing the team which clashes with the fewest of your other plays. I'm not too keen on the Raiders on this slate, so I'm looking to the Bengals as my preferred option. They should have a chance to put Derek Carr under pressure if Burrow and co can continue their strong form and make the Raiders chase. The Bills might also do the same thing to Mac Jones in his first playoff game.
Suggested Draftstars Team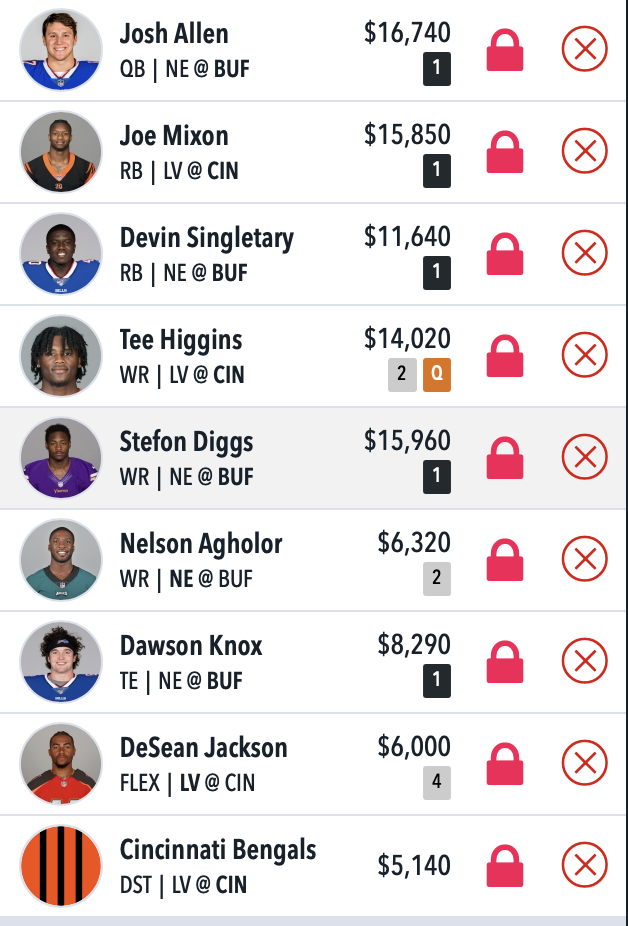 Always remember to gamble responsibly. When the fun stops, stop. If gambling is having a negative impact on your life, seek support at Gambling Help Online. 18+ only.