daily fantasy sports articles
NFL 2022-23 Daily Fantasy Tips: Week 1

We got a taste of NFL action with a heavyweight opening Thursday Night game, but it's time for some real NFL magic. That's right, it's a massive 13 game main slate, kicking off at 3am AEST on Monday morning. It's RedZone! It's a challenging sleep schedule for the next 4-5 months. I'm not in the habit of trawling through each game in these breakdowns. It's enough to say we have 9 games in the "early window", before a 4 game block starts at 6:25am with a few high-octane games to bring our lineups home.
As it's week 1 and there is a huge amount of changes, news and "takes" causing change across the NFL landscape, I'll highlight a few more players than usual.
Draftstars has a $50,000 contest with $4935 to first place. There are also several other contests including the Mini, Micro, and the High Roller. Something new is the High Roller Qualifiers, for those who'd like to try to win a cheap ticket into the main slate High Roller on Monday morning.

Quarterback
Derek Carr $11,360
I'm not 100% sure what we're going to see out of Las Vegas this year, as they've bought in a new coaching staff under Josh McDaniels, and added superstar Davante Adams to their receiving group. For those (and other) reasons, the team is expected to pass more and play a little faster, which should help Carr rise a little. They're also in a high total (52.5) divisional matchup against the Chargers, so the potential for fantasy fireworks is there across the entire game. With some reasonably priced weapons, I'm liking the look of a Raiders stack built around Carr as a slightly contrarian way to get the benefits of a good game environment.
Jalen Hurts $14,860
Hurts is more of a prototypical fantasy QB, with a dual-threat profile which sees him run the ball almost as much as he passes it. That skillset isn't going away, but the passing side of his game promises to rise this season thanks to the addition of one key weapon. AJ Brown was acquired from the Titans in a draft day trade, and gives Hurts two stud receivers to target, as well as a quality tight end. The matchup with the Lions is an interesting one, as the Detroit team is one the rise but still probably not good enough to be considered a difficult opponent. That sets up another underrated fantasy environment with a 48.5 total and some potentially lower ownership.
Running Back
Dalvin Cook $13,300
Cook was not at his best in 2021, missing 4 games and seeing his average drop around 9 points from he previous season (26>17). In the last 3 seasons he's a 22 point player, and he could move back towards that level under a new, more modern coaching staff this season. A matchup with the Packers might not seem ideal, but they've actually been reasonably soft against the run for the last couple of seasons. Most of all, this price just seems very generous, making Cook one of a number of players that you have to consider no matter how you feel about his prospects this season, because he's easy to fit into lineups.
Cordarelle Patterson $8220
It's often the case that we have to play projectable volume at RB despite not loving the player, and this is another case of that. Patterson is getting old for a back at 29, and he plays on a team that will probably continue to be bad. But, he's just come off a season where he averaged 16, and his competition for work is an even older Damien Williams and 5th round rookie Tyler Allgeier. In short, if Patterson is even 75% of what he was last season, then he is way too cheap.
Jonathan Taylor $16,950
Taylor was the RB1 last season, and only the healthy return of Christian McCaffery is likely to stop that happening again this year. Draftstars have gone ahead and made us pay for CMC, who has already picked up a minor complaint in practice this week. Meanwhile Taylor is a 23 year old stud, on a pretty good team, going against one of the better matchups in the Texans. The price might be about right, but we can afford to pay it with so much other value floating around on the slate. I'm still interested in other studs like CMC, Derrick Henry and Austin Ekeler; but they're all older, in tougher matchups, and not priced quite as nicely.
Dameon Pierce $8000
On the other side of the same game as Taylor, Pierce is a 4th round rookie who has had a dream run through the pre-season. A slightly unknown quantity, he's generated buzz from the start of training camp, and took advantage of his opportunity in pre-season games by ripping off big plays in electric fashion. He beat out veteran RB Marlon Mack (who was cut) for the RB1 role, and seems to have the ability to do some pass-catching as well. Expectations have to be kept in check on a bad team, but Pierce should have the upside to challenge Patterson as the best minimum priced play on the slate.
Wide Receiver
Davante Adams $13,880
One of the reasons I like Carr, is that pairing him with Adams is just so easy at these prices! Adams has averaged a massive 23 points a game across the last 4 season, easily the best at the position in that span. Yes, he's now moved to an inferior team, and is no longer playing with Aaron Rodgers. While it's true that Carr was his college QB, that might not matter a great deal almost 10 years later. There is also arguably slightly more competition for targets at the Raiders, from Waller and Renforw. So, I am expecting a bit of a drop-off in production from the lofty heights we're used to, but he still should be able to challenge 20 points per game. Draftstars has made our decision on him much easier by offering a hugely discounted salary, making this an easy yes.
DJ Moore $11,190
Moore is less of a veteran than Adams, but has shown similar quality in his 4 seasons as a Panther. His average has hovered around the 15 mark in that time, but there are a couple of reasons we can expect that to rise. First of all, the addition of Baker Mayfield, while not amazing, does represent a clear upgrade on the ordinary quarterbacks he's played with so far. Secondly, he's due a bit of luck in the touchdown department, never scoring more than 4 in a season despite a huge volume of targets. And finally, he's just damn good! The Browns feel like a bit of a middling matchup with the state of their franchise this season, so I'm happy to start investing in Moore straight away at a friendly price tag.
Corey Davis $6290
Like a couple of my picks above, this is a "dependable volume at bargain price" type of play, regardless of how I feel about the players situation. There's nothing exciting happening at the Jets right now, as they continue to struggle for an identity. No 2 pick & QB Zach Wilson had a worrying rookie season before getting injured in a pre-season game, so statuesque veteran Joe Flacco is the teams signal-caller this week. The addition of some promising young offensive weapons this year and last is great, but unlikely to change much until the rest of the roster is sorted out. For now Davis still figures to be the WR2 on a team that should be forced to throw the ball a lot to try to keep up with the superior Ravens outfit this week. Davis is usually a ~12 point player, making him a strong cash play with enough 20+ point upside to be relevant in the GPP also.
Amon-Ra St Brown $10,990
I'm not going to recommend a particular stacking partner with Jalen Hurts (AJ Brown, Devonta Smith & Dallas Goedert all work fine), but I will suggest a "bring back" play from the opposition. The Lions are an intriguing team this year, passing some soldi players on both sides of the ball and continuing to build a new identity under their somewhat famous new coaching staff. Jared Goff is still the QB, but the team is giving him enough help for this to be a better season. St Brown comes into he picture as a promising young player who exploded late in his rookie season, averaging 26 points across the final 6 games. That coincided with the absence of the teams two best weapons in DeAndre Swift and TJ Hockenson, but it showed he has tremendous upside. In a game environment that I've already said I like, I think this price is more than okay for someone with 5 of his last 6 scores 24 or higher. Off-season addition D.J Chark is also somewhat interesting.
Tight End
Mark Andrews $12,490
Andrews is another player that went absolutely bananas at the end of last season, and like St Brown it happened to coincide with teammates being injured. In this case it was QB Lamar Jackson who had his season ended in week 14, before Tyler Huntley and Josh Johnson came in and started throwing the ball to Andrews like he was the only player on the field. That part of his output may not be sustainable, but he had still averaged ~15 points/game for nearly two seasons up to that point, making him a top 2/3 player at his position. Still young at 27, Andrews is in a sweet spot on this slate where we can afford to pay up at a scarce position, and the Jets matchup gives him and Jackson every chance to start the season strong.
Darren Waller $9940
If you don't quite want to pay up for Andrews (or Kelce), you can go some of the way by adding another value piece to the Raiders stack I've already spruced so much! Waller has had a bit of a weird pre-season as he made noise about getting a new contract and had some mysterious "injury" concerns. That all seems to be behind him now, and despite Adams arriving to steal some of his workload, he still profiles as a top 5 player at the position in a nice matchup.
D/ST
New England Patriots $5010
DST is really hard in DFS! I'm not sure any of my recommendation also season worked out particularly well, but lets try again! The Patriots have been one of the top defensive units the last two seasons, putting together a fantasy average of 8 points/game. They were even better than that before Tom Brady left. Things aren't looking too promising on the offensive side of the ball this year, but Bill Belichick should still be able to scheme up some good defensive output, and I don't mind the divisional matchup with an enigmatic Dolphins team to start the season. Hopefully the ownership stays low, and the cheap price tag is enough to get me over the line.
New Orleans Saints $6750
I'm fairly interested in the Saints as a sneaky stack on the offensive side of the ball, but the DST feels much safer. Another strong producer with an 8.2 average for the last 2 seasons, the loss of head coach Sean Payton is the only major question mark over the team. I think they'll still be pretty solid, and a divisional matchup against the lowly Falcons is a nice start. The Falcons are starting shaky veteran Marcus Mariota at QB, and asking him throw to a collection of "promising" rookies and journeyman veterans, all behind a pretty bad offensive line. I like the Saints chances of creating enough turnovers to pay off one of the higher price tags.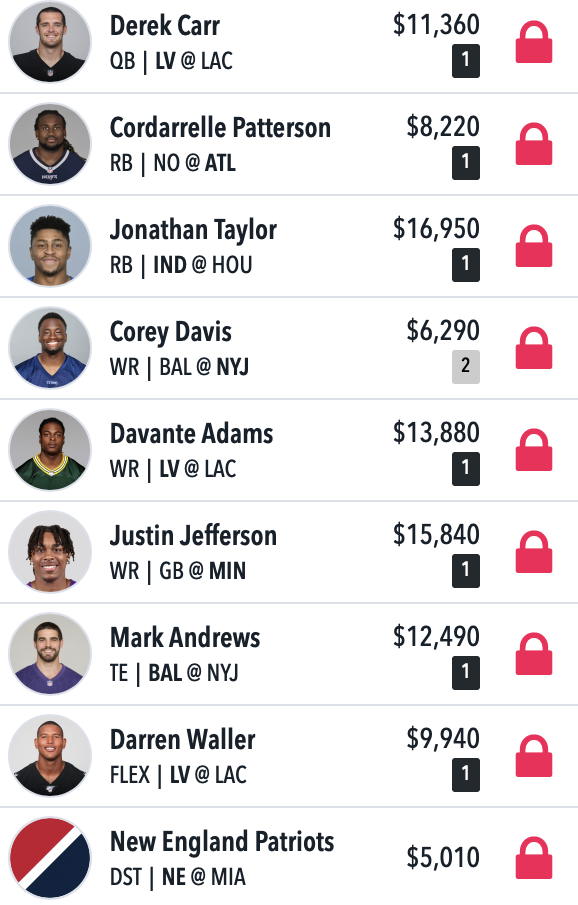 Always remember to gamble responsibly. When the fun stops, stop. If gambling is having a negative impact on your life, seek support at Gambling Help Online. 18+ only.