daily fantasy sports articles
NFL 2022-23 Daily Fantasy Tips: Week 17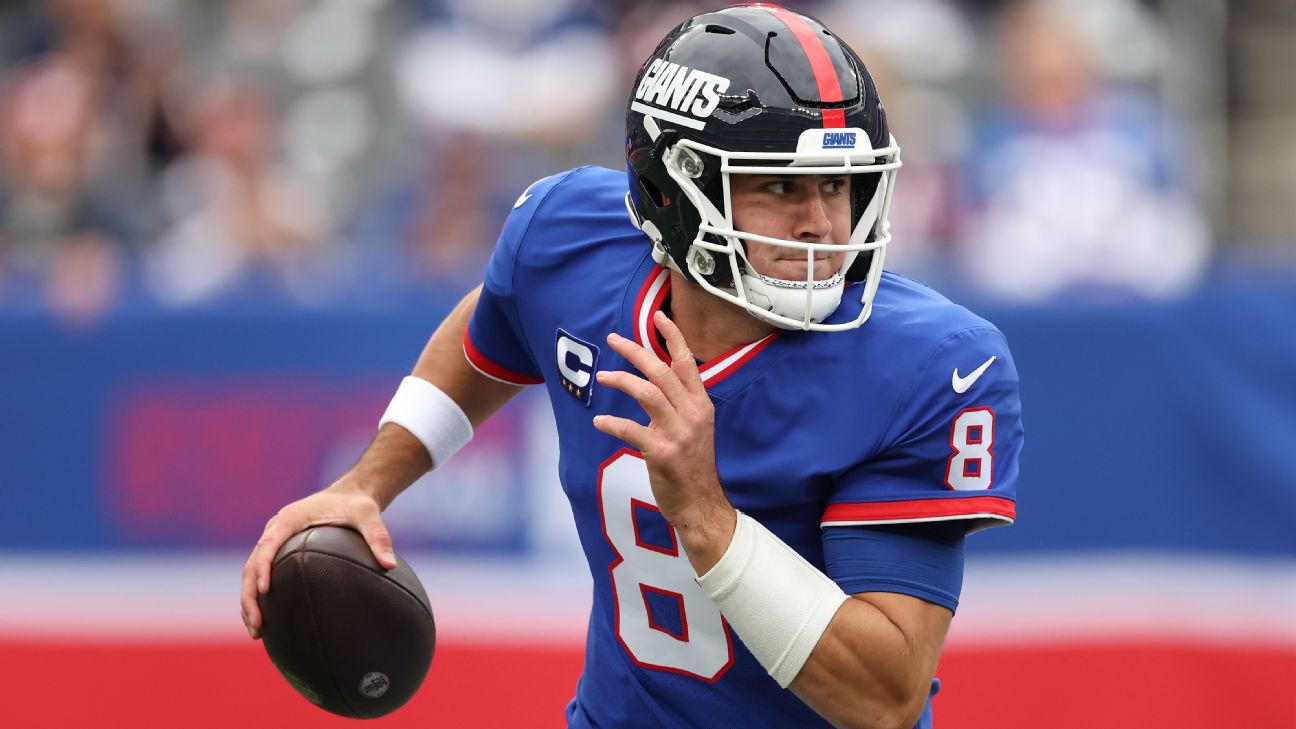 The penultimate regular season week in the NFL, with a massive Monday slate on tap, with 13 games (9 early, 4 late) scheduled. After some horrible weather last week, there is currently no games predicted to be affected by adverse weather conditions this week. Despite this, totals are once again low across the league, with only 3 games across the day lined at over 45 points. Being so late in the season, there's also issues with teams shutting players down, particularly teams that have no playoff chances. So, motivation is another part of selecting your team this week and next, so don't forget to take into account teams that may rest players towards the back end of games (or like the Titans on Thursday Night Football, the entire game).
Draftstars once again is your place to play, with a $25,000 slate for Monday morning, with a first prize of $2,480. There's plenty of other contests that might tickle your fancy, so get on over to Draftstars and get involved.





Quarterback
Justin Fields - $14,660
Patrick Mahomes is probably the pick here, but I can see the Chiefs either taking it easy against a Broncos team that has given up, or Mahomes getting an early shower. Either way, I think this is Fields' last hurrah for his breakout year, and this week he takes on a Detroit Lions outfit that he scorched in week 10, scoring a whopping 43 points. The Lions' run defence was horrific last week against the Panthers, and I can see Fields having a big day once again. If he can get in for 2+ touchdowns, you're looking at a solid 25+ score.
Daniel Jones - $11,280
This is a bit of a left field choice here, but I believe there's a chance the Giants can blow the Colts out this week. Jones has quietly gone about the best statistical season of his career, and he's getting it done on the ground, and through the air. He has the 5th most rushing yards of any Quarterback this season, whilst also being middle of the pack in passing yards. The issue, at least from a fantasy perspective, has been the lack of touchdowns. With a blowout of the Colts at home this week, hopefully Jones can get a few extra touchdowns for his score to really pop.

Running Back
Saquon Barkley - $13,720
Barkley has been back to his early season form the past two weeks, and not coincidentally, the Giants have looked a lot better the past two weeks. This week, Barkley gets a tremendous matchup against a Colts team that is close to giving up. Since week 11, the Colts rank 32nd in rushing success rate, 28th in EPA per rush, 26th in rushing yards per game, and 21st in explosive run rate allowed. With other stud running backs Austin Ekeler and Christian McCaffrey having tough matchups this week, Barkley has a great chance at being the RB1 this week.
Brian Robinson - $8,980
Robinson has struggled to get the ball in the endzone in his rookie campaign, with only 3 total touchdowns, however I can see him getting into the endzone this week. The Commanders take on the Browns this week, who have been horrible against the run this season, ranking 30th in rush defence DVOA. Since week 11, they rank 29th in explosive run rate allowed, 25th in rushing yards per game, and 24th in EPA per rush. With RB2 Antonio Gibson out, Robinson's touches are set to improve, and at this price he is a top shelf RB2, with RB1 upside if he can get the ball into the endzone.
Cam Akers - $10,640
Cam Akers exploded last week, rushing for 118 yards and 3 touchdowns. This week, Akers and the Rams get a Chargers team with low motivation in this spot, after they sealed a playoff position after beating the Colts last week. The Chargers rank 25th in the NFL in points allowed to running backs, whilst ranking 24th in rushing yards per game, 20th in EPA per rush, and 16th in rushing success rate allowed since week 11. Akers should continue to get fed the ball, and is a great chance at multiple touchdowns.
Wide Receivers
Justin Jefferson - $19,790
Do I need to write anything for Justin Jefferson? Three straight scores of 33+, averaging a whopping 25.9 points per game on the season (most of any non-QB), and he gets a matchup with the Packers, who he SLAYED in week 1 this season. Whilst the Packers haven't given up obscene numbers to opposing wide receivers this season, Jefferson is matchup proof. There's been jawing all week between Packers' star corner Jaire Alexander and Jefferson, with Alexander claiming Jefferson's week 1 performance was a fluke. I can't see Jefferson not taking that personally, and with the record for most receiving yards in a season up for grabs (Jefferson needs 191 to surpass Calvin Johnson's record of 1,946 yards), I would not be surprised to see Jefferson top 200 yards.
Chris Godwin - $13,150
Godwin has a tremendous record against the Panthers, and we wrote about this earlier in the season when the Bucs played the Panthers. Unfortunately in that game, the Panthers completely shut the Bucs offense down, leading to Godwin's worst performance against the Panthers for some time. This week, we're going back to the well. The loss of Jaycee Horn is massive for the Panthers, meaning Godwin cannot be shadowed by one of the great young corners in the NFL. Instead, Godwin will draw Jeremy Chinn on most snaps, and whilst Chinn has his strong points, covering speedy slot corners is not one of them. Expect high volume for Godwin, and hopefully a touchdown or two.
Drake London - $10,200
It took London a while to establish himself as the true WR1 in this offense, but he now is undoubtedly that for the Falcons. Since week 13, London has averaged almost 11 targets per game, coinciding with the appointment of Desmond Ridder as the Falcons starting quarterback. Whilst London's scores haven't been anything to write home about in those 3 weeks (15.5, 12, 14.6), they show a solid floor for your WR3/FLEX. Add to this the fact he hasn't managed a touchdown in those 3 scores, and you start to see a young WR with high WR2 upside, if he can get into the endzone.

Tight End
George Kittle - $10,340
Kittle has been on fire since the arrival of Brock Purdy, with the two seemingly having a connection Kittle didn't have with Garoppolo earlier in the season. In the past two weeks, Kittle has 10 receptions for 213 yards and 4 touchdowns. This week, Kittle and the 49ers take on the Las Vegas Raiders, who have given up the 11th most points to tight ends this season, as well as allowing the 9th highest catch rate and 11th highest receiving yards per game to opposing tight ends. Kittle's floor is a little low, however his ceiling is as high as anyone not named Kelce at tight end.
Cole Kmet - $7,160
Kmet hasn't quite lived up to the mid-season form that had him scoring 22 points in two straight games, however he has continued being a solid option for Justin Fields in the passing game. With not many lower priced tight ends getting it done in fantasy this season, we must look towards matchups, and Kmet gets a good one this week against the Lions. In week 10, Kmet managed 4 catches for 74 yards and a pair of touchdowns in the Bears' 31-30 loss to the Lions. The Lions have continued being shredded by opposition tight ends, ranking 26th in DVOA against tight ends, whilst allowing the 4th highest catch rate, 5th most fantasy points, and 7th highest yards per receptions to opposing tight ends.
D/ST
San Francisco 49ers - $6,190
We keep going back to the well with the 49ers defence and special teams' unit, and they keep producing. With 7-straight scores of 6 or above, the floor on this 49ers unit is as good as it gets. This week, they take on a Las Vegas Raiders team sporting a new starting quarterback, Jarrett Stidham. Stidham has struggled to adapt to the NFL, with 2 touchdowns and 4 interceptions (2x pick 6's) in his near 4-year career. The Raiders' offensive line has been stout, allowing less than 2 sacks per game, however I'm confident this 49ers' defensive front will be giving Stidham fits all day. With 14 turnovers in their past 6 games, the 49ers defence is one of the hottest in the league, and I expect at least 2 turnovers in this one.
New York Giants - $6,610
The Giants get the Colts offense this week, which looked horrific last week. The Chargers managed 3 interceptions, 7 sacks and only 3 points allowed against the Colts last week, on their way to 20 points. With Nick Foles once again starting, sacks and interceptions are once again on the menu, with the statuesque Foles a magnet for sacks. The Giants have only managed 2 scores above 10 this season on their D/ST unit, and I can't see them scoring below 10 here. The Colts give up the 2nd most sacks in the NFL, and the most turnovers by far (30). A great chance for this Giants defensive unit to get some confidence heading into the playoffs.
Draftstars Suggested Lineup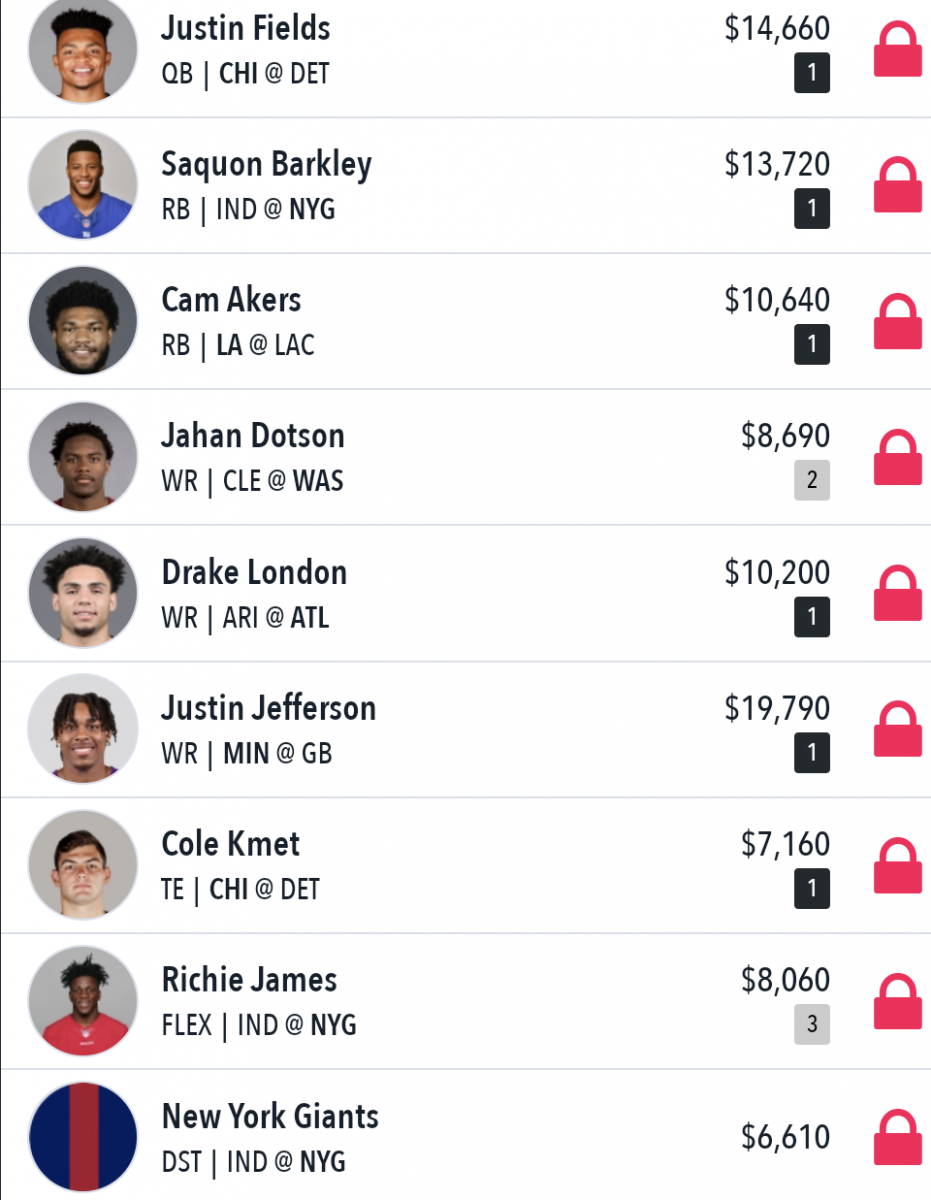 Always remember to gamble responsibly. When the fun stops, stop. If gambling is having a negative impact on your life, seek support at Gambling Help Online. 18+ only.