daily fantasy sports articles
NFL 2022-23 Daily Fantasy Tips: Week 2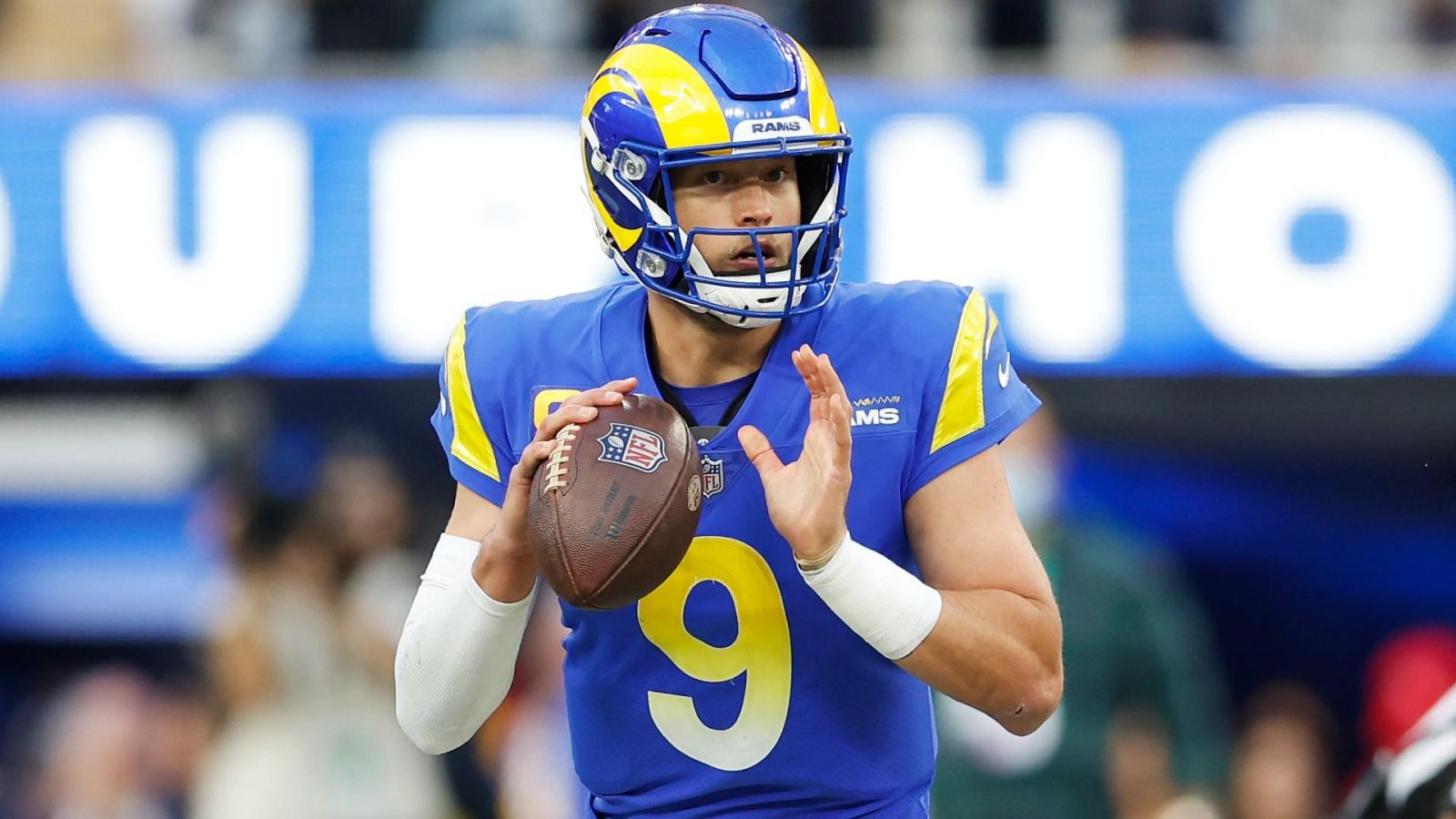 How good was week 1?! The picks from this article were pretty solid, with around 6 of them putting up a big performance and 3 of them landing in the winning line-up. As it's week 1 and there is a huge amount of changes, news and "takes" causing change across the NFL landscape, I'll highlight a few more players than usual.
Draftstars delivers another massive $50,000 slate at Draftstars, with $4935 to first place, as well as lots of other contests. It's a 12-game slate, with not as many high total games to target. The Cardinals v Raiders and Commanders v Lions stand out as two potentially popular game environments, but there are lots of good spots to consider.
Let's just get straight into the picks.

Quarterback
Matthew Stafford $14,080
With very few of the top fantasy QBs available on this slate, we effectively have Murray and Jackson as our dual-threat options at the top, and then a bunch of pocket passers with unpredictable upside. The premium options both have question marks over their matchup and the weapons on their teams, and it's Stafford that stands out to me as the top option. We saw a stellar season last year, before a quiet 11-point outing against this year's Super Bowl favourites in the Bills. I'm happy to ignore that performance and expect the Rams to come out much hotter in a soft matchup with the Falcons. The Falcs look like they can move the ball okay, but continue to be bad defensively, which sets up a recipe for a fantasy shootout.
Trey Lance $12,360
There is one more dual-threat option below the top pricing tier, with Lance known for his running game and showing plenty of upside in his couple of starts last season. He also had an 11-point outing last week, but it was on a flooded football field while being upset by the Bears in a low-scoring dud. In short, it doesn't count. The Seahawks should be a great matchup to look for a bounce back performance, with my only reservation being whether his stacking partners are adequate. We can probably play him un-stacked if needed.
Running Back
Cordarrelle Patterson $9920
I put up Patterson last week, and he came through with 26 points. His price has risen a little, but not enough for a player that averaged 16 last season. He benefited from an early Damien Williams injury last week, so while the massive workload may not repeat, he still has lots of upside in the passing game and at the goal line. Despite the tough matchup, I'm going to prefer him to someone like Jeff Wilson who could be popular at the same price.
Antonio Gibson $11,520
Everyone was low on Gibson coming into this season. He had fumble issues last season, J.D McKissic is still around to hog the receiving work, and Brian Robinson was drafted to potentially usurp him as the main rusher. Then Robinson was the victim of a shooting (he's fine), and no-one knew what to think of Gibson's chances of getting work. Well, he put up 20 points last week without a touchdown, so the signs are pretty good for now. The Lions matchup is one of the best in the league, given they have a strong offense and a terrible defense. Gibson is too cheap for his upside this week.
Jonathan Taylor $16,580
Taylor got there last week despite a shock loss for the Colts, and he sets up similarly this week with another divisional matchup against a weaker Jaguars line-up. The game script should be in his favour, and he has a bigger ceiling than just about anyone. It's an interesting decision to be made with Saquon Barkley right below him and looking like his former superstar self last week, as well as Christian McCaffery above who was kept quiet last week but is likely to explode at some point. I'm happy to play all 3, but it's hard to argue that Taylor isn't the safest of the group.
Wide Receiver
Allen Robinson $10,570
I'm going to want to pair someone with Stafford, and Robinson is my favourite option from a leverage perspective. He put up a 2-point dud on his Rams debut last week, but as with Stafford I'm writing off that game for the whole team. Stafford will have more time to operate, and that will allow him to find Robinson more often instead of slinging it to Cooper Kupp every play. It's certainly a risk being high on an ageing WR that hasn't done much for a couple of years, but it's too early to give up on him on his new team.
Brandon Aiyuk $8990
As above, the stacking options for Trey Lance are fairly limited, especially if George Kittle misses again. Deebo Samuel is certainly in play, but I prefer the salary saving of Aiyuk, who also has plenty of upside in his 3rd year in the NFL. Consistently mentioned as a freak athlete with all the tools to be a top player, he's yet to break out as a consistent performer. The 13-point average in his last 13 games is enough to suggest he's value (as long as Lance isn't terrible), but I have to think the 25+ ceiling is in play, especially without Kittle.
Tyreek Hill $12,560
It was an interesting start to Hill's life as a Dolphin last week, when he scored most of his 18 points in the first half before going quiet when the Patriots were unable to keep up. Does he still have the same upside without Patrick Mahomes? Probably not, but this is a deep discount on his usual price, and the Dolphins under Mike McDaniels look like a creative team that can scheme big plays for Hill and Jaylen Waddle. I can easily see 30+ upside in his range of outcomes, even against the Ravens, so will be looking to play plenty of the diminutive speedster.
Michael Thomas $11,400
Like Barkley, Thomas is a former star that could be getting back to his best after significant injury issues. Through 3 quarters last week he barely had 5 points, before the Saints put it into high gear in catchup mode and Thomas racked up a bunch of receptions and a couple of touchdowns late. It might take a while to get going, but he's still an elite footballer in an underrated offensive group. He's a historically similar scorer to Hill, so this is an even deeper discount that can't be ignored.
Tight End
Dalton Schultz $10,600
The Cowboys offensive weapons (and team in general) are in some trouble with the Day Prescott injury. They were already a bit of a lost team before that, but now they're relying on Cooper Rush to elevate his teammates, and that seems very unlikely. The only Cowboy that I really have any interest in is Schultz, because he could become a safety blanket for the new QB. As a safe target in the middle of the field, we could see another 10+ targets with some TD upside. While he's not necessarily cheap, I think the volume could be enough to make him a top play on a pretty thin slate.
Albert Okwuegbunam $7900
Breakout tight ends are hard to pick, but Albert O has been a popular pick this preseason to take a big step with Noah Fact gone and Russel Wilson in town. The third year Bronco is an athletic freak, and he worked his way into the game last week. 8 points isn't greatly exciting, but he missed a touchdown by half a yard and looked to have plenty of big play potential. The Broncos will play much better at times, and a Texans matchup seems like a great chance for this breakout player to put some big points on the board.
D/ST
Cincinnati Bengals $7200
Despite being on the more expensive end of the DST scale, the Bengals present as an obvious (and likely popular) option this week. That's because the Cowboys are relying on Cooper Rush at QB, as well as having issues on the offensive line. If you want to save some salary, the Jets are an interesting option going against Jacob Brissett.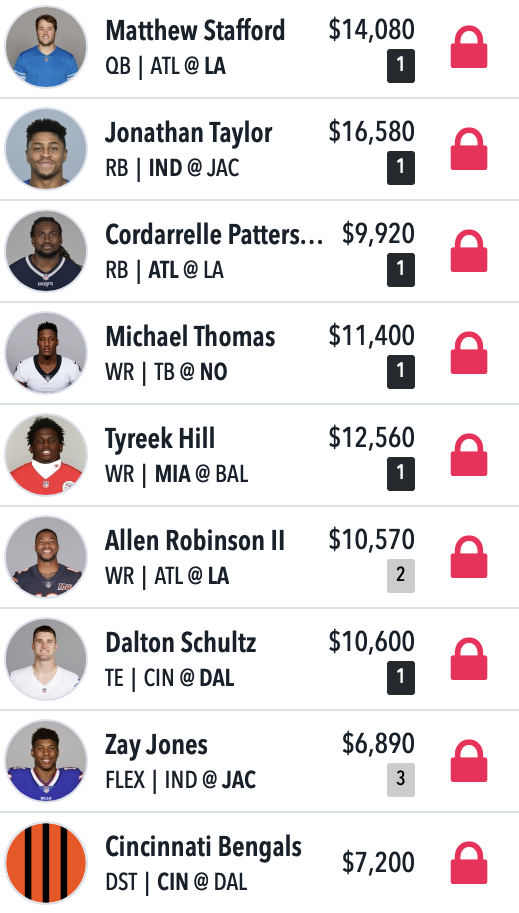 Always remember to gamble responsibly. When the fun stops, stop. If gambling is having a negative impact on your life, seek support at Gambling Help Online. 18+ only.