daily fantasy sports articles
NRL 2019 Fantasy Tips: Magic Round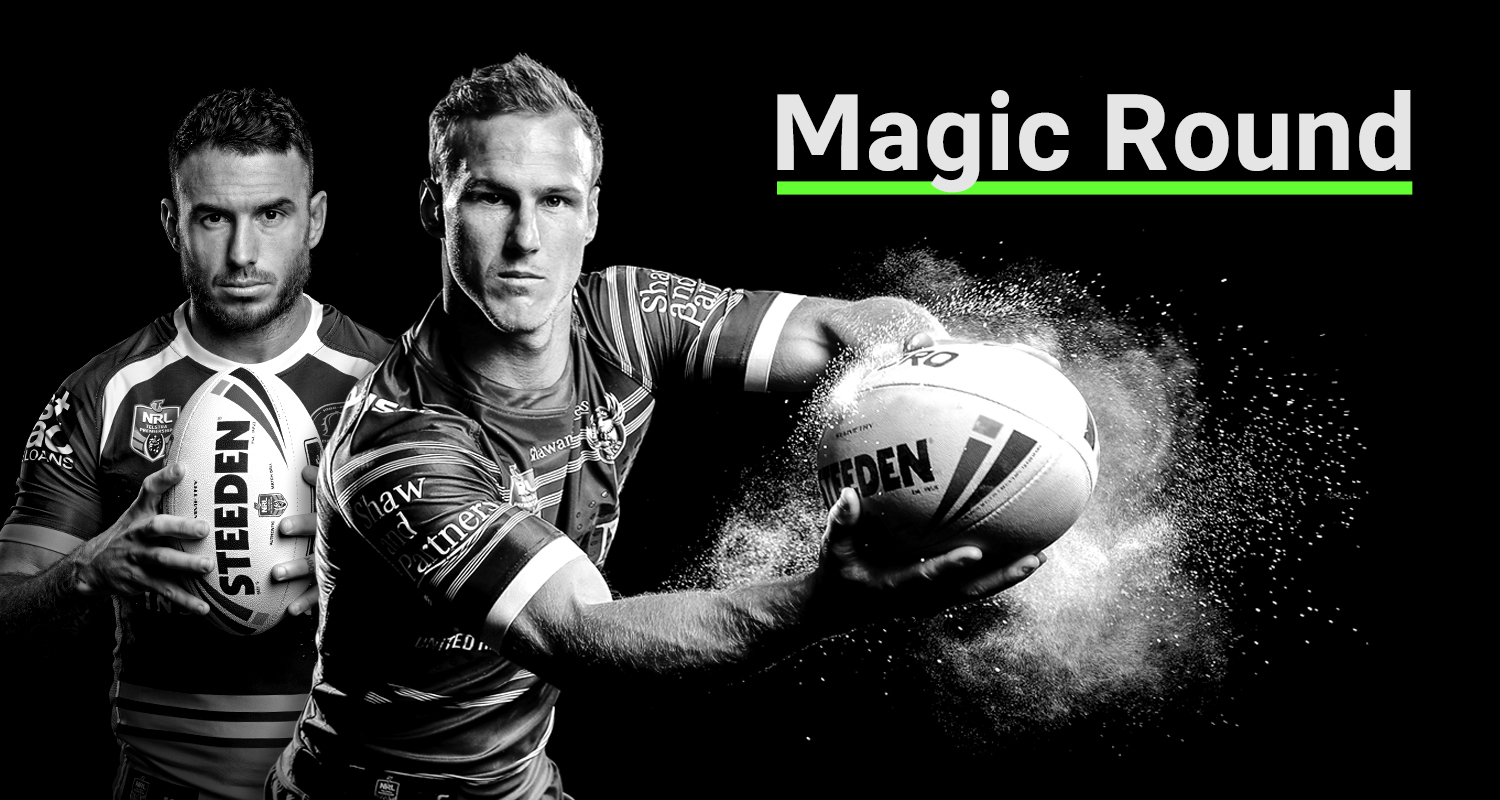 An annual tradition in the UK, Magic Round heads to marvellous Suncorp Stadium for all eight games of round 9. A concept that some would consider a gamble by the NRL, doubts surround the strength of the surface come Sunday with some flaunting the idea of calling it 'ACL Round'. There is plenty of prize money up for grabs with Draftstars coming to the party with $8,000 guaranteed for Thursday night's Titans v Sharks clash. There will also be $3,000 and $2,000 guaranteed pools for the remainder of the weekend. Moneyball have put up $5,000 GPP for Thursday night's match also with $2,000 guaranteed pools for the rest of the magic round. All-in-all Round 9 shapes up as an excellent weekend of NRL and whether you are attending or not, in the words of the late great 'Big Kev', I'm Excited. This week we have released cheat sheets for all nine line-ups.
Titans v Sharks
Getting the nod to kick off the round, the injury-riddled Gold Coast Titans will take on a revived Cronulla Sharks line-up, fresh off taking down the Melbourne Storm at home. While the Titans are experiencing a much-improved season in 2019, they are from the top 8 side that many had envisioned at the beginning of the season. The Sharks on the other hand are having a rather mixed season so far, where they were about as bad as it gets against the Broncos before toppling the Storm. While both sides will field similar sides to last week, the Titans loss of Tyrone Roberts is huge, but they do have a ready replacement in AJ Brimson ($9,390 DS) ready to go. While they are missing Ryan James and Nathan Peats also, the Sharks are dealing with their own concerns, missing key players in Matt Moylan, Aaron Woods, Wade Graham and Shaun Johnson.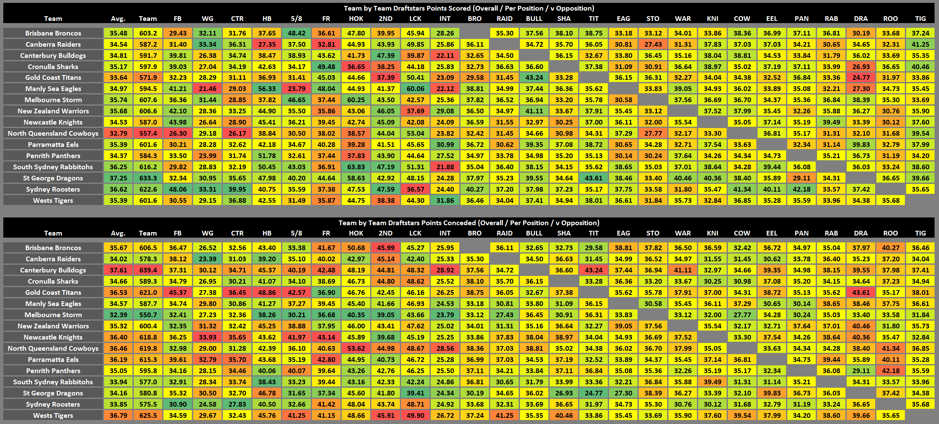 When these sides met in round 8 last year, the Sharks edged out the Titans in a low scoring affair both on the field and in fantasy scoring with a +11.0 DS differential. It was Titan's Jai Arrow ($15,010 DS, 73.4 pts) off the back of 194 metres, 4 tackle breaks and 38 tackles and Mitch Rein ($14,650 DS, 72.5 pts) with 50 tackles, 3 tackle breaks and a try who dominated on the field. When they met earlier this year, the Sharks were too good at home with a massive +128.3 DS differential. Despite dominant performances from Briton Nikora ($15,010 DS, 68.6 pts), Sione Katoa (63.9 pts) and Shaun Johnson (65.5 pts), it was Jai Arrow (81.0 pts) once again who was dominant off the back of 290 metres and 7 tackle breaks.

When looking at both sides and how they concede points, the Titans tend to leak plenty of points through the backs, which could allow for the likes of Bronson Xerri ($9,200 DS), Josh Dugan ($9,500 DS) and Josh Morris ($8,290 DS) to score well. While for the Sharks, they tend to concede most of their points through the back row which could assist in Jai Arrow, Kevin Proctor ($13,520 DS) and Bryce Cartwright ($10,690) all scoring well. While both sides have improved off last year in both scoring and conceding, It is the Sharks who still hold a significant neutral differential between the sides of +23.3. Looking at the head to head performance chart, you can see that the Sharks have one of the best dominance ratings in this match-up and that is unlikely to change heading into this.
Looking at this clash, the Sharks go in as slight favourites and you could almost justify that they should be even shorter, but given how well they performed here a fortnight ago and with Shaun Johnson now added to their injury list, some credit must be given to the Titans making the short trip up the M1. While Kyle Flanagan was solid last week, the pressure will be on Townsend ($11,210 DS) and Andrew Fifita ($16,780 DS) to win the inaugural match of Magic round. With Brimson ($9,390 DS) slotting into the halves, it will be up to Ashley Taylor ($9,700 DS) to fire on the turf that made his name, if the Titans are to be any chance of claiming victory. Although I am confident they can keep it close for much of the match, ultimately the Sharks should come away with the win.
While there are plenty of ways to approach this match-up, line-ups built with successful dependent combinations will dominate the top-end of the leaderboard in a case of risk verse reward. While both sides are quite even when it comes to fantasy scoring, don't be surprised if those claiming the big cash are heavily stacked towards one team or another. My advice would be to have an opinion and build your side around that, in turn, allowing you to create a point of difference with your opponents. With most NRL early line-ups, changes are hard to combat so far out. With doubts around Feki, to go along with a few positional changes, should there be significant changes to the line-up, tread carefully if following the cheat sheet.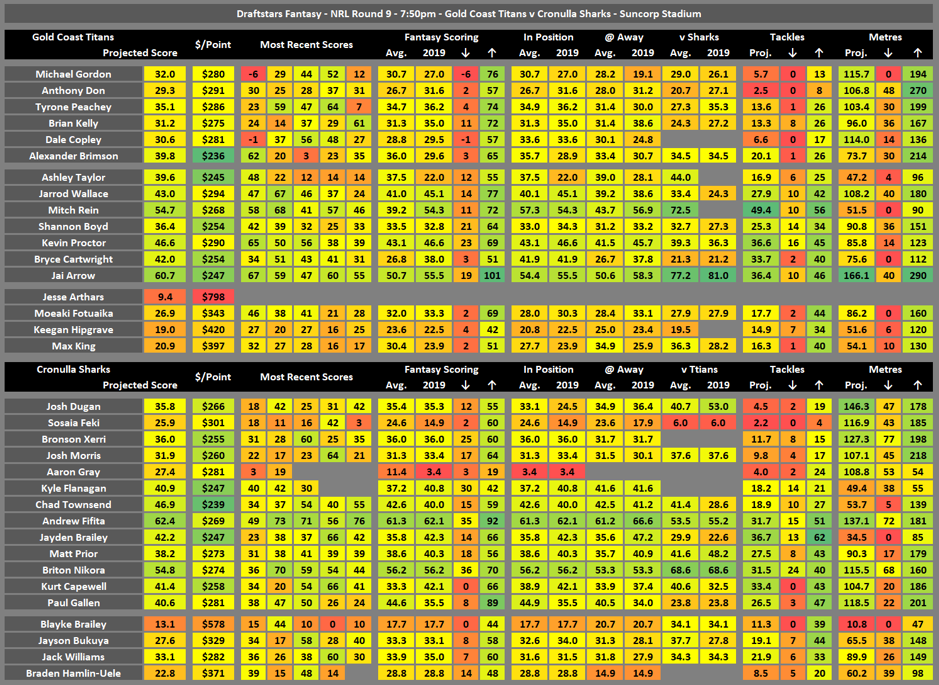 Key Players
Jai Arrow ($15,010 DS)
This guy is just an out and out superstar and before a lot of the Maroons chances hinge on his shoulders, he will need to get it done for the Titans first. Known for his massive workload, Arrow averages plenty of metres and tackles and with Jesse Arthars added to the bench, this will only most likely increase chances of playing a near full game. Although Andrew Fifita is just as good an option in the forwards, Arrow represents far more value and is just about a lock if you can afford him. Yet to score in 2019, Arrow has previously cracked the century and with a bit of luck has the potential to score another one soon.
Chad Townsend ($11,210 DS)
Although he had a rather quiet game last week, Townsend is capable of far more, especially in the absence of Shaun Johnson. Only averaging 40.0 in 2019, Townsend is down on last year, but there has also been a significant decline in his workload which will only increase with Johnson out of the side. As such his salary is still rather modest for a potential elite scorer and he looks the pick of halves. Although Brimson, Taylor and Flanagan ($10,110 DS) all represent value, Townsend has plenty of upside and is capable of a much larger score.
Bronson Xerri ($9,200 DS)
Starting to really find his feet with consistent footy, young Bronson Xerri looks to have an excellent match-up in this contest and should score well if given any open space. Although he already has a 59.8 pts in just 5 games, it is his base of 25.4 in the backline of a side that has been average at best, that gives me plenty of confidence about the speedy centre. With a minimum of 3 tackle breaks in each game, he has proven hard to contain and with the Titans being one of the worst sides at conceding points in the backs, this will only benefit his chances. Although still new to top grade, Xerri looks the pick of the outside backs.
Mitch Rein ($14,650 DS)
I have given this guy a plug plenty of times before, but he is just about a lock once again with the constant uncertainty that surrounds how Coach Morris player the Brailey brothers in the hooking role. Although Jayden Brailey ($10,410 DS) represents plenty of value if he is to play close to 80 minutes, Rein will look to catch the Sharks defence napping while still maintaining a heavy presence in defence. Choosing between the hookers, is a simple case of what you can afford, but based on pure safety, Rein averages 54.3 this year and you are taking a big risk with him not in your side.
Magic Round Value Players
Jake Turpin ($8,800 DS)
An almost basement salary hooker for an 80-minute hooker, what more could you want? With an MCL injury to Andrew McCullough, Turpin has been handed the rains and is expected to be just about a certain lock in the clash between the Sea Eagles and the Broncos. Although with Koroisau's ($9,280 DS) move to the halves for Manly has opened the door for Fainu ($12,790 DS), he does come in much dearer, despite having much larger upside. Playing just a couple of games last year, Turpin scored at close a point a minute and is likely to upwards of 50 here once again.
Hudson Young ($8,660 DS)
With last weeks injury to fantasy gun John Bateman, this opens the door for young back rower, Hudson Young to make his stamp in the side that is already without Joseph Tapine. With a salary equivalent to his scores average 15 minutes off the bench in his first few games, Young showed what he is capable of with 50.2 pts in 55 minutes last week off the back of 4 tackle breaks, 2 line break and a try. Although not expected to score again this week, it is highly likely that he will play the majority of the match once again and looks an absolute bargain at the salary.

The Daily Fantasy Rankings "Dragon" has scoured the Australian sports betting markets and found some great value picks for this game. Check out his picks for the day below and click on the links to follow his betting plays!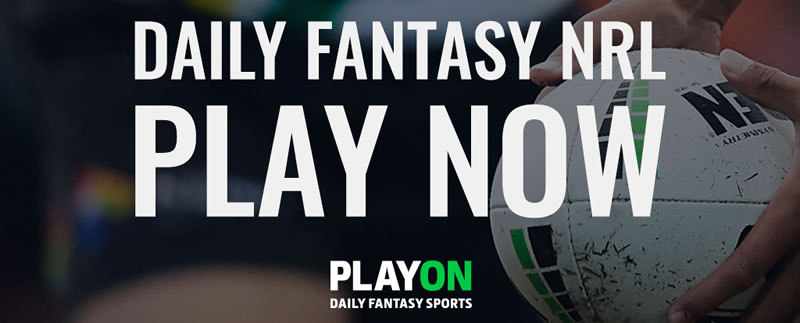 Always remember to gamble responsibly. When the fun stops, stop. If gambling is having a negative impact on your life, seek support at Gambling Help Online. 18+ only.