daily fantasy sports articles
NRL 2019 Fantasy Tips: Round 16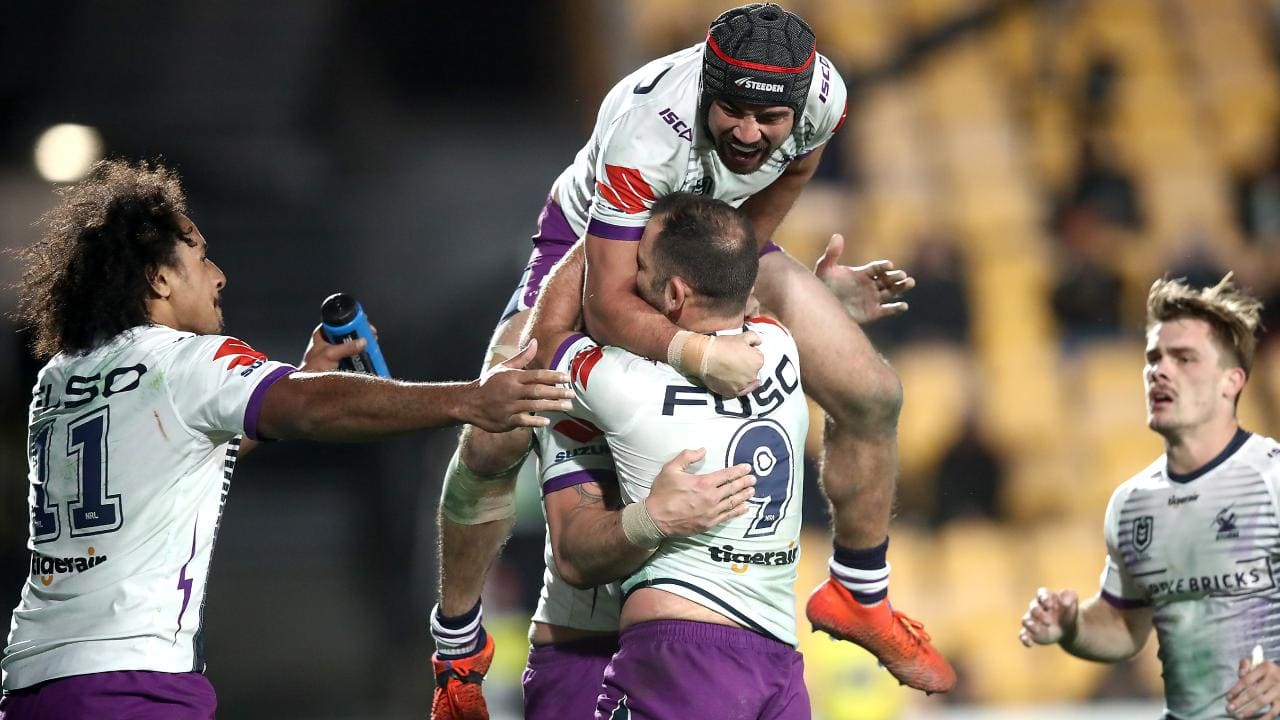 Origin, injuries and suspensions rear their head once again after an interesting Round 15 that involved an eye gouge, a few team trades and some rather poor performances. With just the four games to go around in Round 16, there is expected to be plenty of value in some salaries due to those out through Origin selection. There is heaps of prize money up for grabs with both Moneyball and Draftstars putting up $5,000 guaranteed for Thursday night's Dragons v Storm contest to go along with $3,000 guaranteed pools for the remainder of the weekend. In what is the calm before the storm (pardon the pun), let's break down Thursday's Dragons v Storm clash as we gear up to an exciting State of Origin decider next Wednesday.

In a contest that would normally shape up as an excellent blockbuster, the loss of the Dragons halves in Hunt and Norman to go along with Vaughan, Frizell and Sims will be difficult for the Red V. Meanwhile Storm aren't without their own issues, with the absence of Munster, Chambers, Addo-Carr, Welch, Finucane and Kaufusi. Despite Melbourne fielding debuts for Billy Walters ($7,500 DS $3,500 MB) and Tino Faasuamaleaui ($7,000 DS $3,500 MB), the Storm do hold favouritism in betting and rightfully so, given they maintain more of a spine with C.Smith ($17,540 DS $9,400 MB) and Croft ($11,590 DS $4,500 MB) to steer the already dominant ship that has them well in front on the ladder.
It will be almost a year since both sides met, when both sides jostled back and forth at the top of the ladder in 2018. When the Dragons were dominant 20 point winners in Round 9, a hat-trick from Addo-Carr (83.8 DS pts) was the only shining light, while a double from Aitken (68.0 DS pts $11,420 DS $6,400 MB) to go along with solid performances from McInnes (53.0 DS pts $17,620 DS $8,400 MB) and Lafai (55.6 DS pts $10,290 DS $6,100 MB) edged them towards a +5.2 DS differential. They met again in the corresponding pre-Origin game last year and Storm go their revenge, running out 22 point winners. Generally better fantasy scorers, Melbourne accumulated a whopping 762.3 DS points off the back of C.Smith (72.5 DS pts), Hughes (71.5 DS pts $11,580 DS $7,200 MB), Croft (67.1 DS pts) and Asofa-Solomona (60.5 DS pts $11,230 DS $6,900 MB) with Dragons hooker McInnes (56.2 DS pts) the only positive in what was a +174.7 DS differential.

When looking at both sides and how they concede points, it is clear the Storm are rock solid, while the Dragons on the other hand are much more fragile conceding heavily to fullbacks, which Melbourne will look to exploit through Hughes and when he eventually comes on to the field in Papenhuyzen ($11,550 DS $6,700 MB). While the Storm still remain the best at conceding points, their average has increased from 547.2 in 2018 to 553.5 this year. The Dragons posed as premiership contenders in 2018, conceding a solid 576.5, but that has sharply increased to 620.4 this season.
While there are plenty of ways to approach this match-up, finding the right mix of high value and high scoring players will go a long way to finding success on the fantasy landscape. While the Storm hold the advantage in both betting and from a fantasy stand-point, don't be shocked if their new look team puts in something completely different during this clash. My advice would be to have an opinion and build your side around that, in turn, allowing you to create a point of difference with your opponents. With most NRL early line-ups, changes are hard to combat so far out. With the absence of 10 Origin stars out through selection, one controversial judiciary call and a few positional adjustments, should there be any additional changes to the line-up, tread carefully if following the cheat sheet.
St George Dragons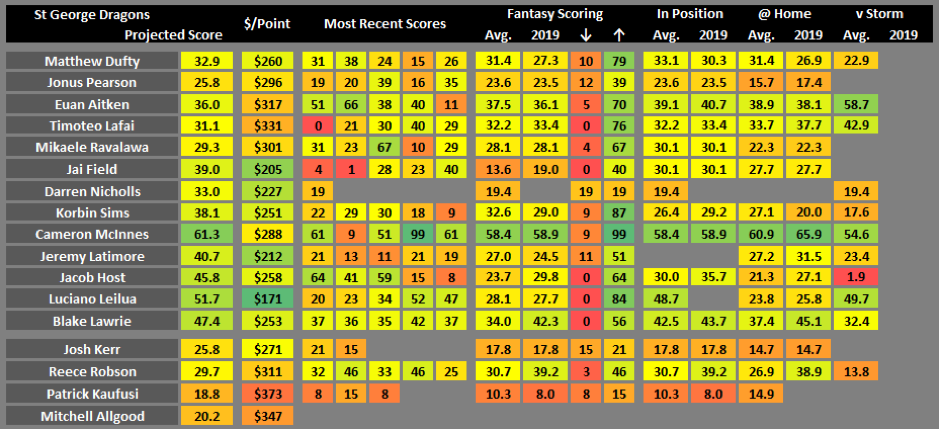 Melbourne Storm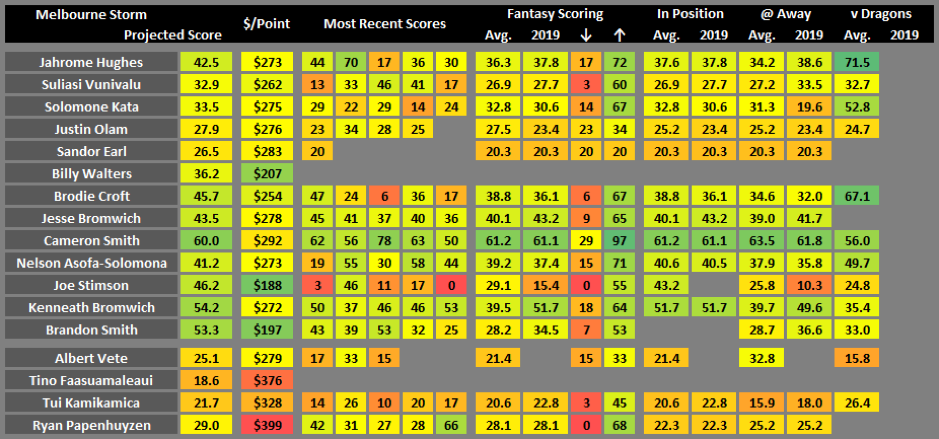 Dragon's Diamonds
Brandon Smith ($10,480 DS $5,300 MB)
Going with the nuggetty forward in Brandon Smith to score well this week at a bargain of a price. This will be his first game starting in the back row and expect him to play plenty of minutes with a few fresh faces on the bench. More importantly, he looks an excellent value prospect for the hooking position if you can't afford the heavyweights in C.Smith or McInnes, who despite leading the way in projected scores, are not much value in this contest.
Luciano Leilua ($8,850 DS $5,000 MB)
Leading the way in value this week at a staggering $171/pt projection is the man with a name fit for a superhero and the Dragons may even call on him to save the day with his unique style if they are to topple the Storm. Yet to start in the back-row this year, Luciano averaged a whopping 58.4 DS points in five games there last year, including a ceiling of 83.9 against the Tigers. At an absolute bargain, expect to see Leilua in plenty of line-ups.
Jai Field ($8,000 DS $4,000 MB)
Although yet to stamp his mark on the game, Jai get his opportunity here as he becomes the lead playmaker to try and guide the Dragons to victory. Partnered with Nicholls who is likely to control most of the kicking, Jai will be instrumental in attack and called upon to guide what is arguably the better backline. Unsure as to how well he will score, given his ceiling of 40.1 in three starts this year, he finds himself in the Dragon's diamonds more so due to being able to be selected as a W/FB.
Notable mentions go to Joe Stimson ($8,690 DS $5,000 MB), Billy Walters ($7,500 DS $3,500 MB) and Jeremy Latimore ($8,620 DS $3,700 MB) who all represent excellent value.
Dragon's Dungeon
Cameron Smith ($17,540 DS $9,400 MB)
There will be plenty that disagree with me here and by all means I am not expecting him to have a bad game, but there is just far too much risk about Smith in this contest. If Bellamy has the Storm training well all week and they are able to find themselves leading comfortably, the #GOAT who is nearing his 400th career game is likely to be wrapped in cotton wool of which has already happened on 4 occasions this year. Not potting him at all, but will rarely feature for me.
Timoteo Lafai ($10,290 DS $6,100 MB)
The Dragons return to their preferred centre pairing this week, but Lafai has been released at quite a huge price. A very good player on his day, Lafai has lost his touch in the weeks preceding his injury with just seven tackle breaks and one line break spanning a six week period. Coming up against a Storm defence that is notorious for its wall-like defence, expect Bellamy to have this backline causing Lafai just as much if not more concern.
Ryan Papenhuyzen ($11,550 DS $6,700 MB)
With Hughes back from injury this week the athletic Papenhuyzen is once again relegated to the bench and it is really hard to tell where and when he will be introduced into the game. This could be an egg on my face moment and he may be introduced early on for a big score, but even after scoring a try last week, he only managed 42.1 in a full game of footy. A great player, but he won't be featuring in my line-ups this week.

The Daily Fantasy Rankings "Dragon" has scoured the Australian sports betting markets and found some great value picks for this game. Check out his picks for the day below and click on the links to follow his betting plays!

Always remember to gamble responsibly. When the fun stops, stop. If gambling is having a negative impact on your life, seek support at Gambling Help Online. 18+ only.