daily fantasy sports articles
NRL 2019 Fantasy Tips: Round 19 Sharks vs Cowboys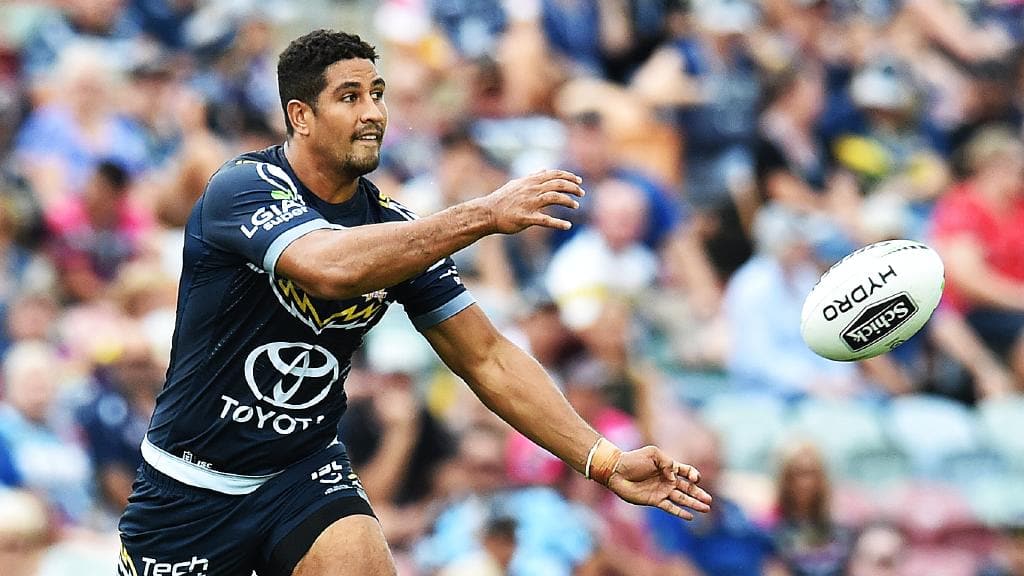 With the finals series nearing, it looks a race between the two most recent competition winners with the ladder dominating Melbourne Storm, slight outsiders to last year's premiers, the Sydney Roosters. Despite being situated in the bottom half, Round 19 will kick off with the two prior grand final winners, the Cronulla Sharks taking on the North Queensland Cowboys, in a do-or-die contest to make the finals. There is heaps of prize money up for grabs with Draftstars putting up a massive $10,000 for Thursday's match, while Moneyball will have a guaranteed $5,000 on offer Thursday, with $3,000 and $2,000 guaranteed pools for the remainder of the weekend across both platforms. Let's break down Thursday's Sharks v Cowboys clash as we gear up to an exciting weekend of rugby league on Moneyball and Draftstars.

In what would normally shape up as an exciting contest, the loss of Moylan and Graham to injury and Fifita to suspension, will severely hamper the home side's chances, while the Cowboys aren't without their own issues, losing Morgan, Kahu and Martin in recent weeks. After just about cementing their spot in the top 8, the Sharks now find themselves without a win since round 13 and a string of poor performances, see them in doubt of making the finals. While a spirited win against the Roosters a fortnight ago, has been a highlight in a rather disappointing season for the visitors, with recent news that Origin stalwart, Matt Scott ($6,200 MB, $10,480 DS), would be retiring at season's end. Betting has opened with the Sharks as slight favourites, giving the Cowboys a 4.5-point head start.
While the Sharks welcome back Josh Dugan ($6,900 MB, $8,850 DS) and Josh Morris ($7,100 MB, $9,320 DS), the loss of Fifita and Moylan will be significant. Meanwhile, the Cowboys will head into the contest with the same line-up that was gallant in defeat against the Rabbitohs last week. When both sides met earlier in round 3 after 1-1 starts to the season, it was the visiting Sharks that ran rampant, coming away 26-point winners in a display that many started to consider them as genuine title contenders. Jayden Brailey (50.1, $5,200 MB, 58.1, $10,560 DS) and Josh Morris (51.3 MB, 54.8 DS) were standouts for the victors, while Jordan Mclean (45.9, $7,400 MB, 59.4, $13,650 DS) proved his worth for the home side.
When looking at both sides and how they concede points, despite a rather mediocre 2019, the Sharks have made significant improvement on last year, where as the Cowboys, who find themselves in a similar situation to last year, have in-fact gone the other way and proven more vulnerable. Notoriously a good fantasy scorer, the Cowboys won't have to deal with Fifita, which could ultimately tighten the ledger. If the Sharks are to put it all together come Thursday night, it could eventuate to huge scores for the likes of Josh Dugan ($6,900 MB, $8,850 DS) and Bronson Xerri ($7,100 MB, $9,710 DS). However, if the visitors are able to replicate somewhat of a performance like they did against the Roosters, then the likes of Scott Drinkwater ($4,700 MB, $8,920 DS) and Jason Taumalolo ($11,400 MB, $17,830 DS) could play a solid role.
While there are plenty of ways to approach this match-up, finding the right mix of high value and high scoring players will go a long way to finding success on the fantasy landscape. While the Sharks hold the advantage in both betting and from a fantasy stand-point, the Cowboys have shown in recent weeks what they are capable of, and an upset would be far from a surprise here. With most NRL early line-ups, changes are hard to combat so far out. Although Shaun Johnson ($6,900 MB, $13,720 DS), Josh Morris and Paul Gallen ($6,700 MB, $12,230 DS) are expected to come through their injury concerns, should there be any late changes to the line-up, tread carefully if following the cheat sheet.
Moneyball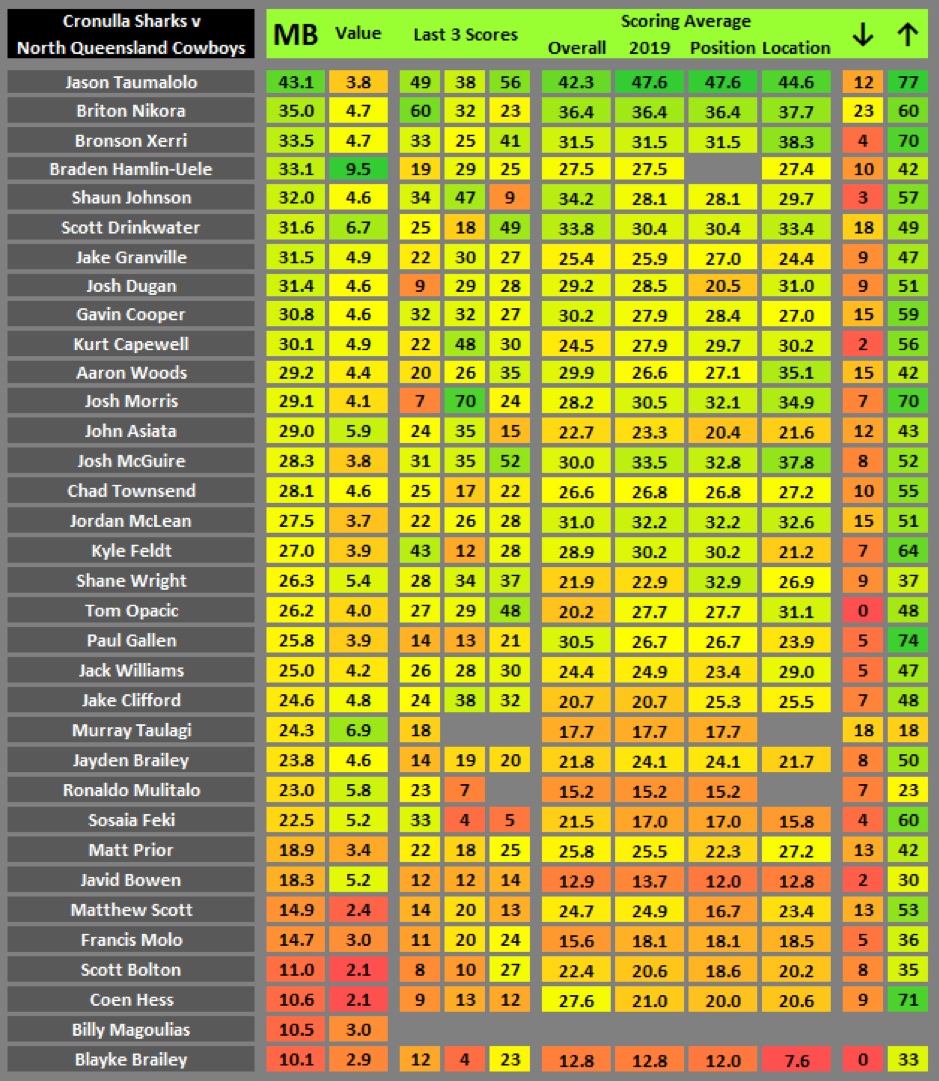 Draftstars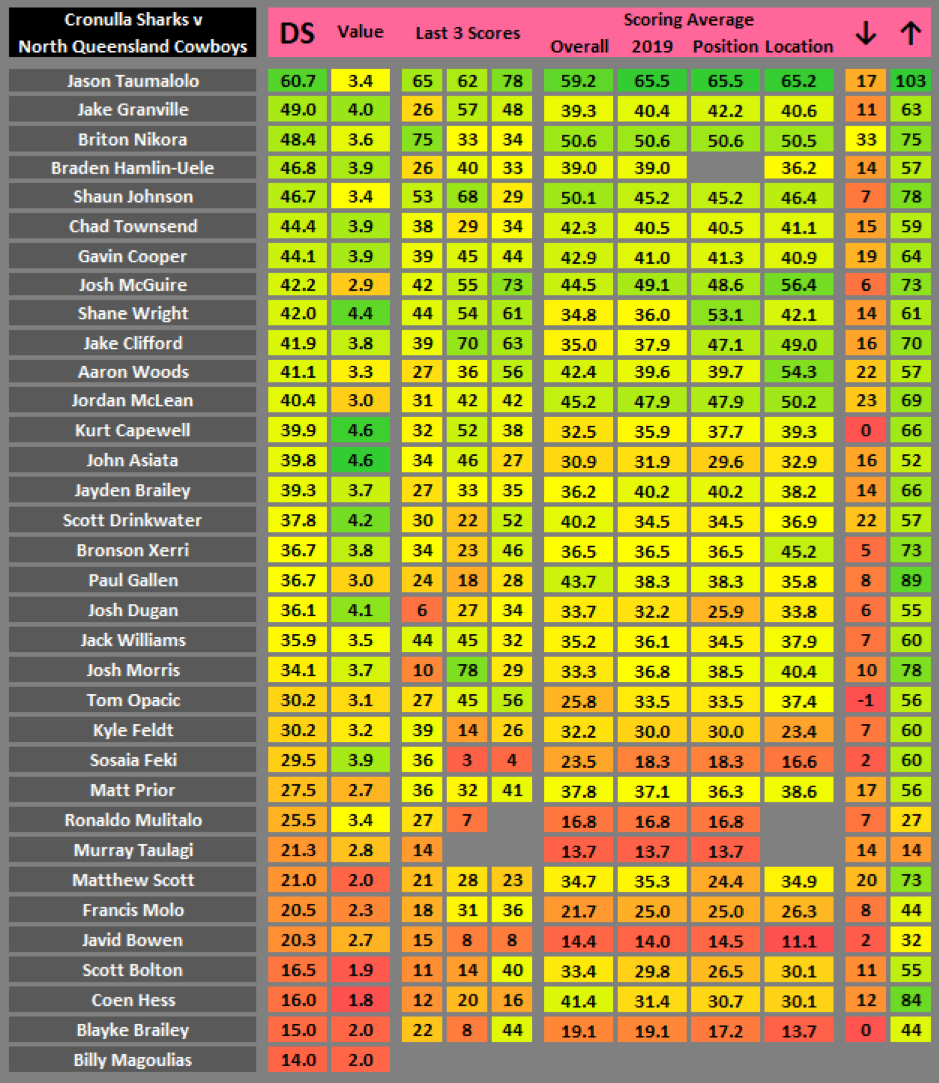 Dragon's Diamonds
Jason Taumalolo ($11,400 MB, $17,830 DS)
It is very hard for a player with the salary of the likes of Lolo to squeeze into the Dragon's Diamonds, but much like big Haas last week, it is near impossible to be contesting for the major prize money without him finding a spot in your line-up. Clearly the most dominant player in the Cowboys outfit when it comes to fantasy scoring and that is based on the bullocking back-rower getting a rest at some stage, even though we know he is capable of 80 minutes, should Coach Green call on him. It may be a case of can you afford him or not, but expect a solid performance from him nonetheless.
Braden Hamlin-Uele ($3,500 MB, $11,970 DS)
Finally getting his start through the suspension of Fifita, if I was the sharks I would be hanging on this guy and locking him on a solid contract. Very versatile in attack, Braden has a running style like that of a Taumalolo, Pangai Junior or Kikau, and has shown in the past how effective he can be at breaking tackles. Coming in at an absolute steal on Moneyball, he is likely to be well selected there, but even if it is Draftstars, expect to be well rewarded regardless. Prior coming off the bench is a slight concern as he still may play his standard minutes, but he gets a run for the Dragon this week.
Kurt Capewell ($6,200 MB $8,760 DS)
Returning to the back row with the return of Josh Morris, Kurt Capewell looks the pick of the value plays with a heavy work load in defence likely to contribute plenty of base fantasy points. Listed with a salary reflective of his position in the centres last week, Capewell is still expected play a full game in the forwards, especially while old man Gallen starts at lock and the Sharks continue to go with a second hooker. Likely to feature heavily given he can also be selected as a centre on Draftstars, expect Capewell to found in quite a few line-ups come Thursday night.
Notable mentions go to John Asiata ($4,900 MB, $8,640 DS) and Scott Drinkwater ($4,700 MB, $8,920 DS) who both also represent decent value.
Dragon's Dungeon
Matthew Scott ($6,200 MB, $10,480 DS)
It seems the fantasy boffins didn't get the memo once again that Queensland legend, Matt Scott will come from the bench once again, with his salaries representing a Scott more liking to his prime. Well and truly not the player he was prior to a recent season long injury, Scott simply looks to be counting down the days to retirement where he join Thurston in the stables. Although many choose to avoid bench players, Scott is definitely not one to be changing that trend with. He will go down as one of the best, but certainly not as a fantasy elite.
Josh McGuire ($7,400 MB, $14,460 DS)
From one Queenslander to another and I'm taking a bit of a risk here, but at quite a premium salary, the Origin enforcer looks a bit of a risk in this contest. Although his shift to the front row hasn't affected his performance so far, the Cowboys will be looking to future shortly and that means protecting one of their main assets who has had a busy past few months. With the Cowboys opting to go with the sole hooker, the addition of an extra forward on the bench is only likely to increase the chances of McGuire getting more rest. By no means am I potting him, but a huge risk at the salary.

The Daily Fantasy Rankings "Dragon" has scoured the Australian sports betting markets and found some great value picks for this game. Check out his picks for the day below and click on the links to follow his betting plays!

Always remember to gamble responsibly. When the fun stops, stop. If gambling is having a negative impact on your life, seek support at Gambling Help Online. 18+ only.