daily fantasy sports articles
NRL 2019 Fantasy Tips: Round 20 Tigers vs Cowboys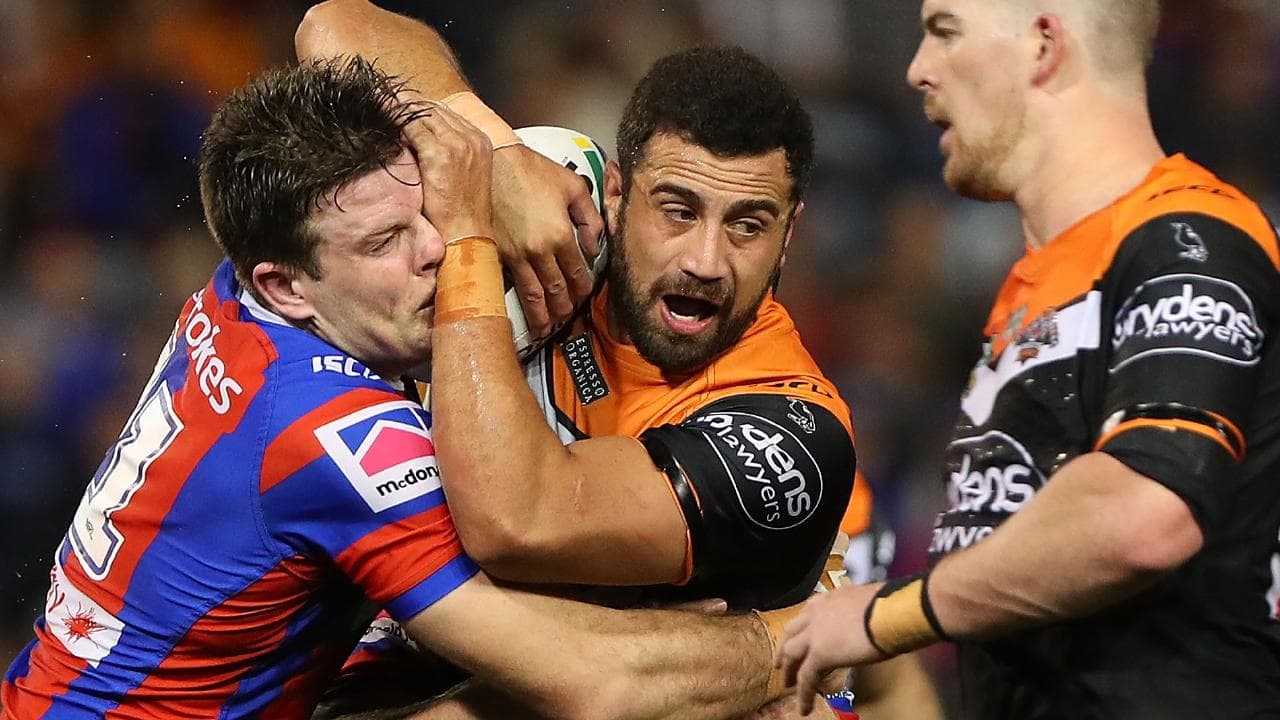 What a time to be alive… The Sharks ended a losing streak, the Panthers ended a winning streak, the Storm finally lost, and the Broncos are back in the top 8. With just six weeks to go, teams will look to ramp up their on-field efforts in a bid to give them the best chance at claiming some silverware. Despite holding positions in the bottom half of the ladder, both the Tigers and Cowboys will be confident of victory on Thursday night with some solid performances during the month of July.
There is heaps of prize money up for grabs with Draftstars putting up a massive $8,000 for Thursday's match, while Moneyball will have a guaranteed $5,000 on offer Thursday, with $3,000 and $2,000 guaranteed pools for the remainder of the weekend across both platforms. Let's break down Thursday's Tigers v Cowboys clash as we gear up to an exciting weekend of rugby league on Moneyball and Draftstars.

You don't need to look too far back to round 14, when both sides played out a thriller in golden point, ultimately a Benji Marshall ($5,600 MB, $9,189 DS) field goal separated both sides. In what is now do or die for both sides if they wish to play finals footy, the Tigers have named an un-changed line-up to the side that was able to head to Newcastle and steal a thrilling victory. The Cowboys on the other hand, welcome back their Captain in Michael Morgan ($7,500 MB, $11,970 DS), playing his first game since going off injured in Origin III. Betting has opened with the Tigers slight favourites, giving the visitors a 2.5-point head start.
When both sides met just a few weeks ago, despite the close margin, the Tigers dominated from a fantasy standpoint, coming away with a +38.0 Moneyball and +128.2 Draftstars differential. On that occasion it was Cowboys captain, Michael Morgan (50.3 MB, 63.2 DS) who led the way for the home side, while solid performances from Ryan Matterson (40.1 $8,600 MB, 59.0 $15,250 DS) and Alex Twal (30.8 $6,900 MB, 53.8 $13,430 DS) ensured the visitors a solid platform for victory.
When looking at both sides and how they concede points, it is hard to make any superlatives for either side, but there is a clear edge to the home side in this contest. The most concerning statistic is that the Cowboys are notoriously bad at conceding to forwards on both formats, which will play considerably in the hands of Luke Garner ($5,900 MB, $11,880 DS) and Matterson, who can be potent at the line.
While there are plenty of ways to approach this match-up, finding the right mix of high value and high scoring players to go with the perfect pairing combinations, will go a long way to finding success on the fantasy landscape. While the Tigers hold an advantage in both betting and from a fantasy standpoint, the Cowboys have shown in recent weeks what they are capable of when they put it together. With most NRL early line-ups, changes are hard to combat so far out. Although the home side have named an un-changed line-up and the Cowboys welcome back their skipper, should there be any late changes to the line-up, tread carefully if following the cheat sheet.
Moneyball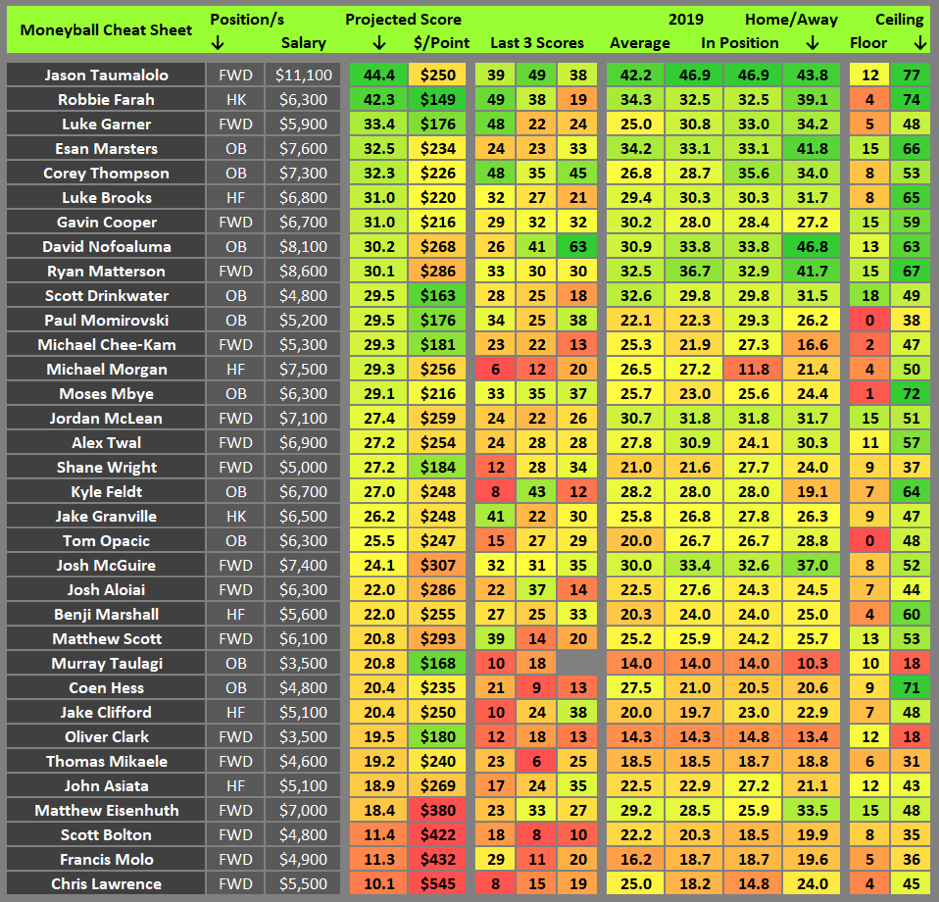 Draftstars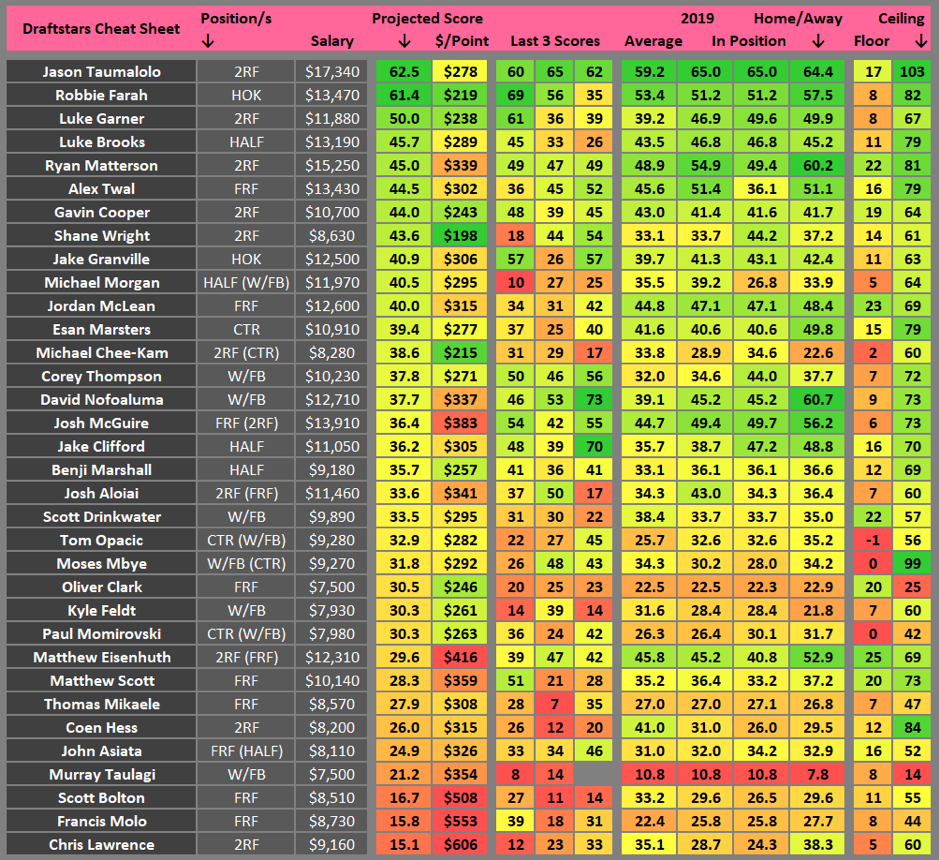 Dragon's Diamonds
Jason Taumalolo ($11,100 MB, $17,340 DS)
Went with the Tongan international last week and It's hard to not have him in again this week. Again, he comes in at a rather hefty salary, but Taumalolo is an out and out superstar and is the clear fantasy bread winner for this Cowboy's line-up. After a tough loss last week, coach Green will not be far away from resigning to the fact their season is over, but in the meantime, expect the bullocking forward to continue to play plenty of minutes in a last-ditch attempt for finals footy. It may be a case of can you afford him or not, but expect a solid performance from him, nonetheless.
Luke Garner ($5,900 MB, $11,880 DS)
Playing his first game as a starting back rower since round 6, Garner went off against the Knights and has ultimately guaranteed his spot in the starting line-up for another week at least. With an un-changed line-up, he is likely to play out the whole game once again and at the discounted salary, there is plenty of value for Garner across both platforms. A workhorse in defence and an excellent hole finder in attack, look for Garner to prove that coach McGuire's decision to install him back in the side was not a mistake.
Robbie Farah ($6,300 MB, $13,470 DS)
It was only a few days ago that the former Blues rake called time on his career and announced that 2019 would be his last, fresh off an upset win in his 300thgame. But don't expect him to ease up anytime soon with coach McGuire opting to go with Farah from start to finish, with Liddle to remain in the reserves. In what will be his third game since Liddle has been left out of the side, Farah has scored very well, while remaining at a salary that represents value. With Asiata on the bench for the Cowboys, Granville's minutes look hampered, which may result in heavy selection for Farah.
Dragon's Dungeon
Matthew Scott ($6,100 MB, $10,140 DS)
I potted him last week and I'm going to do it again. He scored well last week off the back of plenty of bench minutes and a highly un-expected try, ultimately resulting in an inflated salary. Look… it's hardly a genius play to be throwing bench players in the dungeon, but you are seriously discounting yourself taking premium salaries for very minimal upside. Well and truly not the player he was prior to a recent season long injury, Scott will give it his all as he looks to wind down his career, but the impact he has is not expected to be overly much. No risk in the decision, but a fade from me.
Ryan Matterson ($8,600 MB, $15,250 DS)
It takes a lot to be speaking about Matterson in this way and this could very well come back to haunt me, but with the former Rooster named at lock once again, I will be trying to avoid Matterson wherever possible on this slate. Restricted to just 60 minutes against the Knights, Matterson was fortunate to score as well as he did, and given he represents a salary that needs to be scoring at a premium. A bit of risk given his ability to score huge scores, but I am happy to look elsewhere in this line-up.
Josh McGuire ($7,400 MB, $13,910 DS)
Another I wasn't jumping out of bed for last week was Origin enforcer, Josh McGuire, who once again comes in heavy in salary, and will need to reach ceiling like scores to justify his selection. With finals footy more of a miracle than probable, coach Green may even start looking to giving some of his guns some more rest, and given McGuire's workload over the past few months, he may be the logical option. I don't want to jump the gun and say McGuire will score poorly, but in a case of far too much risk verse reward, I am happy to slot him in the dungeon once again.

The Daily Fantasy Rankings "Dragon" has scoured the Australian sports betting markets and found some great value picks for this game. Check out his picks for the day below and click on the links to follow his betting plays!

Always remember to gamble responsibly. When the fun stops, stop. If gambling is having a negative impact on your life, seek support at Gambling Help Online. 18+ only.