daily fantasy sports articles
NRL 2019 Fantasy Tips: Round 21 Cowboys vs Broncos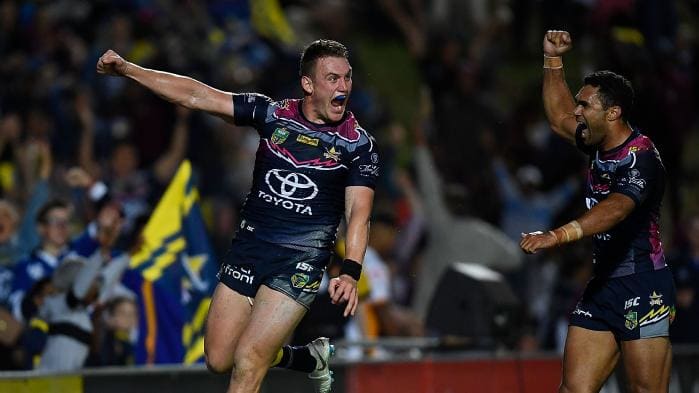 Just 5 weeks left!
Five weeks for teams to either cement their spot or have a last crack at playing finals footy. Fresh of the worst week in history for the three Queensland-based sides as a collective, Round 21 kicks off on Thursday with the Cowboys and Broncos to showdown in the Queensland derby. While the Cowboys can mathematically make the finals, it is just about impossible, meanwhile the Broncos will look to bounce back from a rather disappointing defeat to the Storm, in a match they simply can't afford to lose.
There is heaps of prize money up for grabs with Draftstars putting up a massive $10,000 for Thursday's match, while Moneyball will have a guaranteed $5,000 on offer Thursday, with $3,000 and $2,000 guaranteed pools for the remainder of the weekend across both platforms. Let's break down Thursday's derby as we gear up to an exciting weekend of rugby league on Moneyball and Draftstars.

Many will remember round 2 when a rampant Tevita Pangai Junior (40.9 $7,900 MB, 50.9 $10,580 DS) put on a clinic in a deliberate attempt to derail Jason Taumalolo (11.9 $10,800 MB, 17.4 $17,300 DS), ultimately resulting in the star backrower finding himself on the sidelines for an extended period. Unfortunately for the Broncos, TPJ has failed to produce that sort of from on a regular basis, just about summing up the majority of their season. While the Broncos claimed a 19-point victory on that occasion, the home side will look to get revenge in what will be Josh McGuire's ($7,300 MB, $13,090 DS) second match against his former side. Betting has opened with the Broncos as slight favourites, giving the home side a 1.5-point head start. For me the Broncos should be shorter than that and at current you can get $1.80 for them to win at Sportsbet.
When both sides met early on in the season for the highly anticipated clash at Suncorp, the Broncos were not only dominant in victory, but held margins of +127.4 and +143.0 across both Moneyball and Draftstars. On that occasion it was Injured centre, Jack Bird (55.8 MB, 56.3 DS) who led the way along with Corey Oates (58.8 $7,100 MB, 56.2 $8,320 DS), James Roberts (43.6 MB, 50.9 DS) and Darius Boyd (41.7 $5,700 MB, 52.2 $7,500 DS), as the back line flexed their talent. While Jordan McLean (35.1 $6,800 MB, 56.1 $11,510 DS)led the way for the visitors, they were clearly missing Taumalolo, with no player scoring greater than 35.2 on Moneyball. In 2018 it wasn't much different with the Broncos holding an extra +4.1 points per player advantage in the head to head battle, despite both sides sharing the honours in a couple of close encounters.
When looking at both sides and how they concede points, it is hard to make any superlatives for either side, but there is an advantage to the Broncos, despite their often leaky defence. While the Broncos are the league's worst at allowing hookers (Broncos 16th, Cowboys 15th) to score well, the Cowboys are finding it hard to contain forwards in general (2RF – Cowboys 16th, Broncos 15th, LCK – Cowboys 15th) and currently sit last at conceding to interchange players. The likes of Jake Granville ($6,500 MB, $11,950 DS) and David Fifita ($6,800 MB, $11,020 DS) could be valuable assets in this contest. The main difference between these sides is that Brisbane have far more weapons than the Cowboys, who will be relying on an enormous performance from Taumalolo if they are to get the chocolates.
While there are plenty of ways to approach this match-up, finding the right mix of high value and high scoring players to go with the perfect pairing combinations, will go a long way to finding success on the fantasy landscape. While the Broncos hold an advantage in both betting and from a fantasy standpoint, the Cowboys have shown in recent weeks what they are capable of when they put it together. With most NRL early line-ups, changes are hard to combat so far out. Although the visitors have not named Gillett and there is plenty of doubt surrounding the final make-up of their side, given they lost Glenn later on in the week, should there be any late changes to the line-up, tread carefully if following the cheat sheet.
Moneyball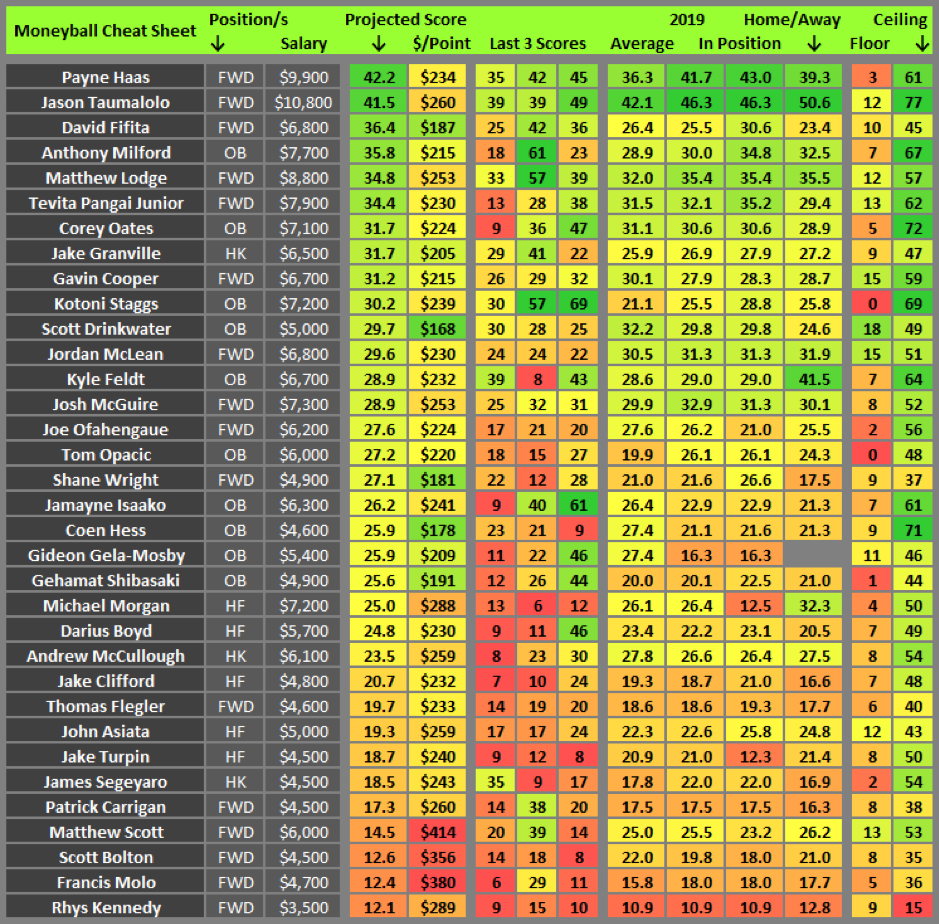 Draftstars

Dragon's Diamonds
David Fifita ($6,800 MB, $11,020 DS)
An absolute favourite of mine and an Origin backrower for many years to come, Fifita finds himself in the starting side once again with Gillett still missing through injury. Should Gillett make a surprise appearance, it may not even affect this teen sensation. An absolute force in attack, there aren't many with a better fend and he will look to use that in attack when the Broncos look to spread it wide. Just about certain to play the full game with a make-shift prop in the back-row, Fifita looks excellent value in this contest.
Jake Granville ($6,500 MB, $11,950 DS)
It is rare that you will find me going with the likes of Granville, but given he has scored well against his former club in the past and will look to catch them nappy at every opportunity, he shapes up as nice value in this contest. Back to playing 80 minutes with no reserve rake on the bench, Granville will work tirelessly in defence and could be set for a huge score here. With Turpin not scoring as well in the halves and a bit of un-certainty about McCullough after leaving the field early last week, Granville does also shape up as a rather safe option for the hooking role.
Payne Haas ($9,900 MB, $17,400 DS)
It's fair to say that if you want to be at the pointy end of the prizes, you just about need Taumalolo or Haas, and maybe even both. I have some serious concerns about how the Cowboys intend to use Taumalolo for the remainder of the season and with that in mind, Haas gets the nod here. Yet to have a score below 50 on Draftstars and 30 on Moneyball this season, Haas has turned into the fantasy prodigy that many had hoped and has been far away that standout of 2019. Out through suspension when both sides met earlier, Haas will be excited for his first Queensland derby.
Notable mentions to Tevita Pangai Junior ($7,900 MB, $10,580 DS) and Shane Wright ($4,900 MB, $8,730 DS) who both look significant value.
Dragon's Dungeon
Michael Morgan ($7,200 MB, $10,890 DS)
I'm taking a bit of a risk throwing the captain in the dungeon, but there doesn't look to be too much upside for the price tag that comes with selecting Morgan. Although I expect him to be improved on his first game back where he missed 4 tackles and made a couple of errors, he just doesn't have the support to go with him to reaching those ceiling-like scores. More so, if your intention is to be picking the likes of Taumalolo and/or Haas, then it is just about a no-brainer to be looking for a cheaper option in the likes of Boyd.
Andrew McCullough ($6,100 MB, $12,070 DS)
Doesn't come with much surprise given the support thrown behind Granville, but to be honest, given 'Macca' was unable to return to the field last week, I have concerns over the performance he will be able to provide less than a week later. With a set replacement in Segeyaro coming off the bench, there is next to no upside with the former Origin hooker and even if Granville does tickle your fancy, then Turpin in the halves is able to cover in the hooking role on Draftstars also. I'm happy to go around risking McCullough here.
Matthew Scott ($6,000 MB, $9,690 DS)
Once again I just can't understand the substantial high salaries given for the former Origin prop, Scott. He hasn't scored too badly, but that has come with a try and plenty of bench minutes. Hardly a genius call to be knocking the veteran and his scoring ability given he will play from the bench, but there are so many red flags about having a player like Scott in your line-up that worries me if anyone would select him here. I like many will be watching him throughout the next 5 weeks as he looks to retirement, but that will be as far as it goes.

The Daily Fantasy Rankings "Dragon" has scoured the Australian sports betting markets and found some great value picks for this game. Check out his picks for the day below and click on the links to follow his betting plays!

Always remember to gamble responsibly. When the fun stops, stop. If gambling is having a negative impact on your life, seek support at Gambling Help Online. 18+ only.