daily fantasy sports articles
NRL 2019 Fantasy Tips: Round 22 Sea Eagles vs Tigers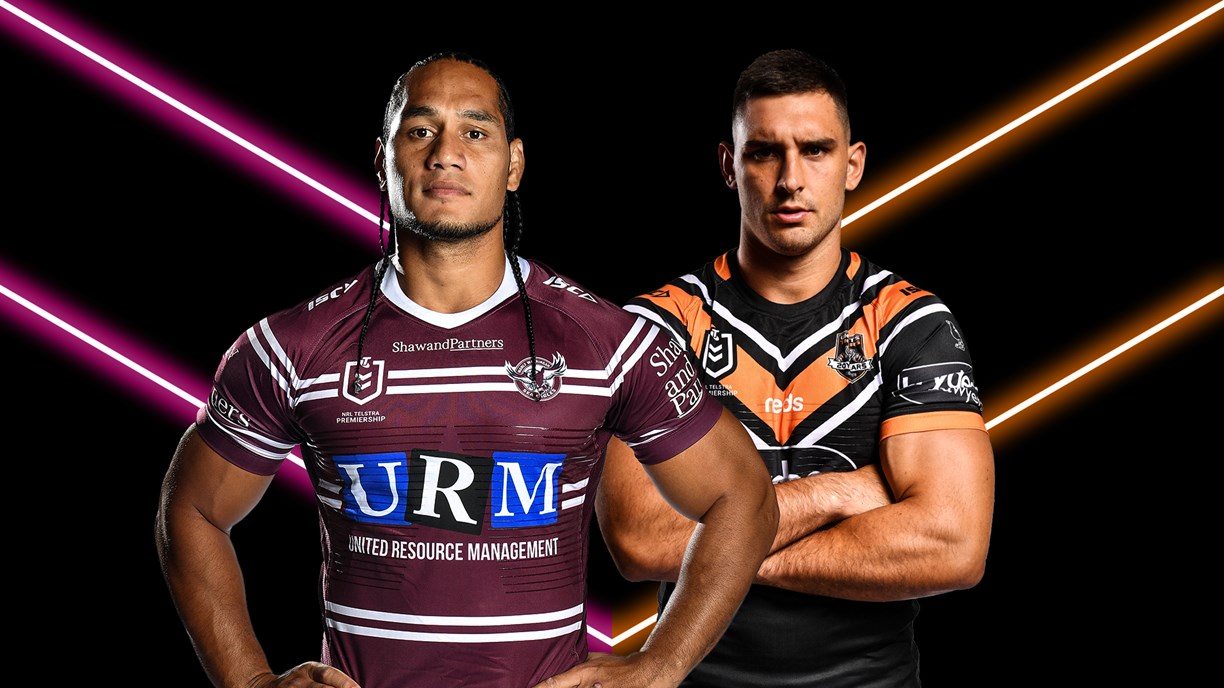 Another successful Draftstars live final has been run and won and it urges me to think once again…
Will the NRL have its very own live final in 2020?
We can only hope, but one thing that is for sure, the NRL is certainly heating up, and whether it be controversial calls or freakish plays, the difference between winning and losing is next to nothing. Despite both being in contention for finals footy, the Sea Eagles and Tigers will be disappointed they were unable to claim victory last week, despite heading into the match as clear favourites. Who bounces back and who finds themselves on life support will all come down to Thursday night footy, when both sides clash at Lottoland.
There is heaps of prize money up for grabs with Draftstars putting up a massive $10,000 for Thursday's match, while Moneyball will have a guaranteed $5,000 on offer Thursday, with $3,000 and $2,000 guaranteed pools for the remainder of the weekend across both platforms. Let's break down Thursday's contest as we gear up to an exciting weekend of NRL on Moneyball and Draftstars.

Firstly let's talk about the elephant in the room. This contest has been riddled with injuries and suspensions and it makes for a very difficult assessment of where to attack in this match-up. The home side have lost both Parker and Sironen to injury, which presents a fantastic opportunity for both Gosiewski ($4,300 MB, $7,500 DS) and Elliot ($5,100 MB, $7,500 DS) to perform heading into the finals. While the visitors have lost the retiring Farah and Mbye to injury and Garner to suspension, opening the door for debutant Talau ($5,000 MB, $7,500 DS) in the centres, along with Liddle ($4,000 MB, $9,500 DS) and McQueen ($5,000 MB, $7,000 DS) to make their case for future selection. When looking at both sides and how they concede points, both sides have been pretty rock-solid, showing no obvious weaknesses. While on average the Tigers generally leak a few more points, they are better scorers, allowing for an interesting contest between the sides.
When both sides last met at the beginning of the year when the Tigers were far too dominant and many though the Sea Eagles were in for a horrid season. On that occasion, the retiring Farah (56.4 MB, 74.8 DS) led the way with a couple of tries, with the now suspended Garner (45.1 MB, 55.6 DS) putting forward his case for a permanent starting spot. While for the visitors, Fonua-Blake ($8,700, 41.3 MB, $14,620, 58.8 DS) was a bright spark in a losing side, ahead of Koroisau ($5,000, 30.2 MB, $8,690, 56.7 DS) and Jake Trbojevic ($8,600, 32.2 MB, $15,160, 52.7 DS). Betting has opened up with the Sea Eagles dominant favourites, despite not having beaten the Tigers in over 4 years. The loss of Farah will be huge and as a result, the visitors head into this with an 8.5-point head start, which seems about right, given the home side's form at Brookvale this season.
While there are plenty of ways to approach this match-up, finding the right mix of high value and high scoring players to go with the perfect pairing combinations, will go a long way to finding success. While Manly hold the advantage from a fantasy and betting perspective, they come in at a much larger combined salary (+$12,100 MB, +$7,260 DS), which allows for various opinions. Those that stack run a slight risk, but will be well rewarded if either side stamps their authority. With most NRL early line-ups, changes are hard to combat so far out. Garner's suspension, to go along with injuries to Mbye, Sironen, Parker and Farah, should there be any further changes to the line-up, tread carefully if following the cheat sheet.
Moneyball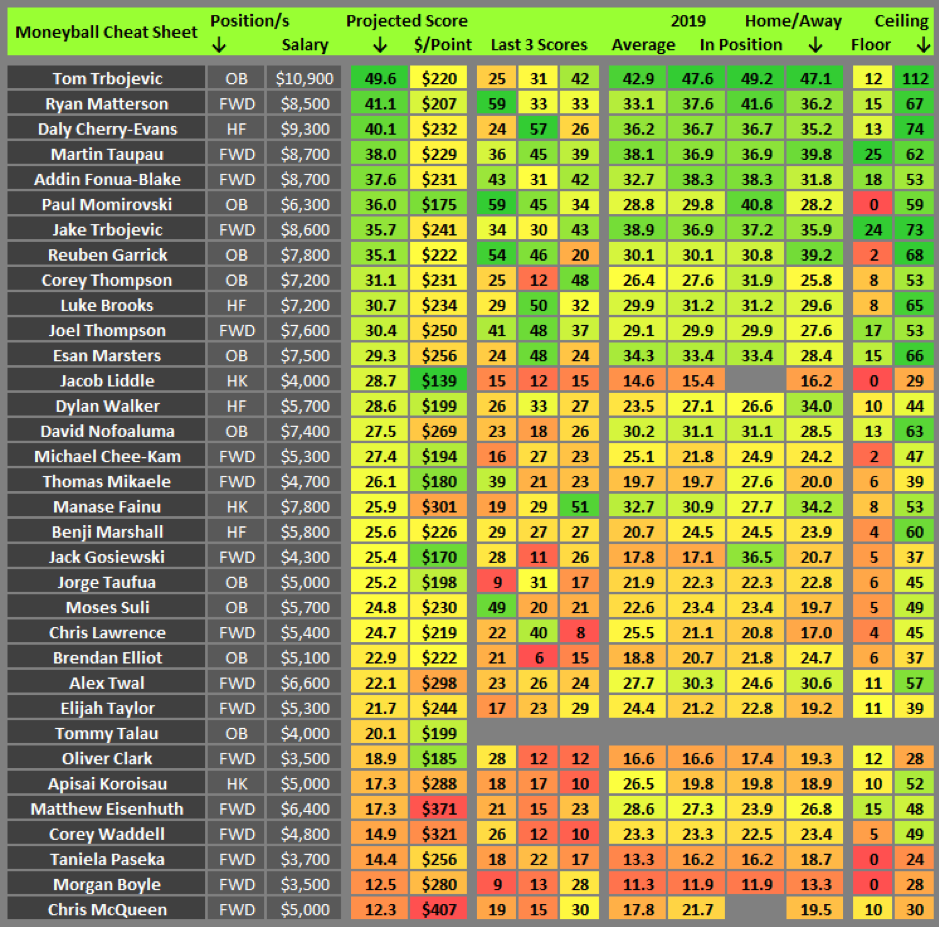 Draftstars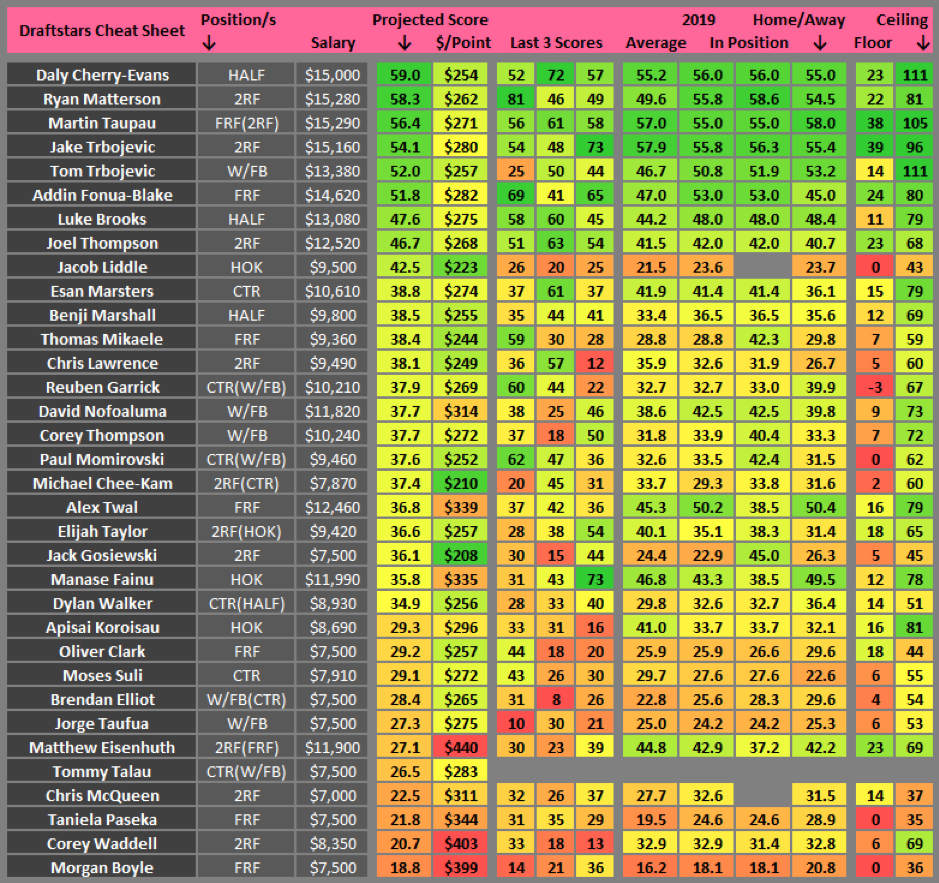 Dragon's Diamonds
Jacob Liddle ($4,000 MB, $9,500 DS)
Bit of a no-brainer this week with Liddle finding himself at the top of the picking. The absence of the retiring Farah through injury gives his replacement a chance at a permanent starting spot, not only for the rest of 2018, but also beyond. The Tigers have named Taylor on the bench who has been playing a backrower of recent, but it is likely he will come on and play some time in the centre later in the game. Regardless, you get plenty of value in Liddle to score well given how well he has performed coming off the bench.
Jack Gosiewski ($4,300 MB, $7,500 DS)
Another that finds himself granted a starting spot through injury is Gosiewski after the sea Eagles decided to give Sironen the week off as an injury precaution. The massive upside is that with a bench stacked with 3 props and a hooker, Gosiewski should be there from start to finish, where he is likely to score as well as he did earlier in the year when gained a starting back row spot. Although not likely to break records, value is the fortitude in selecting Gosiewski and with the likes of Turbo and Cherry to accommodate a lot of the budget, cut-price players will be required.
Michael Chee-Kam ($5,300 MB, $7,870 DS)
Bit of a smoky in this line-up and one that might not be heavily owned, Chee-Kam finds his way amongst the diamonds this week. I'm a bit of a fan girl when it comes to the ability this guy has and he has showed that already this season with a couple of match-winning tries to have the Tigers much higher up the ladder than they could have been. Likely to play out the game, he has plenty of upside and although he comes off a quiet week, he is must have for Tigers stacked sides and those that are looking for something different.
Dragon's Dungeon
Apisai Koroisau ($5,000 MB, $8,690 DS)
A cheap starting hooker stuck in the dungeon… What? As good as Manly have been this year, their use of both Koroisau and Fainu has been somewhat strange. Both capable of 80 minute footy, Fainu often comes on just before half time and Koroisau is not to be seen until players shake hands at the end of the game. Now there isn't much upside in fading a player in this situation, but with a high ownership most weeks, I'm taking a stand against the player once dubbed the next blues hooker. A slight risk, but one I am happy with, given Liddle is a far better option.
David Nofoaluma ($7,400 MB, $11,820 DS)
This isn't the first and it won't be the last, but Nofoaluma finds himself amongst the rubble once again and it mainly has to do with the salaries he is constantly assigned in relation to his once a month blockbuster matches that are normally as a result of the Tigers success. With that unlikely here, I don't see things changing in this contest and as a result, he is a fade for me. I can see a spot for him in sides that stack Tigers and are looking for a point of difference, but with very little upside, you're playing with fire, having him in your side.

The Daily Fantasy Rankings "Dragon" has scoured the Australian sports betting markets and found some great value picks for this game. Check out his picks for the day below and click on the links to follow his betting plays!

Always remember to gamble responsibly. When the fun stops, stop. If gambling is having a negative impact on your life, seek support at Gambling Help Online. 18+ only.