daily fantasy sports articles
NRL 2019 Fantasy Tips: Round 23 Eels vs Bulldogs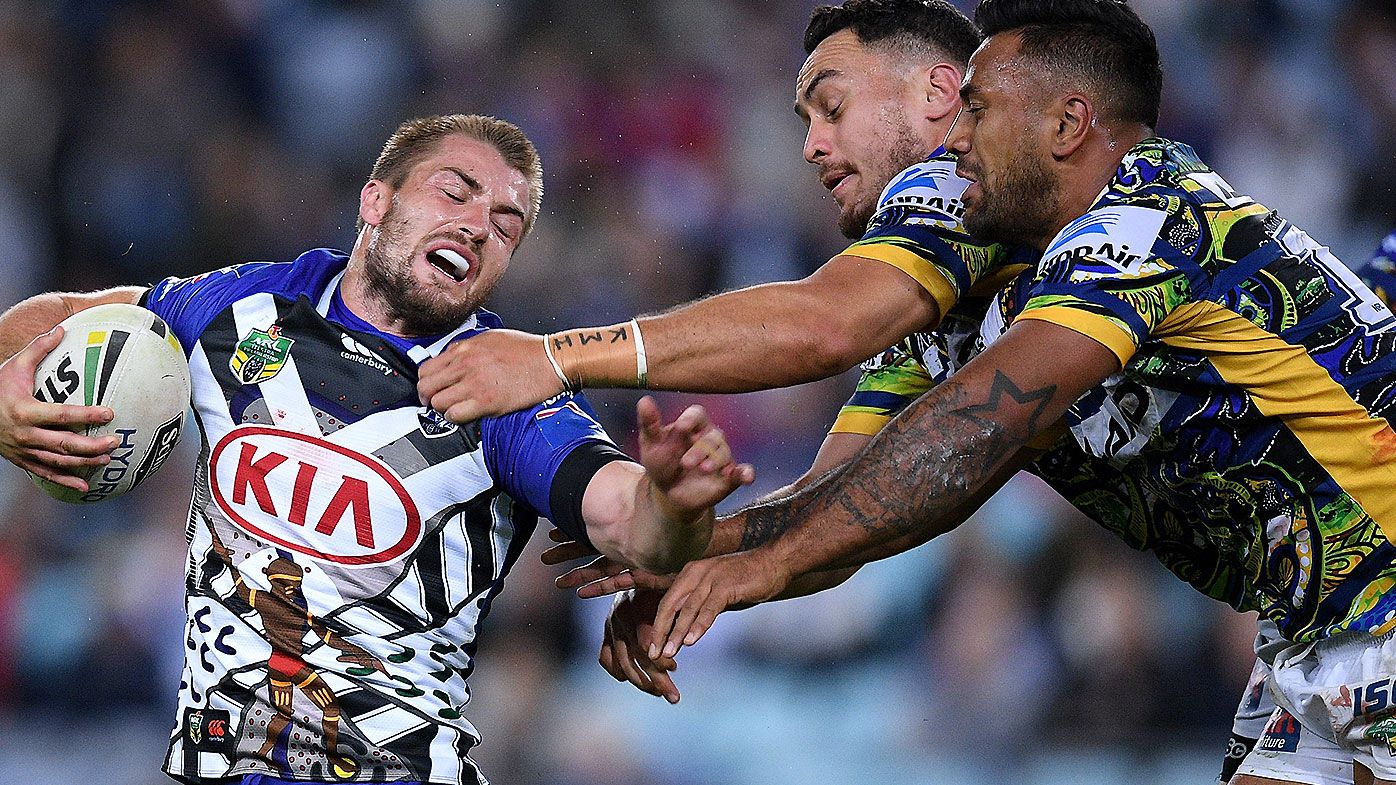 Just three weeks out from finals footy and yet another adjustment to the top 8. This week it was the Sharks who moved back into the top half at the expense of the Panthers, the very side who beat them just a fortnight ago. As for the minor premiership, it was just about a formality that the Storm would take the silverware, only for the Raiders to do the impossible, eroding an 18-point deficit to keep the Roosters in the chase. Meanwhile, the Rabbitohs top 4 aspirations took a serious hit, losing to the Bulldogs, with the Sea Eagles and Eels breathing down their neck after a couple of wins.
There is heaps of prize money up for grabs with Draftstars putting up a decent $8,000 for Thursday's match, while Moneyball will have a guaranteed $4,000 on offer Thursday, with $3,000 and $2,000 guaranteed pools for the remainder of the weekend across both platforms. Although when you take a look at the ladder, you would expect Thursday night's clash to be anything but a blockbuster, but the Bulldogs recent effort cannot be denied, so let's break down Thursday's contest as we gear up to an exciting weekend of NRL on Moneyball and Draftstars.

With both sides in a rare patch of form, both coaches have stuck solid with their line-ups, Junior Paulo ($7,000 MB, $11,280 DS) returning from injury being the only addition with Tepai Moeroa making way. When both sides last met in Round 2, the Eels started to prove the doubters wrong that they were Wooden Spoon contenders with a dominant 20-point win. On that occasion, it was 298 metres, 10 tackle breaks and a couple of tries to new recruit, Blake Ferguson (82.3 MB, 90.8 DS), that proved massive, while for the visitors, it was also a new recruit in Dylan Napa ($6,000 50.7 MB, $9,870 62.2 DS), that presented himself as something more than the impact bench player he was at the Roosters.
Looking at both sides and how they concede points, there is a clear disparity between the sides, with the Bulldogs notoriously the worst in the NRL. Despite improvement in recent weeks, against fullbacks (14th MB, 14th DS), wingers (16th MB, 16th DS), halfbacks (13th MB, 16th DS), locks (14th MB, 15th DS), and interchange (15th MB, 16th DS) players they have displayed a clear weakness. This could allow for the likes ofClinton Gutherson ($7,300 MB, $9,490 DS) and Mitchell Moses ($8,400 MB, $17,660 DS) to put on a huge show for their fans. While the Eels have conceded heavy to props (16th MB, 16th DS), opening the door for the workhorse, Aiden Tolman ($7,500 MB, $14,740 DS) to put in another solid 60+ minute performance.
While recent form would suggest this is a very close contest, betting has opened up with the Eels dominant favourites, despite the visitors putting in a solid effort against the premiers before knocking off the Panthers, Tigers, and Rabbitohs as underdogs. That being said, the Bulldogs have only beaten the Eels once in the past five years and the Eels have been nothing short of outstanding at their new Bankwest Stadium. Both sides are just about un-changed on recent weeks and with a top 4 spot on the line, the cream is expected to rise to the top with the home side giving up an 8-point head start.
While there are plenty of ways to approach this match-up, finding the right mix of high value and high scoring players to go with the perfect pairing combinations, will go a long way to finding success. While the Eels hold a significant advantage from a fantasy and betting perspective, they do come in at a slightly larger combined salary, paying dividends to those who find the right mix of players. Those that stack the Eels run a slight risk, but will be well rewarded if the visitors late season run comes to a screeching end. With most NRL early line-ups, changes are hard to combat so far out, and should there be any changes to either line-up, tread carefully if following the cheat sheet.
Moneyball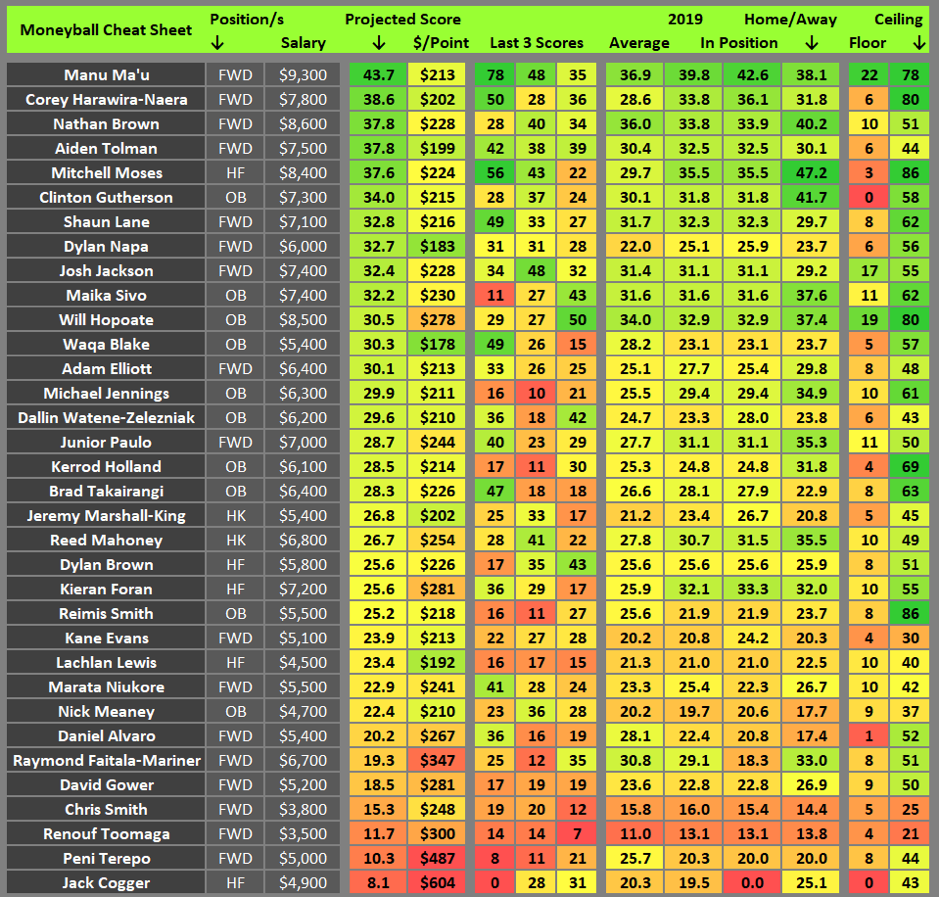 Draftstars
Dragon's Diamonds
Aiden Tolman ($7,500 MB, $14,740 DS)
Likely to be one of the first ones picked in many line-ups despite his hefty salary, Tolman is up there with the likes Haas and Vaughan of props who play more than three quarters of the game and with that sort of endurance, they are excellent selections in one-game slates. Despite the Bulldogs looking to make it four in a row, Tolman (39.6 MB, 61.9 DS – 3-game avg.) has averaged particularly well off the back of plenty of tackles due to workhorse like effort. With still potential for upside, it's hard not to be selecting Tolman, especially if you have the money to spend.
Mitchell Moses ($8,400 MB, $17,660 DS)
Another that is on the premium side rather than the value side, Moses is expected to be a common selection once again, but it is hard to argue with that given his clear advantage over the other halves available. Although I have a high opinion for Lewis and he is definitely the value play should the budget get tight, he still has a few errors in his game and tends to share the duties with Foran whereas Moses has had a strong presence with Brown back in the side. It could come down to "Can you afford him?", and if you can, Moses is just about a lock.
Waqa Blake ($5,400 MB, $8,410 DS)
In what will be just his fifth game since joining the Eels, the former Panthers centre appears to have returned to his old form that once seen him as a feared defender, accumulating plenty of points through tackles and tackle breaks. The second cheapest of all the backs in this contest, Blake represents excellent value and should the Eels get on a bit of a roll, he could benefit hugely of the back of some tries in which he was able to bag a couple against the Titans last week. Although not exactly safe, I'm definitely a fan and he looks a great option to try and squeeze in the big guys.
Notable mentions go to Manu Ma'u ($8,600 MB, $15,800 DS) and Dylan Napa ($6,000 MB, $9,870 DS) who would probably find themselves amongst the diamonds most weeks.
Dragon's Dungeon
Kieran Foran ($7,200 MB, $10,590 DS)
Now don't get me wrong, he was outstanding against the Rabbitohs last week, but unfortunately for Foran, excellent games are far and few between. Even replicating one of the couple of 60+ point performances this year looks more like a miracle than difficult. The past few years haven't been ideal for the former kiwi international who has battled injuries and personal issues and although I am glad to see him back playing some decent footy, he is a definite fade for me in this contest, with reassurance from both Moses and Lewis, who represent the premium and value plays.
Reed Mahoney ($6,800 MB, $14,160 DS)
A bit of a tough one this week selecting the perfect rake. On one hand you have the Eels who have no designated hooker on the bench, yet Mahoney hasn't played a full game since Round 15, and then there is the Bulldogs who have a utility in Cogger on the bench for part-time hooker Marshall-King, but failed to use him in their victory against the Rabbitohs last week. It simply comes down to a case of risk vs reward and those who get it right will have one foot in the door. Now in no way am I potting Mahoney, but Marshall-King looks to have the advantage here.

The Daily Fantasy Rankings "Dragon" has scoured the Australian sports betting markets and found some great value picks for this game. Check out his picks for the day below and click on the links to follow his betting plays!

Always remember to gamble responsibly. When the fun stops, stop. If gambling is having a negative impact on your life, seek support at Gambling Help Online. 18+ only.