daily fantasy sports articles
NRL 2019 Fantasy Tips: Round 24 Cowboys vs Bulldogs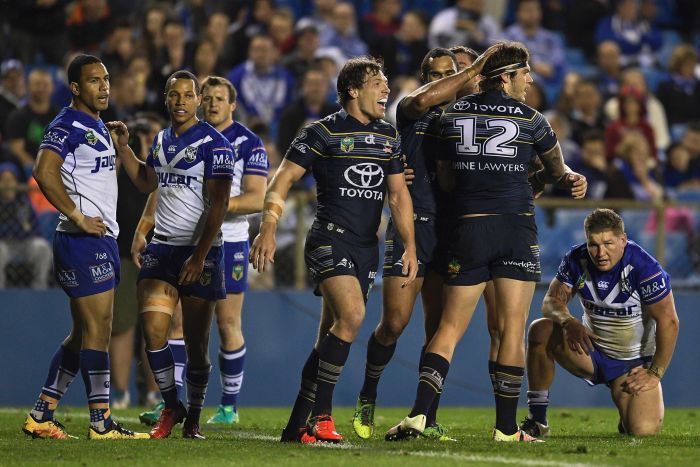 And then there were 13… Just about impossible for some, and as safe as houses for others, round 24 shapes up as what many golf watchers would refer to as 'moving' week. On one end the Minor premiership has still not been decided and on the other, as many as seven teams are looking to clinch one of two final eight spots still up for grabs. The Broncos, Eels and Panthers all suffered defeats as favourites, while the Tigers and Bulldogs kept their seasons alive with some scintillating footy. To throw a cat amongst the pigeons, the top 4 is far from settled, and Wayne Bennett is strutting into dressing rooms how Adam Elliot would approach 'Mad Mondays'.
With the AFL regular season now over, there is heaps of prize money up for grabs with Draftstars putting up a whopping $15,000 for Thursday's match, while Moneyball will have a guaranteed $4,000 on offer Thursday, with $3,000 and $2,000 guaranteed pools for the remainder of the weekend across both platforms. Although when you take a look at the ladder, you would expect Thursday night's clash to be anything but a blockbuster, the Cowboys proved last week that even when your season is over, you can play good footy, while the Bulldogs continue to roll on despite many (myself included) writing off their seasons weeks ago. So let's break down Thursday's contest as we gear up to an exciting weekend of NRL on Moneyball and Draftstars.

With both sides coming of upset victories, both coaches have just about stuck solid with their line-ups, with Jayden Okunbor ($6,000 MB, $8,010 DS) the only change, coming in on the Bulldogs wing for the suspended Reimis Smith. Once again, John Asiata ($4,600 MB, $7,700 DS) and Michael Morgan ($6,000 MB, $12,800 DS) will partner in the halves for the sides final home game, despite recent rumours that a rift between Morgan and coach Green had unsettled the club. But, the good news to come out of Tuesday's team selections was that Scott Bolton ($4,500 MB, $11,370 DS) would play in the #16 jersey, with the team to honour club legend, Matt Scott, by retiring his #8 jersey for the match.
When both sides last met earlier in the season, the Bulldogs were able to secure a 24-12 win at home off the back of their second rowers, with Corey Harawira-Naera (79.9, $7,900 MB, 97.9, $14,020 DS) and Josh Jackson (46.6, $7,900 MB, 63.1, $15,650 DS) scoring three tries and 11 tackle breaks between them. While for the visiting Cowboys, it was a couple of big men in Jordan McLean (39.1, $6,500 MB, 60.6, $11,140 DS) and Josh McGuire (36.4 MB, 54.0 DS) who proved difficult to handle, amassing 7 tackle breaks, 4 offloads, and 360 running metres together. It was back to back wins for the Bulldogs, having not lost to the Cowboys since 2017.
Looking at both sides and how they concede points, there is very little between the sides, but in recent weeks the Bulldogs have demonstrated sharp improvement and will head into this contest with the slight advantage. Despite all that, they remain the worst in the comp, with away games (16th MB, 14th DS) and against fullbacks (14th MB, 13th DS), wingers (16th MB, 16th DS), halfbacks (13th MB, 15th DS), locks (14th MB, 16th DS) and bench players (15th MB, 15th DS), they have serious cause for concern. Meanwhile, hookers (15th MB, 15th DS), second rowers (16th MB, 16th DS) and bench players (16th MB, 16th DS) have been able to score well against the Cowboys.
While you would expect the side that is still in finals contention to hold the advantage here, last week's shock victory for the home side, has them installed as slight favourites, giving the Bulldogs a 2.5-point head start. That being said, nothing would surprise me in this contest and personally it doesn't shape as an excellent betting opportunity in the head to head market. In saying that, the total points line of 36.5 does look a little short for a contest like, despite how poorly the Bulldogs have travelled in recent times. A bit of a hail mary, but you can currently get $14 for 11+ Total Tries at Pointsbet, in what would be a nice lining for the pockets heading into the weekend.
While there are plenty of ways to approach this match-up, finding the right mix of high value and high scoring players to go with the perfect pairing combinations, will go a long way to finding success. While the Bulldogs hold a significant advantage from a fantasy perspective, they do come in at a slightly larger combined salary, all this despite heading into the match as outsiders. With the season winding down for both sides, player intel is crucial as this is the perfect opportunity for coaches to test the waters for next season. With most NRL early line-ups, changes are hard to combat so far out, and should there be any changes to either line-up, tread carefully if following the cheat sheet.
Moneyball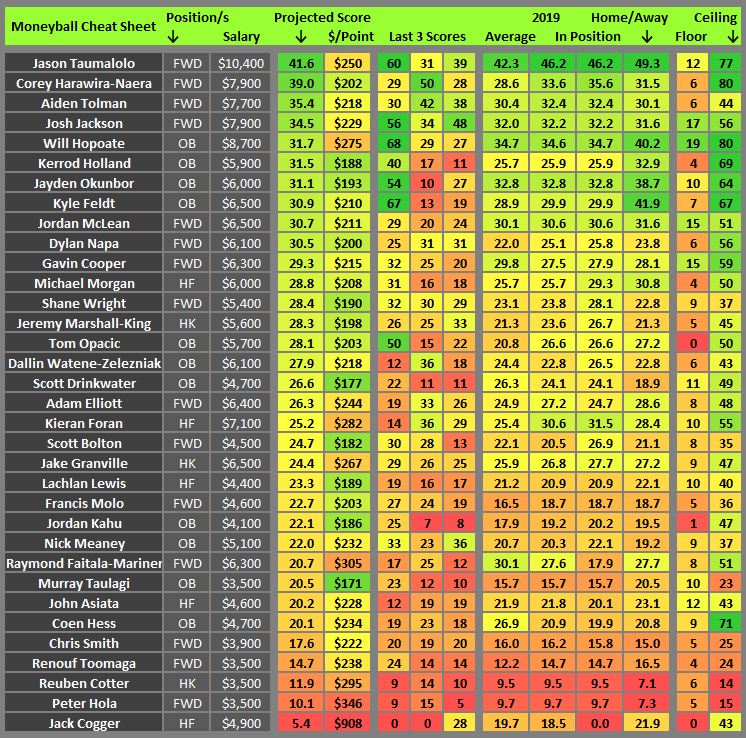 Draftstars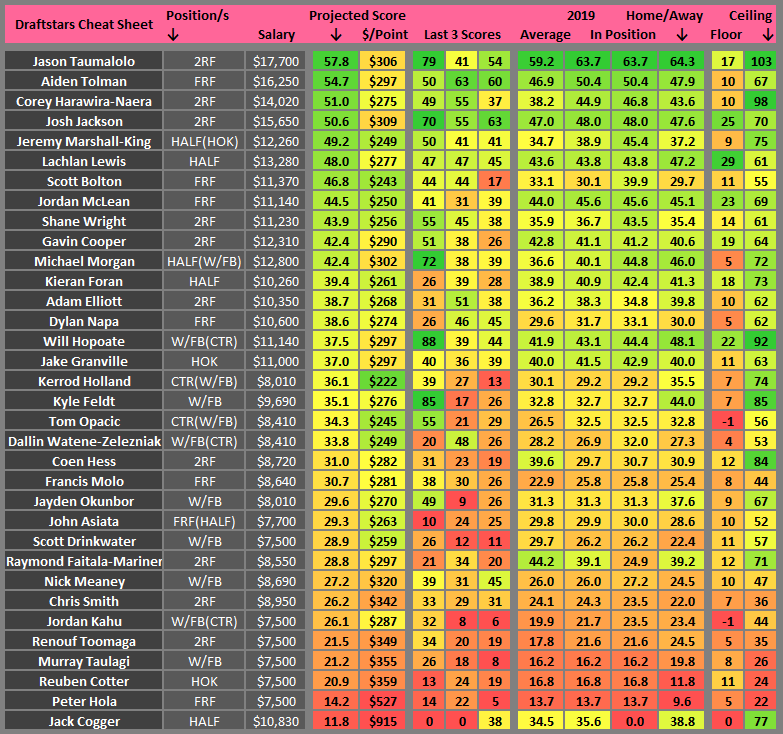 Dragon's Diamonds
Scott Bolton ($4,500 MB, $11,370 DS)
In what was his first start at prop in a very long time, Bolton has been handed the rains due to the loss of Matt Scott from a recent stroke and with McGuire still out of the side through suspension, Bolton will be looking to make his case for the future with a follow performance from last week, where he was outstanding against the Panthers. With rather basement projections, there is plenty of upside for the normally benched front rower, but with their season over, expect the likes of Taumalolo and McLean not to be pushed to their limits.
Jeremy Marshall-King ($5,600 MB, $12,260 DS)
This is a pure case of the right man for the position, but it is hard not to deny Marshall-King as being an exceptional selection regardless. With Cotter on the bench likely to dip heavily into Granville's minutes, and the Bulldogs refusing to use Cogger in back to back weeks, expect Marshall-King to score well once again, testing the Cowboys defence, while remaining a workhorse in defence. It's a risk that has back-fired on me many of times, but JMK is a lock for the hooking role in this contest and you won't see any other option in my line-ups.
Scott Drinkwater ($4,700 MB, $7,500 DS)
A very controversial addition to the diamonds this week, but if there is a week Drinkwater is going to break out of the shackles and make his case as the permanent Cowboys fullback, this is the game! Having not scored in a while, has reduced his somewhat large salaries, presenting him as an excellent, yet interesting selection, given he is the x-factor the Cowboys will call upon if they are to deny the Bulldogs a grandstand finals finish. It's all rocks and diamonds here, but I'm sensing something big this week and he could be the difference to your line-up.
Notable mentions must go to Lachlan Lewis ($4,400 MB, $13,280 DS) and Jayden Okunbor ($6,000 MB, $8,010 DS), who shape us potential interesting selections.
Dragon's Dungeon
Kieran Foran ($7,100 MB, $10,260 DS)
It paid off for us last week (well some of us, not so much me!), and again Foran has to spend the week in the Dungeon. Making my case that his good games are far and few between, Foran executed a steady 14.0 MB and 25.6 DS, despite the Bulldogs coming away with the win. I don't expect that to change much again here, with Lewis getting better and better each week, not to mention, Morgan also shapes up as a solid selection given he the news throughout the week. Once again he is a definite fade for me in this contest.
Jake Granville ($6,500 MB, $11,000 DS)
In what has caused the sheer domino effect to Marshall-King being amongst the diamonds, with Cotter set to play his third successive game on the bench, it is likely to hamper Granville's minutes to the tune of over a quarter of the game. Still replicating somewhat full-game salaries, Granville has next to no upside and is definite fade in this contest for mine. While he is capable of big scores on his day, with Mad Monday at the top of the agenda, don't expect Granville to be asked or be asking for too much here.
Will Hopoate ($8,700 MB, $11,140 DS)
A huge risk here taking on one of the league's premier scoring centres, but despite his recent form, the road ends here for mine. To me it looks a big ask for Hopoate to travel up north and replicate his recent performances and although this could be a pure case of egg on my face, I happy to run the risk with plenty of potential outside of him. While he poses as a decent option for Bulldogs stacked sides, the money spent to get him in your line-up will be far better off spent elsewhere as far as I see it in this contest.
A notable mention must go to Jack Cogger ($4,900 MB, $10,830 DS), who no fault of his own has been named on the bench two weeks in a row without seeing any game time. Whether he has nudes of Dean Pay somewhere is anyone's guess, but seems odd to be including someone if you're not going to utilise them.

The Daily Fantasy Rankings "Dragon" has scoured the Australian sports betting markets and found some great value picks for this game. Check out his picks for the day below and click on the links to follow his betting plays!