daily fantasy sports articles
NRL 2019 Fantasy Tips: Round 25 Rabbitohs vs Roosters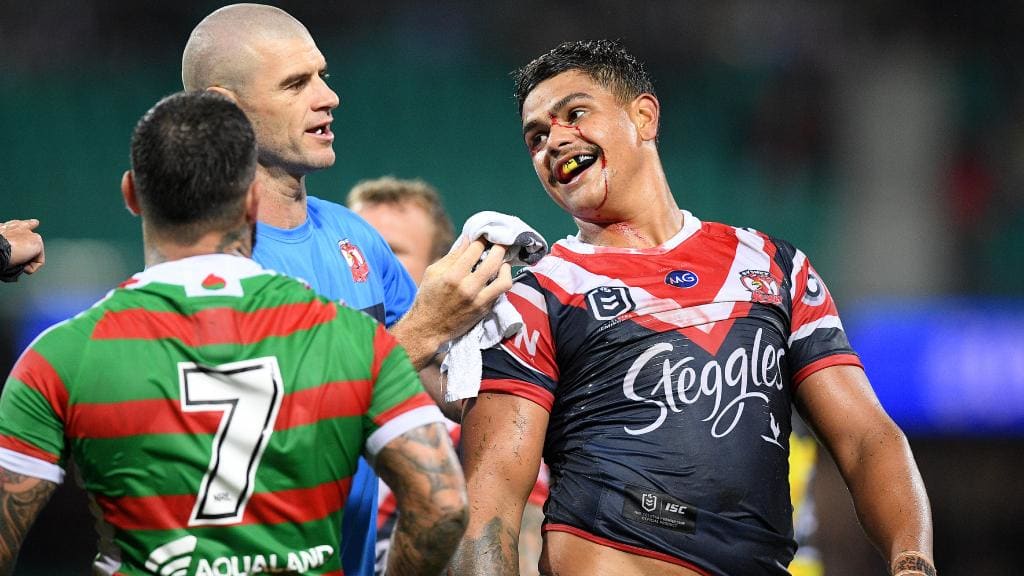 You couldn't script it…
The last round of the season and still plenty to play for. Thursday we see a replay of their fiery blockbuster in round 1 with the Rabbitohs hosting the Roosters, while on Friday we see another top 8 battle with the Eels taking on the Sea Eagles. With all that said and done, it all leads into Sunday afternoon, where the Tigers will host the Sharks at Leichhardt for the last spot in the finals. While it shapes up as a must-win clash for either side, it could be the last for either Farah or Gallen who despite going through tough period playing for the blues, will go down as some of the greatest in history.
There is heaps of prize money up for grabs with Draftstars putting up $5,000 for Thursday's match, while Moneyball will have a guaranteed $4,000 on offer Thursday, with $3,000 and $2,000 guaranteed pools for the remainder of the weekend across both platforms. While it holds more stead for one side over the other, Thursday's Rabbitohs v Roosters showdown will be one to look forward to nonetheless. So let's break down the battle of Sydney as we gear up to an exciting final weekend of NRL on Moneyball and Draftstars.

With both sides coming of handy wins last week, both coaches have tried to remain solid. The Rabbitohs have however lost Kyle Turner to a quad injury, which will see Tom Amone ($3,500 MB, $7,500 DS) join the bench, while the Roosters welcome back two of their leaders in Cooper Cronk ($4,700 MB, $10,180 DS) and Boyd Cordner ($7,100 MB, $10,730 DS), who will look for match fitness ahead of the finals. Whether only minor or not, they do in-fact lose Siosiua Taukeiaho to a rib complaint. Keep an eye on this Roosters team especially as a complete re-shuffle amongst their forward pack and their bench wouldn't shock.
When both sides met to kick off the season, not only was it heated, but after plenty of possession, the Rabbitohs were able to come away 26-16 point winners, off the back their spine, Adam Reynolds (42.0, $6,300 MB, 58.6, $12,930 DS) and Damien Cook (41.5, $10,100 MB, 56.5, $17,410 DS) along with Cameron Murray (41.5, $9,100 MB, 56.5, $15,460 DS), who was able to cement his spot at lock. Despite the loss, it was the Roosters who had the two better scoring players on the field with both Jake Friend (61.2 MB, 93.6 DS) and Mitchell Aubusson (45.6, $6,300 MB, 70.1, $11,610 DS) doing a mountain of work in defence.
Looking at both sides and how they concede points, there is very little between the sides, but it must be noted that the Roosters are far more potent in attack, dominating through the back line, with fullback (1st MB, 1st DS), wingers (2nd MB, 3rd DS) and centres (1st MB, 1st DS) all performing well. While for the home side, they do boast the best hooker in the comp (1st MB, 1st DS) and will need Cook to be at his best if they are to take down the premiership favourites. While the Roosters are deserved favourites, I still have reservations as to how they will prepare for this game. They do give the Rabbitohs a 3.5-point head start, and while that looks small in comparison to their recent form, it appeals juicy to those that are sensing an upset.
While there are plenty of ways to approach this match-up, finding the right mix of high value and high scoring players to go with the perfect pairing combinations, will go a long way to finding success. While the Roosters hold an advantage from both a fantasy and betting perspective, the Rabbitohs have everything to play for and will be looking to wrap-up their top 4 spot. With nothing but pride to play for, the Roosters are capable of putting any side on the park this week and should there be any changes to either line-up, tread carefully if following the cheat sheet.
Moneyball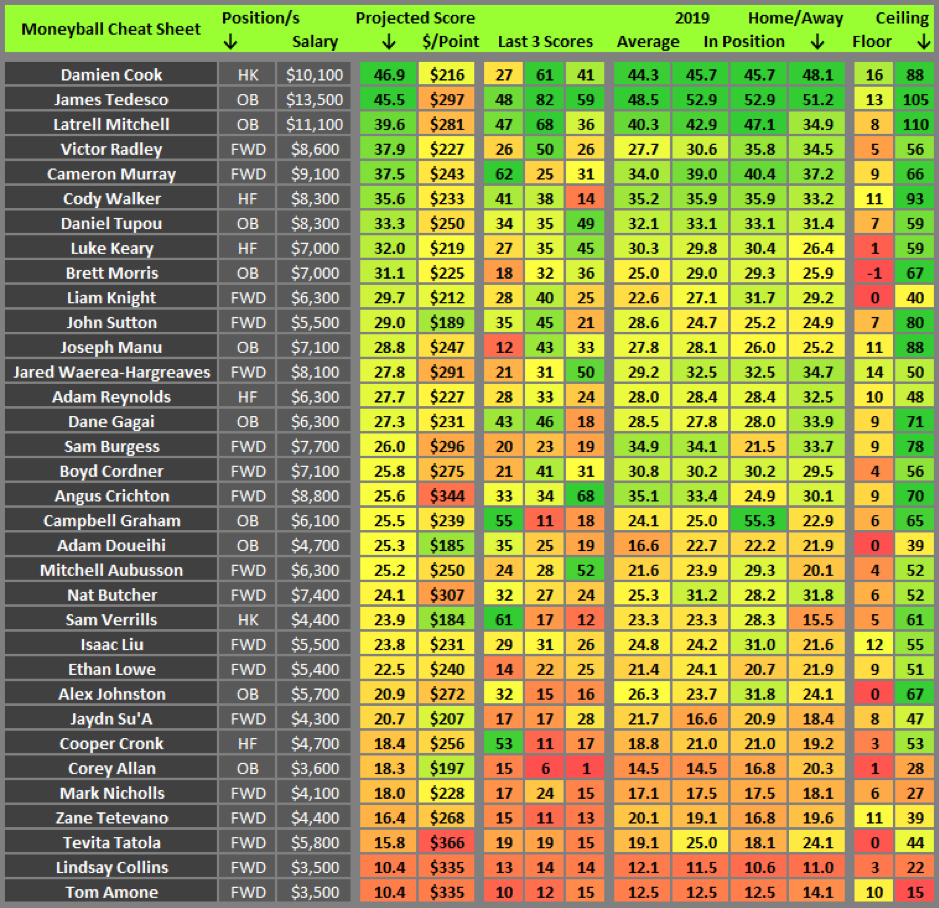 Draftstars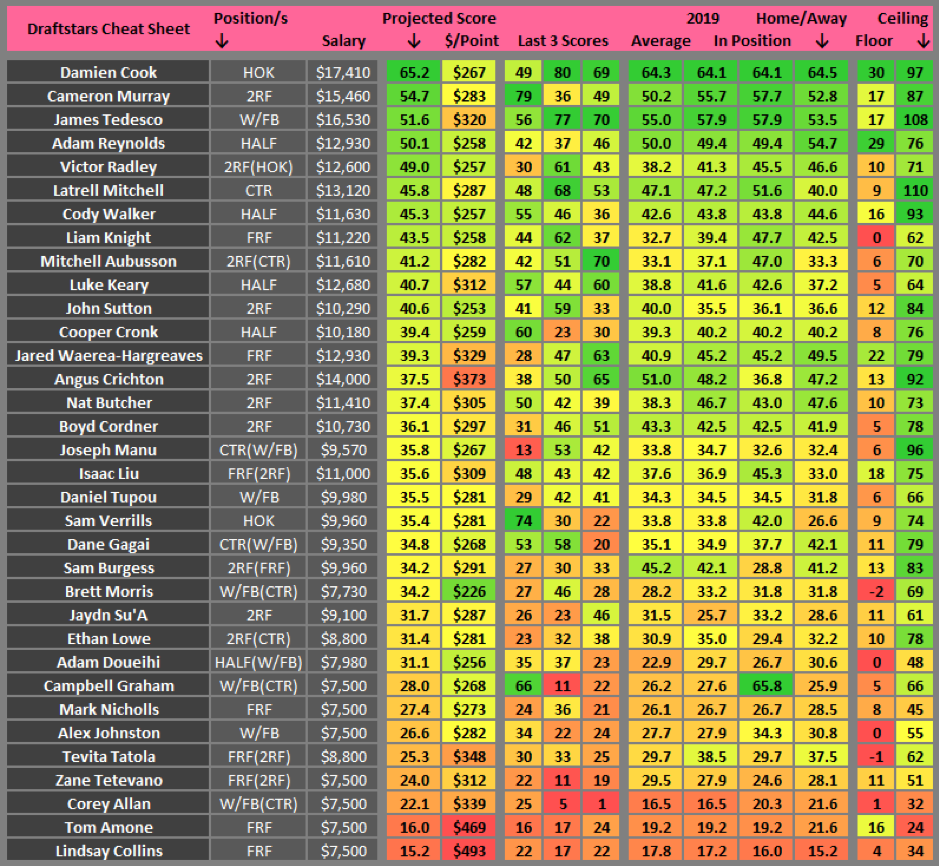 Dragon's Diamonds
With a bit of un-certainty this week, just a couple diamonds to speak of.
Damien Cook ($10,100 MB, $17,410 DS)
Time to kick the elephant out of the room and get this off with a blast. Projected to score 10.5 more points than any other player, you are just about throwing it away by not picking Cook (or well rewarded if my form is anything to go by). Despite all that, he comes up against Sam Verrills in the selections for Hookers and although I rate the young replacement, barring last week where Radley left the field early, it is highly likely he will play a maximum of 3 quarters of the game. That said, Radley is not a bad option in the hooking role if looking to save some cash, but hard to be against Cook.
John Sutton ($5,500 MB, $10,290 DS)
Amongst the diamonds this week is a bit of a smoky in the retiring John Sutton. Partnered with Su'a in the back row, Sutton has been called upon in recent weeks to play plenty of game time and that is unlikely to change here. Although I have never been a massive fan of the Rabbitohs great, he will be looking to finish on an absolute high and will give it his all, looking to punch holes in attack, while working tirelessly in defence. Although I am not expecting huge numbers, he does pose a solid play, especially if you are short of budget.
Notable mentions must go to Victor Radley ($8,600 MB, $12,600 DS) and Adam Doueihi ($4,700 MB, $7,980 DS), who shape us potential interesting selections.
Dragon's Dungeon
James Tedesco ($13,500 MB, $16,530 DS)
It's that guy who shot Bambi again! Arguably the most exciting player in the competition and I am dragging his name through the mud. Although it kills me to do this, with very little to play for, I am finding no upside at all playing Teddy this week. Whether Robinson leaves him on for the full game or not, the Blues fullback putting in scores to justify his salary are next to impossible. If Tedesco is someone that does take your fancy then you just about put a line through the likes of Cook and Mitchell being in your side. I'm sure I will play him in 1 or 2, but that will be it.
Angus Crichton ($8,880 MB, $14,000 DS)
A bit of an obvious one, but with Cordner back in the side, whether he does end up starting or not, Crichton's minutes will be impacted regardless. With a salary to match his starting role he has found himself in for quite a few weeks now, there is no upside in selecting him this week unless of course the Roosters do make some late changes. Nevertheless, it would still be hard including him with the depth that the Roosters have. With the projection of more than 10 more points, the likes of Murray and Radley at similar salaries, look far better options.
Sam Burgess ($7,700 MB, $9,960 DS)
Throwing Burgess in the dungeon this week was actually a rather hard decision to make. Although poor is an understatement for his recent form since returning from injury, you get the sense he is building towards a spot in the back row with Bennett forced to use the likes of Sutton and Su'a there in recent weeks who are more notably bench players these days. For now I'm confident he is still a fade, but tread carefully, as arguably the greatest British player to play in the NRL will want to be full tilt ahead of a Rabbitohs finals campaign.
Notable mentions must go to Boyd Cordner ($7,100 MB, $10,730 DS) and Latrell Mitchell ($11,100 MB, $13,120 DS), who have very little upside.

The Daily Fantasy Rankings "Dragon" has scoured the Australian sports betting markets and found some great value picks for this game. Check out his picks for the day below and click on the links to follow his betting plays!