daily fantasy sports articles
NRL 2019 Fantasy Tips: Round 5

This week there is plenty of NRL prize money up for grabs with Moneyball putting up a $6,000 GPP for the Thursday night Broncos v Tigers match ($15 Entry) along with $4,000 GPP for the Cowboys v Storm clash. Meanwhile, Draftstars have put up $5,000 for the Broncos v Tigers match ($15 Entry) as well as $3,000 and $2,000 Guaranteed pools for the remaining games. No shock to the system this week as we take a look at Thursday night's clash between the Brisbane Broncos and the Wests Tigers.
In a contest that shapes up as an important match for both sides, the Brisbane Broncos will be looking to put the past fortnight behind them when they take on a much improved Wests Tigers side, trying to overcome a heartbreaking golden point loss. While the Broncos will be without enforcer, Pangai Junior due to suspension, they welcome back the much-hyped Payne Hass ($9,000 DS) as well as Patrick Carrigan ($7,000 DS) who will make his debut off the bench.
When these sides met last year, the Broncos won in controversial circumstances with a dubious penalty awarding them an almost certain 2 points. But it was a massive 685.2 to 568.7 Draftstars points in favour of Brisbane that proved a clear difference. In a game that was built on defence, a massive 57 tackles propelled Russell Packer ($9,370 DS) towards a career high 58.7 DS points, while an even larger 61 tackles from Andrew McCullough ($14,270 DS) helped the hooker to 69.5 DS points.
Since the start of last year, the Broncos have averaged -3.90 DS points, while the Tigers have averaged a much larger -31.85 DS points. In 2019, it is a little different with the Broncos averaging -56.55, while the Tigers are averaging around +55.92. I suggest a lot of this has to do with the Broncos leaking plenty of metres, errors and missed tackles, while the Tigers have remained structured, conceding just 24.4, 28.8 and 27.6 to fullbacks, wingers and centres.
Despite not being in the best of form, both coaches have resisted the urge to make serious changes. After not originally being named, Haas will replace Shibasaki on the bench, with Gillett ($11,780 DS) and Glenn ($10,550 DS) to cover if need be. While Carrigan has been named to replace the suspended Tevita Pangai Junior, with Fifita ($11,170 DS) to start at lock. The Tigers have made a few positional changes with both Packer and Aloiai ($12,540 DS) to start, but it is Elijah Taylor who is dropped to the reserves for Thomas Mikaele ($7,850 DS) who comes in off the bench.
Looking at this clash, the Broncos go in as clear favourites despite their recent form. I tend to agree as they look to offer far much more in attack. Albeit a strong start to the season, the Tigers have been just as disappointing of late, being well and truly outclassed from a re-shuffled Bulldogs side, before losing the impossible to a Panthers side that did everything to lose themselves. The Broncos simply can't play any worse than they have the past couple of week and I will be expecting them to put up a strong performance at home.
While there are plenty of ways to approach this match-up, it does shape up as one of those contents where if you sit on the fence you will be punished. My advice would be to have an opinion and build your side around that, in turn, allowing you to create a point of difference with your opponents. With most NRL early line-ups, changes are hard to combat so far out. Should there be some significant changes to the line-up, tread carefully if following the cheat sheet.
Brisbane Broncos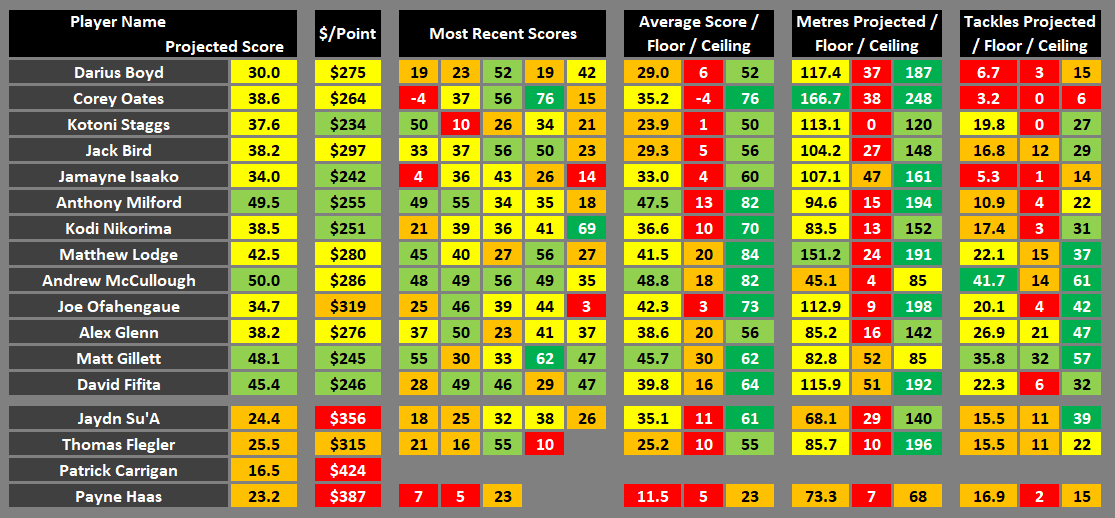 Wests Tigers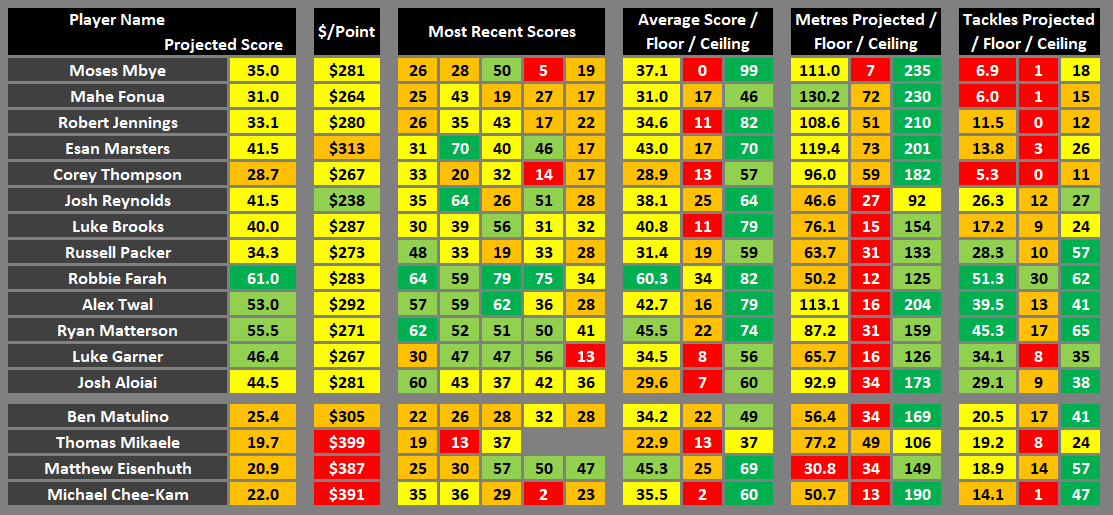 Key Backs
Kotoni Staggs ($8,820 DS)
Holding his spot in the centres with James Roberts ruled out once again, Staggs was a standout in a rather disappointing side last week as he lived up to his defensive expectation to go along with some exhilarating runs in attack. Accumulating a career high 27 tackles, Staggs basement salary looked an absolute bargain on the way to 50.4 DS points. When playing at least 70 minutes, Staggs has scored a minimum of 34.4 DS points, giving his current price tag significant value. Although Brisbane generally like to attack out to the left, you can do a lot worse than having Kotoni Staggs in your side.
Esan Marsters ($13,000 DS)
At the peak of the backline positions, Esan Marsters comes with a rather large salary but is perennially an excellent scorer. In 2019, Marsters has been exceptional once again with a floor of 31.1 DS points and a ceiling of 70.1 DS points. More importantly Marsters has racked up 23 tackles breaks and comes up against a Broncos side that will only pad those stats. Helped by being their first-choice goal kicker, Marsters looks set for another solid score, and expect an even more resilient Broncos defence to have minimal impact on the Kiwi centre's score.
Josh Reynolds ($9,870 DS)
Returning for the injured Benji Marshall last week, Reynolds put in a solid par performance against the Panthers and I am expecting him to step it up a notch here. Look for Reynolds to really test the Broncos defence and although that may come with errors and mistakes, expect the former Origin half to compile a decent score at a near basement salary. With Benji likely to reclaim his position, expect Reynolds to ramp it up over the next few weeks. Although I could have certainly included the under-pressure Milford in this list, I want to see him perform well first.

Key Forwards
Robbie Farah ($17,300 DS)
Although coming in at a huge salary, it is hard not to have Farah in your side with a floor of 59.5 DS points for the season. If you do decide to look elsewhere, it is a case of risk verse reward as many sides will be punished if the veteran hooker continues his on his way to where he has averaged 69.2 DS points this season. While being heavily involved in defence during the past couple of games, he was able to accumulate plenty of points outside of base stats while the Tigers dominated possession in the first two rounds. Although expensive, he has the edge over McCullough in the hooking role.
David Fifita ($11,170 DS)
With the return of Lodge back from suspension, Fifita dropped back to the bench in last weeks drubbing against the Roosters. It is no secret the high opinion I have of this guy and it showed in the small amount of game time he got, racking up 3 tackle breaks and 2 offloads in a little over a quarter of footy. With Gillett likely to play from start to finish, it is hard to know how much that will affect Fifita's minutes as Glenn is capable of an 80-minute effort also. Regardless, with Su'A the only likely replacement in the back row, expect a rather decent score from young Fifita.
Matt Gillett ($11,780 DS)
Despite a mediocre start to the season, Gillett has been one of the shining lights in the Broncos side. The Origin back-rower has been excellent in defence and has been promising in attack running an excellent line for a try last week. The bonus with Gillett is that his scores aren't reflective of the team's possession and will score well regardless. A couple of games at lock where he played less minutes than expected have helped Gillett come in at a nice salary, making him an excellent option if there is no room for fantasy gun, Ryan Matterson.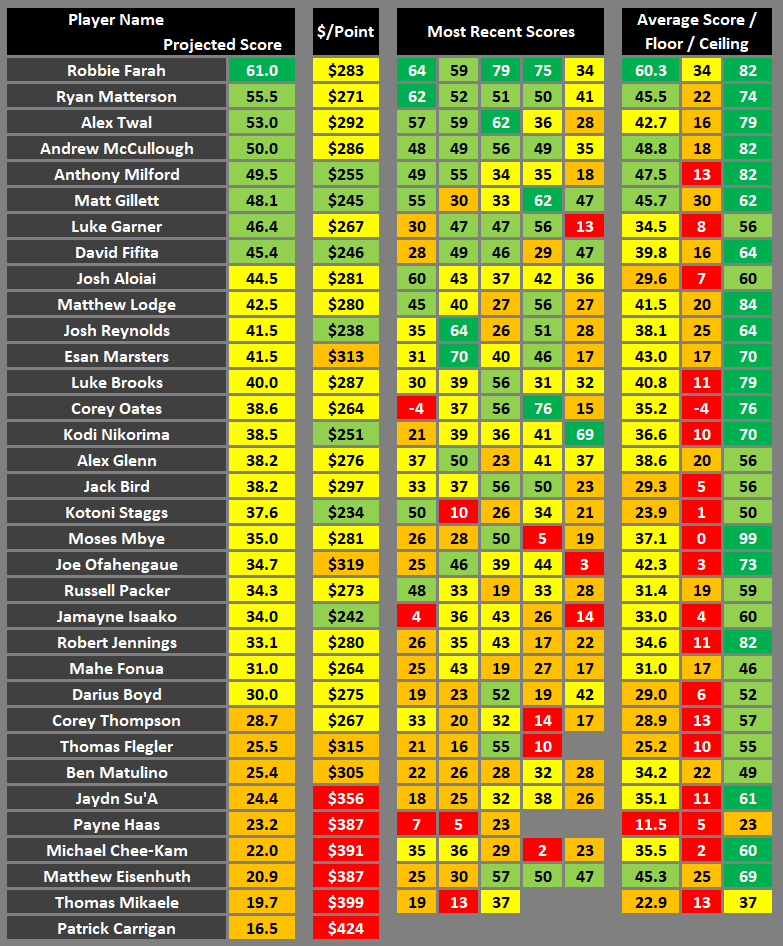 Round 5 Potential Bargains
Jayden Okunbor ($9,670 DS)
Not many people can lay claim to running over the top of Cameron Smith in a match, but dreadlocked winger, Jayden Okunbor, managed to do it on 3 occasions on his way to 290 running metres. Averaging 48.7 DS points to start the season, I have certainly missed the boat adding this guy to the list, but given his ability to accumulate points despite his lack of tackles, just shows that you are taking a big gamble not having him in your side.
Reed Mahoney ($12,870 DS)
Despite being a consistent scorer to start the season, Parramatta have just about made their intentions clear in the hooking role. With Brown out of the side and Salmon moving into the halves, Mahoney was outstanding in defence, racking up 59 tackles in a start to finish performance despite the Eels cruising to a comfortable victory. With Hodgson not performing as well he has in the past, Mahoney is close enough to a lock this week.
Bryce Cartwright ($9,980 DS)
A bit of a gamble but Cartwright comes in once again at a sub-10k salary and it just about certain to play 80 minutes once again. Putting in a mediocre performance last week, 5 missed tackles, 2 errors and next to no extra stats points, Cartwright was still able put in a score worthy of that salary. With the Titans coming up against the Panthers who have given up plenty of points this season, I am taking a bit of a risk, but am confident is a solid performance from the often poor Cartwright.

The Daily Fantasy Rankings "Dragon" has scoured the Australian sports betting markets and found some great value picks for these games. Check out his picks for the day below and click on the links to follow his betting plays!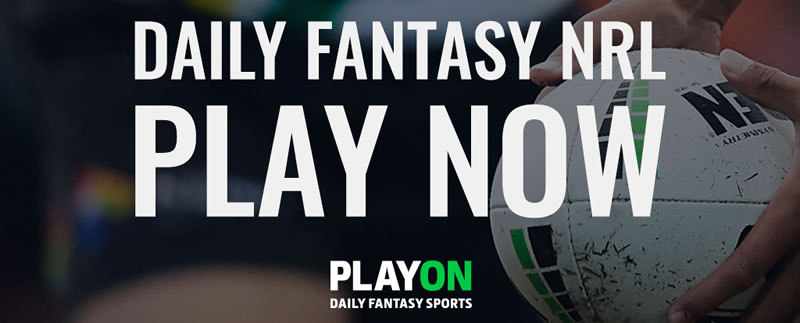 Always remember to gamble responsibly. When the fun stops, stop. If gambling is having a negative impact on your life, seek support at Gambling Help Online. 18+ only.