daily fantasy sports articles
NRL 2019 Fantasy Tips: Round 6
This long weekend there is plenty of NRL prize money up for grabs with MoneyBall putting up $5,000 GPP for the Thursday night Sharks v Panthers match ($15 Entry) along with $4,000 GPP for the Good Friday clash between the Bulldogs and Rabbitohs. Meanwhile, Draftstars have put up $5,000 for the Sharks v Panthers match ($15 Entry) as well as $3,000 and $2,000 Guaranteed pools for the remainder of the Easter weekend. Rejoice fans south of the border, the Broncos have shifted to Easter Sunday, so we will cover Thursday night's contest between the Sharks and Panthers, but firstly I want to go over some line-up management and to put it simple, dealing with being wrong.
Having a look last week's Broncos v Tigers slate, I made it clear that Staggs, Marsters, Reynolds, Farah, Fifita and Gillett were all players that held significance when building your line-ups. Gillett (28.3 pts) was ruled out via HIA after 36 minutes, Staggs (19.6 pts) was quiet off the back of 3 penalties and an error, while Fifita (44.25 pts) was a late shift to the bench and taken out of most line-ups despite playing 56 minutes with Gillett out. Reynolds (12.0 pts) scored poorly despite looking good off the back 10 missed tackles, Marsters (42.0 pts) was solid but nothing amazing, with Farah (71.1 pts) consistent as always off the back of 4 tackle breaks and 44 tackles.
Despite all that, how did I still manage to finish 1stand 2ndin Draftstars Thursday slate? Firstly I have to make it clear that I played a staggering 24 line-ups, far more than I would normally. Although I had doubled-up on a few, the majority of these failed miserably, containing the majority of the players mentioned above. But with such a heavy outlay, how do you benefit if you are wrong? To use a racing term, these are considered 'Saver' line-ups and are contrary to your 'Stock' line-ups. Whether they are built as an alternate opinion or focus on variance in scoring, it all comes down how many line-ups you want to play.

Looking at both of the successful line-ups mentioned above, although they included some of the players mentioned above, there was a focus towards player ceilings, given the variance in scores both sides had demonstrated in 2019. These ceilings are often achieved through playing extended minutes or just simply a peak performance. Throw in players like Payne Haas and Kotoni Staggs, coming in at cut-price salaries to go along with their potential scores and a couple of sides capable of 500+ were built. Although these line-ups held little confidence, they benefited well from both the Gillett and Jennings injuries, with Twal, Garner and Haas all playing more minutes than usual.
From an overall perspective, there are many of different 'Saver' line-ups that can be added, and although they are not for everyone, I have been wrong on many occasions and am forever learning. Like I have also mentioned previously, it is important to not sit on the fence when building line-ups. You might get lucky here or there, but much like the Big Bash $150k Live Final where I was fortunate to have a couple of entries, you have to be prepared to come last if you expect to win. In regards to anything mentioned in this, it is of my own opinion and I welcome and any advice or feedback via contacting me on twitter @Cfrance1990.
Cronulla Sharks v Penrith Panthers
In a contest that shapes up as an important match for both sides, the Penrith Panthers will be looking to put their poor start to the season behind them when they take on an under siege Cronulla Sharks side. Both sides sit towards the rear of the ladder with just 2 wins, the Panthers both coming in tight contests that could have seen them winless at the moment. More shockingly for both sides, they have had a much easier schedule through the first 5 rounds than most. While the Sharks welcome back captain courageous, Paul Gallen ($10,340 DS) from a rib injury, Tim Grant ($8,400 DS) and Wayde Egan ($9,000 DS) return from injury in a much needed boost to the Penrith line-up.
When these sides met in round 7 last year, the Sharks were victorious off the back of a +58.6 DS differential. Scott Sorensen ($8,830 DS, 73.7 pts) was impressive on debut with a staggering 6 tackle breaks, 31 tackles and a try. Meanwhile, Viliame Kikau ($12,690 DS, 68.6 pts) continued his charge as one of the buys of the season with 6 tackle breaks, 25 tackles and a try in defeat. The Sharks claimed another win in round 18, despite the Panthers enjoying a +68.6 DS differential, with Moylan (80.3 DS pts) putting in a career high off the back of 10 tackle breaks, 2 line breaks and a try. Kikau (75.0 DS pts) was impressive once again off the back of 8 tackle breaks, 2 offloads and 1 line break.
In a rare occurrence, they met once again in the finals, with Sharks making it a hat-trick of wins off the back of a Chad Townsend ($12,290 DS, 57.8 pts) field goal. It was the Panthers who enjoyed a +27.0 DS differential with Isaah Yeo ($12,610 DS, 78.7 pts) leading the way off the back of 5 tackle breaks, 42 tackles and a try. Despite Townsend putting the nail in the coffin, it was Andrew Fifita ($16,940 DS, 63.5 pts) who proved dominant off the back of 4 tackle breaks, 3 offloads and 23 tackles. Despite solid scoring performances from many in the backline during that period, it was Kikau (avg. 69.2 pts), Fifita (62.9 pts), Yeo (61.6 pts) who dominated.
More concerning for the Panthers, like the Sharks, the Warriors played the Panthers on a few occasions last year, with Shaun Johnson ($14,040 DS) averaging 50.3 pts over that period, with a ceiling of 72.9 pts. When looking at both sides and how they concede points, there is no position that either side fails to contain, but looking at the grand scheme of things, the Sharks continue to win a lot of differentials due to their attacking flair out-weighing their negative statistics. The addition of Johnson to the side has only increased that going from +11.50 in 2018 to +88.89 in 2019.
For the Panthers, they have also improved negating a -69.56 in 2018 to a -6.09 in 2019.

Looking at this clash, the Sharks go in as slight favourites, with both sides coming here off the back of disappointing losses. I tend to think the bookies have penalised the Sharks a little bit too much with the -2.5 line looking very juicy. The Sharks missed a golden opportunity to get within 6 last week before finding themselves down by 30 just 10 minutes later. They showed what they can offer with a flurry of tries late to keep the score respectable, giving Coach Morris some confidence heading into this. Off the back of 67 missed tackles, the Panthers handed the Titans their first victory in 2019 and although I expect them to improve on that performance, it's the Sharks comfortably for me.
While there are plenty of ways to approach this match-up, it does shape up as one of those contents where if you sit on the fence you will be punished. If you can nail the highest scoring half and hooker combo, you will go a long way to coming on top in this clash. My advice would be to have an opinion and build your side around that, in turn, allowing you to create a point of difference with your opponents. With most NRL early line-ups, changes are hard to combat so far out. With the return of Gallen, Egan and Grant from injury, to go along with concerns for Fifita and Yeo, should there be significant changes to the line-up, tread carefully if following the cheat sheet.
Cronulla Sharks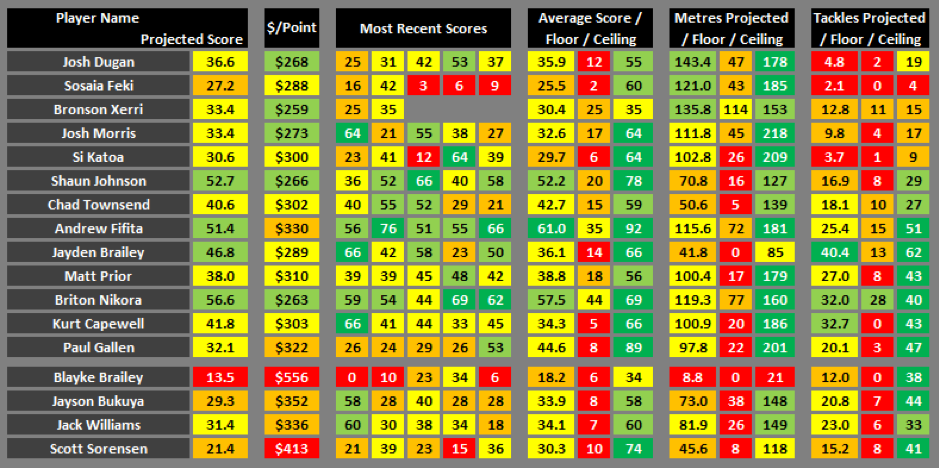 Penrith Panthers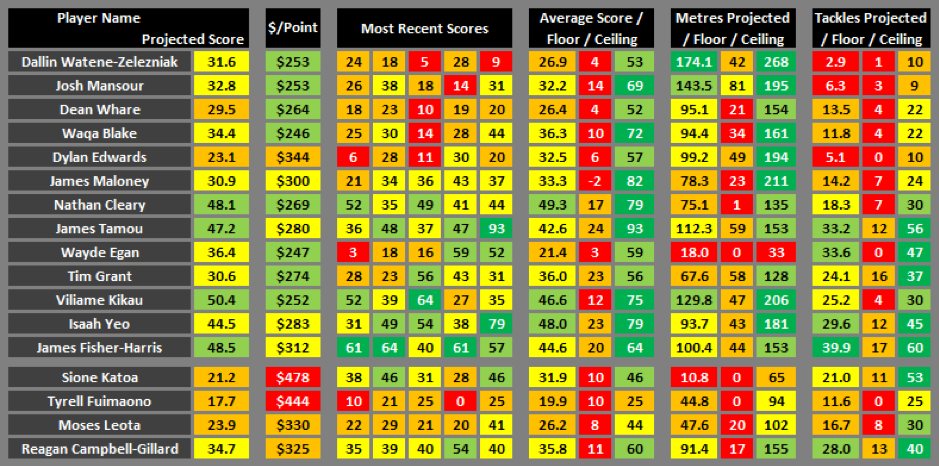 Key Backs
Shaun Johnson ($14,040 DS)
As mentioned earlier, Johnson performed quite well when playing the panthers last year and I don't see that changing here. Coming up against a side that racked-up 67 missed tackles last week, although they are expected to be much improved, Johnson will look exploit the Panthers defence through the both his forward pack and his fancy footwork. Johnson was quiet last week against the Roosters, but expect him to return to his full duties since returning from injury a fortnight ago. Although the most expensive of the halves, Clearly isn't far behind as a cheaper option, but has been dealing with an injury himself and will need the Panthers to fire if he is to score well here.
Bronson Xerri ($8,640 DS)
In both his games so far this season, Xerri has shown plenty of potential but has yet to take flight. As a result, his salary comes in a nice price with a huge score only just around the corner. The promising sign is that Xerri hasn't shied away despite heavy losses and will only get better as he progresses. Having amassed 6 tackle breaks already, Xerri could prove the standout backline player given no player is projected to score more than 35. With Johnson expected to use his right-side attack, line-ups that cover both Johnson and Xerri could have a distinct advantage over those that play just either one. An excellent value purchase for those looking for a bargain.
Waqa Blake ($8,480 DS)
Despite a rather quiet start to 2019, Blake was a near lock at centre last year and if he can recapture that form, he looks an absolute bargain in this contest. With a ceiling of 72.4 pts and 6 scores over 50, Blake could not only be the difference between the Panthers winning or losing, but could be the difference between fantasy glory or failure. Having yet to score a try this year, Blake is not necessarily dependent with Panthers success having scored the majority of his high scores in defeat. Although still capable of another disappointing score, those that have faith in him returning to form will be well rewarded should he do so.
Key Forwards
Wayde Egan ($9,000 DS)
A very risky decision, and expected to play less than 2/3 of the match, Wayde Egan still comes in as one of the best value purchases this week. Usually playing second fiddle to Katoa, the Panthers have chosen to go with Egan this week and with so much uncertainty over how the sharks will play the Brailey brothers, it may actually be a safe option to go with Egan. If the Sharks are to dominate possession, it could also prove pivotal to your hooker selection in choosing Egan as he benefits highly from base stats, more predominantly tackles. As mentioned before choosing the higher scoring half and hooker will be pivotal and at the moment that is Johnson and Egan for mine.
Briton Nikora ($14,890 DS)
A large unknown heading into 2019, Briton Nikora has been an out and out standout for the Sharks both in attack and defence. Amassing a total of 165 tackles, 13 tackle breaks and 5 line breaks, Nikora has been a handy player to have through the absence of Graham and Gallen. With a floor of 43.7 pts, line-ups that oppose Nikora will benefit significantly when he does eventually put in a poor performance. The major benefit that comes with Nikora is that he can be played in the centre position, allowing sides that believe the match will be won in the forwards to benefit significantly. Close enough to a lock once again, Nikora looks great value at the salary.
Viliame Kikau ($12,690 DS)
Another that will be pivotal to the Panthers if they are to be winning he is big Viliame Kikau. To put it simple, this guy is near impossible to stop at the line and proved that once again last week against the Titans. Despite what some might consider a quiet start to 2019, Kikau has improved on his base stats from 2018 and should only improve as he returns to peak fitness. As it was mentioned earlier, Kikau was on fire against the Sharks last year, and he will look to exploit the sometimes fragile Sharks defence once again with another impressive performance here. Coming in at a handy salary, Kikau is a near lock in most line-ups with a few player uncertainties lingering.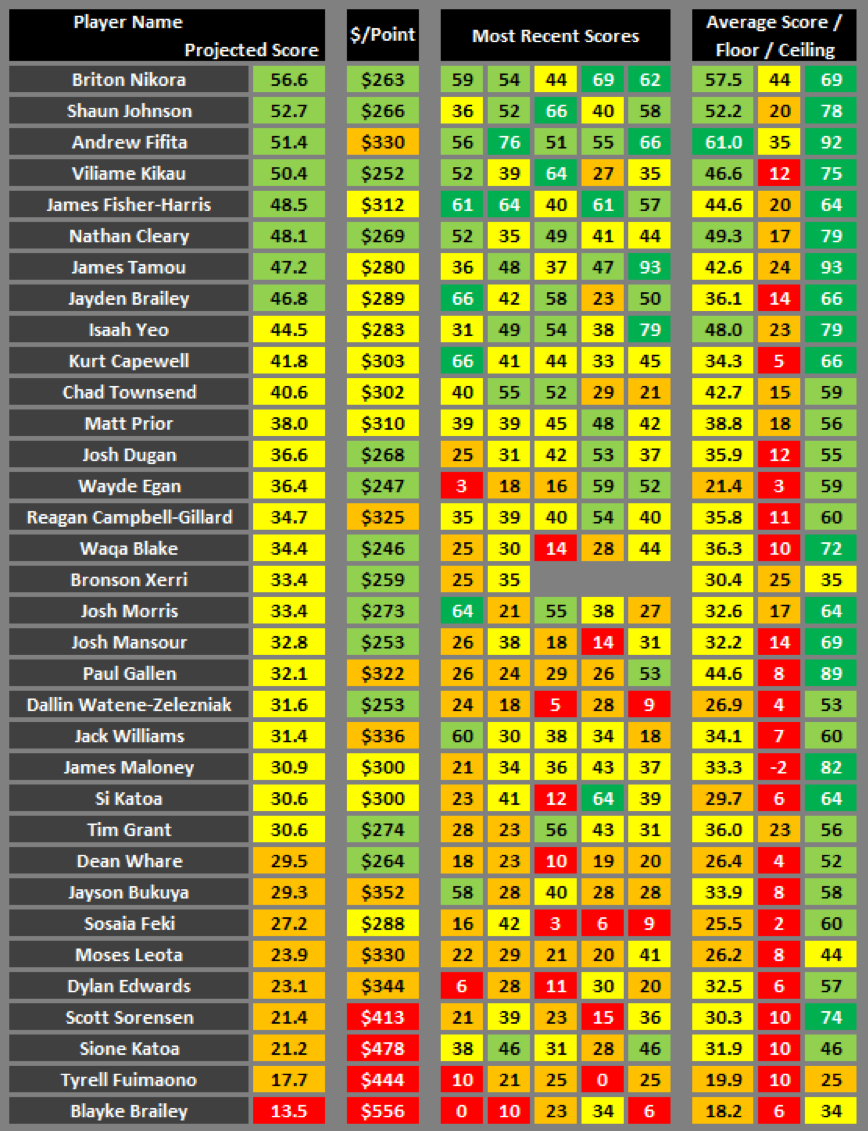 The Daily Fantasy Rankings "Dragon" has scoured the Australian sports betting markets and found some great value picks for these games. Check out his picks for the day below and click on the links to follow his betting plays!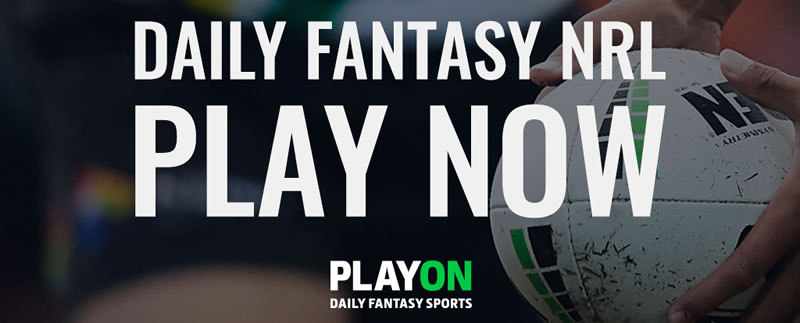 Always remember to gamble responsibly. When the fun stops, stop. If gambling is having a negative impact on your life, seek support at Gambling Help Online. 18+ only.