daily fantasy sports articles
NRL 2019 Fantasy Tips: Round 8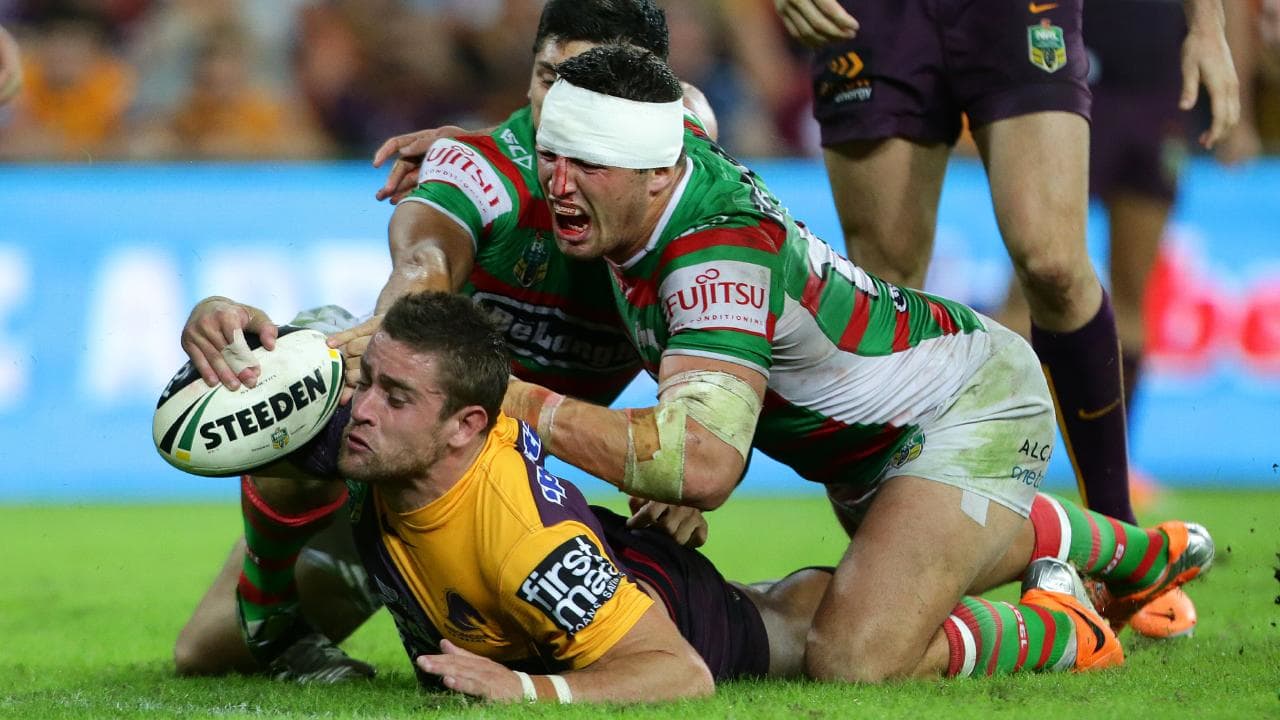 Almost a third of the way through the season, Origin is nearing, player injuries and suspensions are becoming more consistent, but that hasn't stopped the boffins crunching the all-important numbers ahead of Round 8. While the cream has risen to the top with the likes of the Roosters, Storm and Rabbitohs all sitting rather comfortably, underachievers, the Broncos, Panthers, and Knights, all showed last week that they are capable of finals footy when they put it together. There is plenty of prize money up for grabs with Draftstars putting up a whopping $10,000 guaranteed for the Rabbitohs v Broncos clash with further $3,000 and $2,000 guaranteed pools for games throughout the remainder of round 8. MoneyBall have put up $5,000 GPP for Thursday night's clash along with guaranteed pools ranging from $2,000 - $3,000 for the remainder of the round. It seems humanity has been restored with unsurprising news this week that Broncos will grace us once again for an early weekend. So let's breakdown this match and have a look at how you can get your hands on some of the $10,000 at Draftstars.
Rabbitohs v Broncos
In a contest that shapes up as an absolute blockbuster, many would have circled May 2ndon their calendars at the beginning of the season as the much anticipated grudge match between Bennett and Siebold returning to face their old clubs. While Broncos have been hardly flattering this year, they returned to form last week with a dominant performance against the Sharks. The Rabbitohs on the other hand have been solid throughout, knocking off the premiers in round 1, with Bennett getting the most out of his new line-up. While the Rabbitohs will head into this match with the same 17 that came from behind to beat the Panthers last week, the Broncos have lost Kodi Nikorima to a calf injury* (Reports he could be a Warriors as early as this week*), with the debut of the much talked about Tom Dearden ($8,700 DS) to partner Anthony Milford ($13,690 DS) in the halves.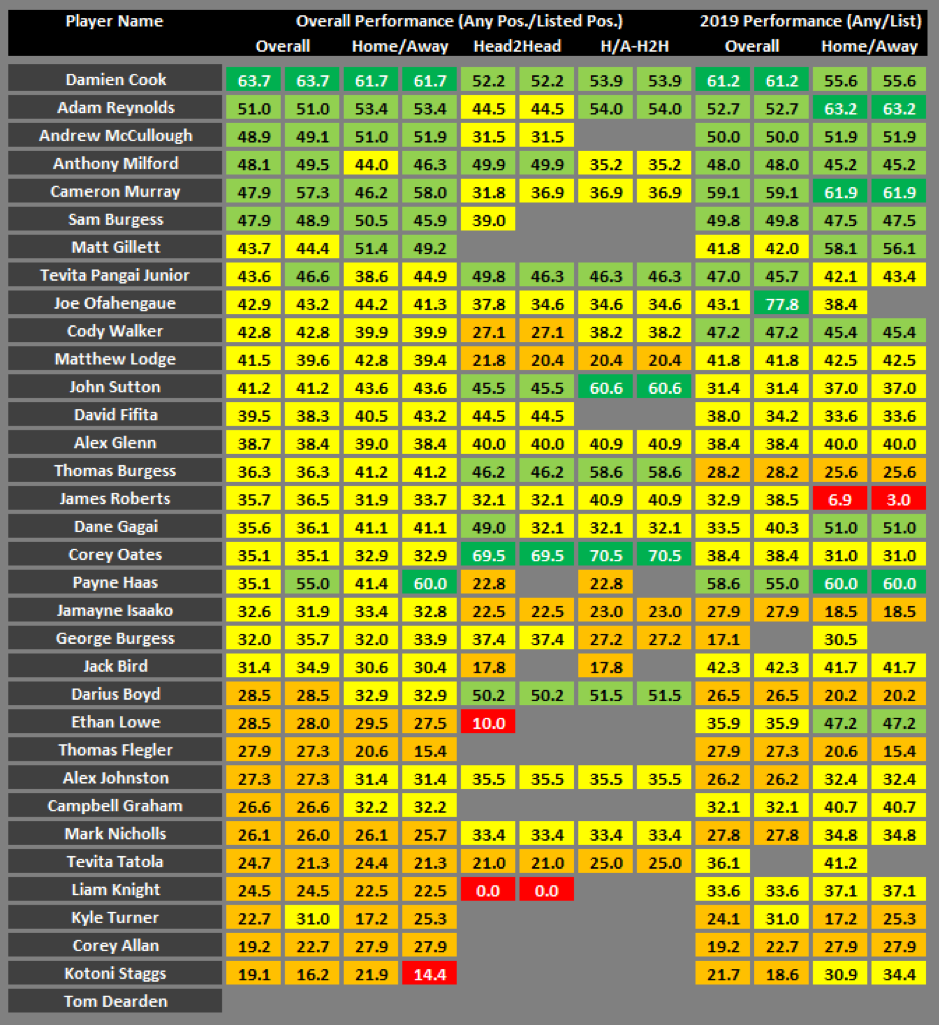 When these sides met in round 8 last year, the Broncos came away with a controversial victory with just -1.2 DS points splitting both sides. Corey Oates ($9,710 DS, 70.5 pts) was enormous of the back of 224 running metres, 9 tackle breaks, 3 line breaks and a try. Meanwhile, it was John Sutton ($9,870 DS, 60.6 pts) who topped the list for the home side off the back of 29 tackles, 4 tackle breaks and a try. The Broncos were much more dominant in round 23, as they made a late charge for the premiership off the back of a 20 points win and +66.6 DS differential. It was Corey Oates once again who proved difficult stop and it was no wonder he top scored, racking up 186 running metres, 6 tackle breaks, 3 line breaks and 3 tries. Dane Gagai ($9,310 DS, 65.9 pts) was clearly the best for the losing side off the back of 209 running metres, 12 tackle breaks and 2 try assists.
Corey Oates (69.5 pts) was a clear standout over both games finishing +17.3 points clear of Damien Cook ($16,570 DS, 52.2 pts) in what was rather moderate scoring between both teams. Darius Boyd ($7,920 DS, 50.2 pts) was a huge surprise packet with a couple of solid performances and looks well under-valued if he can repeat those sort of numbers. Thomas Burgess ($8,600 DS, 46.2 pts), Tevita Pangai Junior ($12,680 DS, 49.8 pts) and Anthony Milford all scored well also. Last year, Corey Allan ($7,800 DS) was playing in lower grades as a Brisbane Bronco and he will look to put in a an excellent performance against his former club, while Tom Dearden will look to burst onto the scene in style as he hopes to cement his spot in the halves.
When looking both sides and how they concede points, both sides are very good at limiting points to the backs despite an increase in 2019. Nevertheless, there is at least one standout backline player in every match and picking the right backs will be crucial in winning on this slate. When looking at the forwards, it is the Broncos who leak plenty of points via not finishing tackles and allowing plenty of offloads, line breaks and tackle breaks. In terms of differentials, the Rabbitohs were the best team in 2018 off the back of +59.03 differential, but that has dropped to just +25.76 in 2019 despite having a more dominant presence on the ladder. Not surprisingly, the Broncos currently float around a -25.19 differential which is down on last year's +4.55 differential.
Looking at this clash, the Rabbitohs opened up as slight favourites, but that has shortened in recent days with the announcement that both Nikorima and Roberts could be at new clubs very shortly. The market looks about spot-on as a lot of pressure will be on the Broncos to back-up last week with a debutant halfback. The Sharks were about as bad as it gets last week and if the Broncos head into this match not realising that, they will be made to look silly. The Rabbitohs on the other hand haven't been as clinically as they would like, only just beating the Bulldogs and Panthers, but Bennett will have them firing when he takes on his old side. In saying that, I do believe the result of this match is in the control of the Broncos, if they are able to win the battle of the forwards and Milford is able to put in another impressive kicking performance, they will be tough to beat. I do think there will be plenty of points in this though and the $1.90 for over 40.5 points at Pointsbet, looks great value.
While there are plenty of ways to approach this match-up, I do believe there is still a bit of water to go under bridge before kick-off and don't be surprised about any major late changes. With the Broncos having returned to a near full-strength team, it may take a couple of weeks for the salaries to adjust, as their points differential doesn't justify the +$5,420 salary difference. As of such, line-up's slightly stacked with Rabbitohs players are likely to dominate at the top of the leaderboard. My advice would be to have an opinion and build your side around that, in turn, allowing you to create a point of difference with your opponents. With most NRL early line-ups, changes are hard to combat so far out, so with the uncertainty of Nikorima and James Roberts ($9,580 DS) in the news along with both G.Burgess and Turner sitting out training on Wednesday, should there be significant changes to the line-up, tread carefully if following the cheat sheet.
South Sydney Rabbitohs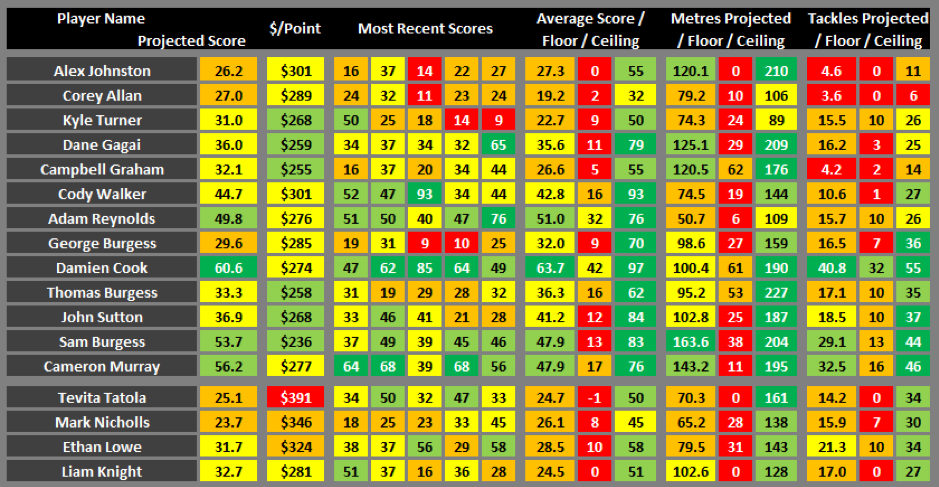 Brisbane Broncos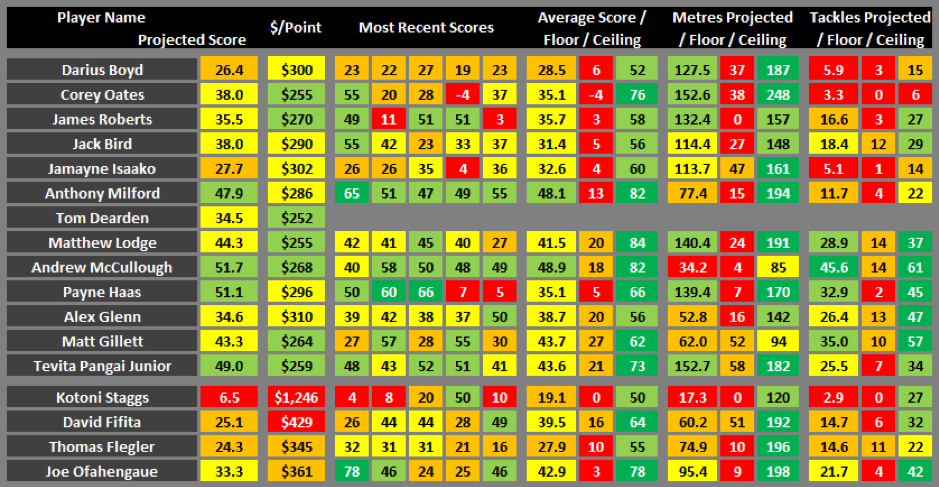 Key Players
Corey Oates ($9,710 DS)
After a couple of impressive games against the Rabbitohs last year it is hard not to go with the lanky winger to score well for the Broncos again. As mentioned earlier, the team that takes out this contest will more than likely do well off the back of over-performing back and not many have a better ceiling than this guy who has scored more than 55 on 7 occasions in the past year and a bit. Exaggerated when scoring tries as is the case with most wingers, Oates is also an excellent metre eater as he will look to take early hit-ups to get the Broncos out of trouble. Averaging 38.4 DS points in 2019 despite a -3.5 in round 4, Oates forms a lethal combination with Jack Bird on the left.
Dane Gagai ($9,310 DS)
Potential 2019 Origin team mate of Oates is Dane Gagai who will look to put in an impressive performance to secure his spot in the side. With Inglis now nothing but a memory in the Rabbitohs line-up, Gagai has had to step-up in his absence as a senior leader amongst a rather young backline. With a floor of 31.8, Gagai has averaged 40.3 since moving to the centres off the back of 21 tackle breaks, 83 tackles and 624 running metres. Gagai gets the added advantage of attacking the Broncos left edge where they have shown plenty of vulnerability. Of all the backs in this match, Gagai does have the best ceiling, but it is his safety as a solid scorer that warrants his selection here.
Sam Burgess ($12,700 DS)
When it comes to this Rabbitohs line-up, no one has had the pleasure of relishing under the master coach more than Sam Burgess, relishing his national coach coming to Redfern and his form this year has justified that. Despite putting in his lowest score (37.2 DS) of the year last week, Burgess has averaged 49.8 in 2019 off the back of an impressive running game, proving very difficult to stop in defence. As mentioned before the Broncos have leaked plenty of points to forwards and I don't expect that to be changing here with the Englishman likely to be looking for plenty of offloads. With his salary dipping in recent weeks due to some mediocre performances, he looks excellent value here.
Tevita Pangai Junior ($12,680 DS)
In round 2, TPJ was sent out to do a job against the Cowboys and I have a strong feeling it will be much the same here. Despite being a rather erratic player, he is an exciting player to watch, especially when he is out there to do a job and Seibold will set him to do exactly that here. With a base of 40.7 in 2019, Pangai has averaged 47.0 this year and despite his likelihood to not play maximum minutes due to the new forward rotation, he still manages to score well off the back of 16 tackle breaks, 10 offloads and 742 running metres in just 5 games this season. Although a bit of a risk, I am looking forward to see what he brings on Thursday in which he will look to rip in.
Important Fade
James Roberts ($9,580 DS)
Despite scoring quite well in 2019, James Roberts is a clear fade for me. Averaging 0.63 points per minute for an 80 minute player is enormous for a centre, but with news breaking this week that he is likely to be playing for the very team they are playing as soon as next week, I simply can't see him having any intention on wanting to cause the Rabbitohs too much damage. Now don't get me wrong, for the Integrity of the sport he has to go out with the intent to do well, but I just struggle to gain any confidence for him heading into this week. Furthermore, with Staggs on the bench I wouldn't even be surprised if Roberts doesn't even see out the game, if he even plays.
Round 8 Value Players
Chad Townsend ($11,050 DS)
With the loss of Shaun Johnson in the side, expect the workload of Chad Townsend to step up a notch as he is handed the majority of the kicking duties, adding significant base points to his tally. The Sharks do come up against the Storm this week and although assists will come at a premium, expect the rather sharp looking Townsend to still score well. Averaging 41.0 in 2019 with 3 scores over 50, the rather cheap salary for a half looks an absolute steal with his potential in this contest. Despite the likes of Croft and Munster, Townsend looks just about a lock in this.
Zac Lomax ($7,880 DS)
Despite not showing too much in 2019, the move to the centres looks great for Lomax's fantasy stocks. The athletic back promised so much in 2018 and was solid in last week loss to the Roosters, scoring a try. The move to the centres should only improve his chances, having averaged 38.1 there last year, proving an absolute force in attack, while remaining solid in defence. At an absolute bargain from his performances of limited minutes off the bench, look for Lomax to get involved early as the Dragons chase being the first away team to win at Bankwest.

The Daily Fantasy Rankings "Dragon" has scoured the Australian sports betting markets and found some great value picks for this game. Check out his picks for the day below and click on the links to follow his betting plays!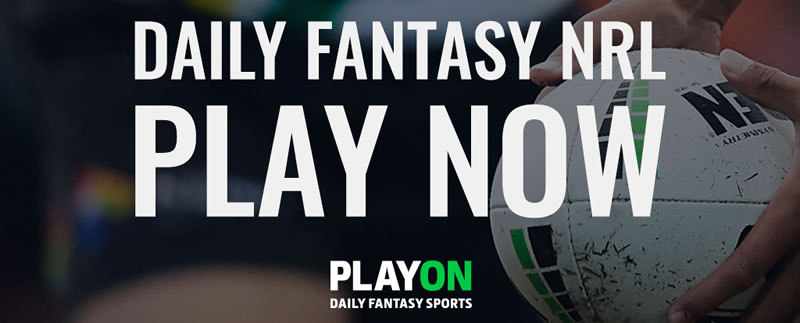 Always remember to gamble responsibly. When the fun stops, stop. If gambling is having a negative impact on your life, seek support at Gambling Help Online. 18+ only.