daily fantasy sports articles
NRL 2020 Fantasy Tips: Round 13 - Dragons v Roosters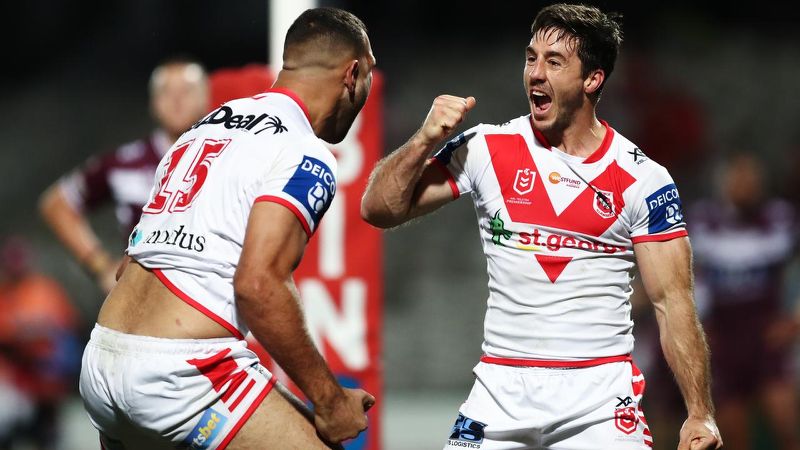 Another Thursday night, another write-up involving the Roosters, and honestly quite an intriguing matchup. The Roosters have underwhelmed in consecutive weeks against bad opposition. The Dragons aren't exactly a good team, but they're going okay recently and at least putting up enough points to challenge decent opponents. These teams met in Round 7 with a 26-12 win to the Roosters, and I certainly believe that the gap is a little less that it was back then with several key Roosters injured and the Dragons backs getting more license to play some footy.
Draftstars are back with Australia's best fantasy contests and Thursday night is no different with a $15,000 feature contest up for grabs!

Let's break down the single contest to grab a share of that prize money!
Market Odds:
Dragons 4.25 v Rabbits 1.20
Spread: -10.5
Total Over/Under: 40.5
Fantasy Overview
WFB: I'm not sure if this will be chalky, but I can't avoid saying that my favourite play tonight is Ryan Hall $8,340. Talk about due, the guy scored over 200 super league tries and has yet to score a single one in 10 games with the best team in the NRL? He's old, he looks average, but he scores just fine and he simply has to get across the line soon and will smash value when he does. Every other WFB is in play, this isn't a position to get too focused on any particular player with such volatile, try dependant scoring. Jordan Pereira $8,610 is the guy most likely to fly under the radar, and is another who is due for more tries with only one so far this season.
CTR: I have a clear preference here. Euan Aitken $13,190 and Joseph Manu $11,760 are too expensive, they are both playing well and scoring great, but I have little interest at those peak prices. Zac Lomax $11,460 and Josh Morris $8,860 Injured (Sitili Tuponiua will play at Centre) are much more reasonably priced, and both have just as much ceiling as Aitken and Manu, even if they don't get there quite as often. The problem is that they are running at each other, two good defensive centres who should reduce the chance of either hitting those ceilings. For that reason I like Mitch Aubusson $11,580, who gives us a safe 80 minutes and 45 points.
HALF: Well, I was wrong about Ben Hunt $14,440 last week, he scored great again despite moving back to halfback. I'm going to swallow my pride and tell you that despite the price he might be the best choice at half again with Norman out and full control of the team. The main challenge to this claim is Luke Keary $11,690, who might have his volatility smoothed out somewhat after Kyle Flanagan was stunningly dropped. He should pick up some extra kicking and always has plenty of attacking upside. Lachlan Lam $9,500 and Adam Clune $8,250 are both punt plays, with their ceilings and roles in the team somewhat unknown with new halves combinations.
2RF: I'm a sucker for a cheap 2RF, and we have several to chose from. Sitili Tupouniua $8,680 was pushed into the centres last week, but with Morris back he should get a look at 80 minutes of involvement again. It's hard to split him from Jackson Ford $9,920, who was very good last week in a fantastic 60 minute role, scoring 50 points in base stats. It's tempting to lock them both in as clear value and move on, but Tariq Sims $9,990 is also worth consideration if you think the Dragons can stay competitive.
HOK: I do not like this at all, but with his price slashed and only Drew Hutchison (Half $8,540) as bench cover, Jake Friend $11,990 looks like the guy tonight. He still scores 50s for fun, and he's just far too cheap. Hunt and Cameron McInness $16,300 both have better ceilings, but it will be very difficult for them to overcome the price gap. If you're playing a lot of lineups it's worth diversifying a little to insure against Friends fondness of an early injury.
FRF: I think we can play almost anyone here. Jared Waerea-Hargreaves $9,800 can't have been this cheap for a long time. He's far from safe as he's gotten an early shower in nearly half his games this year, but the price makes it far easier to trust him. Out through Injury (Lindsay Collins replaces JWH) Both Blake Lawrie $10,480 and Paul Vaughan $13,190 (OUT due to COVID Breach - Kaide Ellis into the side) are at good prices and should have safe minutes with Tristan Sailor $7,000 and Tyrell Fuimaono $7,500 on the bench. Siosiua Taukeiaho $13,680 is a little expensive, but given that he should take over goal kicking duties with Flanagan out he has enough upside to be worth squeezing in. Instead of playing Isaac Liu $10,010 with no ceiling, I'd rather take a punt on Lindsay Collins $8,680, Josh Kerr $9,170 or even Trent Merrin $7,890 at much better prices.
Final Word: These late outs have made this contest a fun game, with all results in play. Do the Roosters finally blow a team off the park, or do the Dragons continue some promising form and make a game of this? It's a big contest, and it's well worth putting together lineups for several different game scripts. Good Luck!